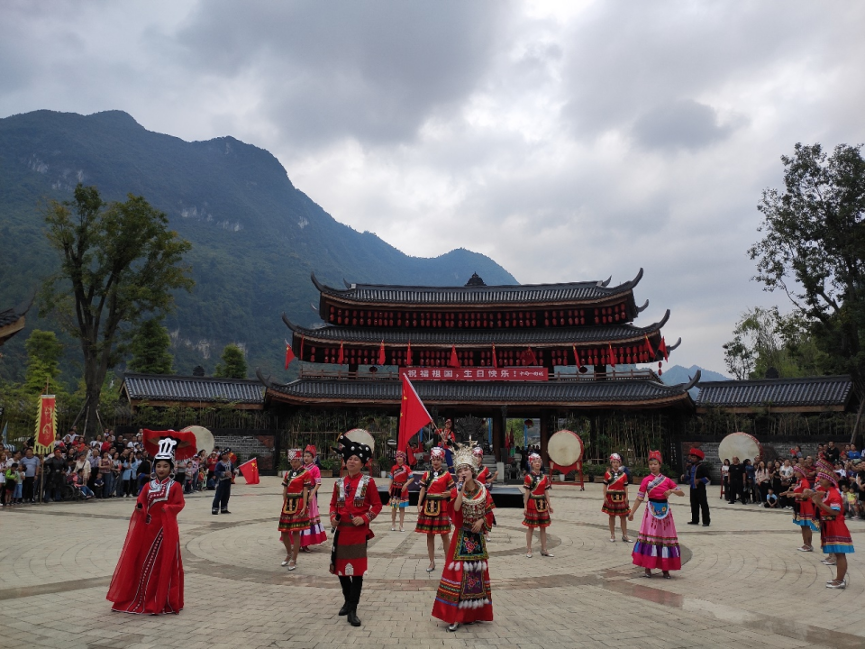 Editor's Note: The third SCNU English writing contest, themed "Telling China's Story", ended with 422 entries from 33 different schools. We congratulate all prize winners on their outstanding performance. Awarded winners have been announced (see results), and all winning entries will be published in this column.
-------
By Deng Qianxia
As the last nine counties in Guizhou province to be removed from the country's poverty list, China had secured a complete victory in its fight against poverty by the end of 2020. My hometown, a remote village in Daozhen county of Zunyi, in Guizhou province, has witnessed a commendable development success story. During the past few years, great changes have taken place here. Our people's well-being and quality of life have significantly improved.
At first sight, one obvious improvement may fall on the material aspect. It can be clearly seen that our living standards have improved markedly in all aspects.
Dating back ten years, I can still remember how our villagers made a living just through farming, and livestock breeding. Most of us relied on human labor to transport agricultural produce or livestock products to sell in the town so as to make ends meet. Only those young men who were brave and strong enough could take up jobs outside of the village. All villagers lived in the wooden houses, which might suffer water seepage on rainy days. For food, the main resource of our daily meal was what we had planted in the fields and the pigs we raised. Worse still, the transport was always the biggest issue, it was nearly two or three hours walk to the town where we could buy or sell goods. In my middle school time, I had to go to school in the town by walking for two hours every week. The bumpy and steep trails might turn muddy and slippery when it rained, with dirt all over my shoes and pants, making it a much tougher way.
Thanks to the policies on eradicating poverty, things have changed today. Industries were established, such as the mushroom industry, and local tourism. They offer great job opportunities, letting villagers take full- or part-time jobs near their homes as the main resource of income. People near the tourist spots can run a guesthouse or restaurant to enhance their life quality. Farming is no longer serving as a mainstay. Moreover, we are now living in modern two- or three-floor buildings. More vegetables and meat is available no matter which season it is. And as Guizhou initiated a project in August 2017 to build more roads inside villages to facilitate traffic, there is no longer a worry of muddy roads on rainy days. Cars have become affordable for most families as a result of increased income, and bus service was also set up from our village to the countyside since the development of the tourism industry.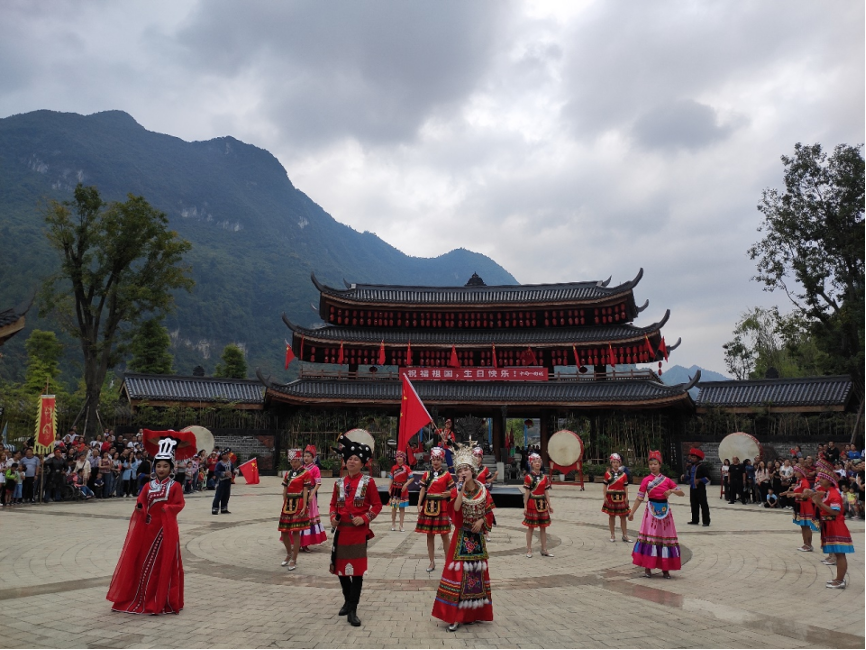 The tourist spot with local ethnic minority features in our town was developed in 2017. Visitors enjoyed the performance for celebrating National Day.
Another incredible change was shown in the cultural aspect. For instance, during my school time, most of my classmates, and I, were the so-called left-behind children, whose parents went to work in other cities. It's a common thing for us students to leave school after the graduation of middle school, or even drop out of school ahead of schedule to take jobs in factories or on construction sites. While now, people's awareness of education is improving with each passing day. Countless parents even chose to rent a house within school districts, serving as a supporter as well as a monitor of their kids' education. Those children who failed in the entrance exam of high school may take vocational education or be in school again, but not to work in factories as kids formerly did. What's more, as the implementation of plans to improve nutrition covers preschool children, kids can enjoy a free lunch at school. Teaching has also improved by popularizing multimedia classrooms, offering children in impoverished villages more access to the outside world.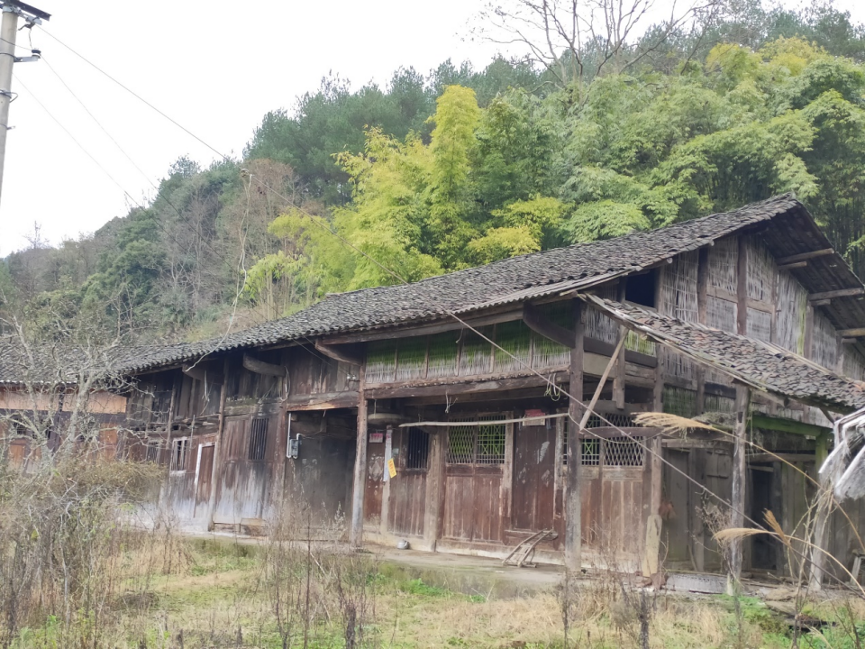 The old wooden house which my family lived in years ago. (Photo taken in January 2020 by Deng Qianxia)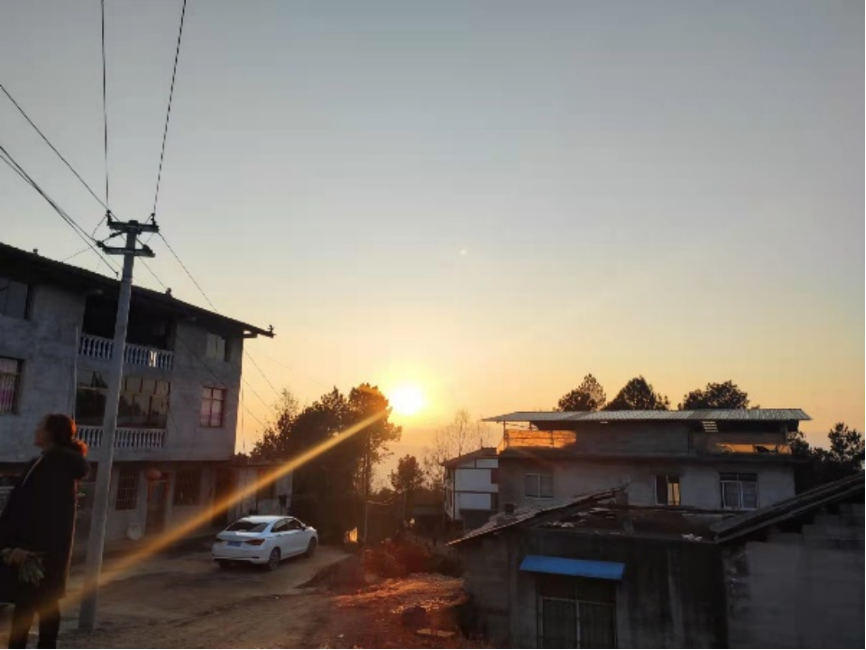 The new three-floor house that people now live in. (Photo by Deng Qianxia)
My hometown is becoming better and better with each passing day, and still on the way of pursuing further development under the guidance of the Communist Party of China. Actually, our village is just an epitome among thousands of poverty-stricken areas in the anti-poverty campaign. We must always bear in mind it is the effort paid by the Communist Party of China that makes we people in rural areas have a better life.
What to read next: