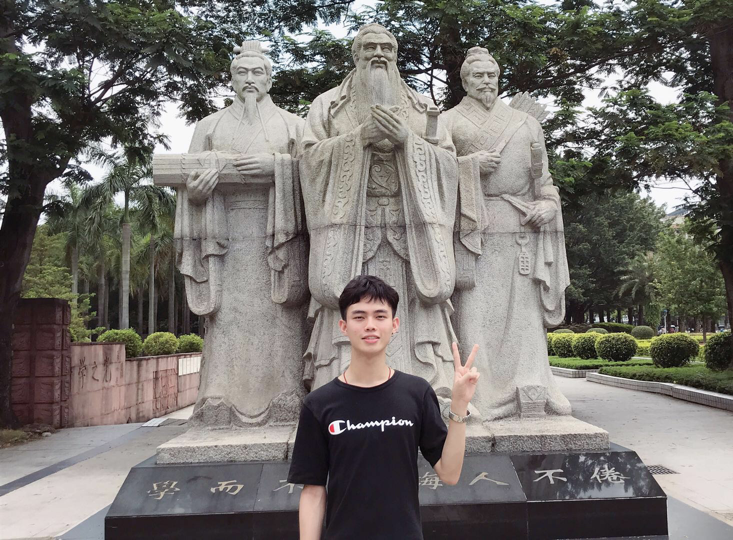 Editor's note: Under the theme of "SCNU & ME", the English Writing Contest has collected over 320 articles from 30 schools and colleges (see results). This column is specially dedicated to the award-winning works.
-------
By Li Zhuobin

Author's note: There was a gift that rekindled my hope. There was a gift that tugged at my heartstrings. Sometimes a gift does not mean good luck as it may come in the form of misfortune. This article is dedicated to all my teachers in SFS, SCNU, in particular, Enjo, Crystal and Joy (hereafter referred to as "Enjoystal"), who rendered me the greatest support in my darkest days of despair.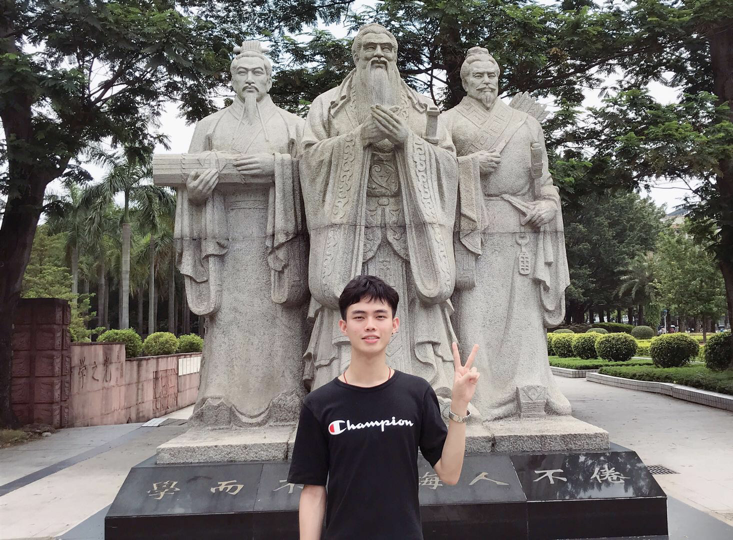 The author poses in front of the statue of Confucius at SCNU campus
One afternoon in June, 2019, I was fidgeting restlessly in the hospital, anxious for the doctor's diagnosis. Upon seeing her reappear with a piece of paper, I grew uneasy and my heart beat violently. With a sympathetic look, the doctor said softly, "you suffer from moderate depression."
Her voice, gentle as it was, was a thunderbolt for me. I couldn't believe my ears:What? Did I hear the wrong word? Am I really suffering from depression, a kind of mental illness?
Yet, the paper she handed me confirmed it.
I froze on the spot, unable to gather any strength to move and lost in the turbulent battle. When I finally dragged myself back to the dorm, it was late night. For the first time in my life, I could not fall asleep. Tossing on the bed, with tears streaming down, I envisaged what I would encounter. My mind was running wild with endless questions: How to face my future with this shameful illness? How to break the bad news to my ageing parents? How to ...?
Two days passed, and I still suffered from insomnia. I followed my routine as usual, but I was in despair, seeing no meaning and hope in my life. What's worse, I started to hate learning English. For me, my depression originated from academic pressures.
On the third day, I took my favorite teacher Enjoystal's class. Too exhausted to focus and too guilty to face her, I even wished that the class would end ahead of time.
As soon as the bell rang, I rushed to the door. Just as I was stepping out, I heard her voice, "Ben, wait for a second." Reluctantly, I crept back to her. With a trace of worry and concern in her voice, she asked, "Ben, can I talk with you?" "Sure" I answered, thinking that it was about my paper. She went on, "I can tell that you are stressed out. So, what's up? Can you share it with me?"
Unwilling to involve her in my negative thinking, I kept quiet, trying hard to conceal my thoughts. As if she could read my mind, she stretched out her hand, held my hand tightly, and whispered "relax, relax, relax".
Her handshake, solid and warm, filled my heart with courage and hope. Miraculously, I was overwhelmed with such love and compassion. At once, I saw light at the end of the tunnel! I said to myself: I should fight against depression instead of becoming its prey!
When Enjoystal noticed my subtle psychological change, she beamed, "Every cloud has a silver lining. Whatever happens, I will always be there for you."
What an angle-like teacher to me.
Since then, I started to bombard her with academic questions. As she promised, she would always be there for me, whether it was 4 am or midnight.
In the next 3 months, she always shared her stories with me — the rolling mountains she had climbed, the novels she had read, and the beautiful lotus she loved.
Gradually, I opened my heart to her, telling her my unhappy childhood, the heartbreaking part-time jobs, the grieving death of my beloved uncle, the lack of self-confidence; most importantly, the difficulties that I have confronted in my study.
Surprisingly, in communicating with Enjoystal, I found myself changing for the better. I became more relaxed, and my interest in studying English grew.
However, my condition did not remain stable.
One day in September, I got a headache, so I started to complain to Enjoystal again. Different from the first time, instead of comforting me, she looked at me in the eye and said seriously, "Don't complain. Remember, misfortune is a blessing in disguise! Embrace it. Take it as a gift. Cherish it".
Her powerful voice regenerated me. Since then, each time a setback came, I would assure myself, "Smile to it. Face it. Overcome it." I took pains to turn negative situation into positive one.
Slowly, my confidence reappeared, and I was able to embrace sunshine again.
Since the doctor's diagnose, 5 months have gone by.
Now, I am living a happy life each day, passionate to study English.
My misfortune turns out to be a blessing in disguise.
It turns into a gift thanks to my wonderful teacher who gives me the greatest love, support and guidance.
As a prospective English teacher,I find new meaning in my life: to follow their path, and to light up other people's world.
What to read next: