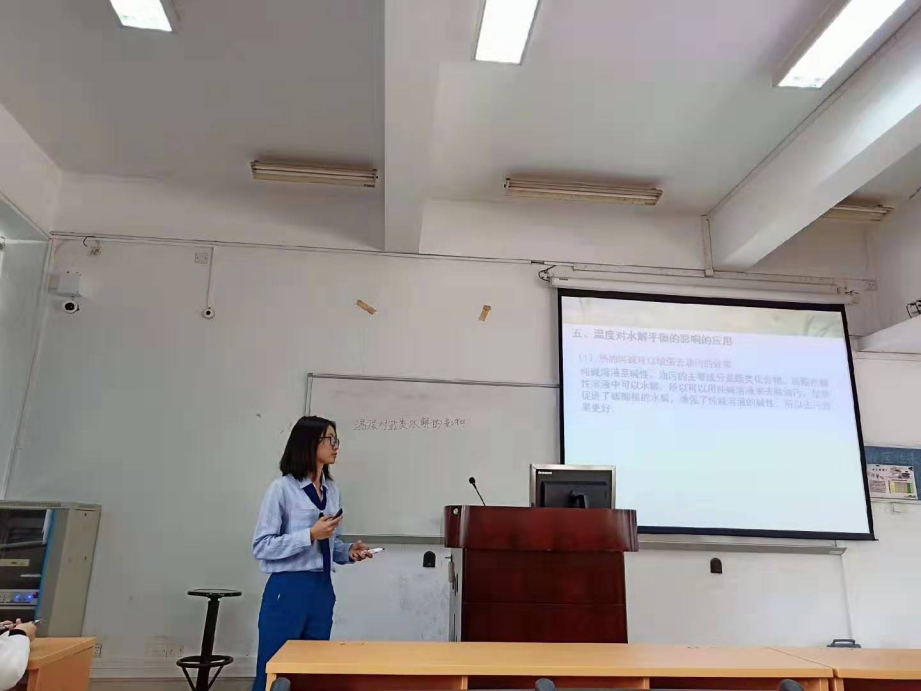 Editor's note: Under the theme of "SCNU & ME", the English Writing Contest has collected over 320 articles from 30 schools and colleges (see results). This column is specially dedicated to the award-winning works.
-------
By Zhu Yanxin
I've got lots of awards during my freshman year at SCNU. Among them, the prize of the Simulation Lesson Competition is the most unforgettable one. It's the first time I've participated in such a competition, in which I was awarded first prize. More importantly, what I learned from the process become a treasure in my pursuit of dream.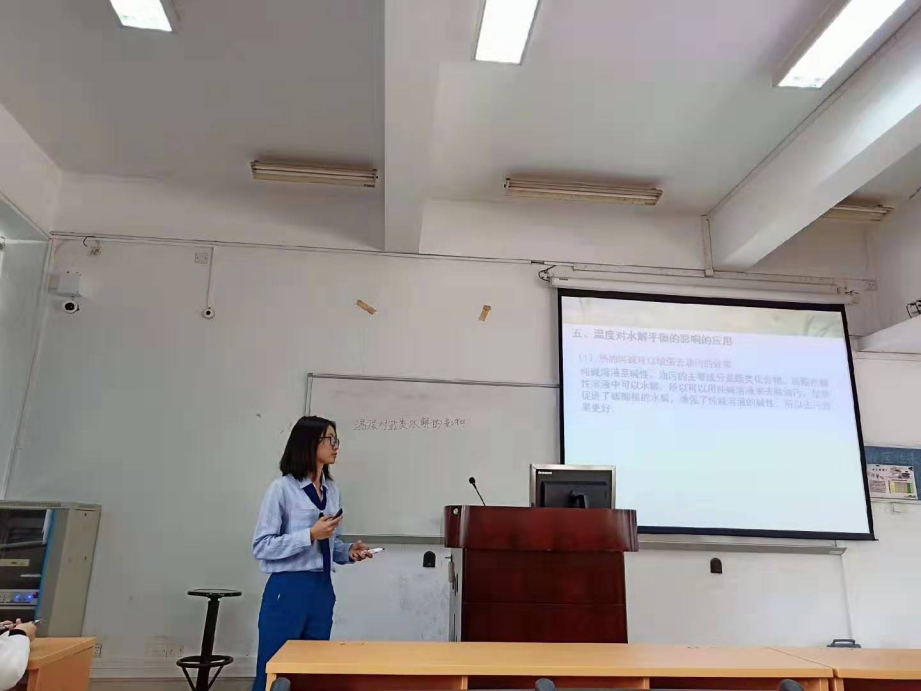 As a student majoring in Chemistry teacher education, I have always tried to improve my teaching skills since I was a freshman at school. Back then, an opportunity came. The chemical association of the School of Chemistry organized a competition called Simulation lesson competition. According to the rules, all competitors have to give a lesson in no more than twelve minutes, simulating the teachers. I was so excited because it would have been a great experience, so I signed up quickly.
At the beginning of the preparation, I was confused, not knowing what to teach or how to make a good presentation. Luckily, a nice senior sister called Tan zealously offered me a lot of help. She also took part in the competition and was experienced in giving lessons. I tried to put all the content in a unit into my power point while Tan told me that it is impossible to teach so many things in such a short time. "What you have to do is to make one important knowledge point clear to the students and to show your teaching ability. That is enough. I think you can do it well," Tan said. Following her suggestions, I changed my direction and I adjusted my teaching content. After many attempts, I got my power point done.
However, things did not go smoothly as planned. When I tried to give a lesson, I found out that I didn't know how to present my lesson. When it comes to real situation, I was too nervous to remind myself of the next part. In order to make a fluent lesson, I wrote down all the words I was going to say in a paper and practiced it again and again on the balcony of our dormitory. I remember that I put my laptop on the balcony railing and presented my lesson to the air. I worked on practicing all the time during that period, and sometime I felt lonely, but I sticked to it at last. My roommates also gave me a lot of suggestions to improve my interaction with the students. Given my hard work, I could finally give a lesson freely.
On the day of the preliminary competition, I presented my lesson smoothly and was praised by the judges for my good performance in teaching attitude and the structure of the lesson. I entered the finals with the first place in my group, which was beyond my expectation. I told myself that it was still too early to be happy, and tried to concentrate on the final competition.
However, I had new difficulties as I proceeded my preparation. As is known, experiments are a key part of the learning process in chemistry. I was adviced to integrate experiments into the lesson. However, I didn't have any materials for my experiment! What's worse, it's difficult tp buy experimental vessels such as test tubes and beakers. These are not articles of daily use which can be easily bought in supermarket. Fortunately, I got to know from an upperclassman that there was a small shop that sold those vessels. Then I bought some test tubes and a test tube holder and I thought it was enough.
In the process of exploring the experiment condition, I found out that the result was not obvious for us to observe with eyes. I wanted to prove the knowledge point on the textbook by comparing the chemical reaction under different conditions of temperature and it seemed that the temperature was not high enough to make the color of the chemical reagent change. I had to go back to the shop and I bought an alcohol burner. However, the shop didn't want to sell me a box of matches just because they couldn't make profit in this way. I went around the district but I found nowhere to buy the matches because people nowadays usually use lighters instead of matches. But it was not allowed to use a lighter in a chemical experiment. In the end, I went back to the shop again and begged the boss. It was unbelievable that he gave me a box of matches at last because of my persistence!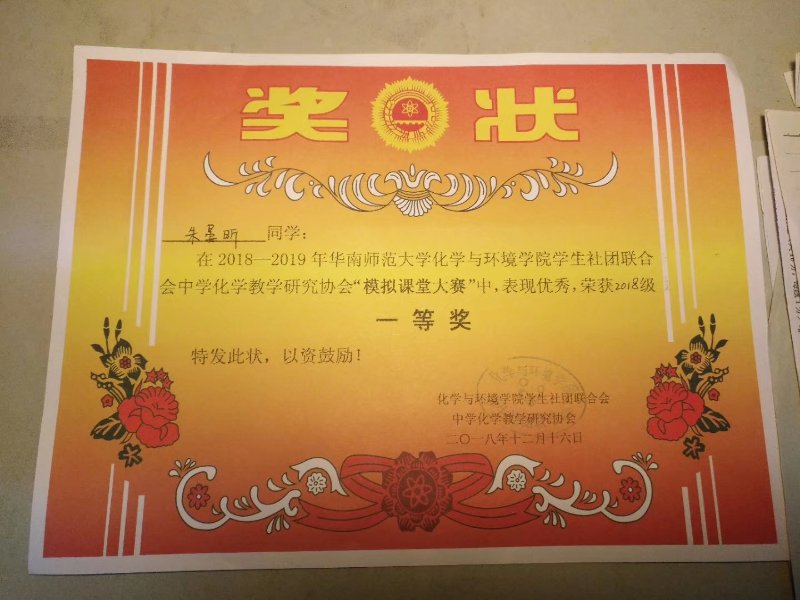 With all the materials equipped, I tried my experiments for a large amount of time to find out the best conditions for reagent dosage and temperature. Meanwhile, I asked senior students for help and they gave me a lot of useful advice to improve the structure and the content of my lesson. I can't remember how many times I modified my power point. Trying to be perfect, I didn't let go any details, even the font of the chemical equation. With a good preparation, I got the first prize of the Simulation lesson competition as expected. I couldn't tell how excited I was at that time, and all my efforts have paid off.
Thanks to SCNU, I've got such a precious opportunity to show my abilities and practiced my teaching skills in front of so many people. Besides, I am also grateful for those senior schoolmates who give me help in need. I believe such an experience will be a wonderful asset on my way to become an outstanding teacher. This is my story, a story of a normal student who makes every effort to be a good teacher.
What to read next: