Editor's note: Under the theme of "SCNU & ME", the English Writing Contest has collected over 320 articles from 30 schools and colleges (see results). This column is specially dedicated to the award-winning works.
-------
By Li Yuanru
I'll never forget the time I've spent at UBC in the summer of 2019.
I woke up with excitement every day, expecting to discover something new in this exotic world. The courses I've taken, the people I met, and the places I've visited around Vancouver… all seem so different from what I had in my country. For the first time, I am keenly aware of the vastness of the world.
Studying at school
I cherish those days when I took professional courses in UBC campus.
In journalism class, what impressed me most was the assignment of doing interviews on campus. To get a whole picture of the school spirit, we needed to know more about the local people there. The interview projects actually gave me some "excuses" to talk with people. I remembered talking to a 50-year-old local resident, who described himself as the oldest student in his class. Also I happened to meet a group of high school students, and learnt that UBC is their dream college. Through the interviews, I had an in-depth understanding of diverse people at UBC with different identities.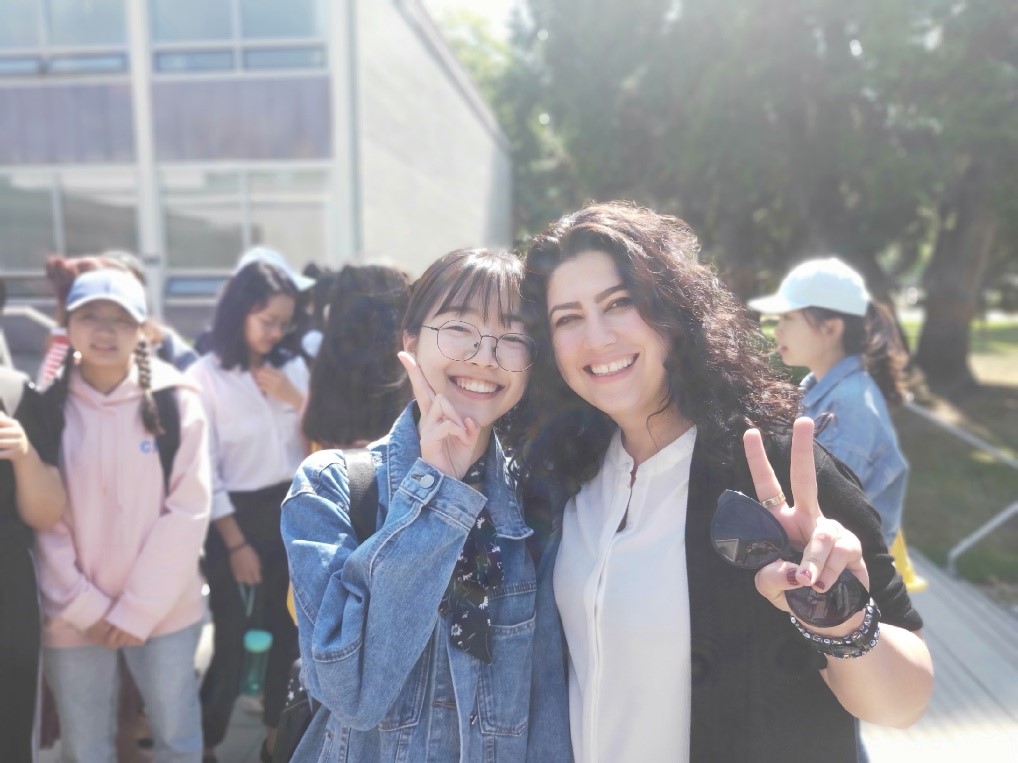 Journalism teacher Saranaz and I
The anthropology class is also very interesting, which is quite similar to my own major. I have great interest in the interdisciplinary study of linguistics and sociology. They could always stimulate my curiosity about "language". Those unique phonemes and syllables, which form a fluent language, become words and "indexical", reflecting the wonderful and extensive social relations in human society. From a broader perspective, I learnt sociolinguistic analysis of the world's languages. Besides, what I learnt from class has inspired me to think more. I realized that "there is a world in every language", and that the death of a language can also be the death of a civilization.
Meeting diverse people
There I met students from all over the world, many of whom are from top universities. We studied in the same classroom and shared our diverse opinions.
Working with great students was not an easy task. However, it was this extraordinary pressure that propelled me to catch up with them, either by learning their strengths or through working harder. I realized that students from prestigious universities were not as intelligent and efficient as I had supposed them to be. Diligence might be the main factor that contributed to their success. More importantly, they had formed a comprehensive understanding of themselves, and had a clear goal of what they wanted to be in the future, from which I should draw strength.
There I also met nice people always ready to help and willing to share. The cultural ambassador of UBC is so kind to help us solve our difficulties in life and share with us different views and perspectives on things. When I mentioned that I would be a Chinese teacher in the future, she said to me seriously that she thinks I will be a good teacher.
Besides teachers and students, many local people I met are friendly and kind. One bus driver left deep impression on me. Driving her bus slowly and patiently, she would look ahead with a smile, saying "for safety, hold on everybody! Thank you!". Every time a new passenger got on the bus, she would happily say "Hi there, how are you?".
That day, she chatted with an old woman who had just got on the bus. She praised the coffee she held in her hand as "good choice" and talked to her about each other's children, which I could hardly believe that it was the first time they had met. As the old woman got out of the car, they said to each other, "Good Saturday!" I listened with interest to this ordinary conversation. Every passenger, young or old, say "Thank you" to the driver as they get off the train. I've always wanted to do the same, but I've been a little shy about it.
Exploring the charm of Vancouver
I was hooked by the city Vancouver, which keeps a great balance between cultural attractions and natural sceneries.
The museums of Vancouver is a good place to explore the city's cultural origins. Here you can see images of how the colonists landed, how cultures blended in the colonized city, and even the earliest Chinese who came to work.
What struck me the most was the introduction of the aboriginal people, and the records of the persecutions suffered by the aboriginal people in several collections. In fact, native peoples' national totem poles were being built and erected in British Columbia and everywhere in Vancouver now. They try to protect the aboriginal culture and express their repentance by doing so. "We will never forget that this is a piece of land we have stolen," said the blonde tour guide in the museum. At the exit of the museum, we found notes left by children saying "sorry for what had happened, I am so glad to learn about the original culture here", which really struck me.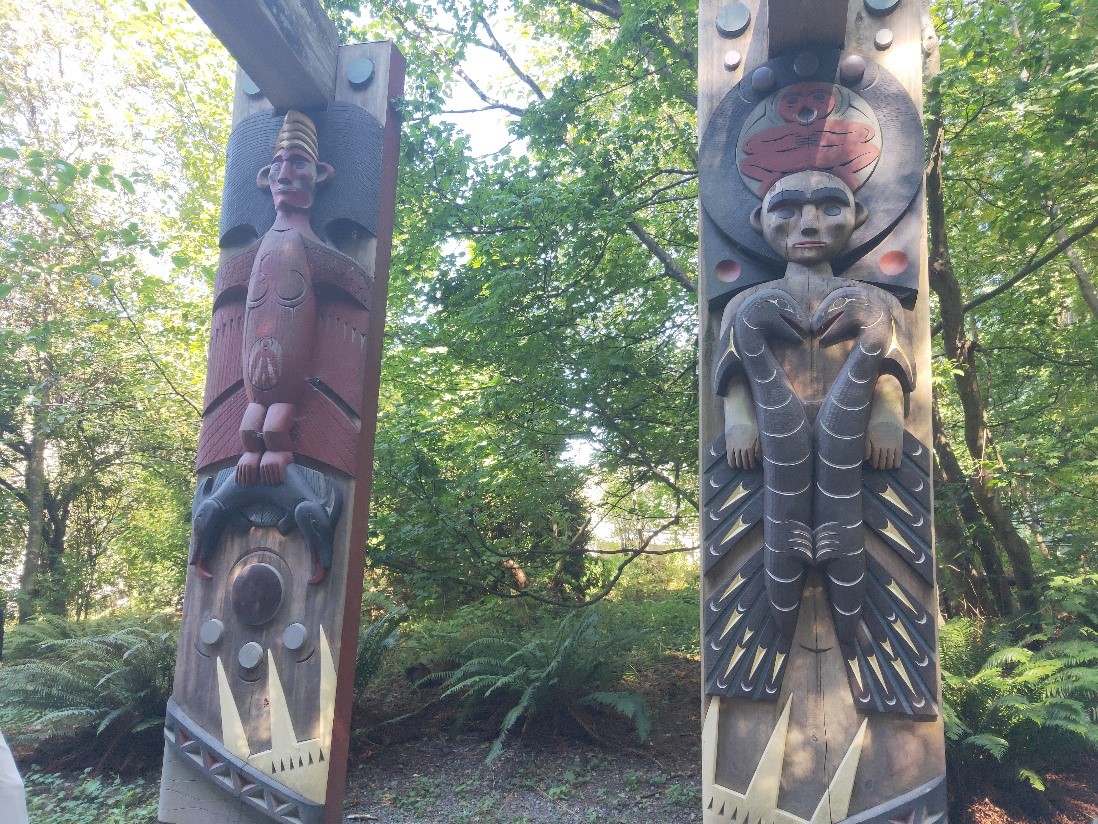 Totem poles
Coincidentally, the land UBC campus occupied has also been described as a "stolen place", where you can enjoy beautiful scenery and nature. I loved the Wreck Beach in UBC. Every day, at sunset, the aboriginal community would sit on stakes, beating African drums and singing national songs, watching the sun sink slowly below the surface of the sea. What a natural love of nature, of life and of the world.
At UBC, I felt like I were the first Haida who had picked up a shell and tried to see the huge world through it. But I knew exactly what I had seen was just a corner of the vast world, and there was a even larger world awaiting to be explored.
What to read next: