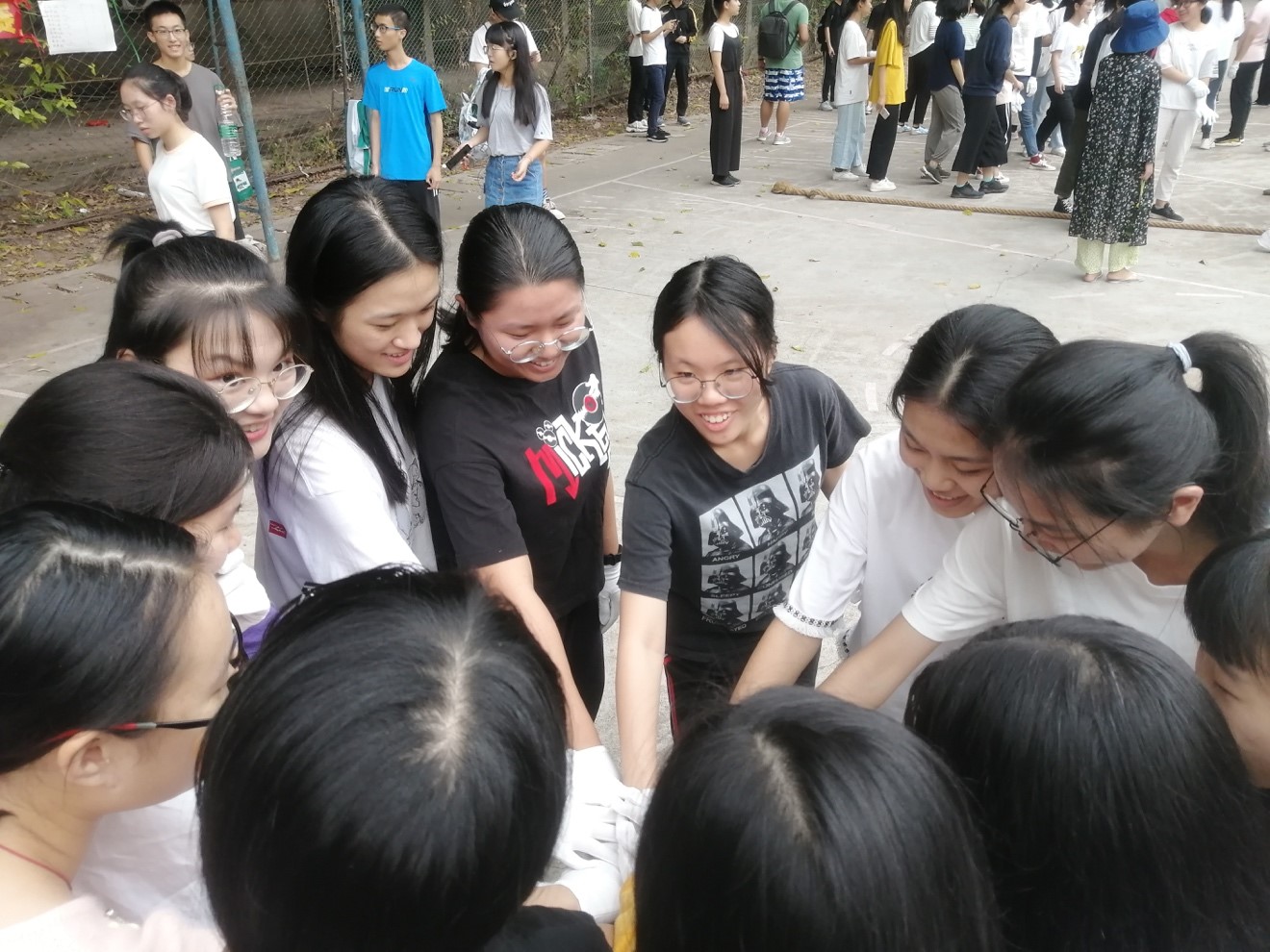 Editor's note: Under the theme of "SCNU & ME", the English Writing Contest has collected over 320 articles from 30 schools and colleges (see results). This column is specially dedicated to the award-winning works.
-------
By Huang Zixuan

Although I have only spent around three months at SCNU, I do feel pleasurable in this place. I have wonderful roommates who can tolerate my weaknesses and help me solve the problems that were concerning me. I have met respected teachers and friendly schoolmates. Three months is short, but long enough to be impressed by the wonderful university life.
Work as a team
Winning feels good, but sometime losing can also be gaining, as is the case with our efforts in one game. About a month ago, a tug of war was held in our faculty. Fifthteen girls of my class participated, and I was one of them. Before the game, we've practiced many times to get ourselves prepared. Nobody could be more confident than us when we took the rope in hands. Holding the rope tightly, we lowered our body to keep it steady and got ready to fight. However, we were defeated in just seconds as the referee blew the whistle. Astonished and embarrassed, we were given a second chance. This time we decided to change our tactics and shouted our slogan out loud to boost our morale. The minute the whistle was blown, we began shouting "one, two, one, two...". Unfortunately, we lost again in the test of strength.
Though we lost the game, we were still satisfied about our performance. Everyone of us has worked hard as one towards the same goal. Besides, we have shown good team spirit and fostered close classmateship through this game. We were lost in physical strength, not in our mental power. Together we will get through any difficulties in the future.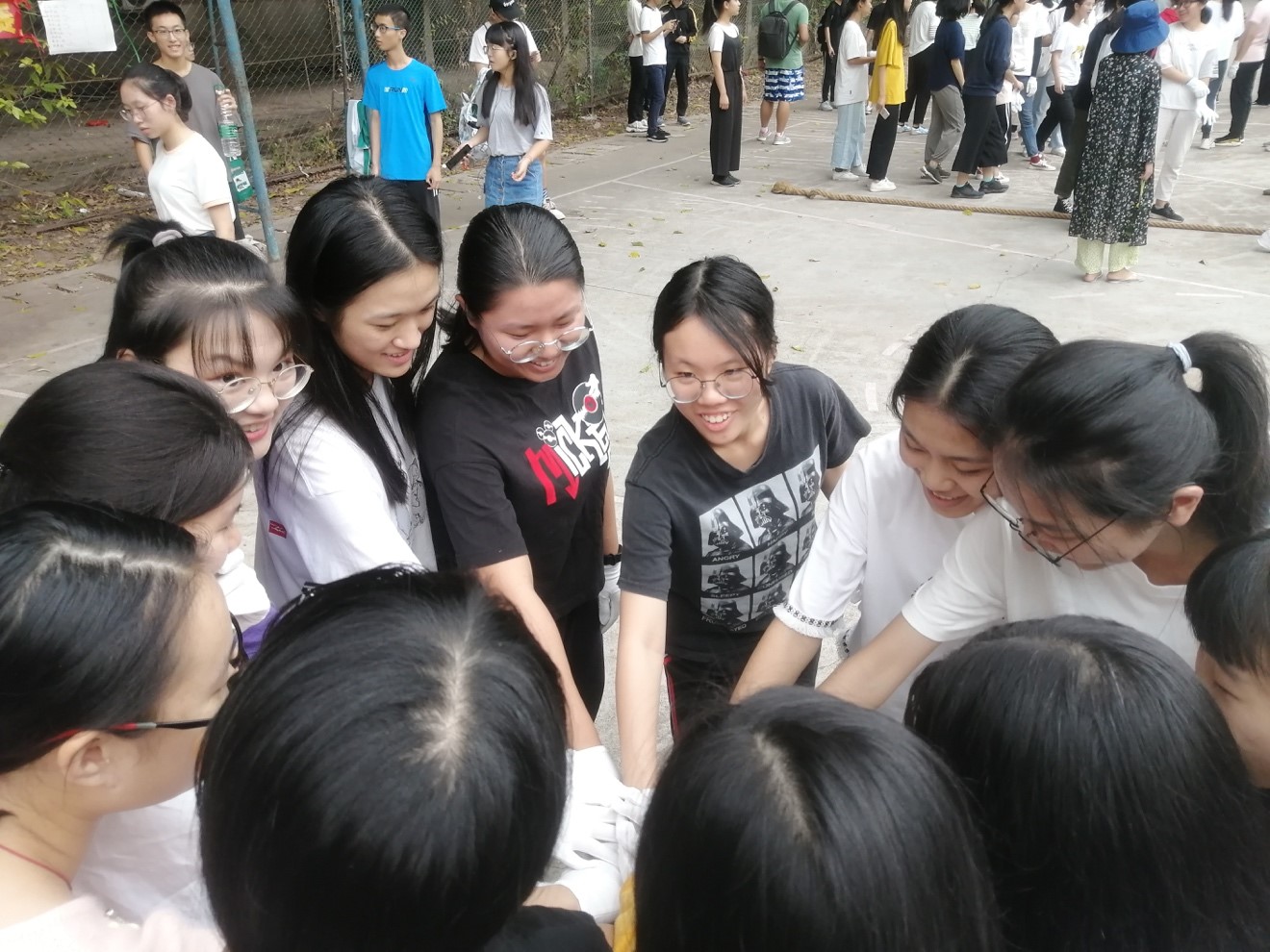 We cheer for ourselves in the tug of war
Strive for a better me
Class activities have enriched my campus life, while school internship has helped to shape my personality. I work as an intern in the school news agency, where I've got to complete a certain amount of workload, such as doing interviews or writing reports. Due to the workload, I found it hard to strive a balance between study and work. I began to complain a lot, kept questioning my status quo, and even blamed myself for joining this group.
It has been a tough time since I felt frustrated and stressed, but after hearing the experience shared by some senior students, I realized that it was not a big deal to be preoccupied with assignments and in face of uncertainty. Everyone is facing this or that challenge to a degree. It is ok to feel down as long as we are not mentally defeated. A life of perseverance and strenuosity, of not succumbing to the seductive sirens of a slack discipline, will always win the day.
Then I decided to adjust my own state of mind. I began with stress alleviation by consulting sophomores and juniors, and worked on balancing study and work by making my own schedule. Now I feel much better, and more accustomed to the university life. I learn how to manage my time in more efficient way, and stay more rational when confronted with thorny problems.
I really want to thank SCNU for helping me to convert some of my bad habits into good ones within three months, and I am looking forward to seeing a better "me" in the future.

What to read next: