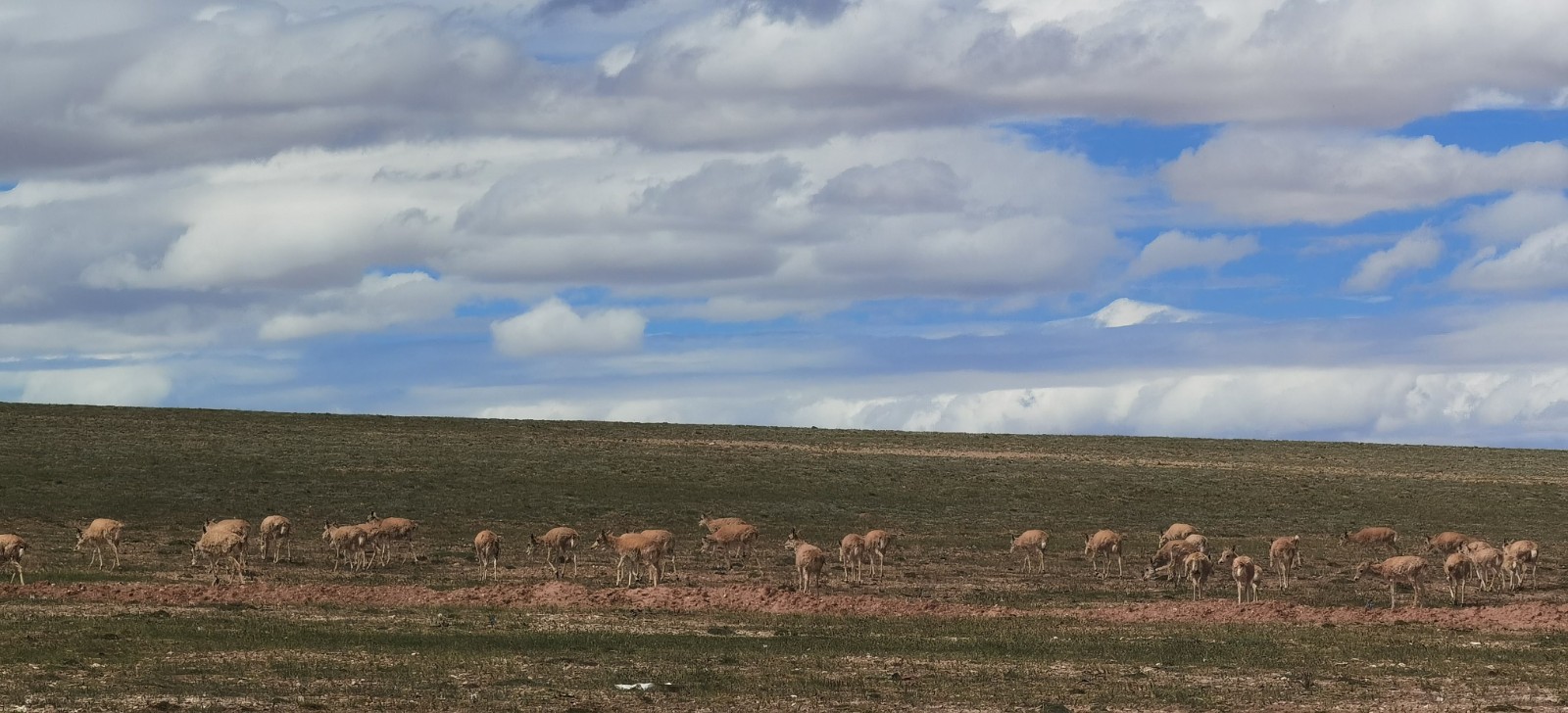 Editor's Note: The third SCNU English writing contest, themed "Telling China's Story", ended with 422 entries from 33 different schools. We congratulate all prize winners on their outstanding performance. Awarded winners have been announced (see results), and all winning entries will be published in this column.
-------
By Chen Minyi
A usual night, I fell asleep with a sweet lullaby of the Khobqi Desert. In exhaustion, memories flooded into my mind. The wind was wailing. Looking down to my feet, I still couldn't believe where I stood-- thousands of miles of oases without sight of where they end.
Sand dunes used to be the landscape across the desert. But through decades of efforts, green corridors comprising domestic and introduced psammophytes species have taken root on this stretch of sterile land. The story started in 2002. Wang Wenbiao, chairman of the Elion Resources Group, contacted me and began the feat with burning enthusiasm.
Though with massive push, afforestation in the desert is next to impossible. It took me about three or four hours on the way to work and back every day. Lacking in experience, I couldn't make it to maintain the survival rate of seedlings at a constant level. Extremely frugal as I was, I still found it hard to make both ends meet. It was 2010 that really changed a lot. That year, the local government and enterprises promoted the pace of the "green barrier" in the Khobqi Desert. I summoned up my courage and pulled up a group of villagers, establishing a team of migrant workers.
At first, we could only take over the remaining projects selected by others. When there was a low ebb, there seemed to be no other way but working harder. So we took pains to raise funds from various sources to fight in the endless desert.
Fortunately, God helps those who help themselves. We took on a big but difficult project-- the planting task of 500 hectares. Combining the "auger drilling" planting method with "windward slope" planting mode, we grasped the chance tightly in hand. It was common for us to disappear in the morning and reappear at night. After 43 days of hard work day and night in the open air, the task was completed on time with quality and quantity guaranteed. This "campaign" made the Zhang Xiwang migrant workers' League stand out among other leagues. The flag of the "Zhang Xiwang migrant workers' League" not only fluttered on the edge of the Khobqi Desert, but even stretched into the no man's land and the hinterland of the Khobqi Desert.
With its 2012 tasks fulfilled, the new round of afforestation had embraced a good start. After then, apart from physical exertion, I had to make great efforts in personnel wages, personnel safety, tree planting equipment, seedling sources and tree planting projects. Over the past few years, greening projects have served to enhance the Khobqi Desert as a "Desert oasis". The day I completed my shooting for CCTV, the first public service advertising on the theme of the Green Chinese Dream was finished.
Great changes have taken place, which are attributed to the strong efforts made to protect the ecology of this region. Soil erosion is mitigated by the planting of trees, which paved way for ecosystem production. Arbors and grass present a spectacular view, which attracts thousands of tourists. Bees and butterflies fly over bouquets of flowers, and swans flap their wings across the stream. According to one estimation, the green economy in the Khobqi Desert has created tens of billions of ecological wealth and driven more than 100,000 people out of poverty.
A great deal of greenery has been added to the beautiful landscape of the Khobqi desert, but a pleasant ecological environment resembling the paradise requires continuous endeavors and efforts. A variety of modern technologies are being utilized in the greening program. "Our big-data station monitoring the data of weather and rainfall here helps us replicate our sand control experience in the Khobqi Desert, a milestone in afforestation," said an engineer of the Forestry Bureau.
All of a sudden, a well-known sentence springs to my mind: Herdsmen like calling me by my name, for there is "xiwang" (which means hope) in it. It's no exaggeration to say that the story of the Khobqi Desert will pass on from generation to generation. In the near future, the trees will grow into Great Green Wall and weave our green Chinese dream.
What to read next: