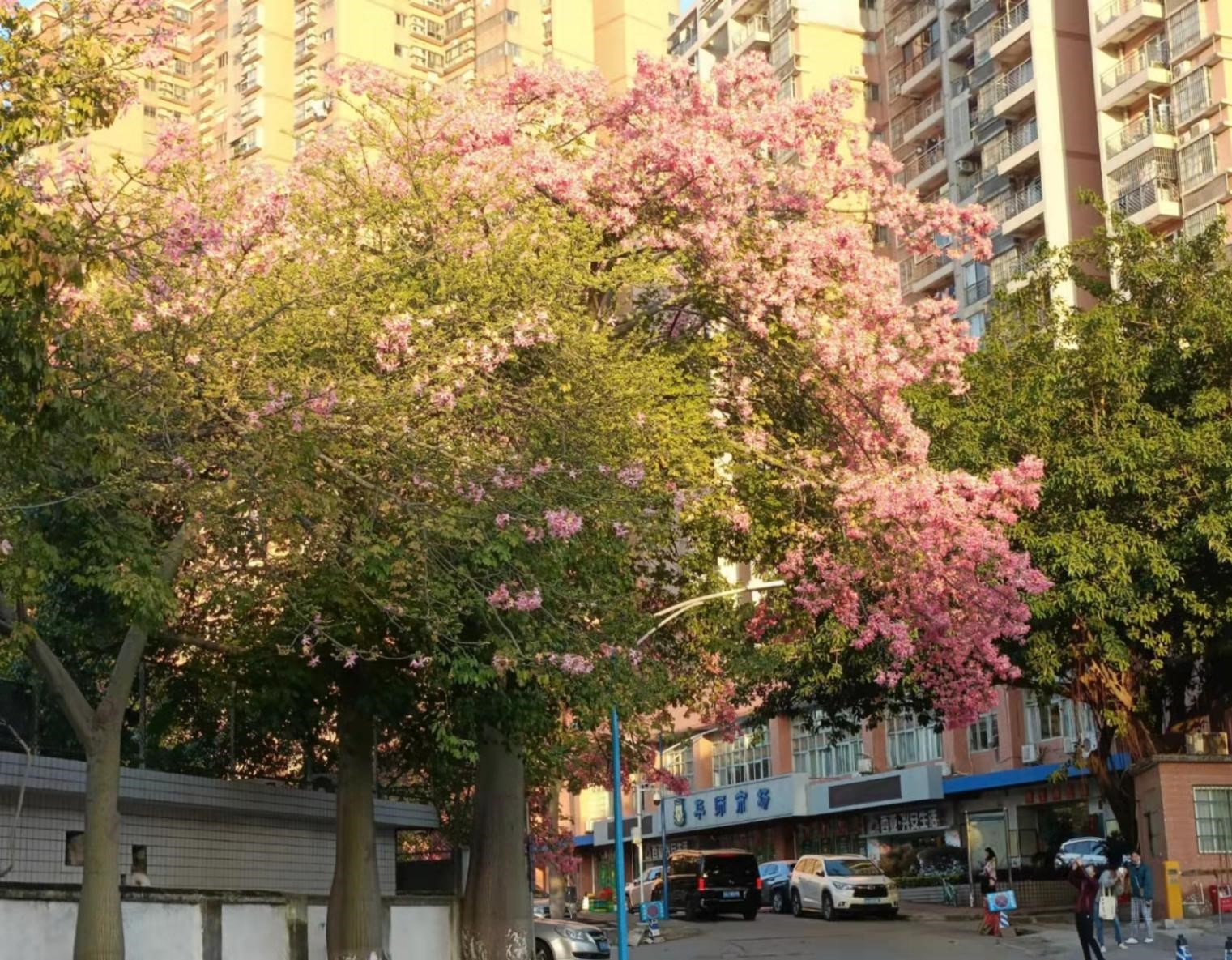 Editor's Note: The third SCNU English writing contest, themed "Telling China's Story", ended with 422 entries from 33 different schools. We congratulate all prize winners on their outstanding performance. Awarded winners have been announced (see results), and all winning entries will be published in this column.
-------
By Huang Siyi
The first time I stepped onto the campus of South China Normal University, I immediately loved it deeply in my heart. As everyone knows, SCNU is a university which is full of rich scholastic resources and a lot of talents. As for me, when I was young, I just thought that SCNU was a famous university in China without anything special. But when I entered this school on September 7, 2021, I got to know why it is famous and the beauty of it.
It is your beautiful sightseeing that attracts me deeply. Silk Floss trees are in full bloom, making all of us revel in their beauty. Blooming pink and yellow flowers carpet SCNU in spring, while autumn brings beautiful golden hues. If I have time, I will have a stroll to enjoy this incredible scenery on my own. On the way walking, I notice a lot. I see birds flying in the deep blue sky; I see flowers swaying in the wind, just like stars; I hear people chatting in the park...... It seems that life is really like a sweet dream. Every one of us is the happiest person enjoying this beauty. So I wish to share this feeling with everyone.
It is your open atmosphere that touches me deeply. Hard work, rigorous scholarship, truth-seeking innovation and being a good teacher are your expectations for students studying here. In the library, the diligent students tell me their spirits of striving to become superior people. In the classroom, the students discussing with teachers tell me their spirits of striving to become thoughtful people. In the competition, the students with confident smiles tell me how proud they are when standing on this stage provided by SCNU. It is with such hard-working students that we can have the present and future of SCNU.
As a student at SCNU, I really feel delighted because of the teachers here. Sometimes, they are more friends than teachers. Joy is my oral English teacher. Every time I have her class, I will be full of love and hope. I love her because of her small action that gave chocolate to comfort us on the mid-autumn festival. I am full of hope because she always shares with us her experience in study and life. "Though I feel tired before class, I will keep in this feeling and show you a happy smile to cheer you to get involved in the class," she said to us in class one day. At that time, I learned what being a good teacher means.
What's more, Crystal is the person I admire. As for me, she is my friend, and she will teach me that I should confront my studies and my life with a peaceful mind. When I have questions, she is always so kind and patient to help me solve my problem. I appreciate her teaching methods. She won't tell me the answer directly. Instead, she asks me some questions which make me have a deep thought. That is really important and useful in my studies. So I really want to convey my thanks to her.
As a student in SCNU, I sincerely feel delighted because of my classmates here. In my heart, my class is the most collaborative class. And we have lots of happy times at SCNU. During the sports meeting, everyone got involved actively as much as they could. Some were decorating the area of our class to make it more beautiful; some were participating in the competitions to make it possible to win a medal; some were taking good care of the players...... What was more, my class held some parties to celebrate classmates' birthdays, laughing and playing. For me, my class gives me more fun, and I am really fond of it!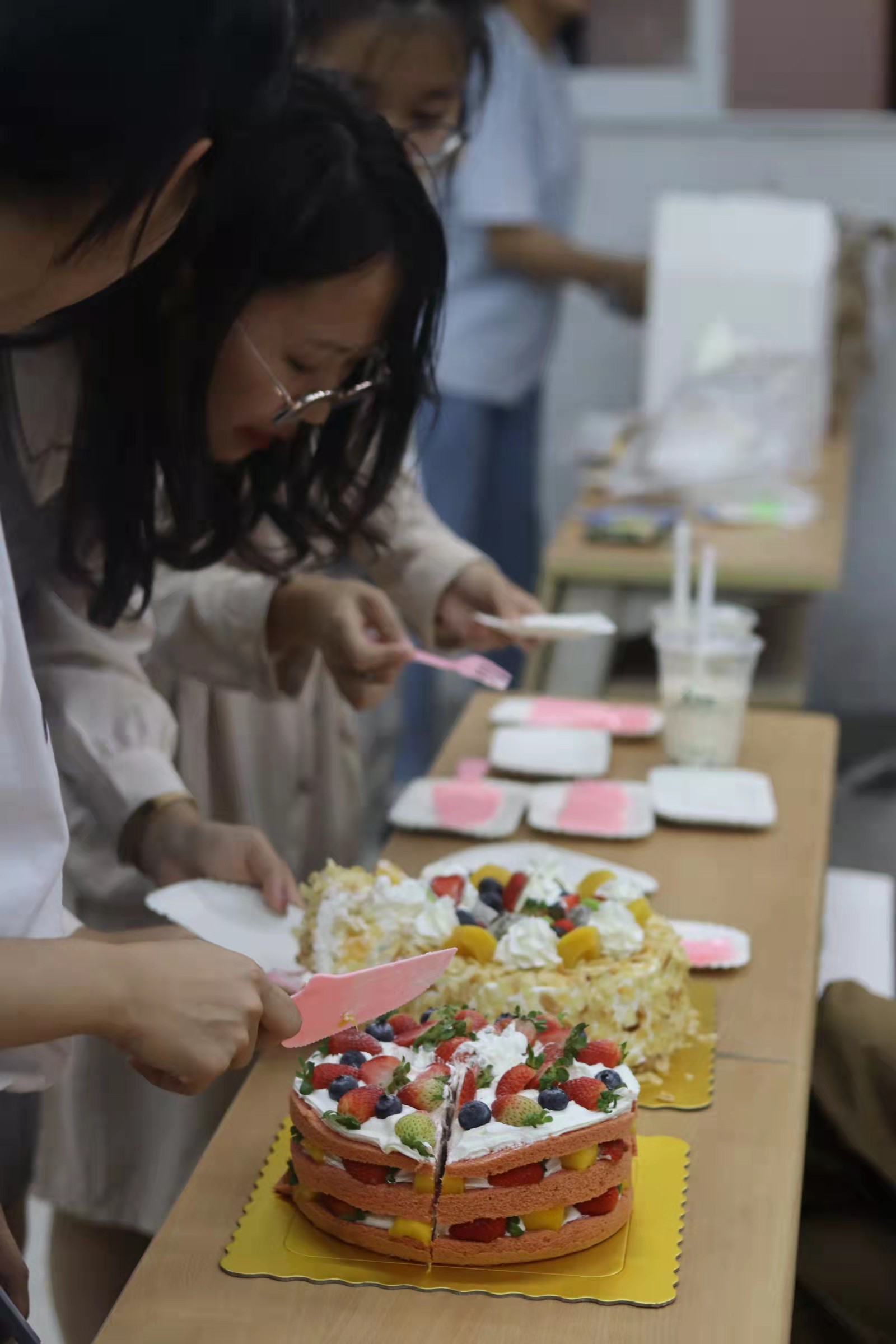 One of the parties we held for classmates' birthday.
Life is elastic. At SCNU, I have more chances to improve myself to be a superior teacher. I have more time to enjoy the beauty of nature. Learning at SCNU is my good luck in life. I am so pleased to be a student here. I am also willing to share this love and beauty with the world as much as I can.
Glad to meet you, SCNU. Because I love you, I will be the best myself!
What to read next: