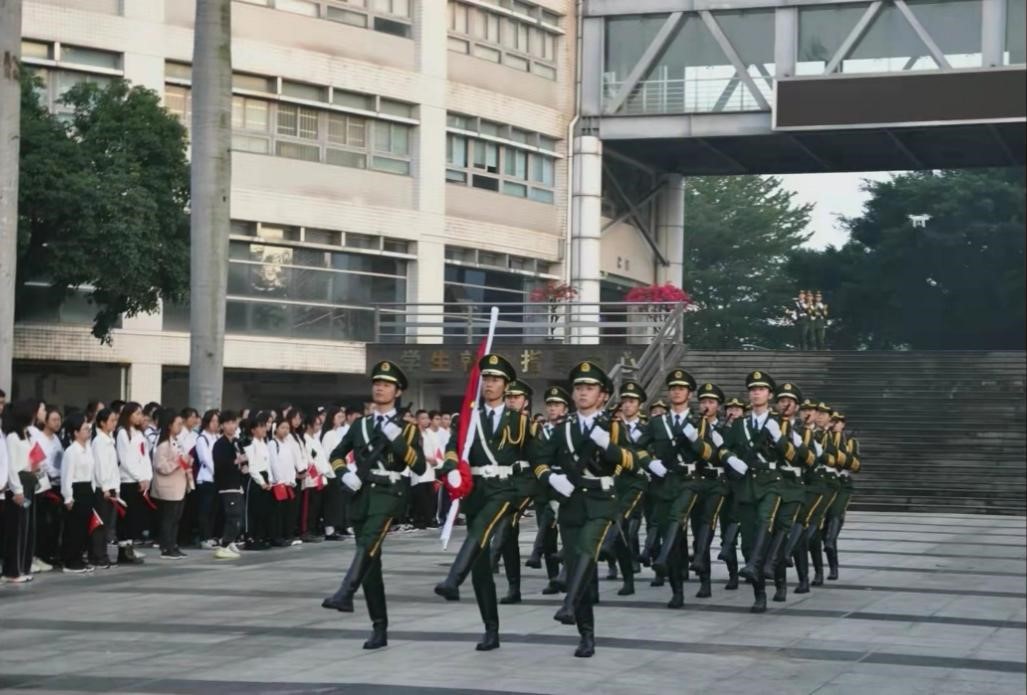 Editor's Note: The third SCNU English writing contest, themed "Telling China's Story", ended with 422 entries from 33 different schools. We congratulate all prize winners on their outstanding performance. Awarded winners have been announced (see results), and all winning entries will be published in this column.
-------
By Li Jiamin
At South China Normal University, there is a team. It's a unique unit of military green on campus. Valiant and disciplined, they are the national flag guard team of SCNU—the brightest scene on our campus.
For them, guarding the national flag is a sacred mission. Just like a blazing fire inside them, like a towering tree that has been deeply rooted in their heart. Whether sunny or rainy, the national flag guards will punctually wake up the sleeping school with their loud, clear slogans and neat steps on every Monday morning, starting a new meaningful week.
From Tuesday to Saturday, the national flag is raised punctually at 7:00 o'clock in the morning and is lowered at 6:00 p.m. It's the national flag guard team that lets the bright Five-Starred Red Flag always flutter in the sky over SCNU. When it comes to its achievements, it must be mentioned that this highly disciplined and well-trained team has earned countless honors for our school. For instance, on behalf of SCNU, they participated in the competition named Exchange and Exhibition of National Defense Education Achievements of Schools in Guangdong Province, and won the first prize of provincial competition for three years successively.
Handsome is the impression they have left on us, and for which they are highly appreciated among the whole school. However, behind their handsome postures are the hard trainings that go beyond your imagination.
Usually, the team members are accompanied by repeated boring trainings. Trainings require them to get up early, and even take up their valuable weekend time.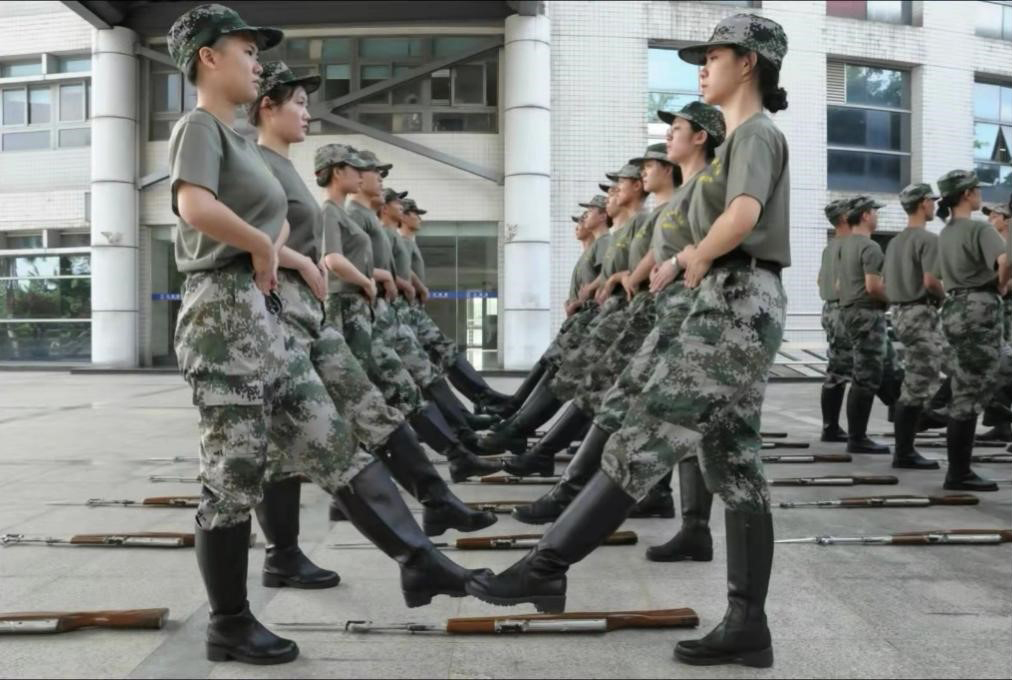 Routine trainings of the national flag guard team.
"I know the appearance of Los Angeles at 4:00 a.m. every day," the world celebrated basketball player Kobe Bryant once said. Maybe the guards haven't seen the appearance of Los Angeles at 4:00 a.m., but they must have witnessed the appearance of SCNU at 6:00 a.m. When many students are still in their sweet dreams, they get up and start their arduous trainings. When others are going shopping, dating or visiting scenic spots on the weekend, releasing their pressure that piled up during the week, what accompanies them are still more trainings. Perhaps you will wonder: the whole process of the flag-raising ceremony takes only a few minutes, so are all these dull and tiring trainings worth it? Maybe another word of Kobe can answer it well: "What I'm doing right now, I'm chasing perfection."
It was an ordinary night. Hanging in the night sky, the moon looked like a big silver disk, the stars were dotted, and the evening wind blew on people's cheeks, cool and soft. The football field was as lively as usual, where some students are sitting around for holding wonderful activities, some are going for a walk and chatting with their dear mates joyfully, and most are running or doing other sports. The sound of talking, laughter, singing and gasp are mingling in the evening air, presenting the colorful and fantastic campus life in SCNU.
Nevertheless, there is another particular scene here.
When I was running on the track, I came across the guards of the national flag. Although they wore their own casual clothes instead of the green military uniforms at that night, I could quickly recognize them by their unique temperament, which can be labeled as determination and spirit. Lined up in two rows, they marched in orderly paces, with their backs straight and their heads held up. So concentrated and earnest were they as if everything around them no longer exists. The bright, clear moonlight sprinkled on their firm, earnest faces, from which I seemed to read something special and important. For a moment, I thought, they were the brightest scene on our campus, just like the brightest star in the night sky!
Through their day after day of hard drills, they spread and develop the National Flag Culture and patriotism over our campus, expressing the story of SCNU in a vivid way and living up to the expectations of our time and the promise of our youth! Who can deny that they are the brightest scene in SCNU?
What to read next: