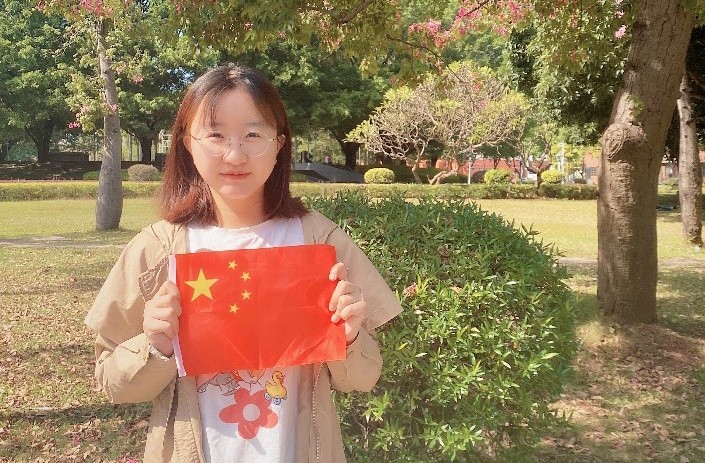 Editor's Note: The third SCNU English writing contest, themed "Telling China's Story", ended with 422 entries from 33 different schools. We congratulate all prize winners on their outstanding performance. Awarded winners have been announced (see results), and all winning entries will be published in this column.
-------
By Wu Roujing
In an era when China is opening wider to the world and its influence is seen as at no time before, it is all the more important to make us heard in the global arena, so that the world can see a true, colorful and comprehensive impression of China. As a youth in the new era, there are many precious and touching stories about China in my mind, which together make up this amiable, lovely, as well as respectable country.
It is a country with a cultural heritage. Li Ziqi, a video blogger with tens of millions of fans, uses the short video platform to present authentic traditional Chinese culture and crafts. She is being followed and loved by many foreign netizens. This has greatly promoted the spread and development of Chinese cultural stories. Grandpa A Mu, a "contemporary Lu Ban", also shows his outstanding handicraft and valuable craftsmanship through videos, and has won wide attention and support from all over the world.
It is noteworthy that in China, people like them are not unique; they are typical of dozens I have known, for there are still a great many people spreading Chinese culture in their own extraordinary ways, and an ever-increasing number of people are inspired by them to take over the mission of promoting our heritage. It is rather remarkable that they give consideration to both historical tradition and innovation, aiming to carry forward the "craftsman spirit" to the world.
China is a country with common beliefs and goals. In the interview after sprinter Su Bingtian broke the Olympic record, he especially mentioned the encouragement and support of the "Asian flying Man" Liu Xiang. In addition, he expressed his great hopes and high expectations for young athletes. So we can see, in the sports arena, this common spiritual collective inherits their dreams and experiences from generation to generation, and persists in winning glory for the country. It is undeniable that they boast incomparable value to display China's image.

China is a country with special genes. In such a country with countless martyrs, the stories of heroes are well-known and the landmarks can be seen everywhere. As we know, the revolutionary martyrs spared no effort in creating the road to a great future, the Anti-Japanese soldiers stormed the front with the red flag flying high, Red Army soldiers took responsibility to get through thick and thin. And that's largely due to the older generation tirelessly telling the younger generation great stories about supermodels, and the younger generation consciously learning from them and following their example, so that the red gene will keep its meaning, and be passed on from generation to generation. It is no wonder it is acknowledged as a gem of China.
China is a country with tenacity and responsibility. Facing the sudden coronavirus pandemic, the Chinese nation stood united and joined hands in the fight against the virus. From medical workers to the People's Army, from scientific researchers to community workers, from seniors to youths, numerous people fulfilled their missions at the cost of their lives and protected humanity with sincere love. All these people vividly illustrate the great spirit of fighting in the pandemic. Moreover, as the spread of the epidemic became more and more serious overseas, China continuously donated medical supplies and shared its own experience of epidemic prevention to countries hit hard by the epidemic. Furthermore, Chinese medical teams have also marched straight to the frontlines of the world. This displays China's image as a responsible country and its commitment to "a community with a shared future for mankind".
This is a country with constant perseverance and development. From Change 4 landing at the back of the moon to the successful launch of the Shenzhou 13 spacecraft; from Huawei's independent research and development of chips to the commercial accelerated rollout of 5G, China has come a long way to prove its strength to the world. In a hundred years, China has grown from the "sick man of Asia" to the "second largest economy in the world". It has proved the world that the Chinese nation has achieved a tremendous transformation from standing up and becoming prosperous to growing strong. Its powerful scientific and technological strength enable China to forge ahead on the new journey with greater morale and make still greater contributions in the new era. This is not only a well-known side of China, but also its proudest side.
Just as the forest is indispensable to birds, likewise the comprehensive understanding of the world is indispensable to China. As a proud Chinese youth, I am prepared to show to the whole world, that China is a vibrant, precise and united country, which is not limited to the stereotypes of "huge population" and "uncivilized visitors".
Therefore, I do hope that I can be a writer of Chinese stories, to open more windows for the world to know China, so that Chinese stories can be shown more extensively and truly. At the same time, I am also a teller of Chinese stories. I will exert my utmost effort to make use of my major ability to let the spread of Chinese stories come closer to the thinking and language habits of foreign audiences, so that the strong voice of China can be heard by the world, the understanding of China can be deepened by the world and the image of China will be remembered by the world.
What to read next: