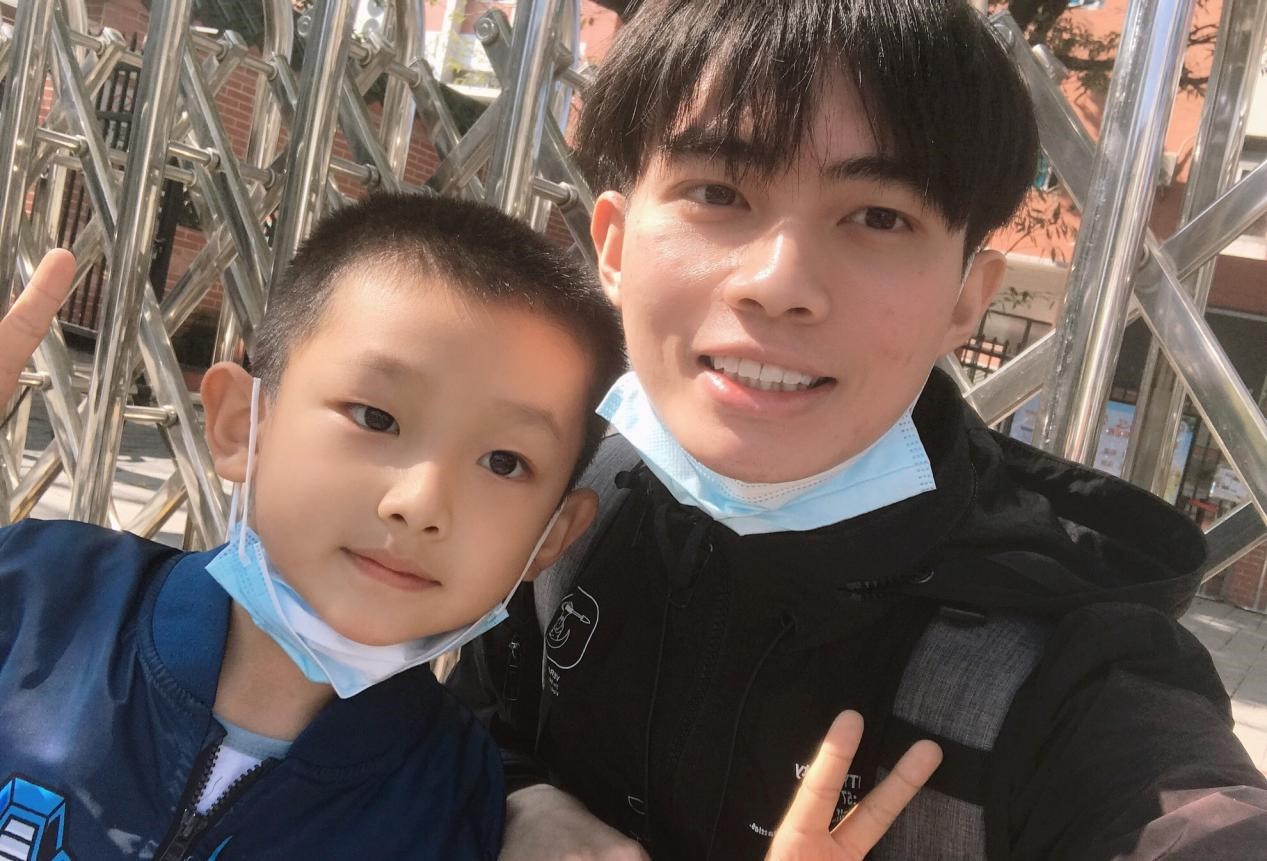 Editor's Note: The third SCNU English writing contest, themed "Telling China's Story", ended with 422 entries from 33 different schools. We congratulate all prize winners on their outstanding performance. Awarded winners have been announced (see results), and all winning entries will be published in this column.
-------
By Li Zhuobin
October 15, 2020 was the New Member Recruitment Day for the Youth Volunteer Association of the School of Foreign Studies at South China Normal University. That afternoon, I elbowed my way through the corridor packed with enthusiastic applicants. As a new leader this term, I was ready to get more "fresh blood" to revitalize our team.
After entering the room, I sat down, smiled a warm welcome to the first interviewee, set the timer and began the first question, "Why do you want to be a volunteer?" Without any hesitation, the freshman answered earnestly and excitedly, "I come from a remote and poverty-stricken village. Without the unconditional support from volunteers for many years, especially in the pandemic, I would not study in the university today." His eyes suddenly sparkled with firmness as he raised his voice, "I'm determined to carry on that spirit." This answer undoubtedly tugged at my heartstrings. As other team members raised more questions for him, I cast my mind back to the time when COVID-19 first struck China.
Late January, when Wuhan was under lockdown, countless volunteers risked their own lives, pitched in the fight and made concerted efforts to bring assurance to people there. The more I read about their heroic deeds, the more moved I was by their altruistic spirit. It dawned on me that as a college student, I should also make contribution in this battle.
Thanks to my university, my wish came true very soon. When the new term started, the SCNU Anti-epidemic Youth Volunteer Service Team was formed, with an aim to help children in Guangzhou whose parents were doctors working temporarily at hospitals in Wuhan. With their children tutored on line in their spare time, the doctors could focus more on saving lives.
Fearing that I could lose this golden opportunity, I immediately applied and was luckily admitted to this task force. Assigned to teach an eight-year-old boy whose mother was a doctor in Wuhan, I was eager to be in touch with his parents and thus start my first on-line lesson. I was overjoyed when his mother called from Wuhan. From the phone came her gentle voice muffled by the mask, "Good morning. This is Jinrui's mother." After exchanging greetings, she continued, "Thank you so much. Yet, if other children need your help more urgently, would you please tutor them first?"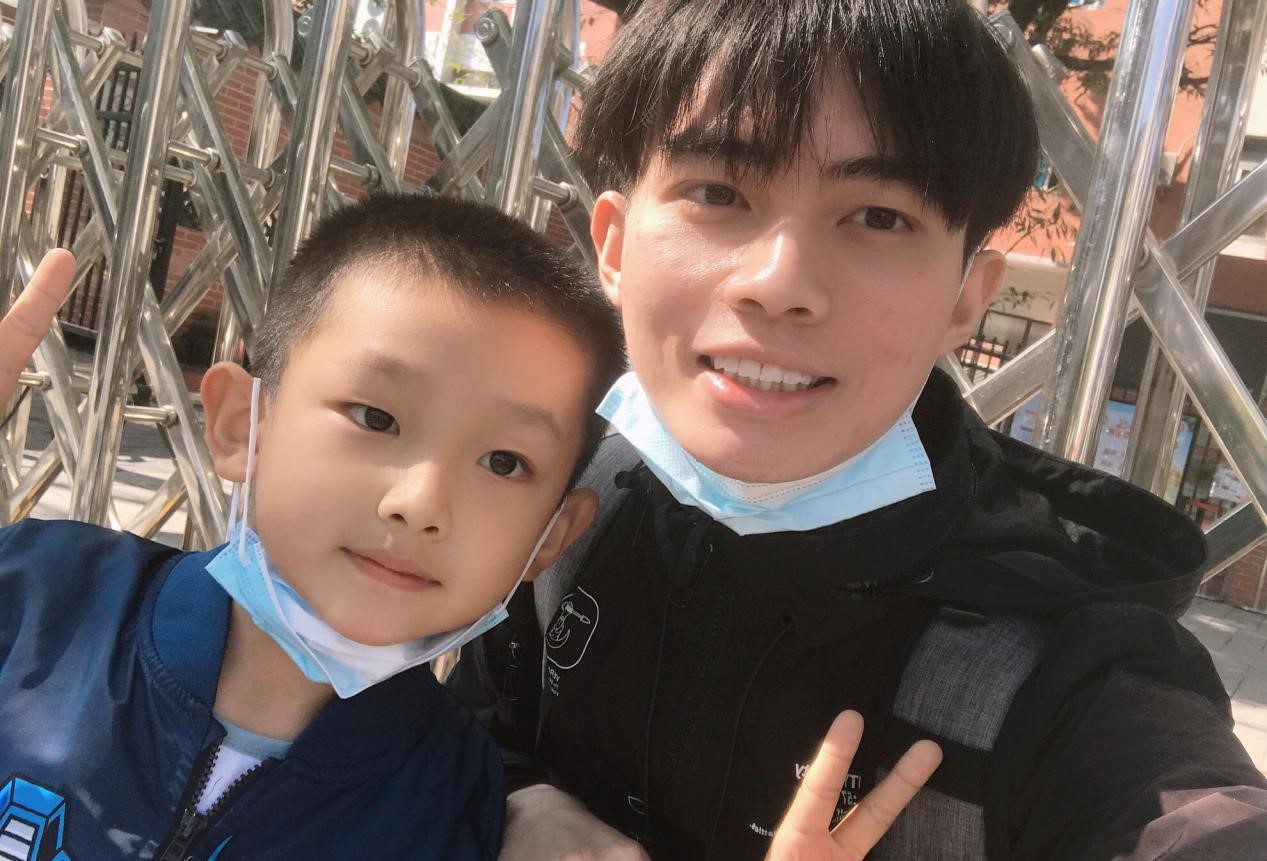 The author (right) takes a selfie Zhang Jinrui, the boy he tutors in the program.
What? I couldn't believe my ears. Tears rolled down my face as I was overwhelmed with her selfless spirit. Putting her life at peril in Wuhan, she was still thinking about others' benefits first. What a role model for me! I immediately reassured her, "Don't worry. This tutoring program can help thousands of children. Trust me. I promise I will be responsible."
Hearing my words, she was relieved, "I'm so grateful to your university. Your help removes my only concern. Jinrui is not good at English, but I see light of hope now. Thank you so much."
I put down the phone happily and proudly, feeling like a soldier fighting with her side by side in the front line of this anti-pandemic battle. Yet, the reality is always harsher than the dream. When I started the first week, I realized the work facing me were more than I could handle. To begin with, I'd never taught a child before face-to-face, let alone on line. As I prepared for the first lesson, I nearly lost my confidence. Dozens of questions kept popping up in my mind: how could I make the lesson interesting? How could I use simple words to explain the language patterns? How could I …?
In addition, as a sophomore, I had 13 courses in total, including 11 compulsory courses and 2 optional courses every week. They require not only time but also focus and efforts. It was hard to balance my own study and the volunteer job. Despite the challenges lying ahead, I still resolved to strive forward.
In the next two months, I taught Jinrui on line from Monday to Sunday for one hour each day. Yet preparing for the lesson would take nearly 2 hours for a novice teacher like me. Meanwhile, the pressure from my own study -- having 13 on-line courses, giving presentations, shooting video clips, and doing research -- was more than I could tackle. Sitting before the computer for nearly 18 hours a day, I suffered not only swollen eyes but also neck and back pains. Like a machine running continuously, I could only sleep for 4 hours a day. Physically, I was on the verge of breakdown. Mentally, the pressure nearly plunged me into depression. After struggling for a week, I decided to quit and break it to Jinrui's parents after his birthday, which was the next day.
As Jinrui's mom couldn't spare the time that day, I celebrated Jinrui's birthday with him on line. Guessing the boy might be disappointed, I tried to cheer him up. After showing him a card I made, I spoke tentatively, "Jinrui, are you sad as mom is not at home today?" Out of my expectation, he smiled with childlike delight, "No, I'm proud of my mummy. She is saving people's lives in Wuhan." I proceeded, "then, what is your birthday wish?" Suddenly, he joined his palms, put them before the chest, and answered in a loud and solemn voice, "I wish human beings defeat the virus soon."
Like mother, like son. Jinrui's words touched my heart as his mom's voice echoed in my mind. Past news about volunteers resurged and the photo of Dr. Zhong Nanshan riding the train to Wuhan jumped into my mind. Instantly, I felt ashamed of myself. How can I abandon my ambition as a devoted volunteer? How can I raise white flag now? Almost all Chinese people, young or old, were faced with unprecedented challenges. They had the courage to fight against them and move on. Why couldn't I?
Jinrui's birthday wish rekindled my resolution to continue my volunteer job. That night, after reflecting on why I failed to strike the balance, I set up a new schedule for both my study and volunteer job. I also wrote a priority list. I decided not to visit Wechat moments and cut down on on-line chatting; what's more, I turned to experienced teachers for help in conducting a lesson effectively. After these were done, I saw light at the end of the tunnel.
Only a week later, miraculously, I found myself more skillful in teaching and more efficient in study. I enjoyed more sleep and was happy every day. No pain, no gain. Through overcoming these challenges last term, I reaped the fruits of arduous efforts and have grown into a "better me".
As a volunteer teacher, I was rewarded to see the drastic progress Jinrui made in English. As a member of the SCNU Anti-epidemic Youth Volunteer Service Team, I was proud that we were conferred with the title "Advanced Team" by the Communist Youth League of China.
Academically, I also achieved some fruits of success: I won the first prize in the Seventh Guangdong Provincial Writing Contest for University Students. I ranked first in GPA in Grade 2018, at at the School of Foreign Studies and I was awarded with a National Scholarship by the Ministry of National Education in China.
"Di, di, di…", the timer ticked away the minutes, and the alarm pulled me back from recollection to reality. "Time's up! Thank you for your participation." I bid the passionate interviewee farewell and waited for more to come. With the long queue of applicants in sight, feeling moved and inspired, I pledged to devote my whole life to this noble mission.
I'm confident, with more university students' participation in volunteer programs, we will have a more harmonious and united country. For people in need of help, we can always give them our warmth and support, making them, too, see the light at the end of the tunnel.
What to read next: