Editor's Note: Under the theme of "Challenge and Change", the second English writing contest of SCNU has came to a close with over 280 articles from 28 schools and colleges. We recognize all prize winners for their excellent performance. Awarded winners have been announced (see results), and all winning articles will be published in this column.

-------
By Peng Bingmei
The entire world is undergoing changes unseen in a century. During the course of the Covid-19 pandemic, opportunities co-exist with challenges. With the second peak of the pandemic, the impact on studying abroad has become a concern for quite a few parents and students preparing to study overseas. I would like to elaborate on the positive and negative effects that the pandemic brings to studying abroad.
Challenges of studying abroad
The safety of students during the pandemic. Many students fret about health problems during the pandemic, which makes some students afraid to apply to overseas universities. This is especially true for students who wish to study in the United States, where the pandemic is still severe. The QS (Quacquarelli Symonds) survey among Chinese students studying abroad shows that health issues are their greatest worry during the epidemic.
Data from the QS survey [1], chart by the author.

In the light of such concerns, safety education for studying abroad is advisable, and we can adopt some approaches to carry out the safety education. For example, pre-departure training for studying abroad, establishing a public account for students in colleges and universities to regularly introduce some precautions and other measures on the safety of studying abroad. Using these approaches, we can improve the effectiveness of safety education for studying abroad during the pandemic.
The problems of teaching and learning during the pandemic. China is a major source of international students for Australia, but the entry restrictions have affected the return of Chinese students to school by a large margin, which is troublesome for Australian universities. Nevertheless, a number of colleges and universities have already considered postponing the start of academic school year or providing on-line teaching and other measures in order to help Chinese overseas students cope with the difficulties.
Some university principals also record videos to motivate students, with some chancellors even speaking Chinese. The Australian National University (ANU) provides a variety of options for affected international students, such as remote classes, credit sharing, postponed graduation and the possibility to make up for missed classes. Vice-chancellor Brian Schmidt (ANU) also issued an open letter to make it clear that anxiety about the pandemic should not lead to discrimination of any individual or group.[2]
Opportunities of studying abroad

The number of applicants to study abroad is on the decline, in comparison, it strengthens the competitiveness for those persist and apply. From this chart, we can clearly see that the Covid-19 pandemic has affected the plans to study abroad of more than half of all international students. According to the survey, more than half of international students are prone to postpone their plans to study abroad, which indicates that the number of applicants to study abroad this year will decline to an extent. As a result, students who continue to apply this year to study abroad will have an increased level of competitiveness in choosing schools.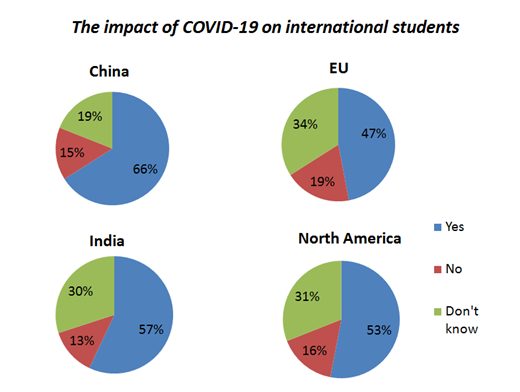 Data from the QS survey [1], chart by the author.
The admission threshold of foreign schools is lowered, which is very advantageous to Chinese students who are considering choosing foreign schools. According to a teacher working at New Channel Education, due to difficulties in recruiting international students during the pandemic, some foreign schools have lowered their admission threshold.
According to American media outlet The New York Times, before fall in 2021, most schools across the United States revised their application requirements, especially for standardized exams. Dozens of colleges and universities have cancelled the SAT and ACT tests and even GRE/GMAT test scores have been changed from "Required" to "Optional". The pandemic has contributed to many prestigious schools lowering their application requirements, simplifying the application process and reducing the threshold to a great extent, so that students who choose to study abroad have more opportunities to realize their dreams of studying at a prestigious school. Therefore, being in such a favorable situation now, international students should prepare themselves well, improve themselves and strive for their ideal prestigious school!
In summary, opportunities coexist with the challenges of studying abroad. How to address the problem of "Study in China or go abroad" requires us to consider the domestic and foreign situation of the pandemic and future career planning. During this pandemic, the most crucial matter is to protect the health of yourself and your family. Nothing is more essential than life. Panics and worries are normal reactions. Although the plans for studying abroad conflict with countless variables, you must have the full confidence to overcome them. You are advised to keep communication open and adjust your plans to study abroad in accordance with specific situations flexibly.
References:
[1].QS调查出炉:中国留学人数受疫情影响减少了吗?[J].中国对外贸易,2020(09):72-73.
[2].疫情当前,留学国家哪些措施需关注?[J].中国对外贸易,2020(03):78-80.
What to read next: