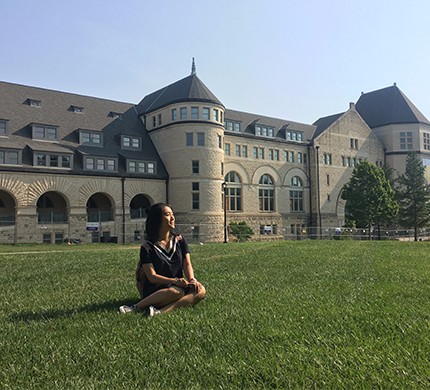 Editor's note: Under the theme of "SCNU & ME", the English Writing Contest has collected over 320 articles from 30 schools and colleges (see results). This column is specially dedicated to the award-winning works.
-------
By Jiang Caixin
In 2018, I was elected as an exchange student to Kansas State University. This was my first time going abroad on my own. I was excited, while also stressed out. To save money, I rented an apartment near the campus. I still remember the feeling when I first got to that room. It was completely empty. There was no bed, no desk, no chair, even without electricity and internet.
After a 23-hours flight, I sat desperately on the floor, with bare feet. I didn't know how I could take a bath and where to sleep that night. I didn't know how to open an account for electricity and an Internet connection. The supermarket was so far away that I couldn't get there on foot. At that moment, I couldn't help but weeping. I wanted to go back to China. Thankfully, my warm-hearted neighbor and landlord did me a favor. They gave me a ride to the supermarket, so that I could buy some food and necessities. My neighbor allowed me to take a bath in his room and taught me how to get access to electricity and the Internet.
During the first semester, I enrolled in a high level class titled State and Local Government. Since I didn't know U.S politics well and I had some language barrier at that time, it took me about 6 hours to read a paper. I explained my difficulties to the professor. He was so nice and willing to offer help. He not only allowed me to use a recorder in class so that I could review his lecture, but also spared an hour every week before class to help me understand articles. With his help, I gradually caught up and became and active and talkative student in class. Actually, every professor offered me some help to some degree. Finally, I got As in every course and was awarded as an honors student in the Arts and Sciences College.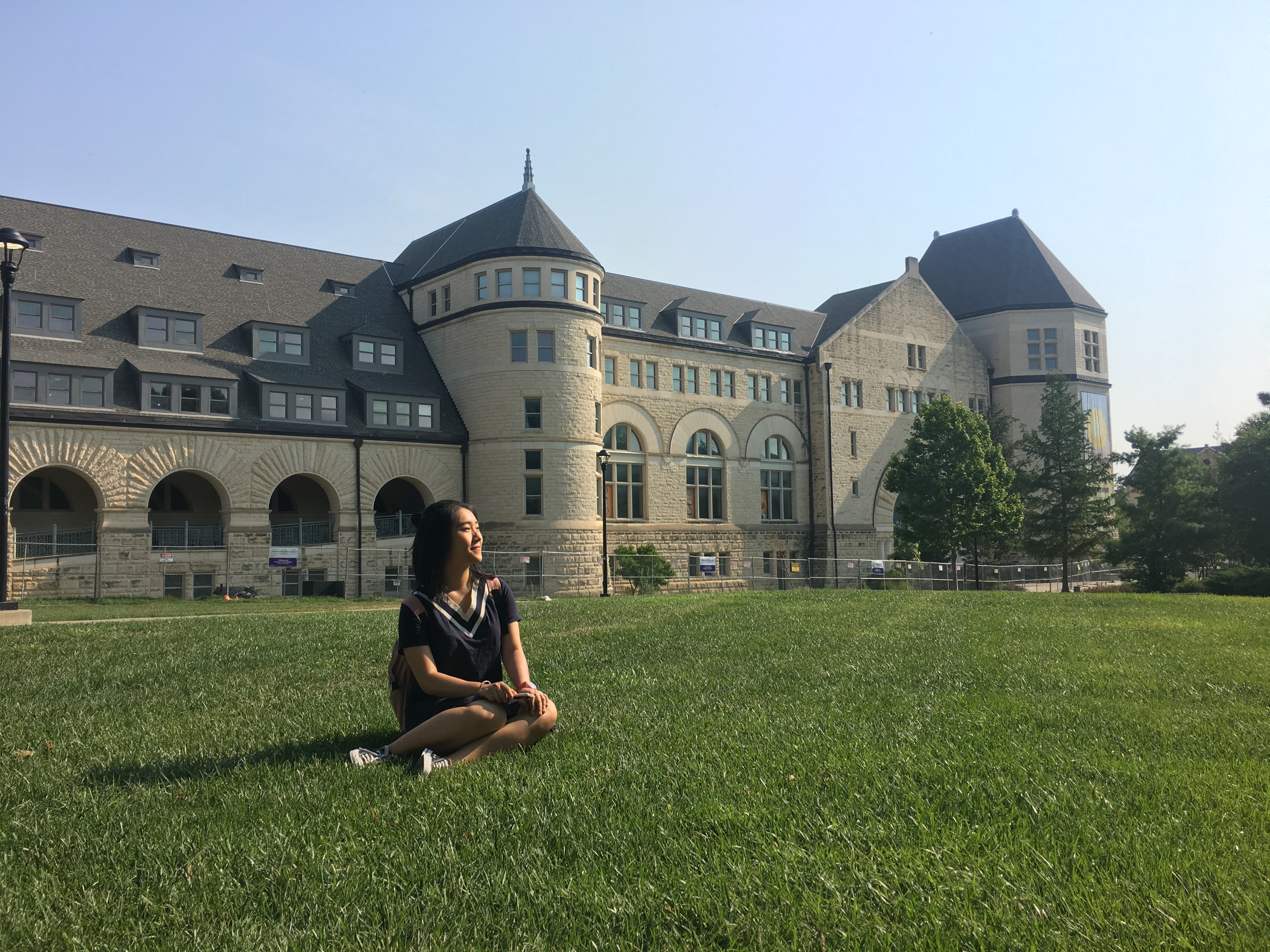 A picture of mine taken in front of the school library on the first day of orientation
During the following semester, I could enjoy class more. I really appreciated their ways of teaching. Many professors didn't like to use textbooks. They would rather to let us read the original texts, so that we could figure out what's important ourselves. Having class was not just listening to the professor. Instead, it was more like a discussion and everyone had opportunity to let his voice be heard. Also, I liked to talk to professors during their office hours. I discussed papers, my future plans and my hobbies with them. They were very friendly and gave me a lot of useful advice.
I made a really good friend in the US. Her name is Hannah. She was a very outgoing, open-minded and lovely girl. She had lived in 7 states and she was a devout Christian, a totally different background from mine. Surprisingly, we always had a lot to talk.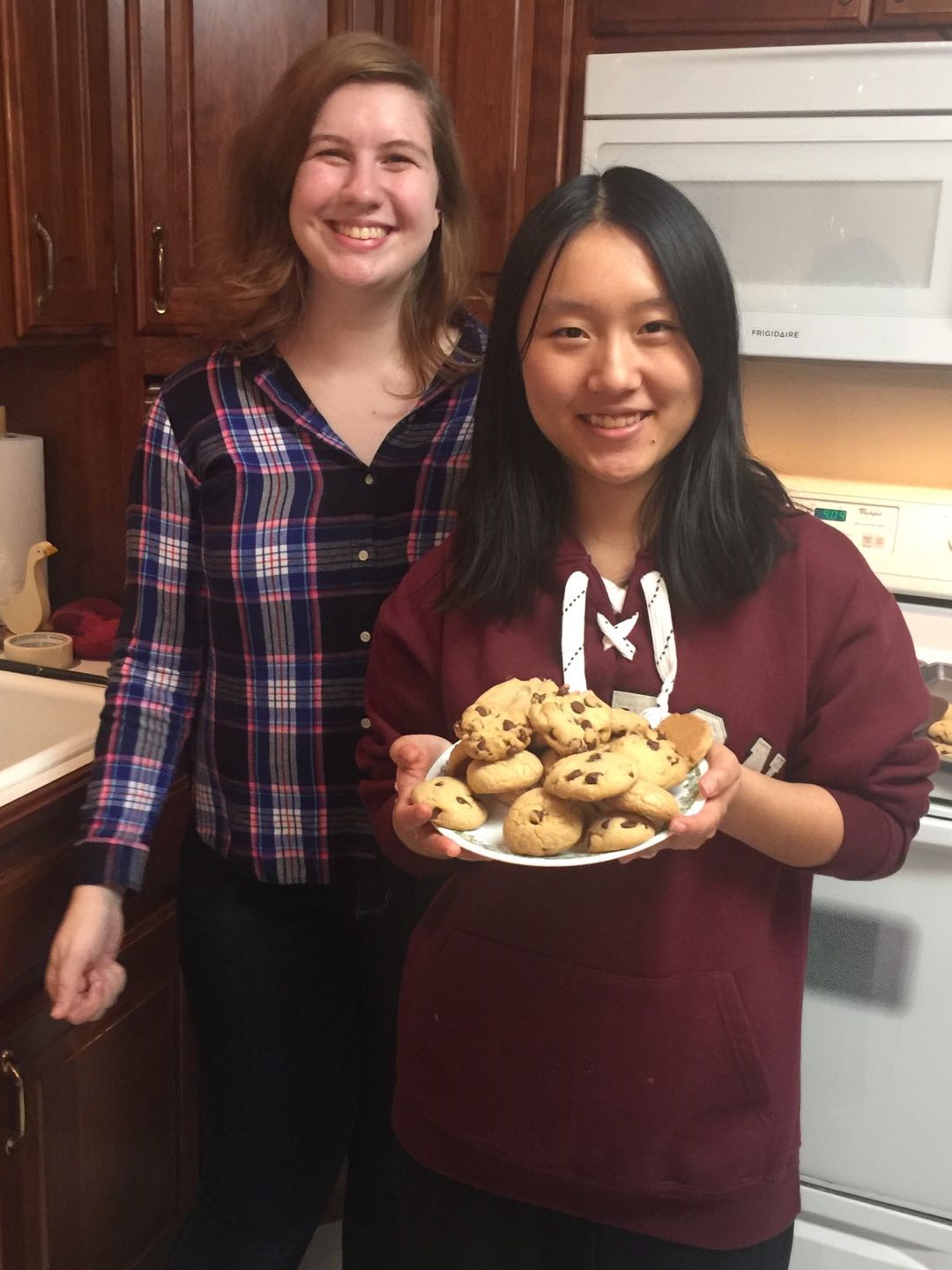 Hannah teaches me how to make American cookies in her house during Chrismas break
Knowing I had nowhere to go during the Thanksgiving holiday, she invited me to her home. She taught me how to make cookies and we watched movies together. Since she is learning Chinese, we usually studied together. I helped her review Chinese words and she helped me with some reading. Before I left, she drove me to the top of a hill in suburb. We laid on her car trunk and enjoyed the night sky. We made a promise to each other. If I visit the US later, I would visit her family. If she comes to China later, she definitely would come to see me.
When I write these stories now, I miss all of them so much. Because of them, I adapted to the new environment and passed the culture shock quickly. I got great GPA. I had a lot of fun. They made me feel like I was at home and never felt lonely. I really hope I could have the opportunity to see them again in my life. My exchange experience would definitely be one of my most brilliant and unforgettable memories.
What to read next: