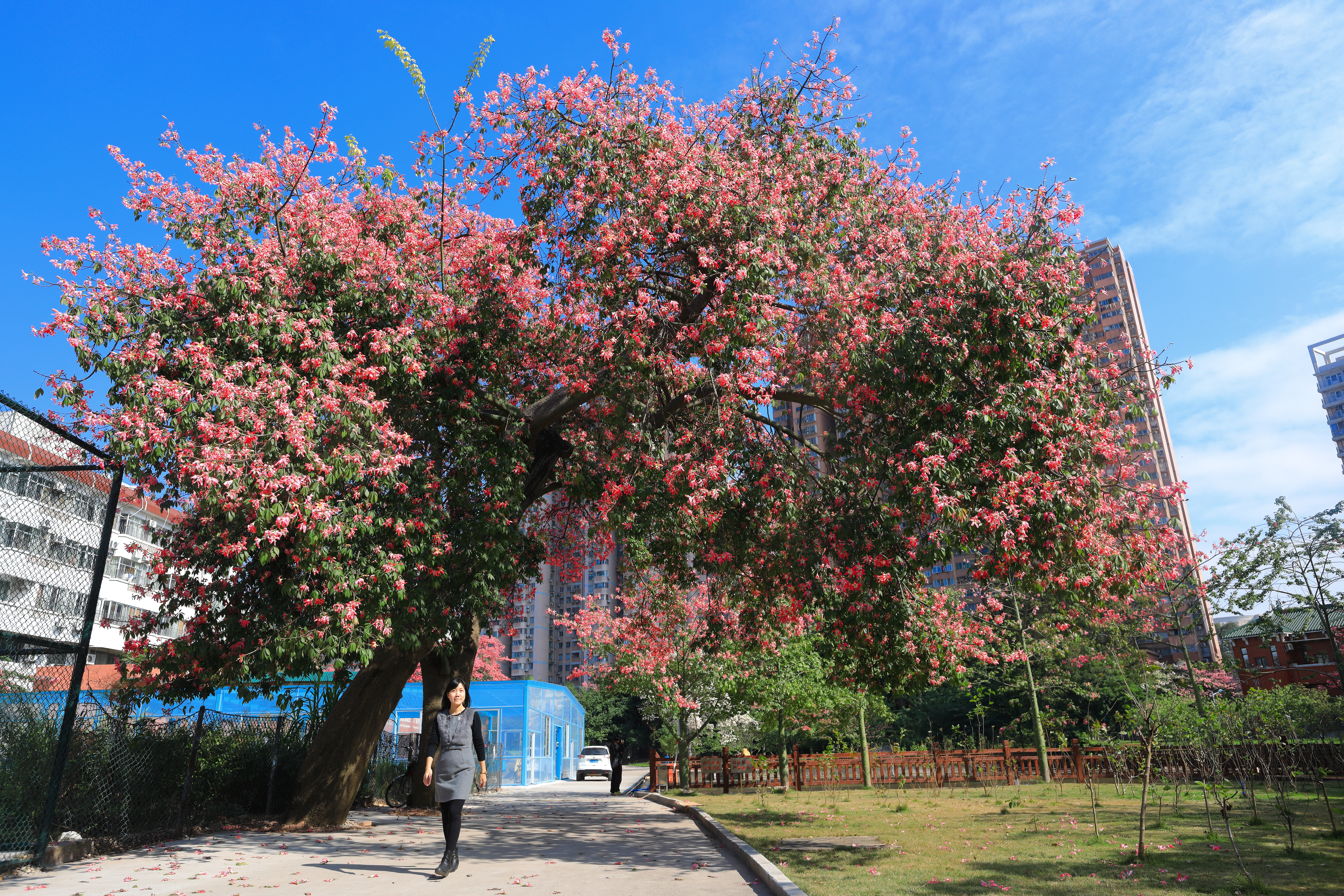 Editor's note: Under the theme of "SCNU & ME", the English Writing Contest has collected over 320 articles from 30 schools and colleges (see results). This column is specially dedicated to the award-winning works.
-------
By Zhao Wenqiang
Chilly breezes blown by the fall press the hidden bloom buttons on the trunks, and, overnight, millions of large showy pale-pink to rose-colored flowers with five frilly petals come out of nowhere. The flowers perch on the branches, burning the air with pink flames, bending the twists with stunning weight, and catching the eyes of all passers by.
Wandering on the campus and just turning around a corner, you will be lit up by, not hundreds, but millions of pink birds in front of your eyes. In that moment, nothing else can be heard, except your breath, nothing else can be seen, except such beauty embodied in the tree. Seconds later, all the senses come back. Now you can smell the fragrance, move your legs forward, but there is still one thing you can hardly do, that is, move your sight from the pink flowers.
Ceiba speciosa (异木棉), also called the Floss Silk Tree, gets its name from a Spanish word, meaning a "giant tree". The specific epithet "speciosa" means "showy" in reference to the tree in flower, which can be seen at a distance.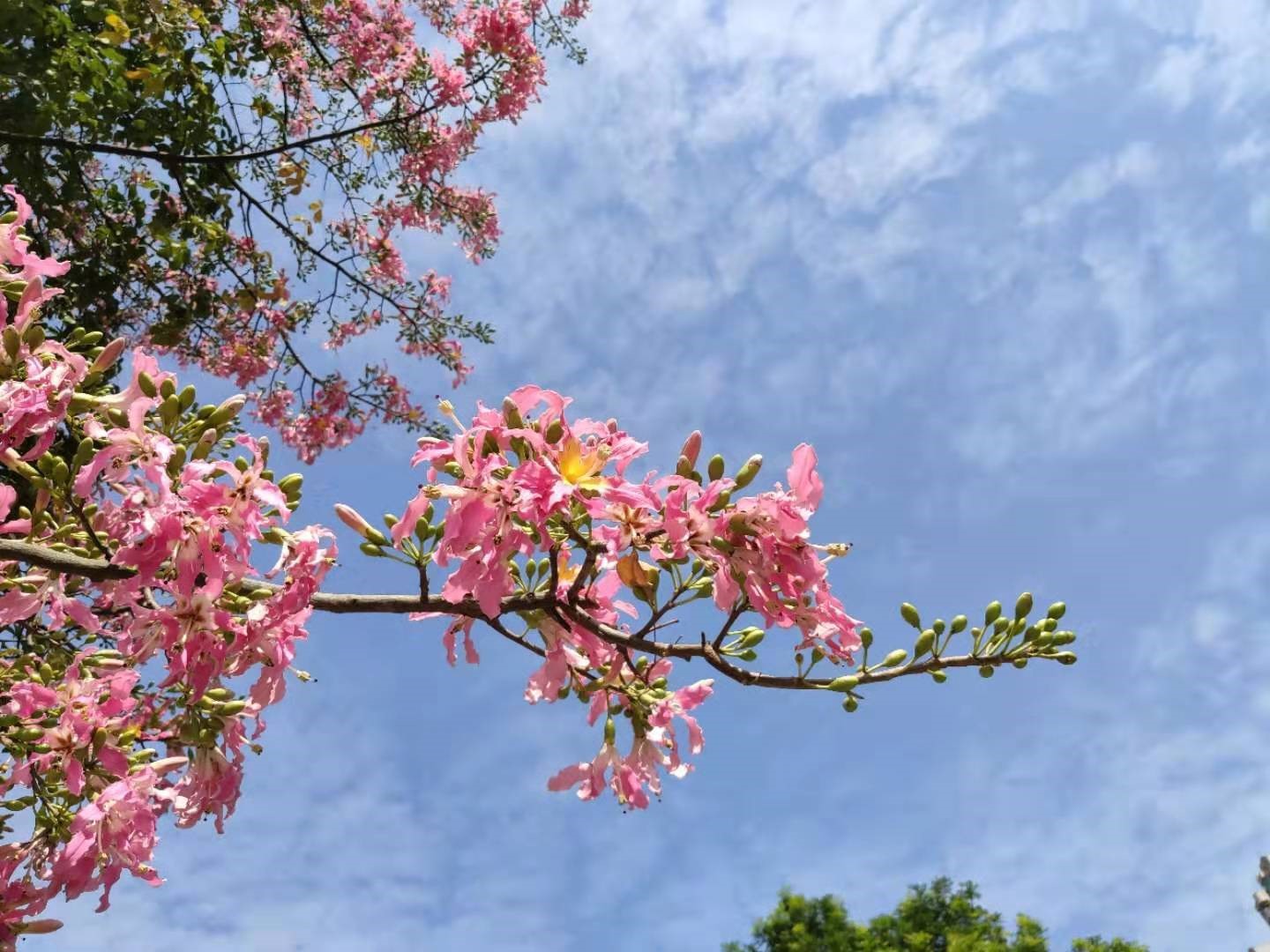 A glimpse of ceiba speciosa by Zhao Wenqiang
Ceiba speciosa has magic, no doubt. When it waves the wand, no one can escape. So it is not surprising to find different kinds of people lingering beneath the canopy. Toddlers stumble forward, reaching hands out to the pink clouds; teenagers hop around on one foot, jumping up to touch the petals; young lovers stand still hand in hand, talking in low voices, pink light reflected from their faces; aged couples sit on the nearby benches, staring into the pink flames, allowing their imagination to roam at large. No one want to leave.
Ceiba speciosa has feelings too. After it traveled thousands of miles from South America, where it originates, to South China, where you see it, it never forgets when its siblings back in hometown get into bloom. So it insists on flowering at the same time, when in South America it is spring, but in South China is is fall and winter.
Its insistence changes not only the landscapes, but also the moods. The fall and winter are no longer as chilly as before, since the cold air is warmed by the burning flowers, just like bright flames. Students from other cities and countries will not feel lonely, when they are welcomed by such pretty and zealous flowers. Have a bad mood? No worries, please come to a Ceiba speciosa tree, it will listen to your stories and keep them as secrets, and then you will leave with a light heart.
Why are there so many Floss Silk Trees on the campus of SCNU? It is a long story. Back to 1985, at an international conference, a former president of SCNU, Mr. Pan, received a bunch of saplings of Ceiba speciosa as a gift from the Japanese delegation, which signaled the beginning of the beautiful tale. In the following years, these saplings grew into giants, blooming increasingly heavily year by year, witnessing the development of SCNU, and accompanying tens of thousands of students to achieve their goals.
For every SCNUer, Ceiba speciosa is more than a tree. It becomes a part of their prettiest memories and even a part of life, which will never fade over time.
What to read next: