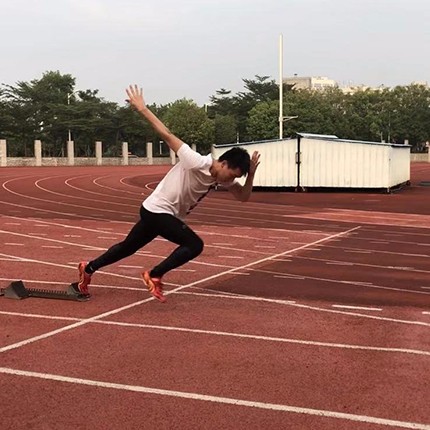 Editor's note: Under the theme of "SCNU & ME", the English Writing Contest has collected over 320 articles from 30 schools and colleges (see results). This column is specially dedicated to the award-winning works.
-------
By Chen Libang
I'd like to share a part of my life being in the track team of our school. It was a whole year of my life, so I'd prefer to share some pieces of those days. How it went, and how I've changed and all.
Entering the team
It was the start of my life at the university. During the first weeks of the first term, freshmen have to attend the military training. Owing to my height, I was selected to the phalanx, and subsequently, I had to stay in the stadium all day. I was therefore able to watch professional athletes training track and field. I was so intrigued by it that I watched them train until they finished. The coach saw me, being so interested in the trainings, he came up to me and asked me, "Son, do you do tracks?" "Ehm… I did when I was little." "Good! Let's see how fast you can run?" "Okay." Then he let me run 100 meters. "Alright, I'll let you know our schedule tomorrow, I'll see you around then." "Okay." I said.
Fitting in the team
It was awkward and weird for me to stick around with the team because I was the only one who was not from the School of Physical Science. In order to make myself comfortable, I was quiet all the time, the coach said one thing, and I would do it, and then when a day's training's over, I would just leave.
Days passed, the awkwardness faded, I was finally brave enough to talk with the people in our team. So one day after the training, when everyone was relaxing, I went over to this tanned guy, Yan, who seemed to be a quiet guy, and said "Hey, I saw you run, your techniques are so good, can I learn some from you?" He peeked at me while relaxing and just said: "Sure."
The coming of the competition
One day after training, the coach gathered the team and said "there'll be a competition coming up, and a selection will be made to create a list of the ones who are going to that competition, so pass down this form and write down your track events. The selection will be impartial, I'd expect you to know that."
Yan wrote his events and whispered to me "Wow, aren't you nervous about that?" I laughed and said "Well, just do our best huh?" "Yeah of course, here you go." I wrote my events for men's 100 m and 200 m race and asked "Hey, what's your event since you're good at everything?" "200 m and 400 m" "Wow Jeez, the coach is not gonna go easy on you for those 2 events, dude" he said. "We people who do tracks, we either go the hardest on ourselves or we don't make the best result." I was shocked by his words because I had never thought that doing track could mean so much to a person.
The selection
Finally, the selection was made, and everyone was fully prepared. The starter said "On your mark, set, bang." Everyone dashed out like bullets. Soon the race was over. The coach held the results in his hands, smiled and said "Seems like some of you have made really great progress, huh? The list will come out next week, get ready boys!" After anxious waiting, the coach announced the list. Of course Yan made it, but it was a surprise to hear my name called, for I was not that good. I then went to ask the coach, and he said "Well, it is because you will be competing with the non-professionals. That doesn't mean you will surely win though, some of them are really good. I need you to be more focused, alright?" I was so happy that I made it.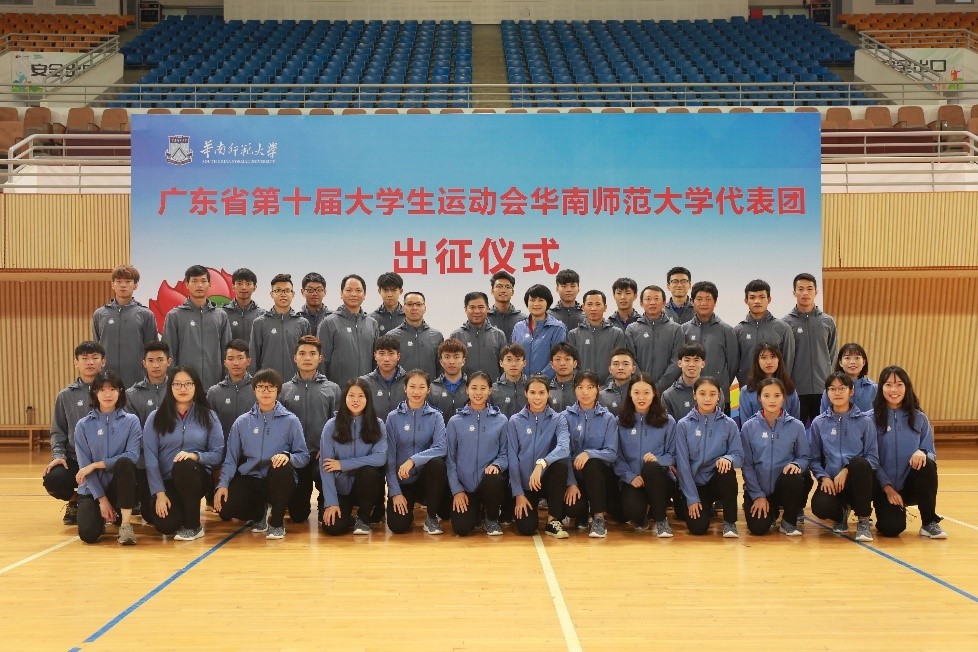 SCNU delegation at the open ceremony of the 10th National College Students' Sports Meet

The preparation
After the selection, the training was more systematic and was much more intense. So many times, I wanted to just give up. Every day I had to suffer from muscle pain with every step I took. However, Yan was always so staunch. He was a stimulus for all of us. That was the period of time when the team was most tied and united. Everyone was supportive to each other, and they were the reason why I persevered. It was a month to the competition, one day the coach went so hard on Yan that he threw up during the training, but he had to continue. I could feel that he was at the edge, but somehow he still finished the tasks. I thought I'd go and encourage him after training.
It was shocking to see this big guy crying in the washing room alone. I stepped loud so that he'd notice me coming in, he peeked at me and said "It's so hard, man." I tapped his shoulder and cited his words "We people who do tracks, we either go the hardest on ourselves or we don't make the best result." He smiled at me and said "Let's go man. There's more training tomorrow."
The competition
If you do the best, god will do the rest. In the competition, all of us made great results. Especially Yan, he won all his events. For me, well, I didn't get any medal, but I surpassed myself and most importantly, I survived the trial. The life being on the track team had not only brought me a good friend, but also sharpened me, turned me strong. I hope by sharing these experiences, I can encourage you, that no matter how hard life is, if you have faith, you will make it.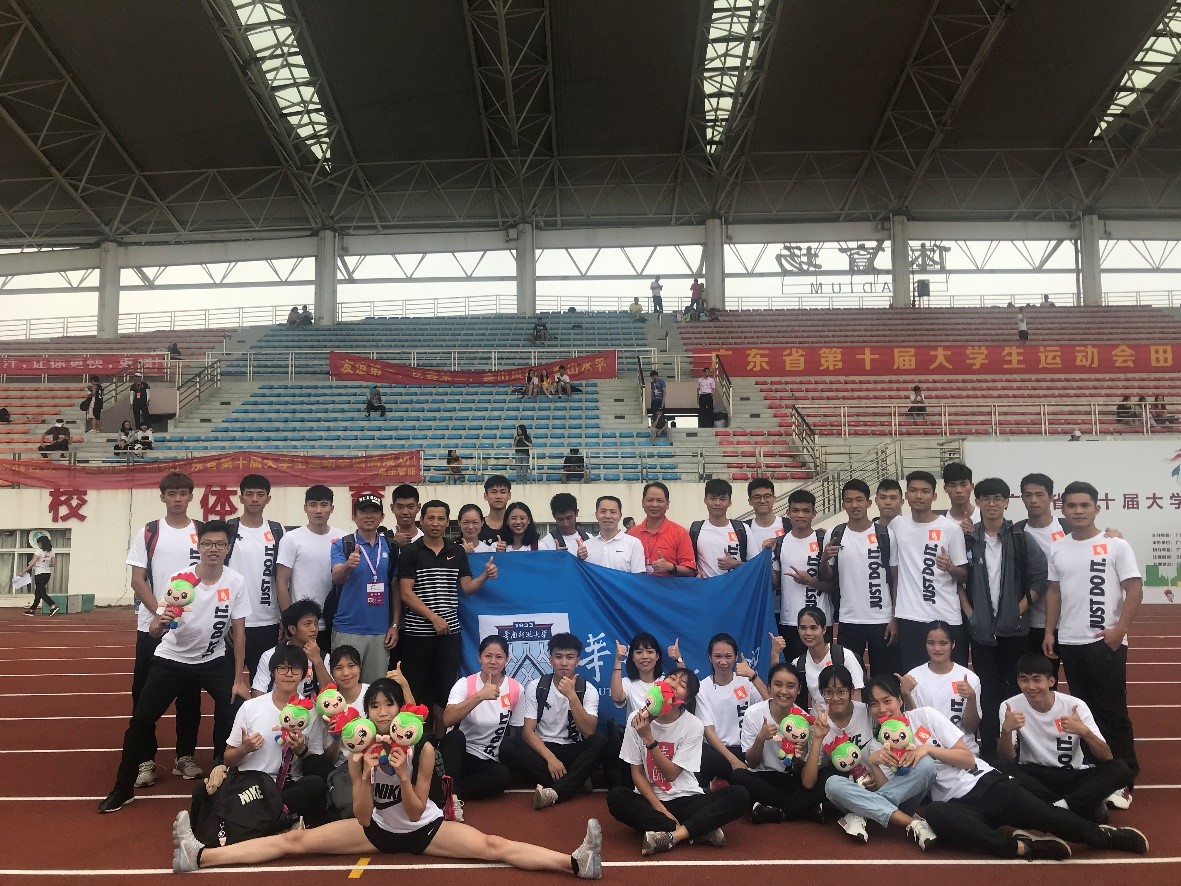 Group photo taken after the sports game
What to read next: