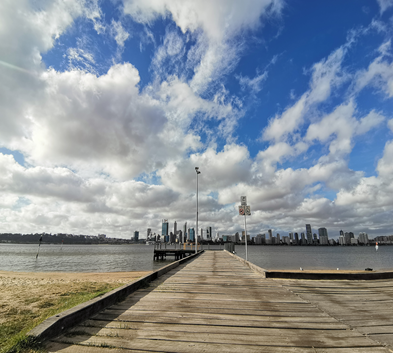 Editor's note: Under the theme of "SCNU & ME", the English Writing Contest has collected over 320 articles from 30 schools and colleges (see results). This column is specially dedicated to the award-winning works.
-------
By Liu Nian
After nearly a 10-hour flight, Perth welcomed us with of the fragrance of a freshly mowed lawn as soon as we left the airport. I live in a humid area and felt the fresh dry air immediately. Upon arrival in Perth in the early morning of November 16, 2019, we started our one-week long study tour at Curtin University. The light on the road that night was friendly and soft, and the whole city gave us a first impression of peace and tranquility.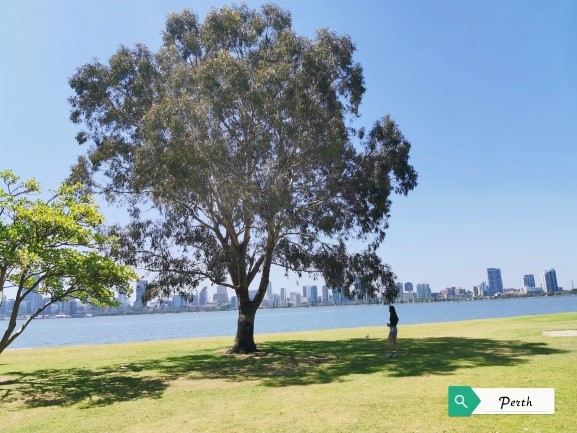 Nice city view
Like most European and American countries, few people in Australia eat stir-fried vegetables or meat. The locals here have a lot of food that is cold and our milk, eggs and juice in the morning were cold as well. First, I want to share something about the drinks. The juice is pure in taste as it is made from a lot of fruit and Australia's indigenous coffee culture is so strong that it makes it difficult for Starbucks, a successful coffee shop in China, to profit well in Perth. Also, there are various kinds of cocoa, and the taste is exquisite with a high level of sweetness. When it comes to the hamburgers, we ate hamburgers at an old burger restaurant which had opened in 1947. The meat and vegetables in the burger were full and tightly packed. What's more, half a burger is bigger than my fist. Located on the western Australian coastline, Perth is rich in seafood, so the locals can catch fresh and good quality seafood to eat and sell.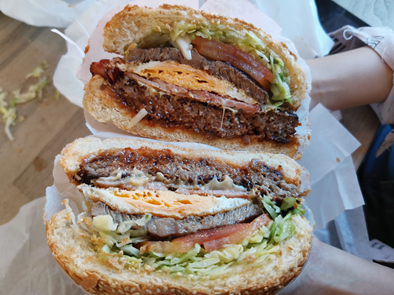 Hamburgers in Perth
The buildings in Perth are constructed with various materials in many different styles. The walls of buildings are full of colorful paintings with rich meanings. For example, one of the paintings shows some Australians carrying houses and walking with a bent back. It gave us a sad moment realizing the Australians' stress to pay off their mortgage. As Australia is a large county with an abundance of resources, but sparse in population, there is no need for tall buildings, and the local government forbids people to build them. When you walk across the road, you see many traffic lights. If you are in a hurry, please don't forget to press the button at the traffic light before crossing the road.
We visited Kings Park, the biggest city park in the southern hemisphere, on our first day in Perth. On the campus or on the road, the birds didn't fly away when I came close to them. In the Wild Life Park, as soon as we had washed our hands, we could touch the animals because they are not in cages. Great things can be seen through small details. There is no doubt that Perth is a city that has great closeness to nature, it feels like being in the countryside. No scenery after photoshopping could be as pretty as the original one.
People here are very friendly and polite. On our way to Curtin University by bus, I saw many passengers say "thank you" to the driver when they got off the bus. The campus of Curtin University is large and beautiful. There are many bean-bags on the campus greens for students to have a rest after class. International students from all over the world, get together to exchange culture at Curtin University. Both teachers and students at Curtin University are inclusive. On the campus, I have seen three big icons demonstrating the inclusive campus culture: one is of a woman wearing a skirt, another is of a man wearing pants, and the third is in a skirt on the right but in pants on the left.
During the one-week study tour in Perth, we tasted the local food, felt the fresh dry air, touched the lovely kangaroos and communicated with many professors.. We sincerely give our thanks to South China Normal University for giving us such a great opportunity to enjoy this study tour to Curtin University in Perth. I believe our treasured memories will grow more precious with time going by!
What to read next: