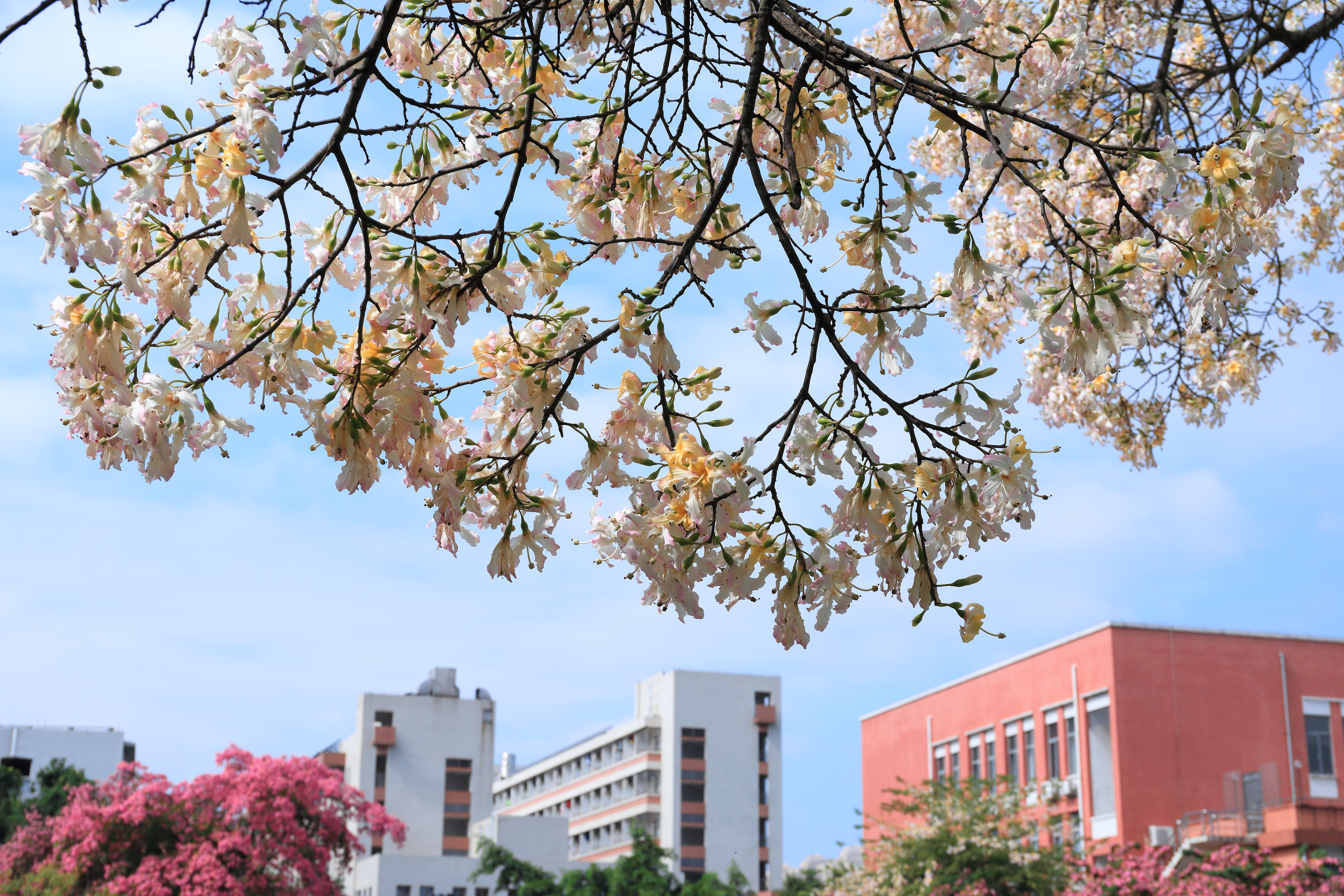 Editor's note: Under the theme of "SCNU & ME", the English Writing Contest has collected over 320 articles from 30 schools and colleges (see results). This column is specially dedicated to the award-winning works.
-------
By Lin Jiayi
Time flies. It is when summer gradually turned into winter that I realized it had been almost three months since I first met you, SCNU. Dragging a suitcase, walking slowly while looking at a map at times, I, together with my mum and sister, finally reached in your embrace. At that time, everything was totally strange to me. But now, everything that confused me at first has become a common part of my life. Walking on your beautiful campus, I can feel everywhere is filled with my wonderful memories at college.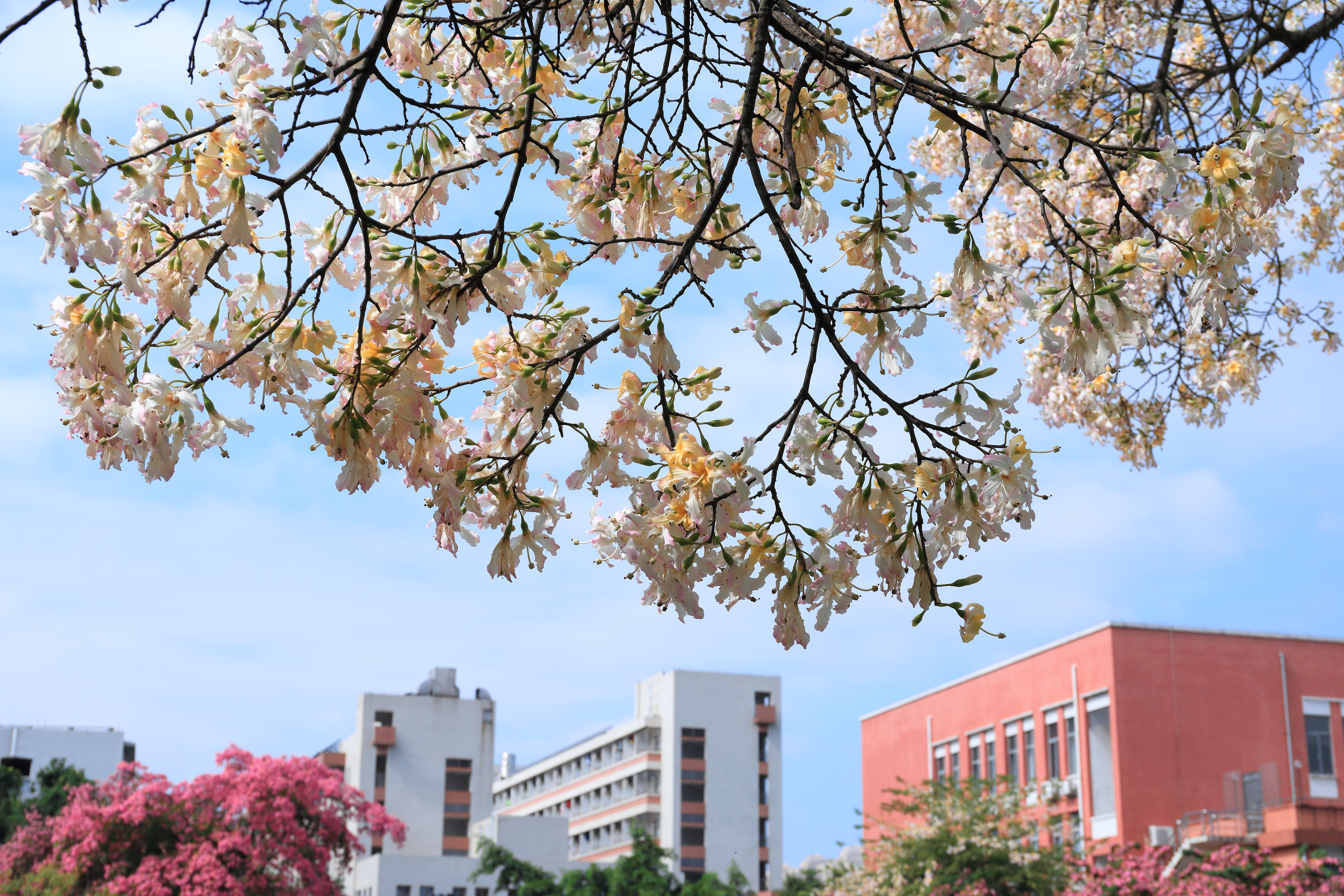 Ceiba speciosa in full bloom on the campus
Dormitory
It is universally acknowledged that our dormitory is the smallest unit at the university, and thus, whether I can get along with my roommates was my first concern. Luckily, I was so surprised to find they couldn't be more compatible with me since we share a lot in common, including both life style and opinions about values, which help create a harmonious dormitory atmosphere. At leisure, we went cycling and flying a kite. We spent lots of happy time with each other. The friendship between us is a shining pearl of my college life.
Grassland
Strong sunlight made military training difficult to get through so we couldn't be more satisfied when we were allowed to be just sitting on grass under the shadow of tree with gentle wind blowing from time to time. The afternoon spent on the grass whispering with a friend impressed me so deeply that till now seeing any grassland reminds me of that relaxing time.
Debate competition
With determination to go out of your comfort zone and the interest in debate, I signed up for "New Year Cup Debate competition" though without prior experience. I was not sure about myself but I knew that if I didn't grasp the opportunity to take a try, I might never truly walk into the world of debating.
It turned out I was right. Thanks to my decision, I not only learned more about debating, but also made acquaintance of friends and seniors. Preparing for a competition is harder than I thought before. In order to carry out a perfect debate draft, we stayed up late discussing and revising again and again. With our joint effort, we performed very well and finally won the third prize.
From my point of view, it is more than just a victory. What I treasure most is we once worked together towards one goal, believing in each other. That is what we call unity---the key to teamwork.
Library
The first time I stepped into our library, I could feel that I was surrounded by happiness. The eagerness to read was radiated when seeing a mass of students bury themselves to their work.
Two months later, I was honored to become one of the student assistants in library, thanks to which I got to know how the library is operated. Meanwhile, I always feel a sense of achievement every time I put the books in the right order and every time I help readers find their belongings. It's exactly when I am working that I find my value, which makes my life more meaningful.
Just as the saying goes, "Every day without dancing, is to live up to life", my life begins to be more colorful and hopeful since the day I met you, the day I started dancing with you. It is you who offers me the stage to challenge myself bravely. I follow your dance steps, opening up a brand new world, where I am encouraged to freely develop my potential and find myself.
Photo by Li Ning
What to read next: