Editor's note: Under the theme of "SCNU & ME", the English Writing Contest has collected over 320 articles from 30 schools and colleges (see results). This column is specially dedicated to the award-winning works.
-------
By He Yunzi
I still remember the first day when I came to SCNU. There was bright sunshine, and I was infused with the complex feeling mixed with excitement and subtle sadness. My father told me that, tears suddenly ran down my mother's face when they drove back home at a traffic light. It was the first time I began to live on my own and taste all the joys and sorrows of life by myself.
Now, my first year of college has passed by. At the beginning of my second year, my father asked me what has been the biggest lesson I've learned from college. I gave him the answer after careful consideration—making choices and giving out your love.
As we all know, SCNU has provided many kinds of communities and activities for us to show our talents. When I was a freshman, what troubled me most was how to find a balance between my wide interests and limited time and energy. Curious about new media, I joined the New Media Center; lots of time was devoted to volunteer service, helping others in the hope of enriching my life. I squeezed my time for all kinds of lectures and competitions, only to find it was impossible for me to do everything well.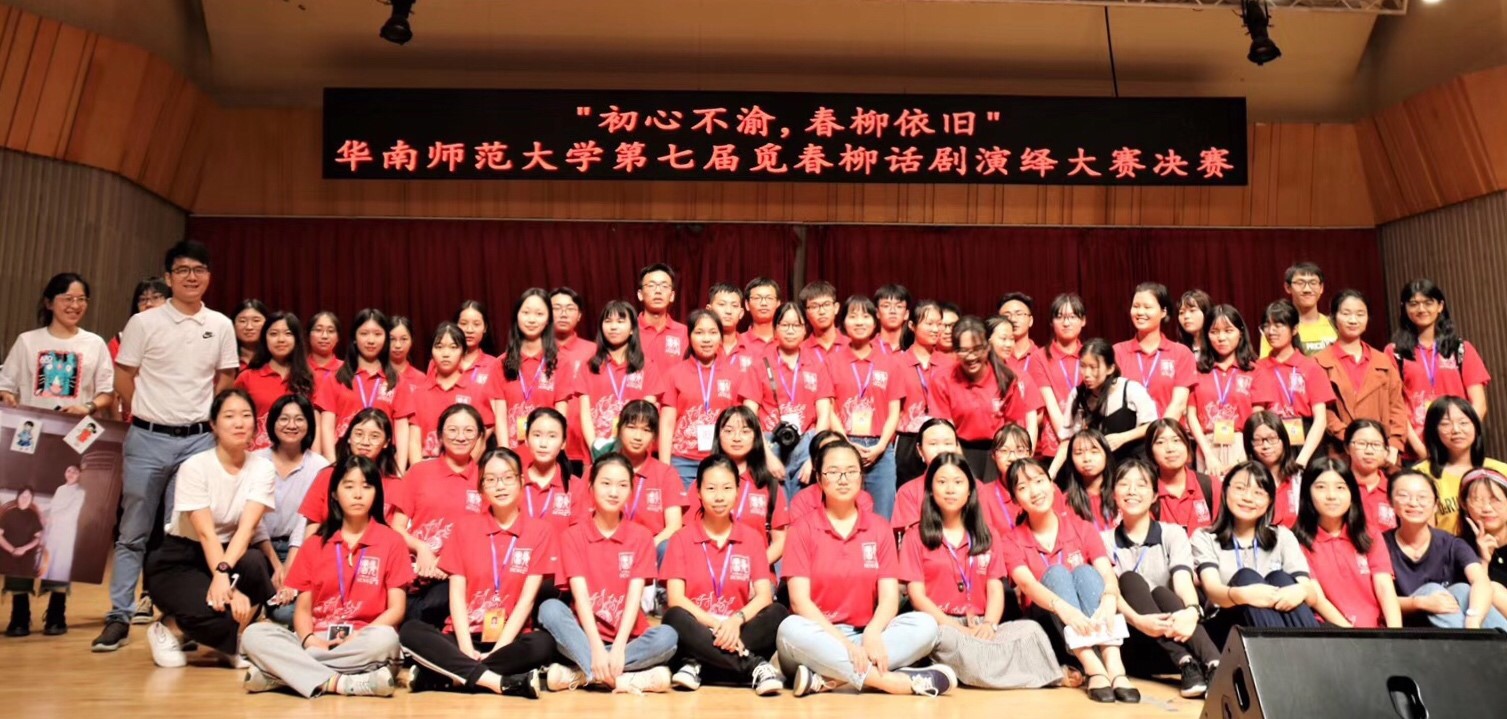 A group photo with my fellow contestants in a drama competition

I once took part in an English competition, the time was tight and there was a lot of other work piled up on my desk. As a result, I didn't have time to upload the video until the last night before signing up. I thought I could upload it on time, but because of the bad connection, I finally failed. The moment I saw the hands of the clock passing 12 (it was the deadline), tears burst from my eyes.
Since then, I know that I am not a superhero who can handle all kinds of things at the same time; I can't get all I want, no matter how hard I work. This is the first lesson SCNU taught me —I have to make choices. Only through making choices can I truly focus on what matters most and do it well.
The other lesson I learned is about the importance of giving out your love. No one will be unfamiliar with the word 'love', but while studying at SCNU, I got to know more about it.
Since my childhood I've been deeply attached to literature. So when I entered SCNU, I thought the time for me to truly learn what I love had finally come. In class, I got the chance to appreciate many masterpieces, ancient and modern, Chinese and foreign. Besides, I enjoyed many wonderful afternoons in the library during my free time, reading and writing, or just daydreaming. The subject I like best is literary theory, which really breeds a breath of vision and refreshes my understanding of literature. You sure can get sick of your major and want to give up because of the heavy academic load, but that's not for me. I love my major, that's why I always devote myself to it and try my best.
What I like most about SCNU is that it's a school full of love. I used to imagine college years as a lonely time. Thankfully, that's not true since close friends and respectable teachers are never absent from my life. The first day of school, my roommates and I all behaved shyly, having no idea what to say. But the more time we share together, the closer we become.
My roommate and I have a birthday on the same day.
For instance, we are all crazy fans of the TV program I'm a Singer. So every Friday night, four girls will stare at a screen, enjoying beautiful music and delicious snacks. Laughter and talk fills our little dormitory, where you can always find comfort after an exhausting day. It is the love we share that makes our dormitory more like a home than just a place to live, and my dear roommates are more like my family.
I have encountered quite a number of difficulties in the way of chasing dreams, but whenever I'm in trouble, my teachers never hesitate to reach out. At one time, I attended a writing competition. Not satisfied with my composition, I turned to one of my teachers to see if she could give me some suggestions. Though she was on a business trip, she undertook to revise my composition immediately and gave me a 40 minutes' call to correct my mistakes word by word.
At the time, I was deeply touched by her care and love. The best love a teacher can give to their students is to help them when they are in need and nurture their growth. Those excellent teachers have made themselves an example of how to be teacher, and I and many other SCNUers will pass that love to our students, letting them feel the warmth we feel.
Make choices to make sure I'm running in the right direction; Giving out love to keep me go ahead and enjoy a happy life. I think I will never forget these golden years at SCNU, because of all the wisdom, dreams and love.
What to read next: