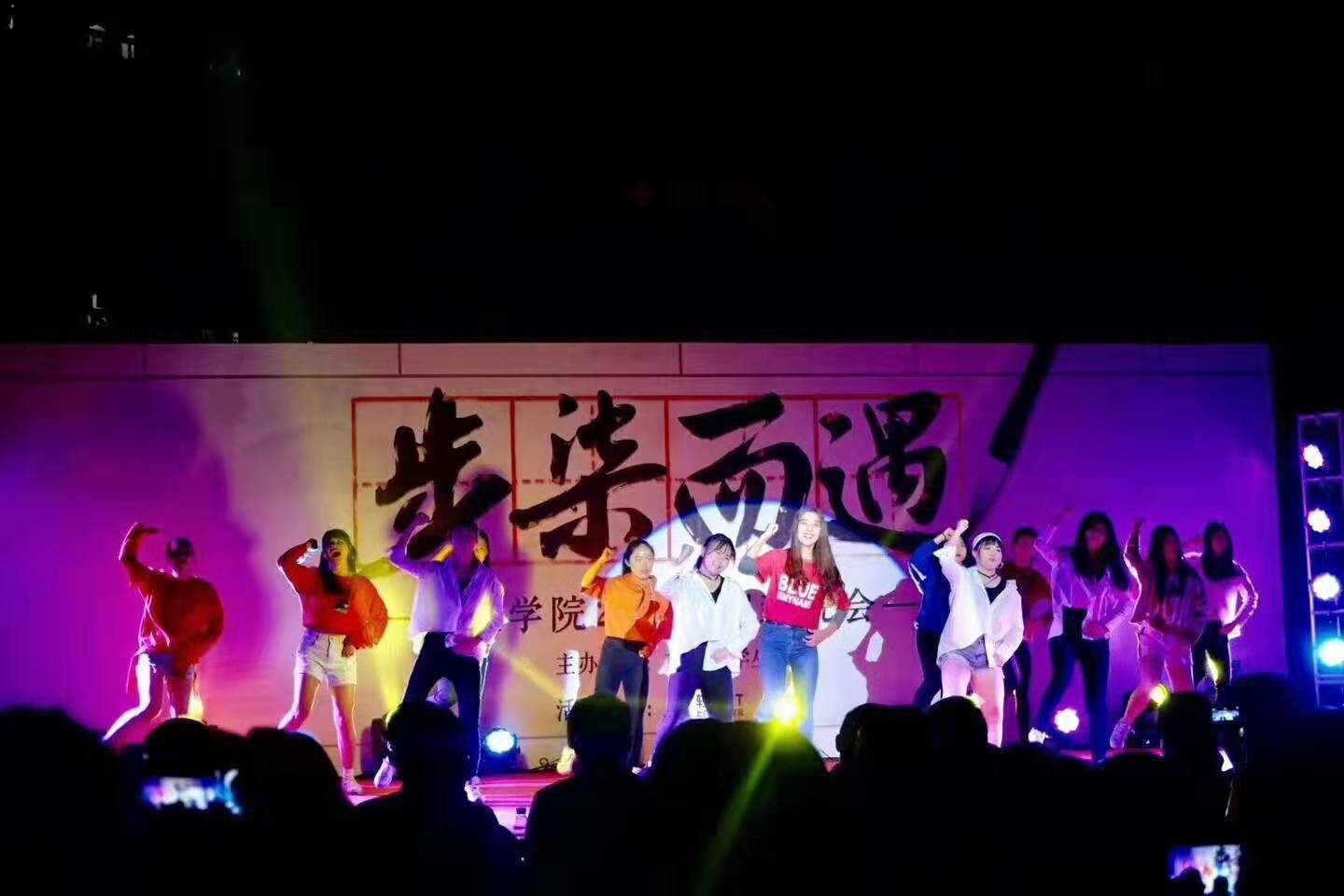 Editor's note: Under the theme of "SCNU & ME", the English Writing Contest has collected over 320 articles from 30 schools and colleges (see results). This column is specially dedicated to the award-winning works.
-------
By Liu Xinyu
I will never forget my experience in the dance team of the Chinese language and literature department. The time I spent practicing dance with the team is a great and precious memory.
I have loved dancing ever since I was a child, but I had to quit in order to have more time to study when I was in middle school. However, my love for dancing never stopped. After I was admitted to university, I started dancing again.
It was a normal day in my second week at South China Normal University. I went to the cafeteria to have my breakfast and decided to go back to my dorm to read some books. On my way to the dorm, I saw some students standing in front of the cafeteria. I realized it was the open day of the art ensemble.
I walked up to the stall where there was a card saying "dance team" and a nice older student smiled at me. "Hey, are you interested in dancing?" she asked.
"Yes, I love to dance, but I don't have much experience," I answered.
"That's okay. You can have a try. Most of us didn't have much experience at first, but we made progress through our weekly practice. We will hold an audition in two days. If you want to come, you can sign your name on the list." I still remember that I was the first student who signed up on that list.
On the day of the audition, I changed into my best outfit which was suitable to dance. I waited outside the room nervously. "Relax. I believe you will do your best," a sophomore student who was standing next to me said. I nodded and went into the audition room.
Two days later, I received a message saying that I had passed the audition. I was so excited that I told the news to my family immediately. From then on, I became a member of the dance team.
There was an evening party which was to be held to welcome the freshmen to SCNU. Our dance team was to perform during that evening party. In the weeks before the show, we started practicing regularly. Our team leader was our dancing teacher. She taught us every movement patiently. Whenever we had some difficulties mastering a movement, she would teach us again and encourage us.
One day, there was a schedule conflict between an important meeting and the dance practice session. I asked our team leader whether I could ask for leave. She agreed and made an appointment with me to teach me the movement that we were going to learn on another day. She taught me patiently and explained the details of every movement so I could master them better.
"I found that you always look at your feet when you dance, can you tell me why?"she asked me after the practice.
"Well, I guess I'm not confident. I learn slower than others," I answered. I was a beginner when I first joined the team. To catch up with the others, I practiced a lot.
"In my opinion, you dance well. As long as you practice more, I believe you will dance better. Remember, you will dance more beautifully if you look up and show your confidence," she said to me when we walked back to the dorm and smiled. I was inspired by what she said and decided to practice harder.
It was tiring to practice again and again. The weather in summer was so hot that our clothes were soaked with sweat. We encouraged each other and made progress together. Seeing that our movements became more and more fluently, we felt content and happy. I made some new friends in the team. We often gave each other some tips on how to finish the movements more perfectly and helped each other.
The day of the performance finally came. After the rehearsal, we had a rest. The sky went dark and the lights came on. We waited behind the stage while the freshmen took their seats. I was nervous and kept practicing behind the stage.
"Remember what I said before? You will dance more beautifully if you look up and show your confidence. You have practiced hard and I believe you will dance well," Noticing that I was nervous, our team leader walked up to me and said."You have passed the college entrance examination. Performing on the stage is just a piece of cake." We laughed and then I didn't feel that nervous.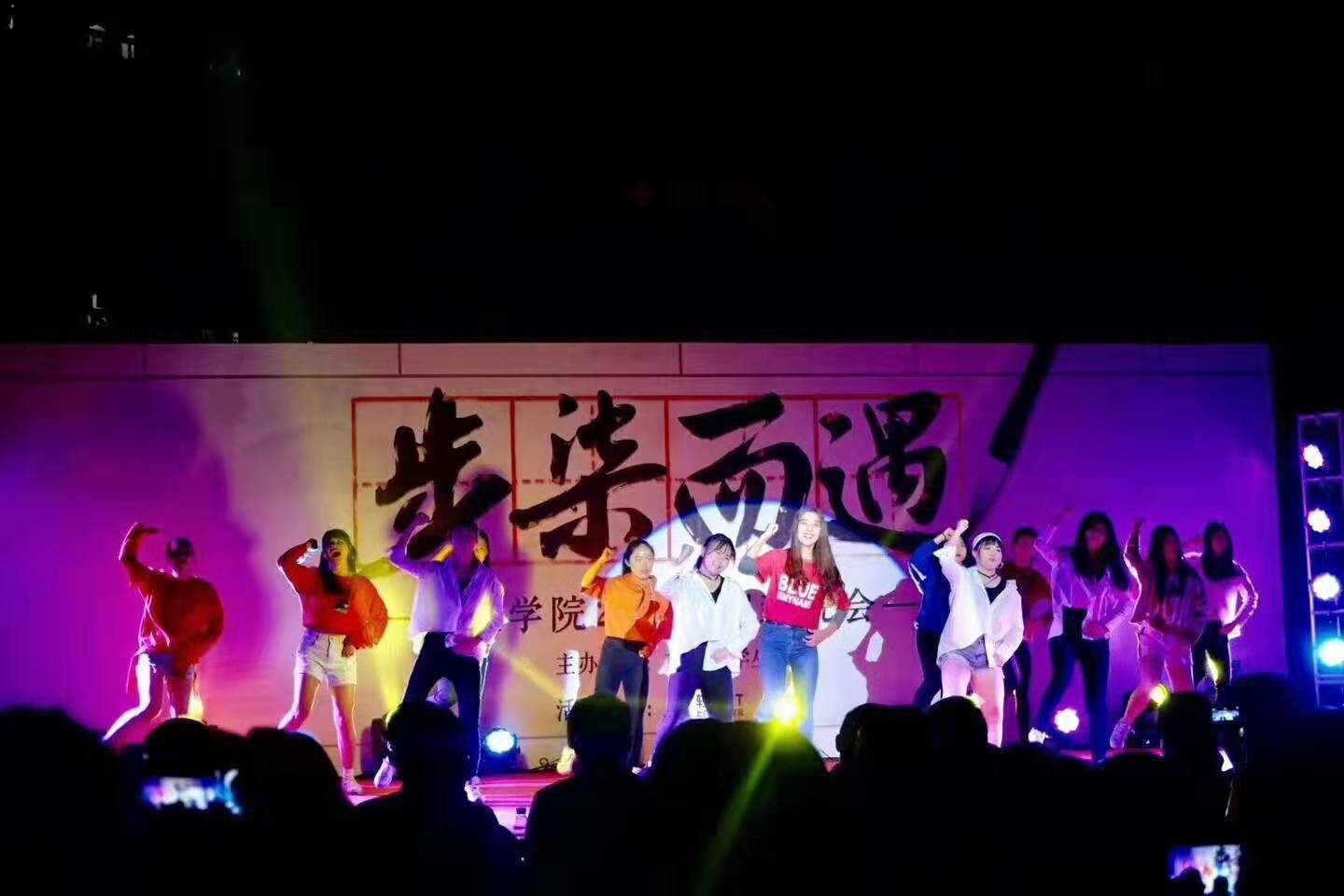 We perform at the feshmen-welcoming party
Our performance was the first on the evening program. After the presenter's short introduction, we went up the stage. The music started playing and the spot lights were shining on us. I could think about nothing but try my best to dance. I looked up, telling myself that I was the best. The nervousness just vanished, and I found myself enjoying in the performance. When our show was finished, the audience applauded loudly.
I felt happy that I had conquered my nerves. I hugged our team leader and thanked her for giving me the encouragement. I found that performing on the stage is not scary. From this experience, I learned that the most important thing was to practise hard and show your confidence. This experience gave me the strength. When I participated in a speech contest later that semester, I thought about this performance and felt encouraged.
I will always remember that night, the stars were shining brightly. I will always remember to look up and show my confidence. I will always remember my growth in this performance.
What to read next: