Editor's note: Under the theme of "SCNU & ME", the English Writing Contest has collected over 320 articles from 30 schools and colleges (see results). This column is specially dedicated to the award-winning works.
-------
By Lin Han
I had never thought I would start my new college life at South China Normal University. But actually, I came here in the golden September.
"We are waiting for you at South China Normal University."I still remember the words in the promotional video recorded by my former schoolmates who had graduated from our senior high school and started their new life at SCNU last year, when I was still in Senior Three.
"What a coincidence! I have had the opportunity to be a newcomer to SCNU like they used to be."
When I first stepped into the school gate, I was curious about everything. The first classroom building was so grand, imposing and exactly the same as what I had seen in the promotional video. A sense of pride welled up in my heart, eventually I had become a freshman at SCNU. What a glorious feeling!
SCNU's First Classroom Building at the main entrance
What impressed me most were the days we had a military training. Every day we gathered on the sports grounds, stood in the sun and did what the officer ordered. Because of the burning hot sun, sweat rolled from my forehead to my neck, even soaked the uniform. Uncomfortable as we were, we stood still, like solders. Half of a month passed, we finally finished our military training. Even though it was really tiring, exhausting and sometimes awful, we couldn't help bursting into tears when we had to say goodbye to our officers.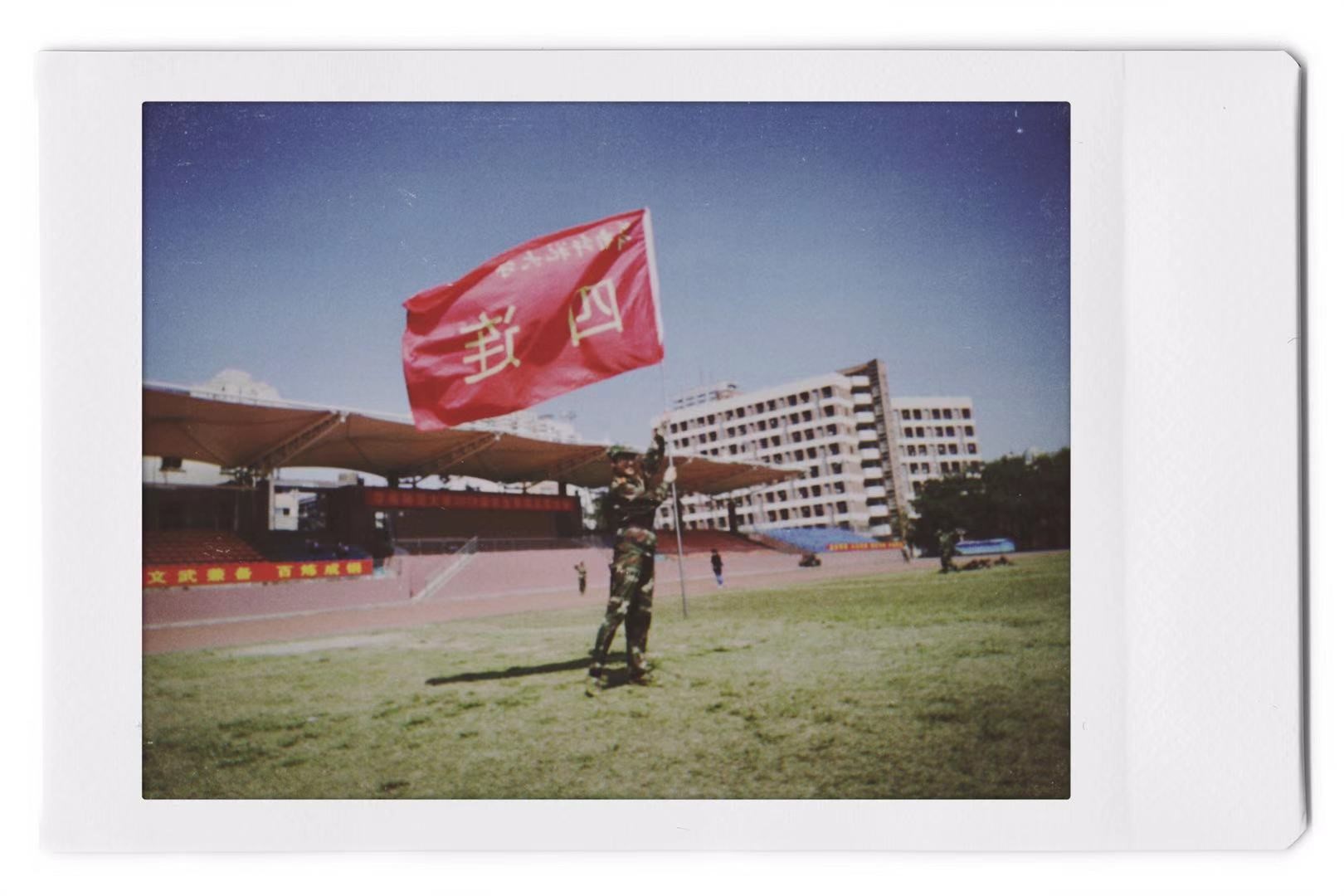 My memory of military training
I still remember the days when we sang military songs, played games, chatting and laughing together. How time flies! It has been many months since the end of the military training. Those days still flash in my mind from time to time. I really cherish the friendship between the officers and us students. Those wonderful memories will remain in my heart forever.
When the military training ended, our real college life began. It was such a brand-new life as I had never experienced. We were supposed to learn lots of knowledge. It seemed that everything was difficult. What made me anxious was that my classmates were all excellent and versatile. Taking part in some student association activities, they could still perform well academically, and this is what I wanted to be like.
Other than studying, I had other affairs to deal with. What I needed to do was keeping a balance between study and work. As for me, I passed the interview of the Red Cross organization at our School of Foreign Studies and became a new member of it. I like this organization and really wanted to get involved in the work.
For instance, we have some interesting activities, such as visiting the elderly in hospital, interviewing doctors about some health problems and organizing lectures, and so on. Although I had never participated in such activities before, I enjoyed learning to handle such things one by one. The fellows here were so kind, and always taught me how to share work and study. With the kind persons' help, things seemed to be going smoothly. Maybe I can say that I had got accustomed to the new life.
When I end a busy day of studying, I like hanging out aimlessly around our school. I enjoy the landscape at every corner. I enjoy the days and nights at SCNU.
Walking along the paths on the campus, I can smell the flowers and listen to the singing of the birds. Leaning on lover's bridge, I see the fish swimming freely among the lotus leaves. This is some of the beautiful scenery of our school, which let me temporarily forget the busy student life, to relax my body and my mind.
My life at SCNU is not just about these, the story about SCNU and me is continuing. I hope I still keep the attitude of loving life, enjoying myself here in the next four years.
What to read next: