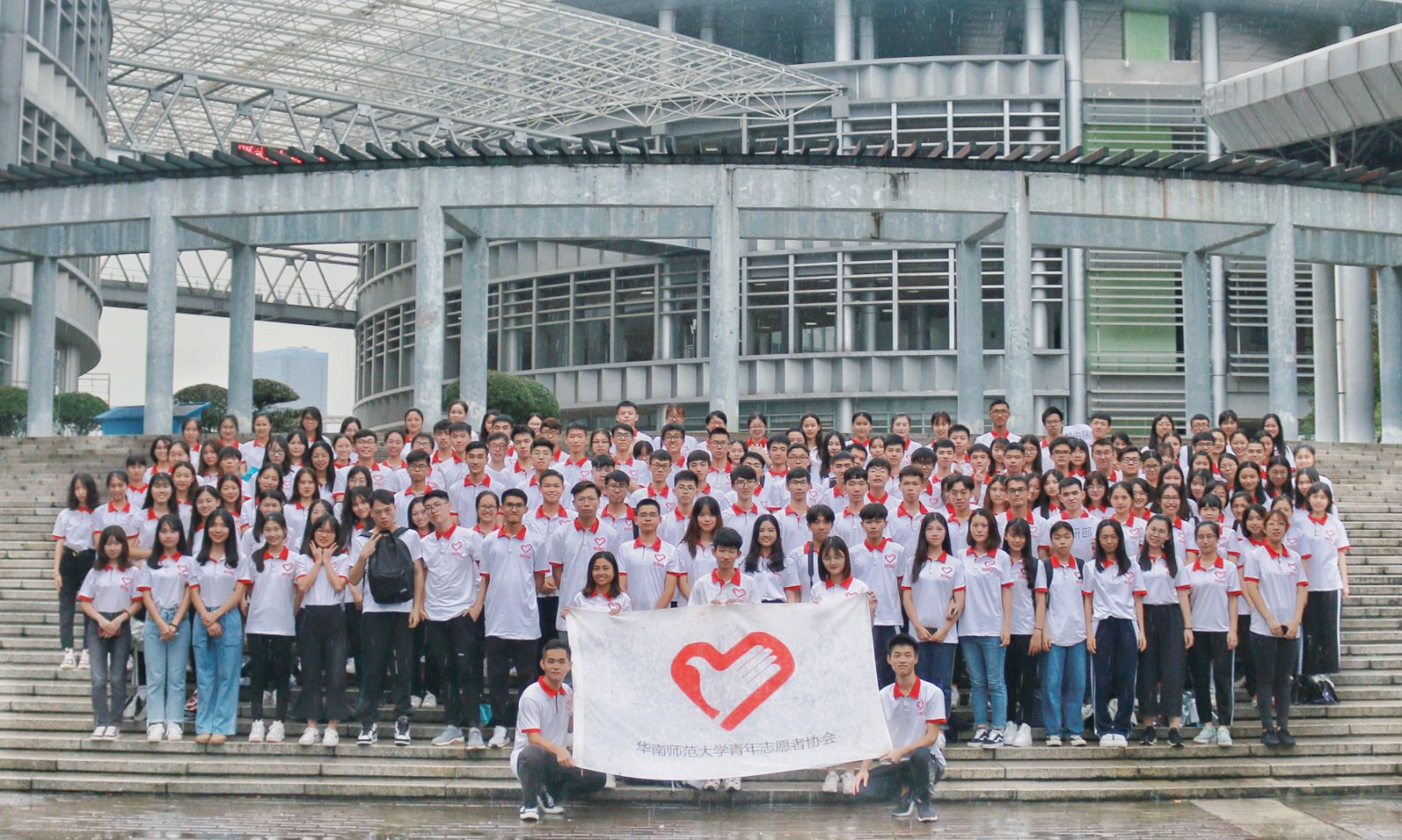 Students of South China Normal University have many opportunities to volunteer for or organize community services. They show the spirit of dedication, friendship, mutual aid, and progress through their participation. SCNU student volunteers not only serve the others, but also improve themselves and strengthen their sense of social responsibility.
Encouraging children to learn in Tibet
Zhang Runsheng, a class of 2022 postgraduate student of South China Normal University, and is also the head of the volunteer teaching group in Tibet. He devotes himself to volunteer teaching, and goes to Tibet and Guangxi to support schools and students. In Tibet, he held activities to help students learn, and appealed for donations to support for tutoring.
As a physics teacher, Zhang was faced with many difficulties while teaching. The biggest problem is that some students lack motivation to study. At first, Zhang convinced them of the importance of study. But he gradually found that persuasion didn't work because students were affected by family, society and many other factors. Thus he decided to stimulate students' enthusiasm for learning through things they were interested in. For example, he did experiments, showed some interesting photos and videos, and so on. The students said, "We like our physics teacher most. His classes are so interesting!" Hearing this, Zhang felt everything was well worth it.
In addition, Zhang Runsheng and his team members often visited dropouts to persuade them to return to school. Zhang said some students were difficult to persuade and the cost was high. This is because most of students lived in the mountains. It cost them a lot of time going traveling back and forth from home to school. Sometimes, though getting to the village, Zhang just couldn't find the student's home. What's more, in order to lift students' worries, they provided 5,000 yuan subsistence allowance per year to 50 poor students under the help of groups.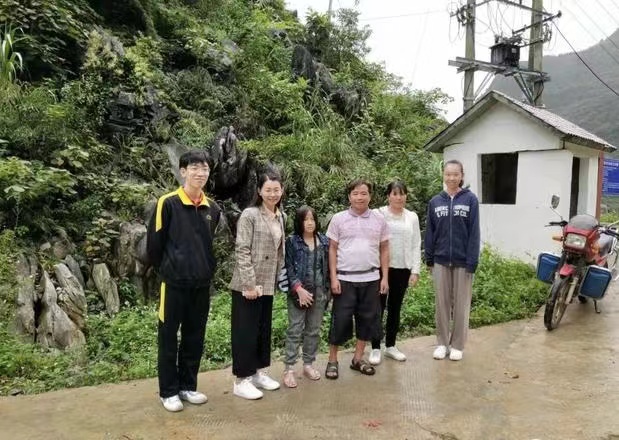 Zhang Runsheng (far left) visits dropout students to persuade them to return school.
Talking about his rich volunteer service experience, Zhang Runsheng quotes a saying of Romain Rolland to express his faith, "A rich nature, if you don't take yourself to feed hungry people, oneself will also wither." Teenagers are supposed shoulder the responsibility on the road of rural revitalization. In the future, Zhang Runsheng will keep on spreading knowledge, warming more people, and contribute with love.
Selling mango to help students and revitalize rural areas
Tang Huajuan is a member of the 23rd Guangxi Postgraduate Support Group of South China Normal University, and she served in the team that supports the county of Lingyun in the Guangxi Zhuang Autonomous Region and help revitalize rural areas through combining Internet, charity and support teaching.
To enable poor local children to have better access to school, her service team launched a mango charity sale. She and her teammates established a project "charity sale on line", selling mangos to help poor students. Their live sale and on-line market sold nearly 2,000 boxes of mangos, and earned more than 100,000 yuan. They used the money to buy "armor" packages for the central primary school students of Houlong Village, Lingyun County. The package is equipped with a first-aid kit, a school bag, a cup, rain clothes, flashlights and so on, caring for them during their studying.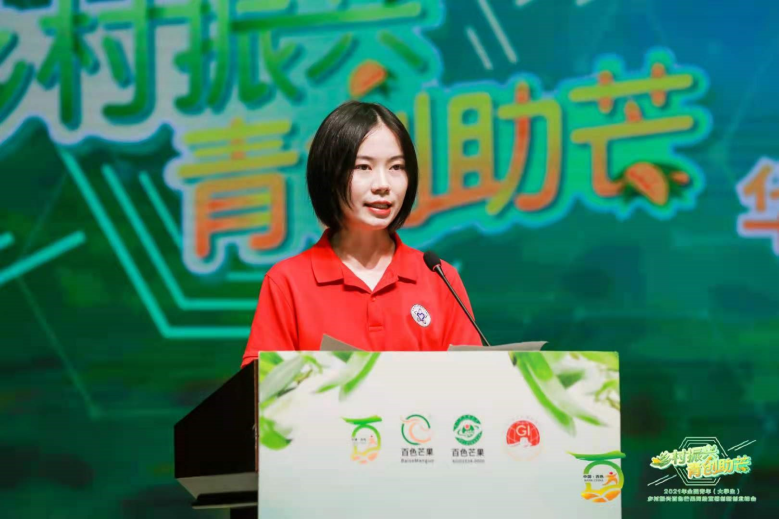 Tang Huajuan speaks at the Baise Mango Entrepreneurship Summit.
Besides, Tang Huajuan and her teammates broadened a network of Baise mango sales. In this way, they not only used profits to help education, but also improved the Baise mango brand, helping to achieve rural revitalization. Tang Huajuan said that she would help rural revitalization with original aspiration and a responsible attitude.
Volunteering to assist nucleic acid testing
Tian Jing is a student of the International Business Collage of South China Normal University and a staff member of the Youth Volunteers Association of SCNU. She manages an epidemic volunteer group, kept order and did support work.
Tian Jing consciously assisted the epidemic prevention activity as a member of the school Youth Association. She joined the nucleic acid testing and vaccination volunteer team. When recalling the first nucleic acid testing work on the Nanhai campus, she mentioned that they used original paper recording. Volunteers needed to check the information according to the name book. It made detection inefficient and inconvenient. After that, they reflected and gradually improved. Also they learned to deal with emergencies to ensure the testing. Tian said, "with the promotion of the prevention, we gain more experience and improve plans. Now the epidemic prevention activities are basically in good order!"
In Tian Jing's views, it's very meaning to contribute to the school. It's exciting to work hard with other volunteers. She said that although the volunteer activities lasted for hours and weather was hot, many volunteers kept working there. "I was really moved and grateful to the volunteers for their participation." As long as we can win in the struggle against the epidemic, every effort is worth it.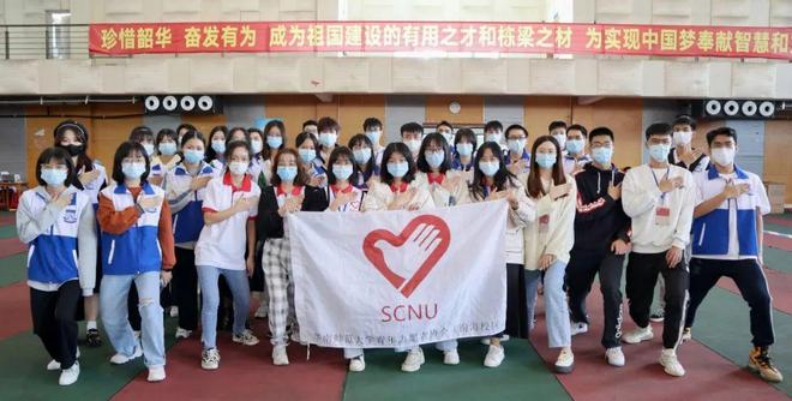 Tian Jing (the fourth from right of the first row) volunteers in nucleic acid testing
SCNU's vision for student volunteers
SCNU creates an atmosphere of volunteering, making volunteer service become a lifestyle among college students. The school also established the Youth Volunteers Association of South China Normal University, in order to better provide social welfare services.
As a big platform, the association will adhere to education orientation. It will not only focus on political and value guidance of volunteer services, but also carry forward the spirit of Lei Feng. Teenagers are encouraged to take their social responsibility, and to contribute their strength for social interests of the public.
---
Source: SCNU News, Good Night SCNU
Translated by Peng Ying
Proofread by Edwin Baak
Edited by Li Jianru
What to read next: