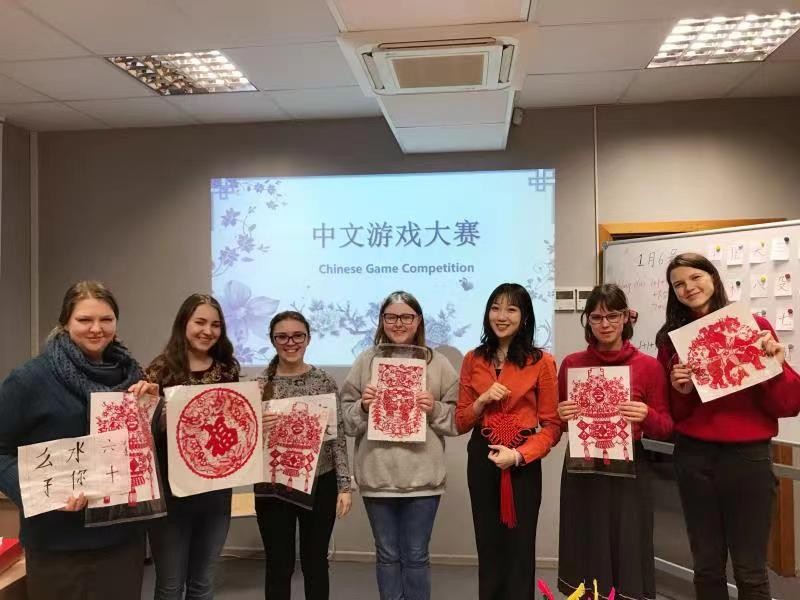 Han Xiaoju, a graduate majoring in International Chinese Language Education of SCNU, was excited that one of her former students from Thailand has been admitted to Huaqiao University in Xiamen, southeast China's Fujian province to study Chinese.
The Thai girl Mei Xian has fulfilled her dream to come to study in China, Han said. Han Xiaoju met her five years ago, when she was selected as an international Chinese language teacher by the Center for Language Education and Cooperation to teach Chinese language in Thailand.
She was then teaching Chinese in two classes of junior high and one class of senior high at the same school in Bangkok during her volunteer internship.
"In my first month of teaching a junior high school class, the children's lively and naughty instincts made it difficult for them to focus on Chinese language learning for a long time." Han said.
Then, inspired by her own Thai teacher, since Thai children are good at hands-on practice, she assigned manual homework for younger students to let them learn Chinese in an easier and more interesting way. Finally, they were able to concentrate on their learning.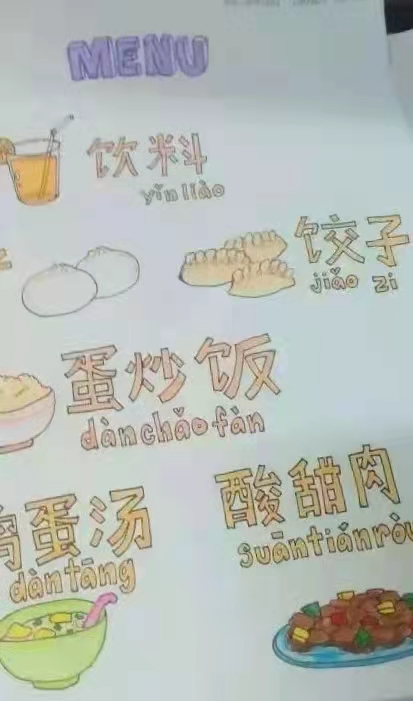 One of Han's students draws a menu in Chinese, which includes various Chinese cuisines, such as dumplings, sweet and sour pork and egg fried rice.
Among her students in Thailand, Mei Xian impressed Han a lot." At the time, she was a senior high school student, who was too shy to speak Chinese at the very beginning."Han said.
Therefore, Han Xiaoju simulated the scenes of life in China in class and encouraged students to role-play in those scenes. In the beginning, Mei Xian didn't dare to say a word. But gradually she not only took an active part in the activity, but also added lines while playing her role. "She became more and more confident and dared to communicate in Chinese." Han said.
Besides, Han Xiaoju also spent her spare time talking with her students in Chinese. Knowing that Mei Xian likes Lu Han, a famous Chinese singer, she learnt a lot about Lu Han and talked with Mei Xian about his new songs. Han Xiaoju encouraged her to work hard to study Chinese so that Mei Xian could go to China to see Lu Han's concerts. Heartened by Han, Mei Xian became more and more interested in Chinese, hence worked harder and harder. Ultimately, she was successfully admitted to Huaqiao University.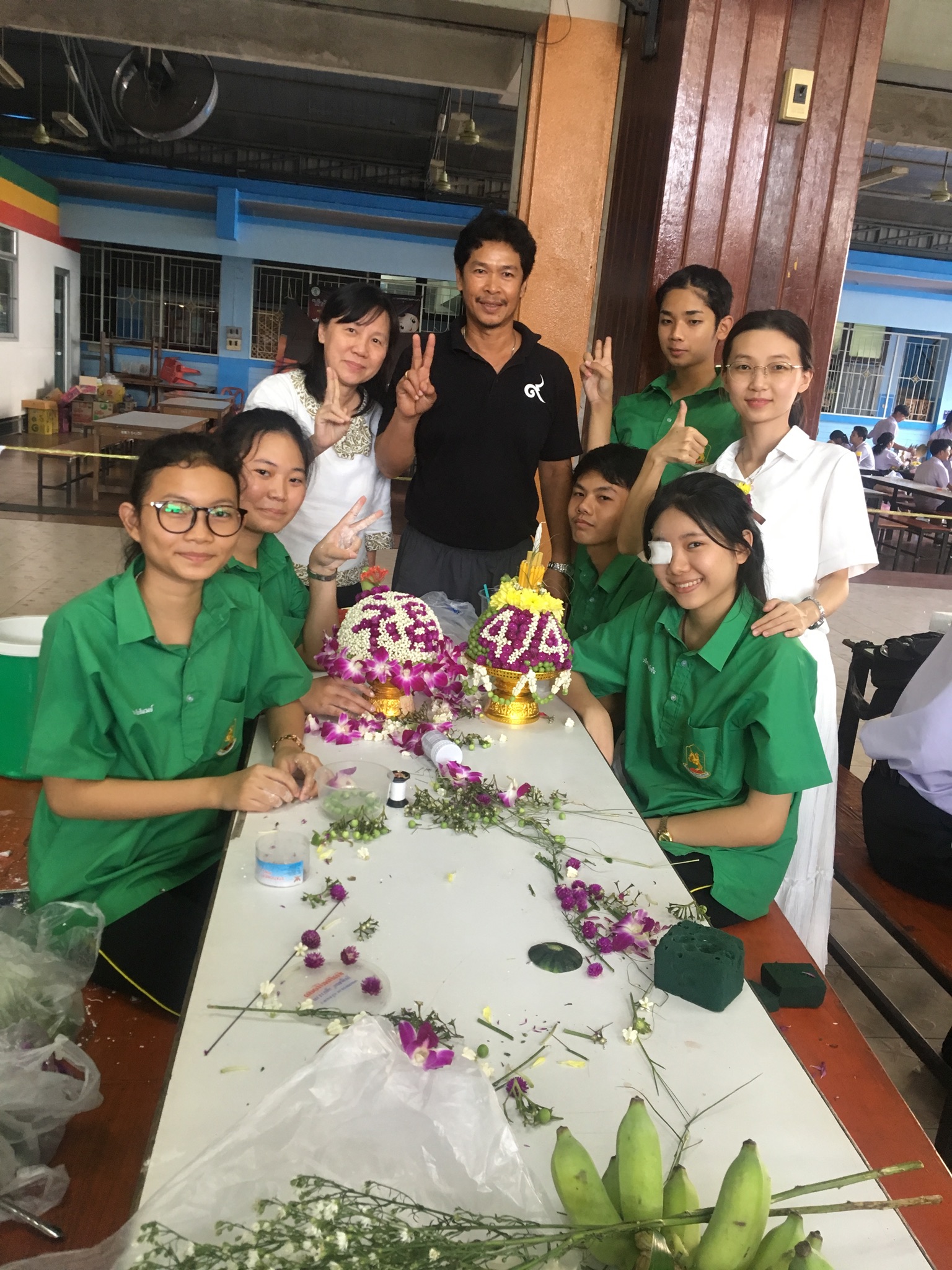 Han's students make bouquets for her and other teachers, which is the most significant custom in the ceremony hold by Thai schools in June to let students show their respect and gratitude to their teachers.
In addition to her students' achievement, Han Xiaoju herself has also made a lot of accomplishments. She won the first prize in the Thai Volunteer Teaching Plan Competition of Council for Basic Education in 2017. What's more, she also won the first prize in the Thai International Chinese Language Volunteer Teaching Skills Competition of Council for Basic Education in the same year. Additionally, she was awarded the title of "Excellent International Chinese Language Teacher".
Like Han, Zou Yaping, also worked as volunteer Chinese language teacher before. Thanks to her major in International Chinese Language Education, she got the opportunity to teach Chinese language in the Confucius Institute of the University of Latvia, which lasted for two years.
International Chinese language teachers not only teach Chinese language, but also transmit Chinese culture. "In addition to daily teaching work, I often show my students wonderful videos about Chinese culture and cook Chinese food with them on weekends; during traditional Chinese festivals, we teachers hold celebrations in or between classes and introduce related customs to students. Then we will play games, such as hide and seek, kicking shuttle cock and so on." said Zou.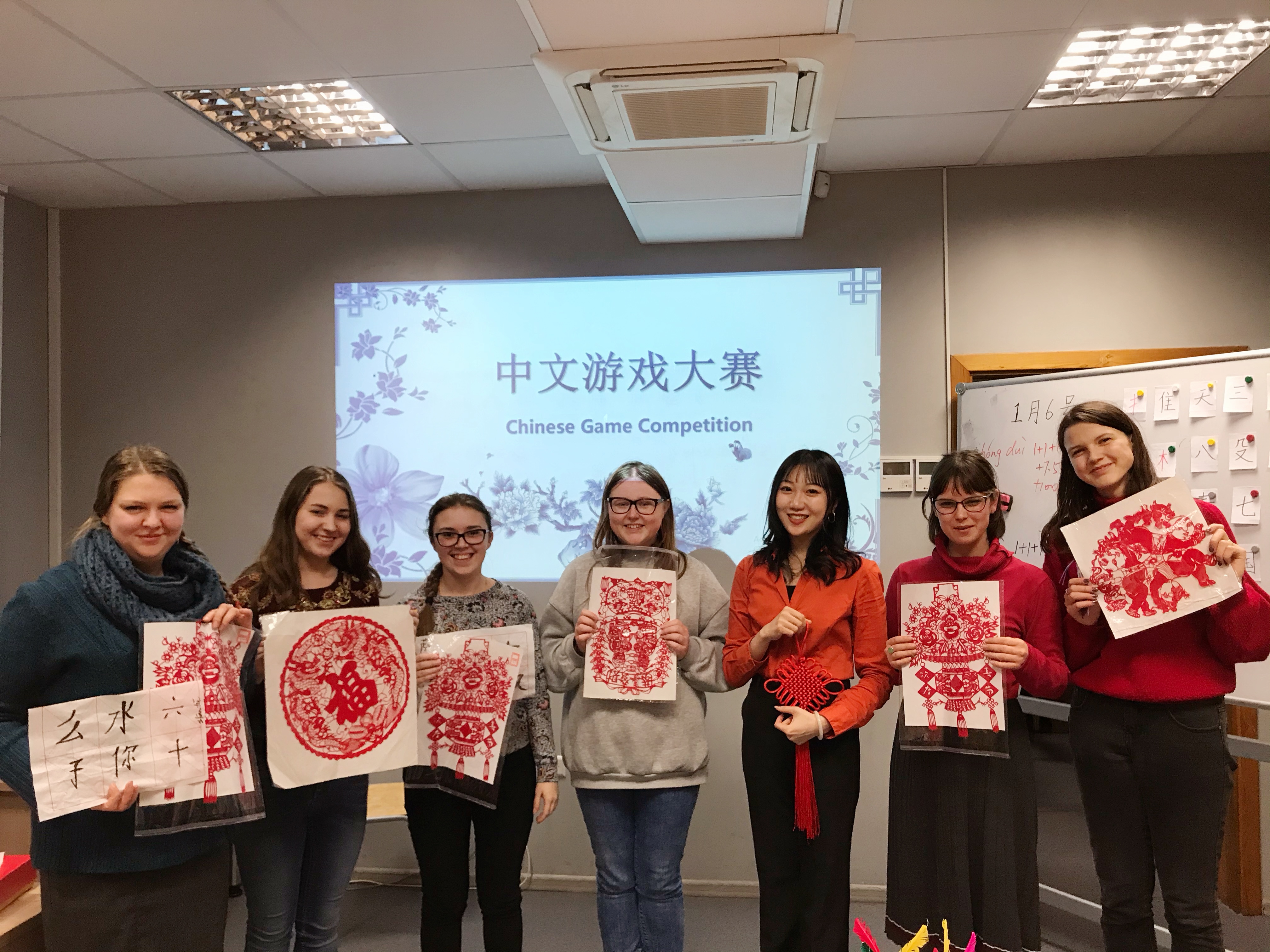 Zou holds Chinese Game Competition in her adult beginners' class during the celebration of Spring Festival.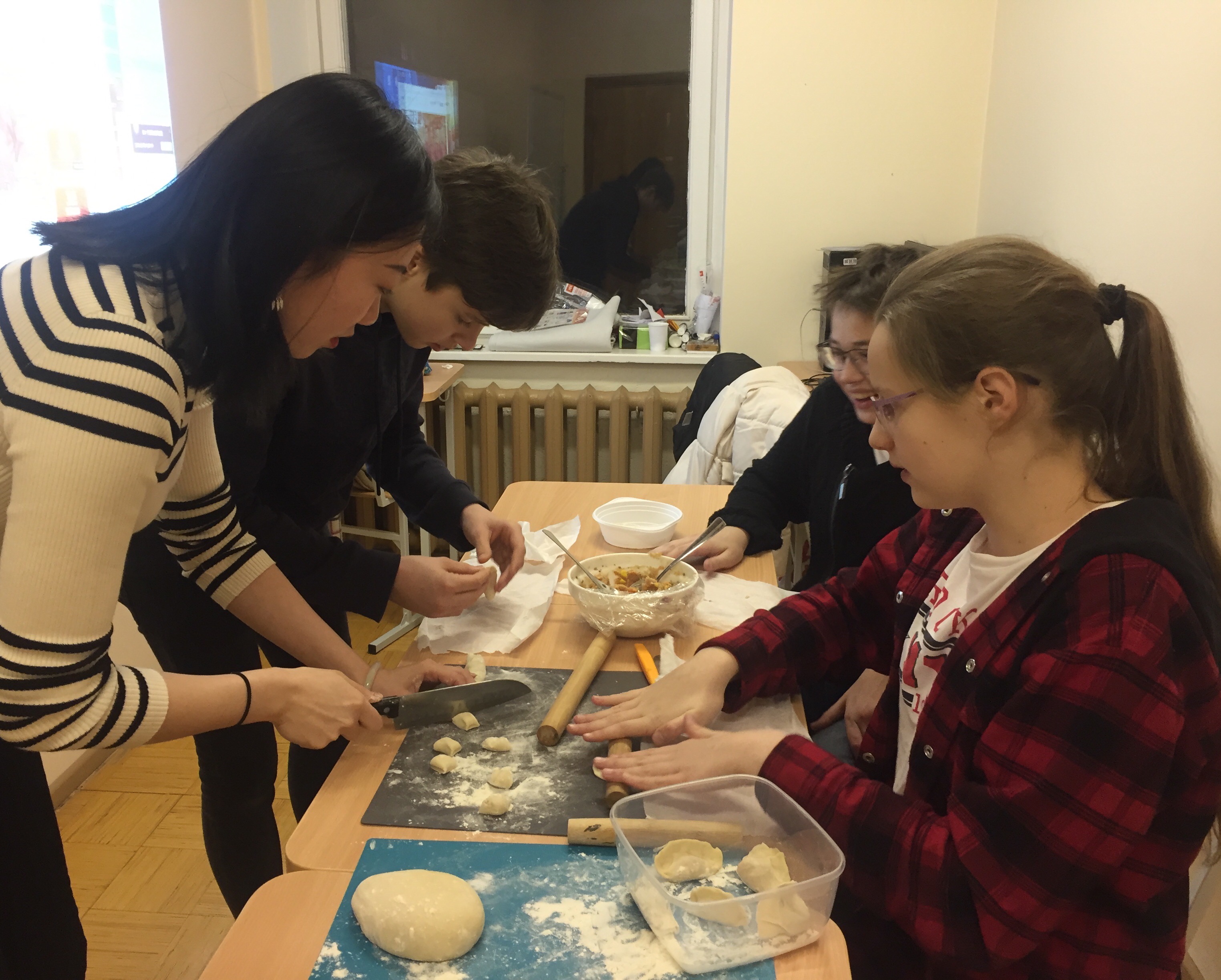 Zou makes dumplings with students in children's advanced class at weekends.
One of Zou's students whose Chinese name is Gao Leyan deeply impressed her. When he first came to Zou's class, he couldn't speak even one Chinese sentence except for "Ni Hao", which means "Hello" in Chinese. Nonetheless, Zou's activities about Chinese culture aroused his interest. Accordingly, he began to try hard to learn it. At the end of the term, he could already not only communicate in Chinese but also write Chinese characters nicely with a pen or brush. He also won the championship in the 17th Chinese-bridge Chinese Proficiency Competition for Foreign Secondary Students held by Latvia.
A teacher of Han Xiaoju and Zou Yaping believes the experiences as international Chinese language teachers would make them gain a lot. "First and foremost, they will fall more deeply in love with their own country," he said. "Besides, the experience will broaden their horizon. They will not only know about the way people in other countries live and see the world, but also improve their cross-cultural communication skills."
"Moreover, they will become more independent. Because when they live abroad alone, it's necessary for them to learn life skills, without which they cannot survive in unfamiliar countries." he added.
The first Confucius Institute of South China Normal University was established in Canada in 2011. To date, SCNU has established three Confucius Institutes in the city of Coquitlam in British Columbia Canada, at the University of Reunion in France, and the University of Latvia in the Republic of Latvia.
By the end of 2020, 228 graduates of SCNU had been sent to Confucius Institutes and other teaching institutions in 41 countries overseas to volunteer as Chinese language teachers. Among those volunteers, 57 of them have served for more than two years, accounting for 25% of the overall numbers of volunteers. 21 volunteers have reaped the qualification of government-sponsored Chinese language teachers. 24 of those volunteers have won the title of "Excellent International Chinese Language Teacher".
"More people around the world will fall for China and Chinese, and more schools, regions and even countries will learn about the development of contemporary China because of international Chinese language teachers." Han Xiaoju said.
Now, Han Xiaoju and Zou Yaping still keep in touch with their students via the Internet, and many of their students still keep learning Chinese. With the responsibility of Chinese culture inheritance and overseas transmission, SCNU will continue to strive to be a good driver of Chinese language promotion and cultural exchange.
---
Written by Wang Ting, Yang Yi

Proofread by Edwin Baak
Edited by Li Jianru
What to read next: