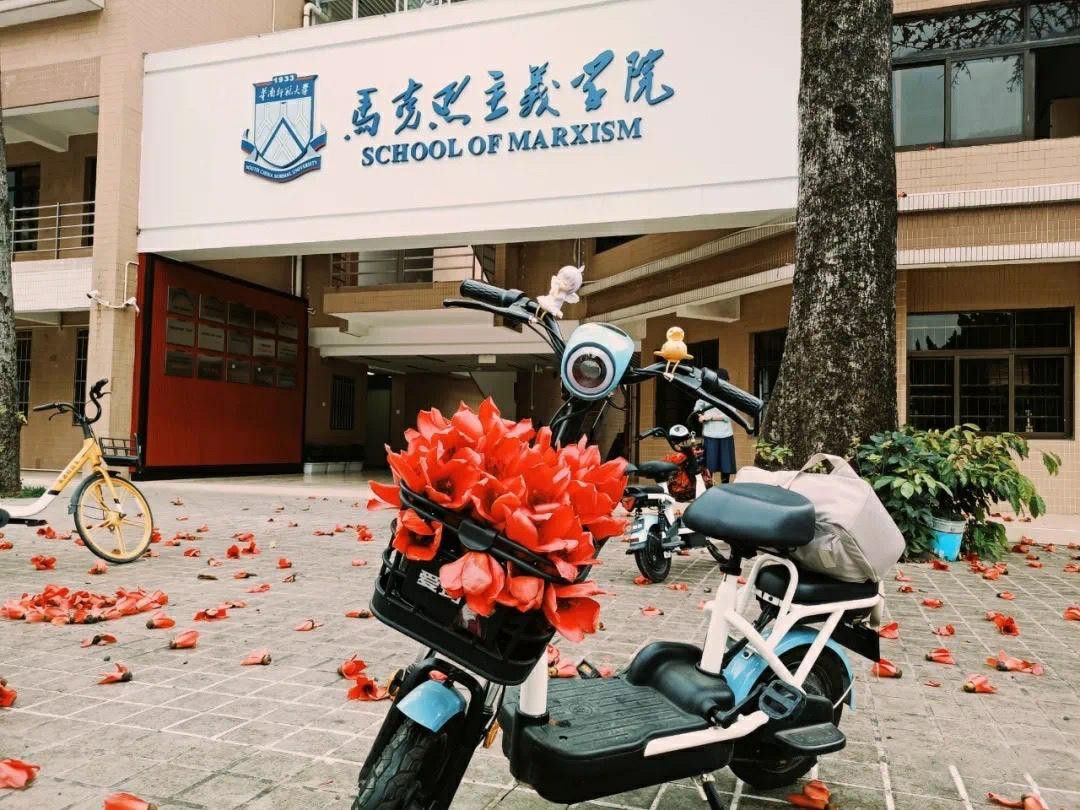 As of late, students living on campus have been asked not to leave the campus unless necessary due to the Covid-19 resurgence in the city, and residents have also been urged not to leave the city as a precaution against the pandemic. Although many SCNUers stay on the campus, they can still enjoy the miraculous season and find the beauty of life. Like them, just take your time and enjoy the moment they share with us.
Craftmanship of spring
@Jin Bin of the Teacher Development Center
"In the class, I assigned some spring-themed homework for students to create handmade artworks with plants," she said. "The rampant pandemic should not and cannot cool down our passions for nature and life, and everyone should be encouraged to spot natural beauty at every corner of SCNU."
She also joined this activity herself. She used fallen kapok petals to draw a tiger-shaped picture, meaning the Year of the Tiger, and Chinese characters of "华师 (huashi)" inside, meaning the Chinese name of SCNU.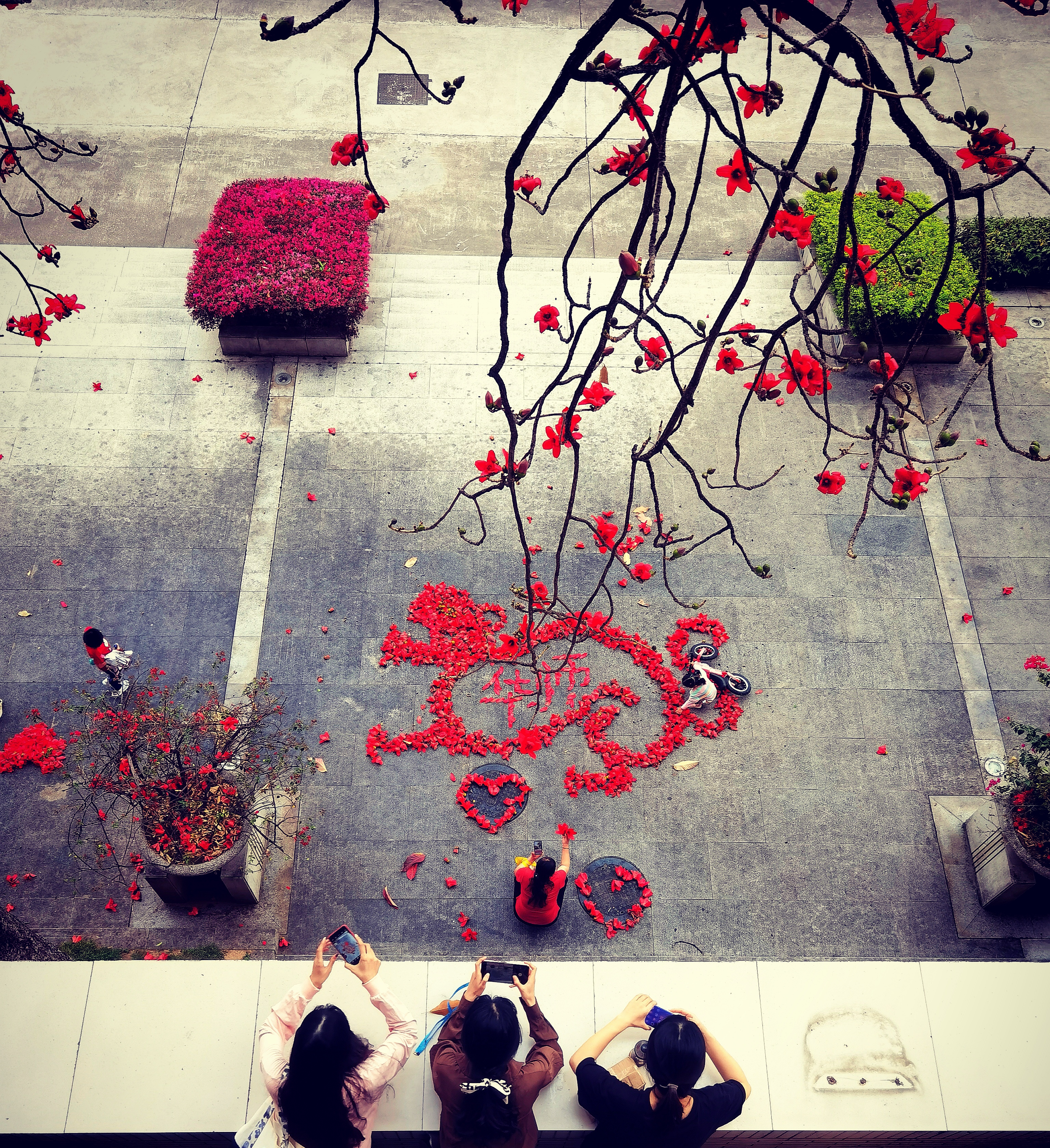 "It surprises me that the assignment turned out to be very popular among students. It attracted many other people to join this activity of nature-based creation!" she said. "Having seen the works of my students, I can't help posting comments and "likes" beneath pictures of their surprising pieces of work on their WeChat microblogs. Here are some of their realizations: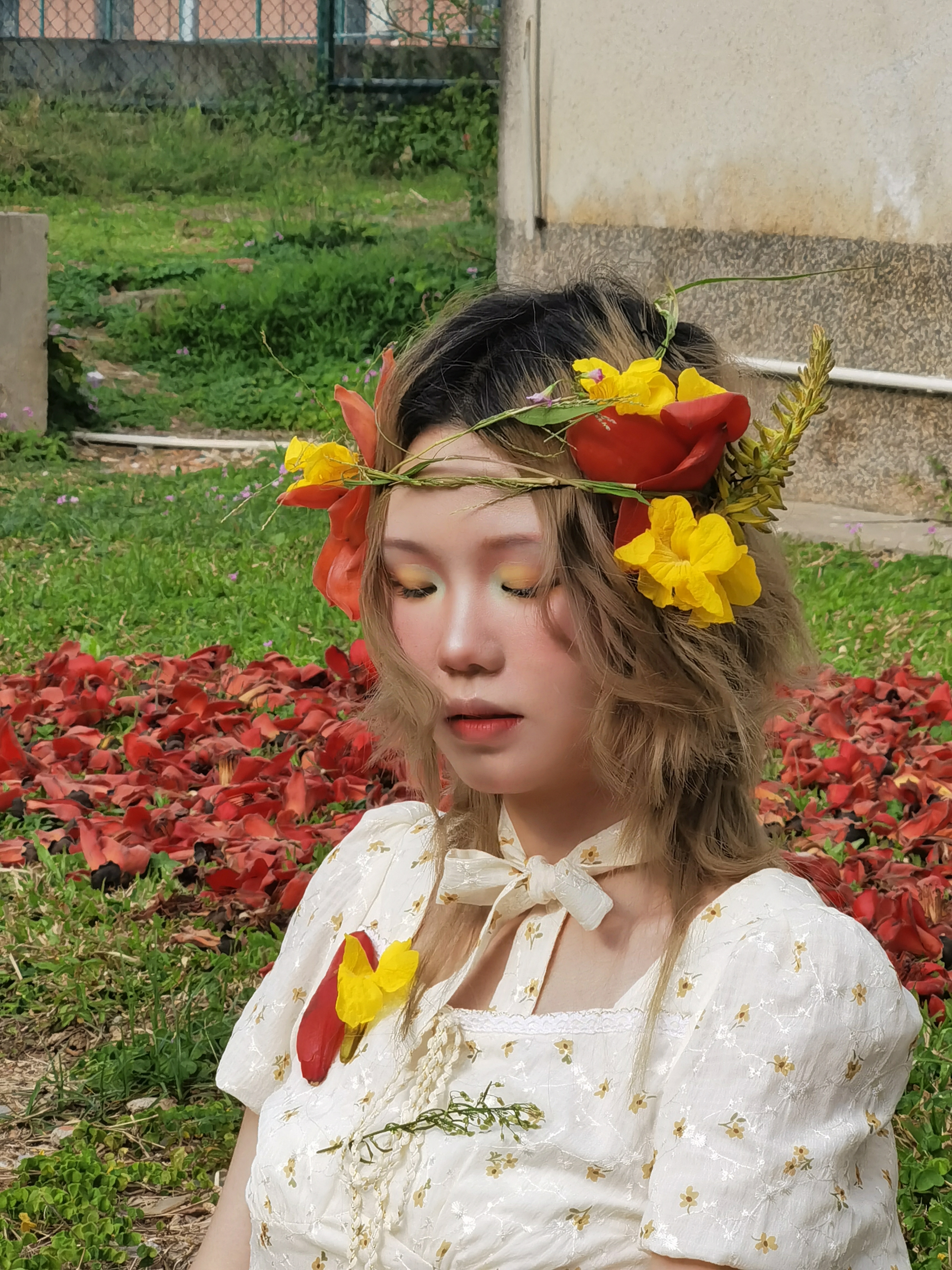 [Photo/Chen Feier]
@Xi:
"The girl in the picture wears a handmade flower crown and a leaf brooch made of petals of the Trumpet flower (Tecoma stans), dog tail grass, kapok and dandelion. She dressed up like a spring elf on the campus."

[Maker/QiuHanjun]
@QiuHanjun:
"I put the leaves and flowers into the shape of a Chinese character '春(chun)' on the cement floor, meaning the advent of spring. Among the four seasons, I loved spring most. I also made it to welcome its coming."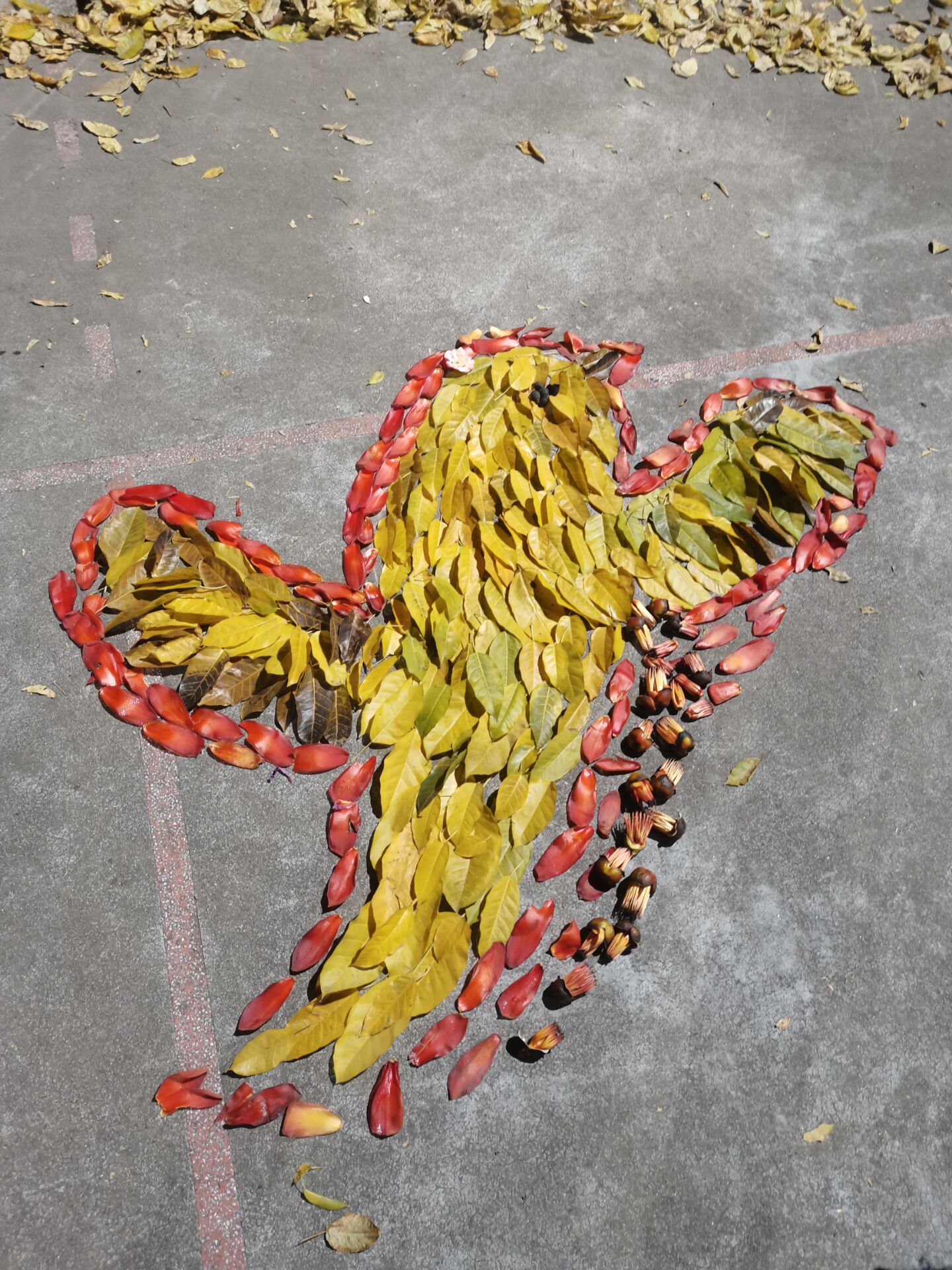 [Makers/Wang Luyao, Chen Ziling, Chen Lili, Chen Tongjuan, Su Mingxiang]
@Group members:
"We worked together to convert the old leaves into a golden bird to express our yearning for freedom under the grim epidemic situation."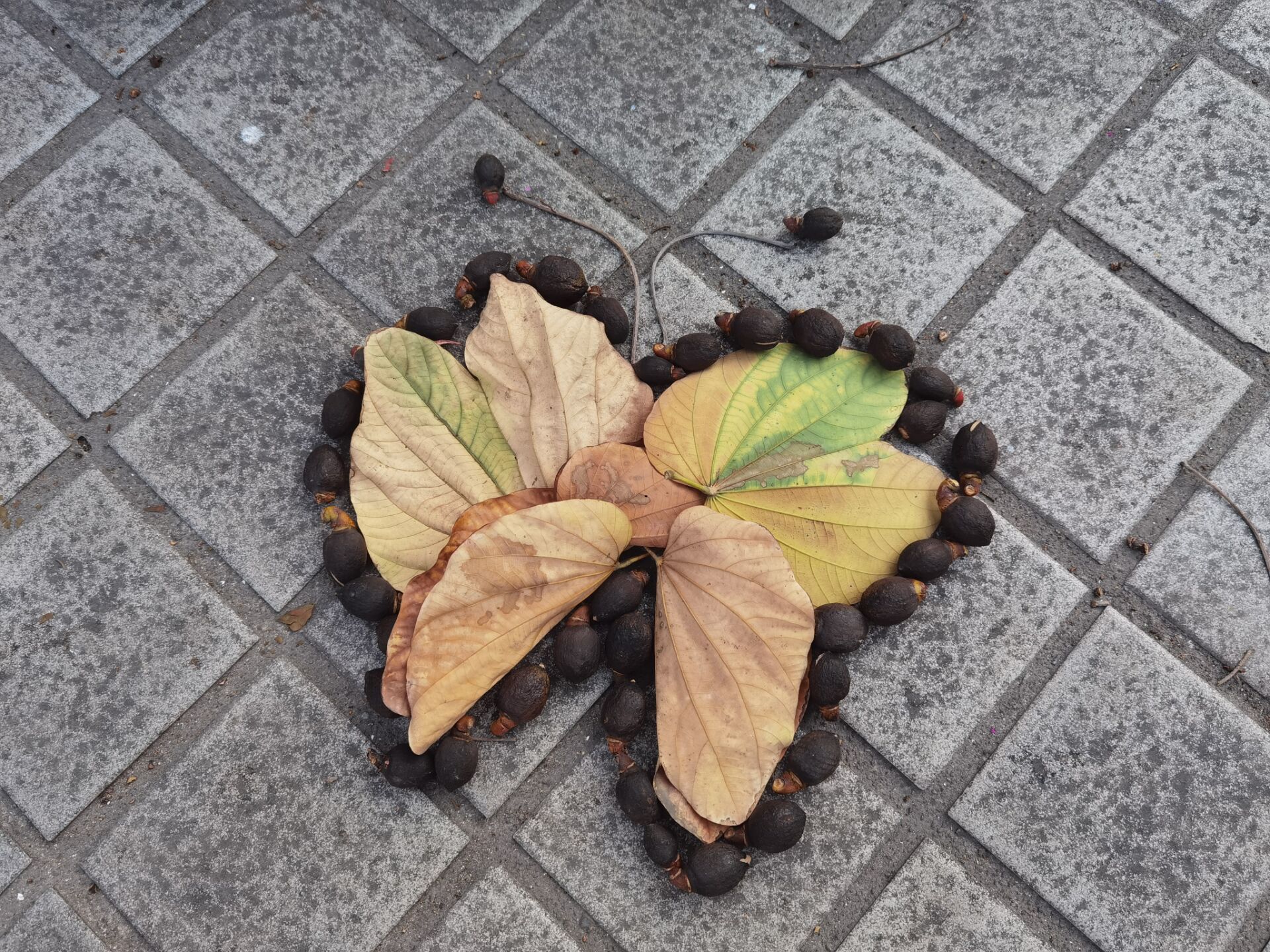 [Makers/Jiang Huantong, Sui Jiahe, Dai Wenjie, Li Yangyu]
@Group members:
"We arranged seeds of the kapok and fallen leaves into a shape of butterfly. It can take our wish of flying toward future freely. Spring in the south of China is different from north. Though we see fallen flowers and leaves in this season, it also indicates the new start of everything. We can still fully feel the romantic and gentle, free and beauty of it. It's so romantic for us to bring the withered plants to life again through our conscientious eyes."

Romance in the heart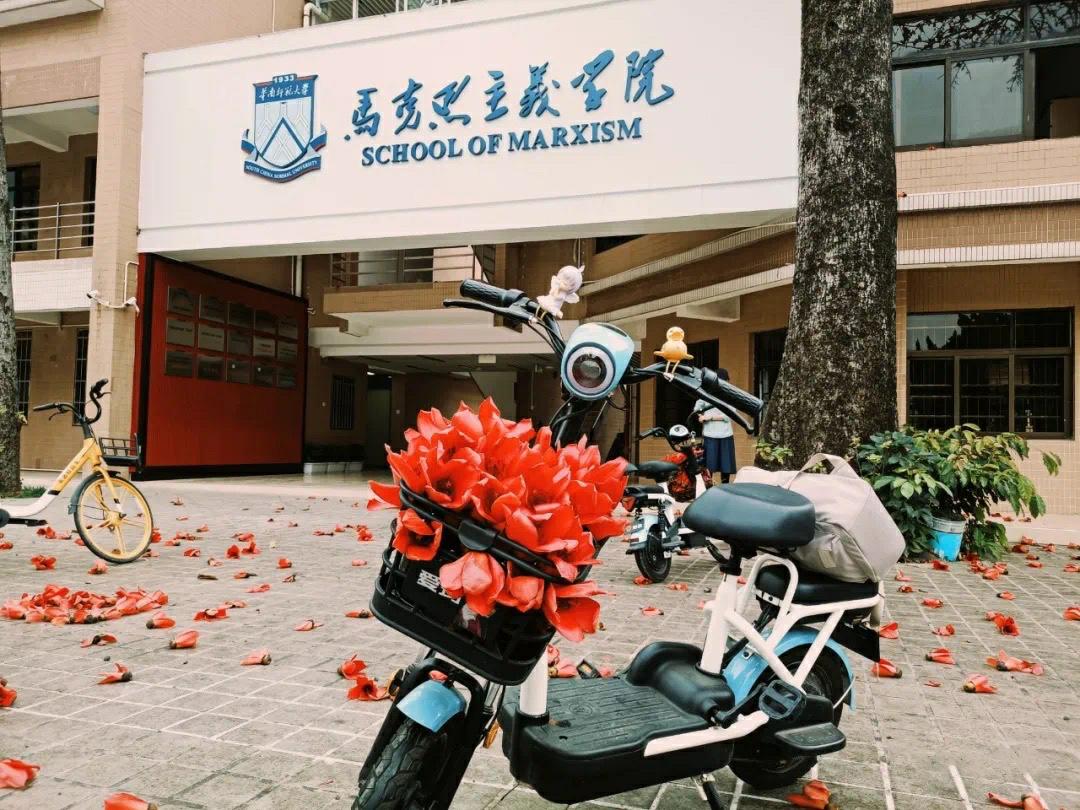 @Xiaoyu:
"A motor bicycle decorated with a full basket of kapok flowers caught my eyes when I passed the faculty building of the School of Marxism the other day. It was so well decorated that I guessed it must be done by a romantic person with an eye for beauty. With due respect, I lightened up and continued to carry on my hard work."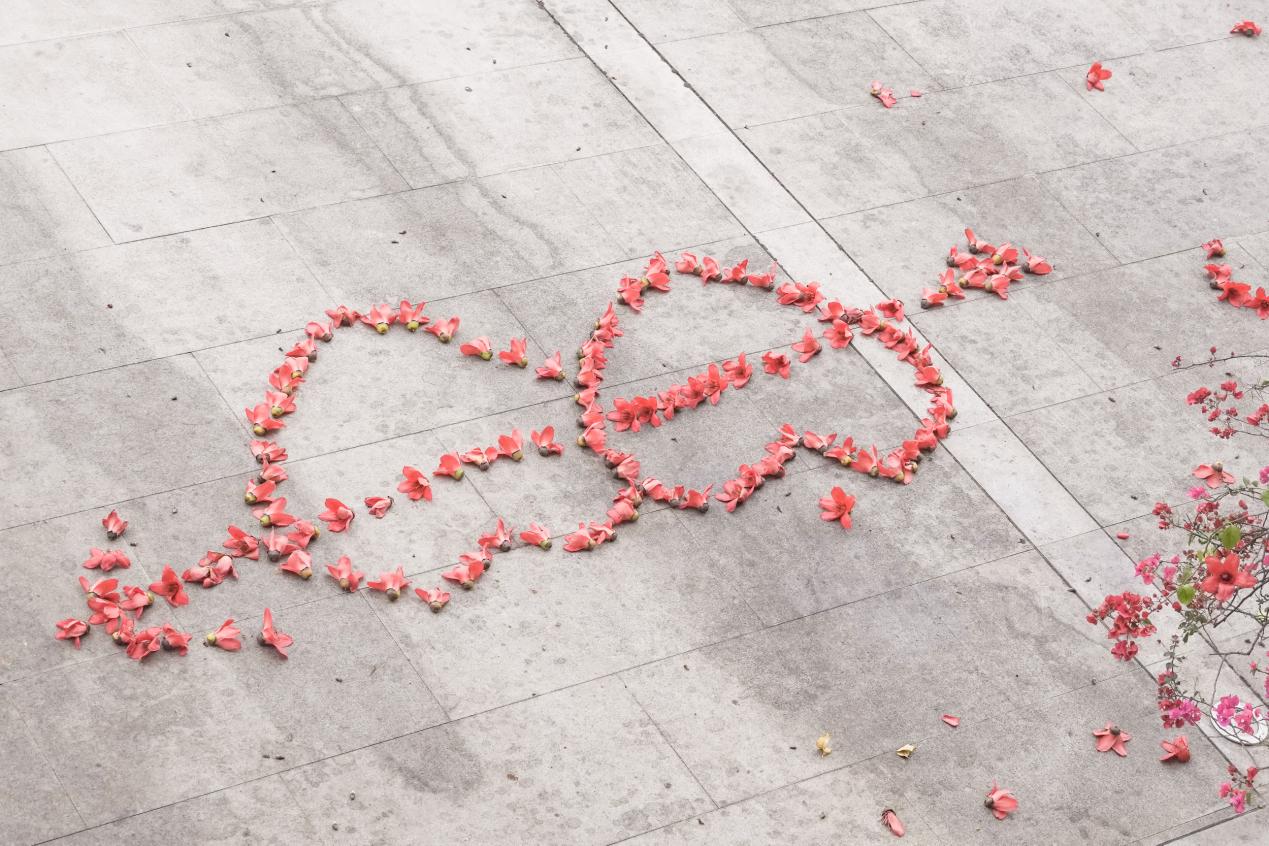 @XinPei:
"I encountered this image the moment I rushed to my class. So surprised was I when I saw the fallen pink Kapok arranged into the image of Cupid's arrow. Our daily life is always hurried, but someone still took time to create beauty, so I took a photo as a reminder."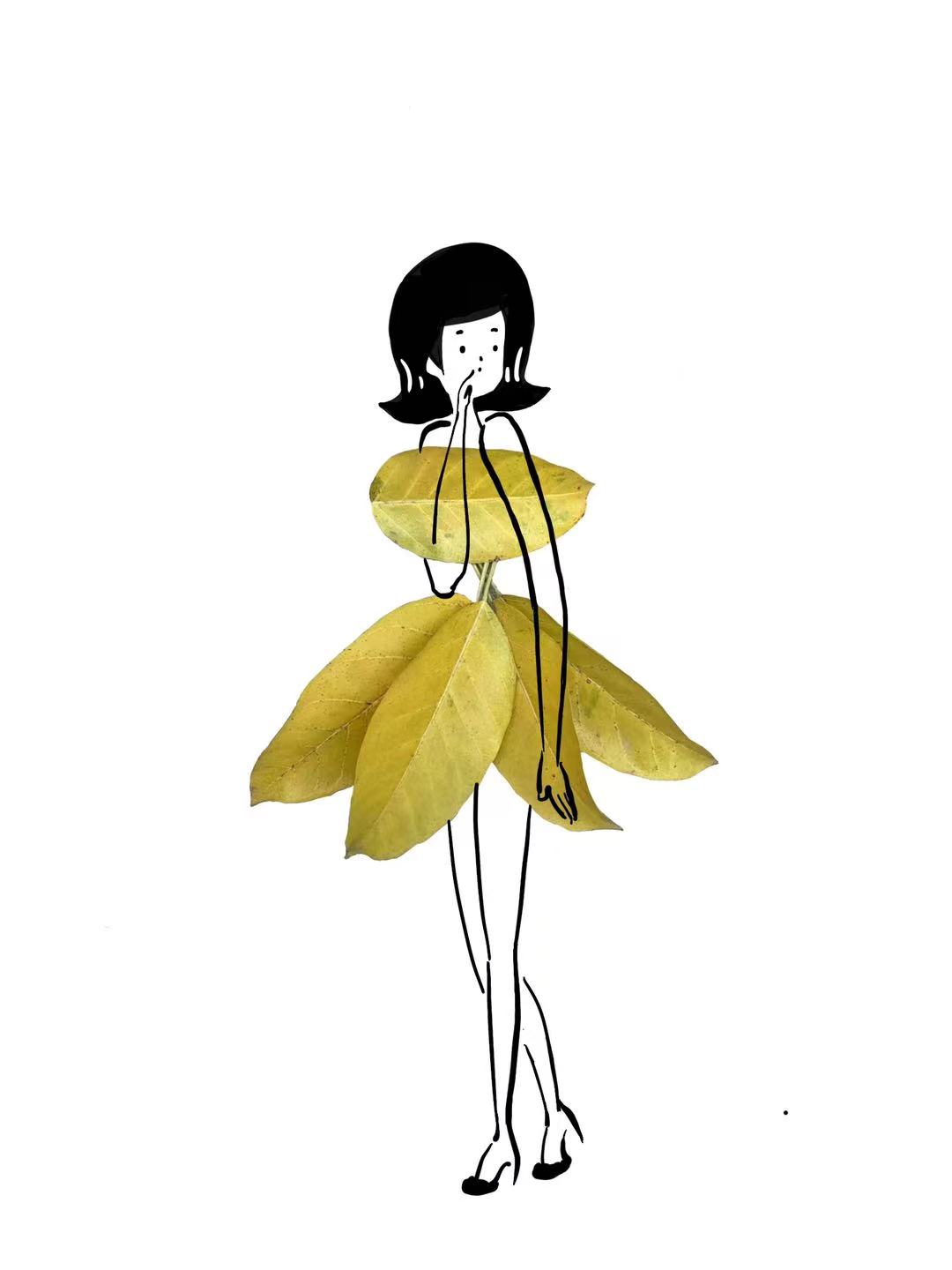 [Maker/Lin Shaoying, a student from School of Fine Arts]
@Menxi:
"You can see that the maker was really full of creativity, by drawing lines and photo editing tools to turn the leaves into a fair lady. Fallen leaves can be all new and shiny in this way, so we can also have unlimited possibilities."
Picturesque views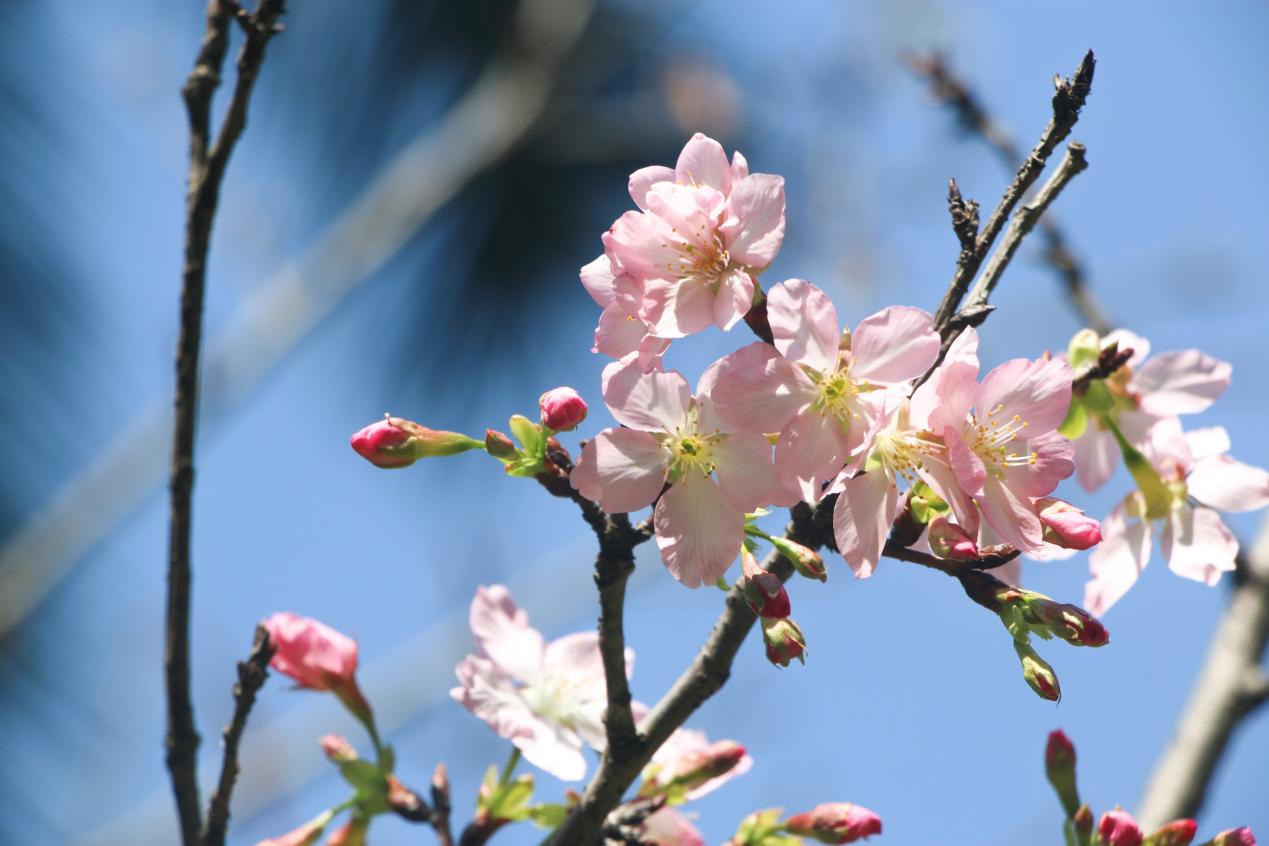 @Xiaomoli:
"The spring view at SCNU is a feast to my eyes Spring is regarded as a hopeful moment in a year. I hope that I can finish my report successfully, looking forward to a good harvest in my studies."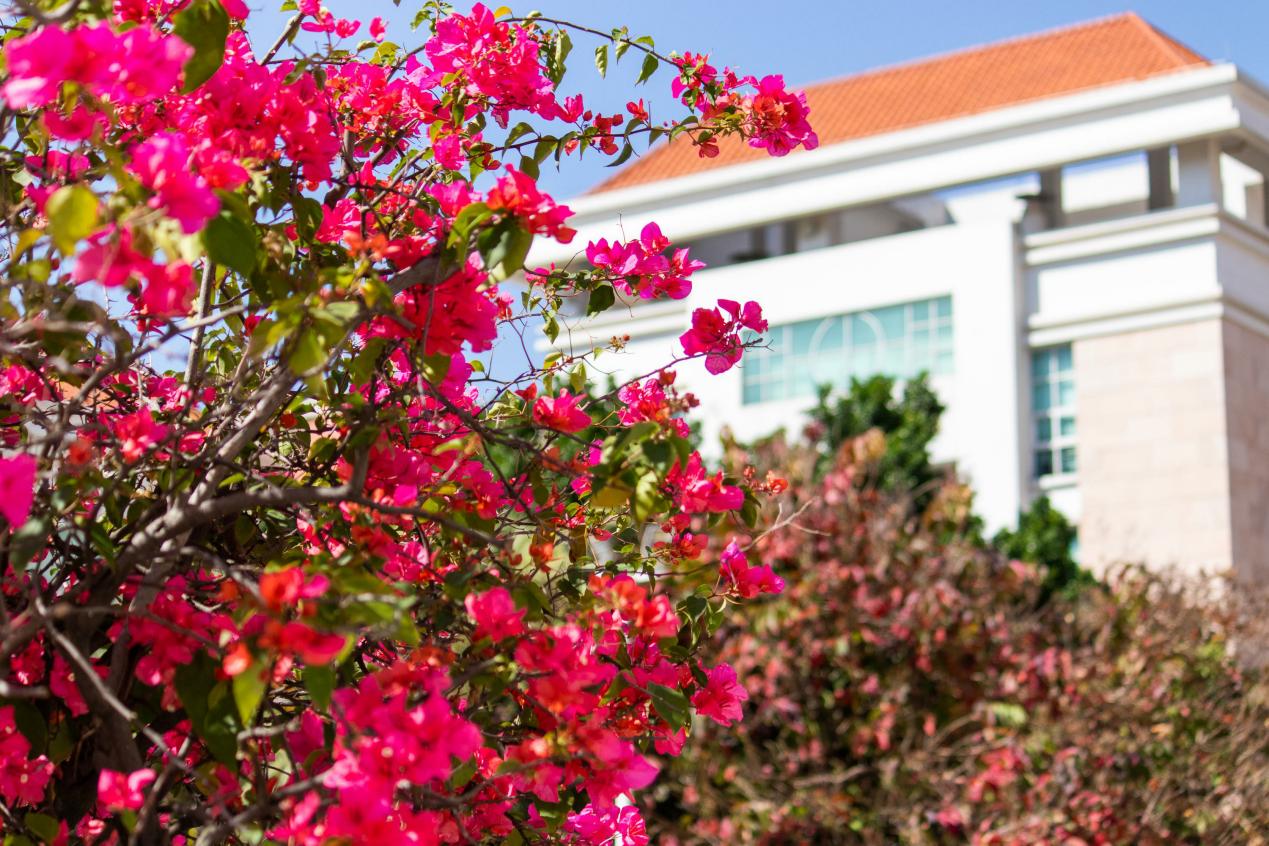 @Yunyunhuhu:
"The spring at SCNU is so touching. It helps relieve my stress. wWhenever I walk through the Teaching Building, these blossoms growing here create a message-like sensation for me."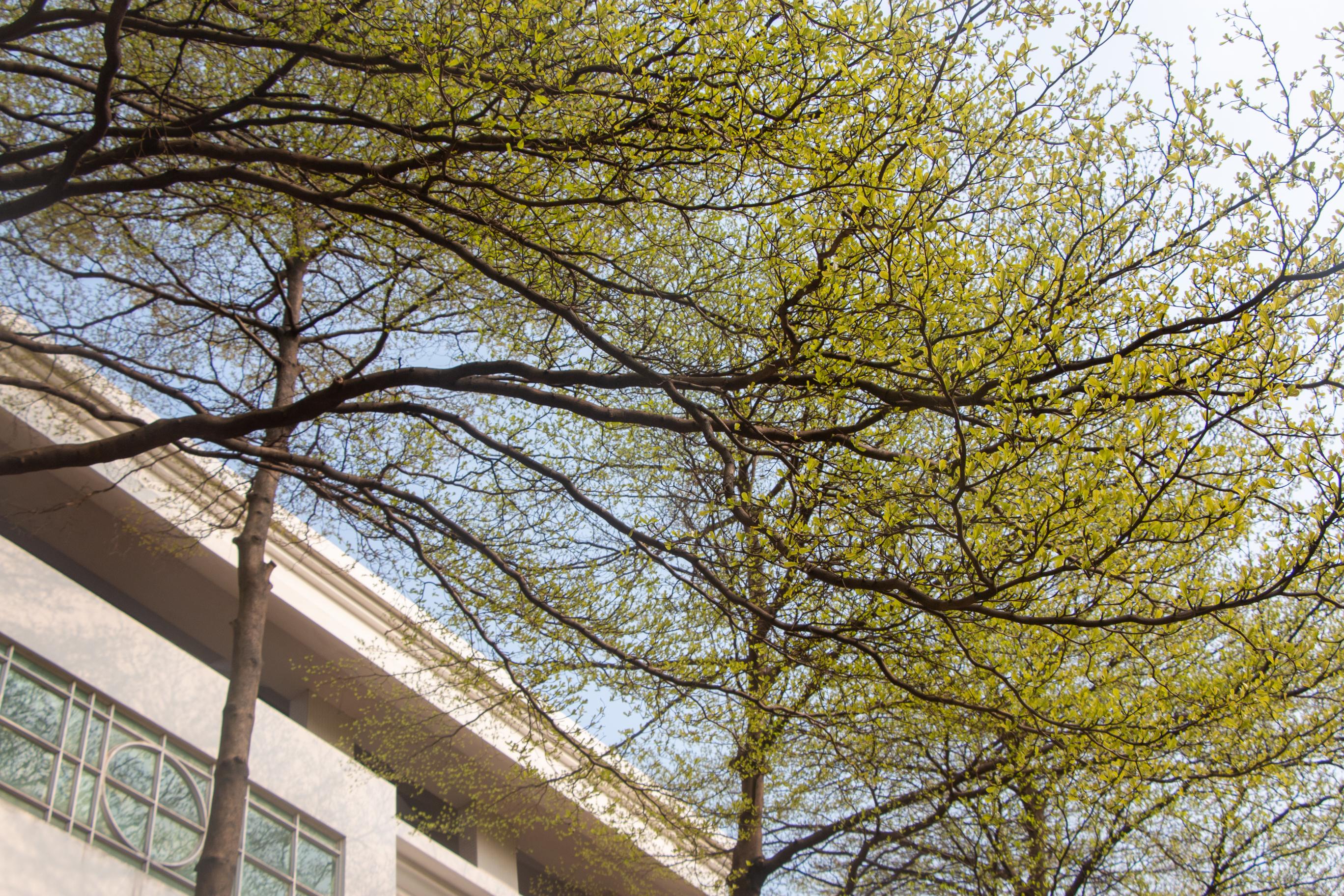 @Mr. C:
"SCNU is really picturesque in spring. I am quite tired these day, but the endless power of the natural view always give me the greatest support when I am in the most tired situation."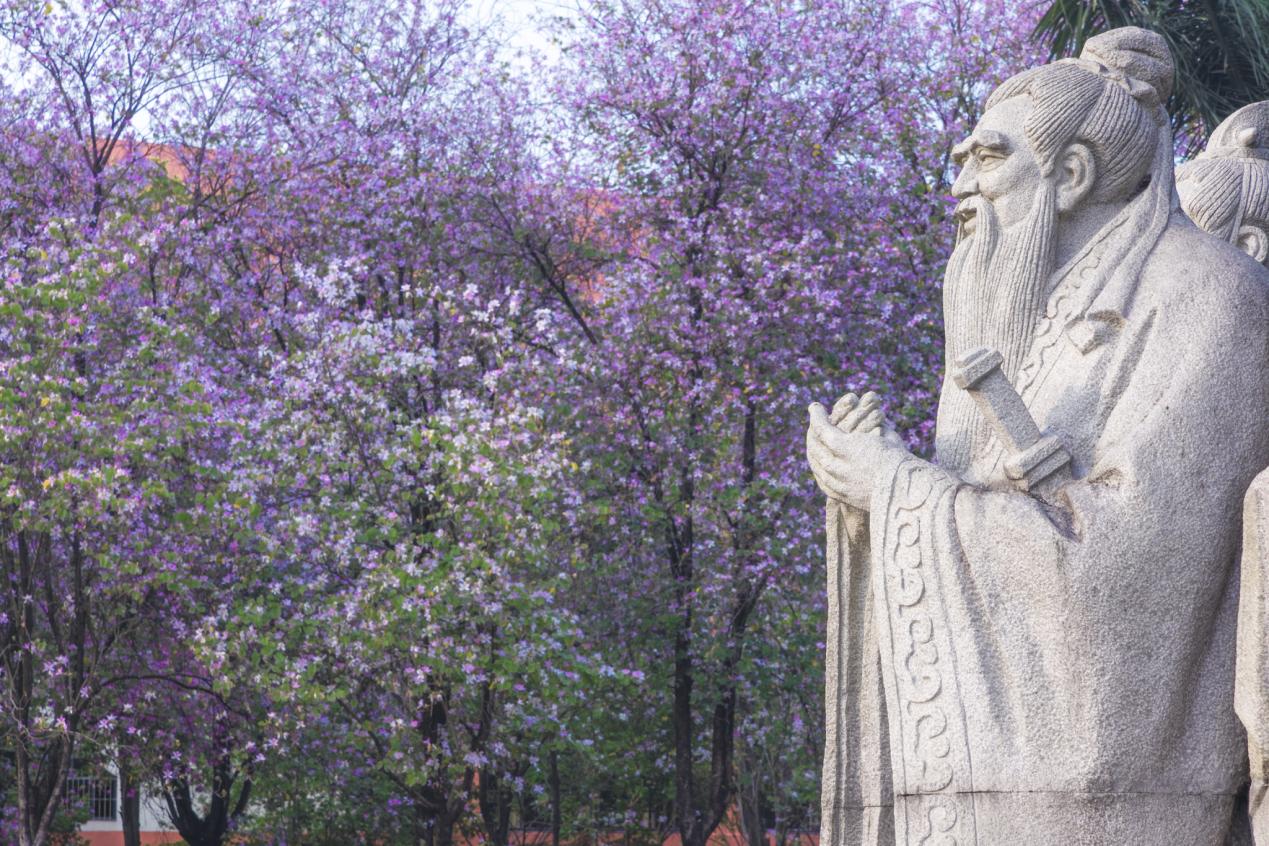 @Luo Zhaohui, professor at the School of Foreign Studies:
"Most of us may agree with Dale Carnegie that "we are all dreaming of some magical rose garden over the horizon instead of enjoying the roses that are blooming outside our windows."When I was shown these pictures taken at SCNU and handmade artworks of flowers and leaves, I felt delighted with these students' sense of observation, aesthetic sense and creativity. They are so lovely and brilliant. Beauty is everywhere, waiting for us close at hand, if only our hearts remain open to beauty."
---
Source: SCNU News Center
Translated by Qiu Lezi, Li Xien, Yang Yi.
Proofread by Edwin Baak
Edited by Li Jianru
What to read next: