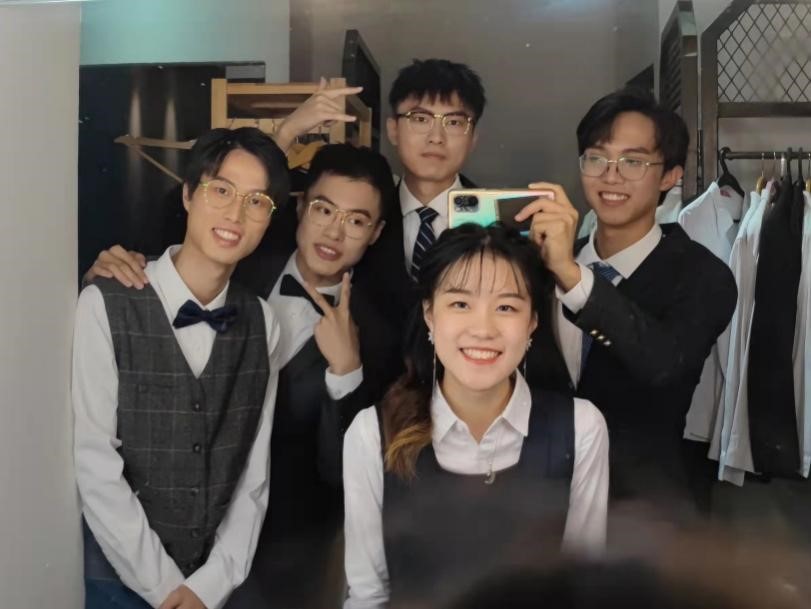 At SCNU, there is an undergraduate research team, whose members have all been admitted to their dream universities in the postgraduate recommendation this year. Among them, Lin Jiamao has been admitted to Sun Yat-sen University, Chen Junxu to South China Normal University, Zheng Zihan to Shanghai Jiaotong University, Xu Junhuai to Tsinghua University, and Luo Mingjian, also to Sun Yat-sen University. They not only achieved in their academic project, but also gained a lifelong friendship. Check out how their stories unfolded through years of cooperation.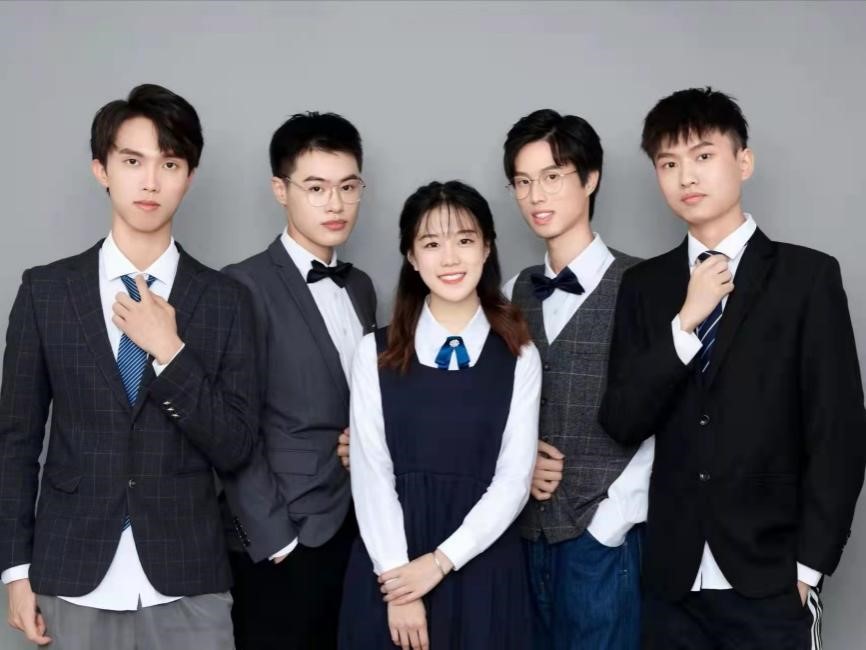 Lin Jiamao, Chen Junxu, Zheng Zihan, Xu Junhuai, Luo Mingjian (from left to right).
"Nice to meet you!"
"It all started with an invitation from my teacher," said Luo Mingjian, a student at the School of Physics and Telecommunications Engineering. "I was asked whether wanted to join a research project on black holes. The teacher then he pointed at a girl in the first row, telling me that she was Zheng Zihan, the project leader. This was our first contact."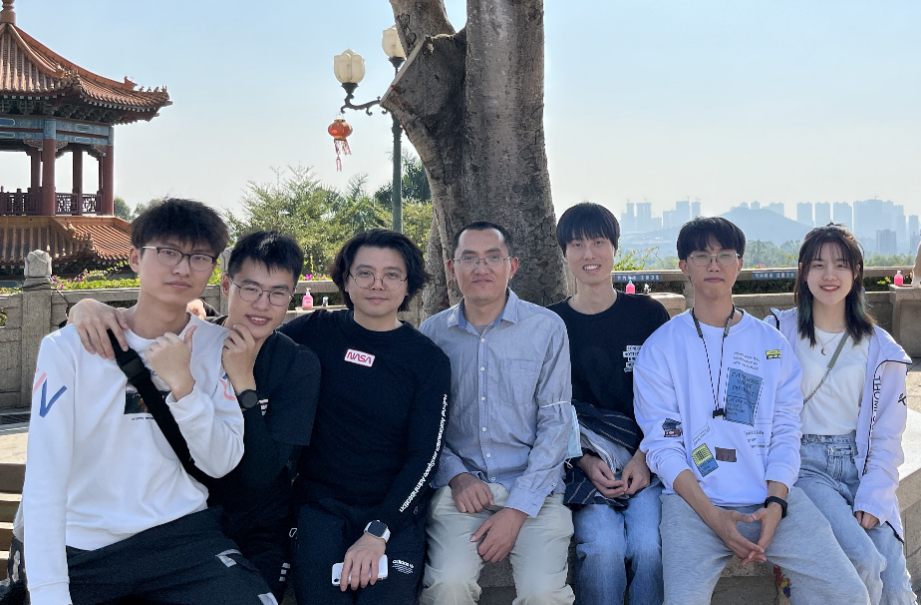 The team members hiking with their two dear thesis advisors.
As the last one to join the group, Luo Mingjian felt uneasy at first. However, the professional abilities of the teammates gradually smoothed his concerns. In their first meeting on the project, their thesis advisor expounded on the theory of general relativity. "It was a totally unknown field to me, I was just at a loss while Chen Junxu, the student who sat next to me, responded quickly, thought clearly and even showed his admiration for the teacher's explanation." In Mingjian's view, Xu Junhuai is a self-disciplined student of great learning abilities; Lin Jiamao, a considerate and gentle partner, who loves astronomy, while Zheng Zihan, the only woman in the team, is responsible and always smiles. With the encouragement and help of the peers, Luo Mingjian worked hard at the relevant theories and gradually caught up with the others, eventually finding his place in the team.
"It could be better."
During the outbreak of the pandemic in 2020, they could rarely have face-to-face discussions, which delayed their research to some degree. Xu Junhuai considered the on-line discussions to be ineffective. "The lack of real interaction dragged me from other members," Luo Mingjian said, feeling the same, "left alone carrying out the research at home!" As he could remember, they only had one on-line meeting in those days.
The team gradually bounced back after they returned to school, as their direction was increasingly clear. The division of work on the project also became definite. Xu Junhuai's excellent analytical and numerical capabilities nicely matched Luo Mingjian and Lin Jiamao's need to build up a well-worked model, which boosted the construction of their part.
There was a time when Luo Mingjian, Lin Jiamao and Zheng Zihan insisted that their responsible sections could be better with further study. Although there were some occasional divergences among the members, they had effective communication with each other and a positive attitude all along. Thanks to all the thinkers and doers in this team, they could handle with the changing situations, and then work out toward the ideal results. Little by little, all of them worked on their thesis writing. "During our third winter vacation at SCNU, Zheng Zihan, Lin Jiamao and I sat in a laboratory room, ready to make iterative revisions," Luo Mingjian recalled.
"Even when Zheng Zihan had already left, travelling home by bullet train, we were still modifying and editing the relevant pictures. Although we were miles apart, our hearts were together."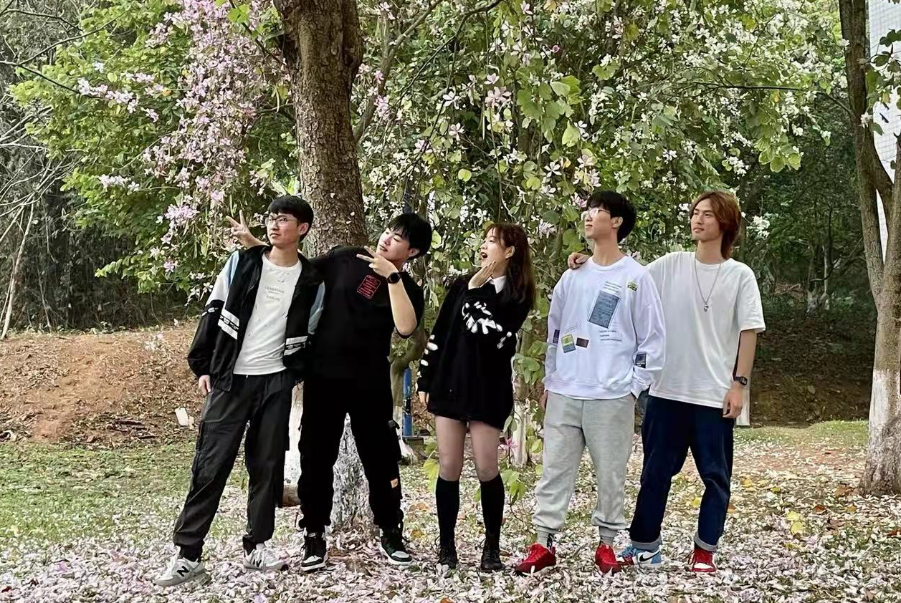 SCNU has witnessed their changes.
After finishing the thesis, submitting it to their teacher and getting all the things settled, the five members could finally exclaim in delight, "This episode has finally ended!" At the same time, they started looking forward to their next episode!
"Happy Birthday!"
Zheng Zihan banged the door as she tried to enter the lab. One day, she arrived at the lab to work on the thesis as agreed, but the lab seemed to be locked. No matter what came to her mind at that time, she wouldn't know that on the other side of the door, there was a big surprise designed for her.
Just several days before Zheng Zihan's birthday, the other team members had already prepared for it. Even if in the planning for the party, they had a clear division of work as always. Lin Jiamao was responsible for borrowing and adjusting the telescope, Chen Junxu for writing greeting cards, Xu Junhuai for video recording and Luo Mingjian mainly for space layout. The lab they used for discussions now became the party scene. That moment finally came. Everything was ready but the heroine, and they turned off the lights, waiting in silence, with mixed feelings. "Because not knowing who was actually outside, we were more afraid that the guard had discovered that we messed up the lab," Lin Jiamao explained. "maybe it was an angry guard outside, slamming on the door, trying to catch us in flagrante."
They decorated the lab.
When Zheng Zihan managed to open the door, she was greeted with an unexpected "Happy Birthday". Zheng Zihan was invited to have a look through the telescope, by which she found another surprise: a note of birthday wishes was posted on the wall of the opposite building—like a blackhole being discovered in the space, which was related to their project. Years of cooperation had formed their tacit understanding.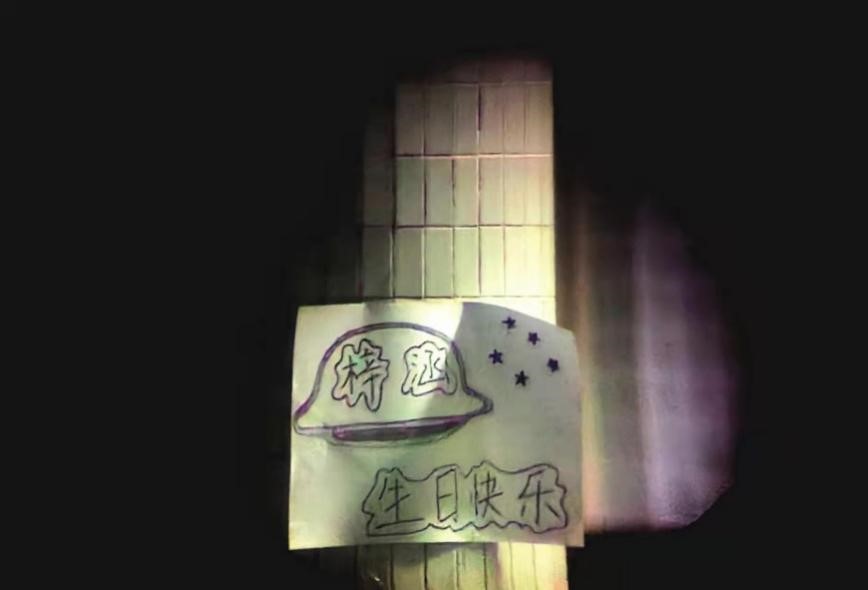 The birthday wishes pasted on the wall seen through the telescope.
"Discovering a succession of surprises they prepared is just like opening mystery boxes," Zheng Zihan said. "I was overwhelmed with my friends' warmth." It was Zheng's most precious moment of the year.
"Our encounter has been very wonderful."
From different majors, with different characteristics, similar pursuits in some aspects got the five like-minded fellows on the team. Scientific research brought them together, while interactions in daily life pulled them closer together. They are each outstanding scholars in their field, but joining hands, they can be stronger.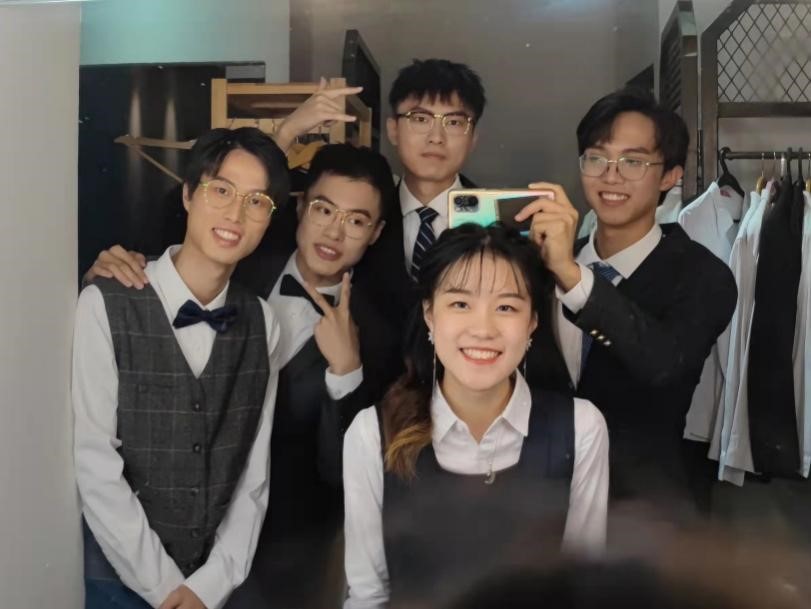 Five bright colors forming a more gorgeous rainbow.
"Maybe we will be far apart in the future. Maybe we will always keep in touch, or will be busy and communicate less," Zheng Zihan said. However, no matter what the future holds, they will always remember the balmy nights when they looked at the stars on the campus. They will always remember the werewolf games where Luo Mingjian could be easily identified when he was the "wolf". They will always remember this November when they were invited to Shanwei campus of SCNU to give a speech to the freshmen. Their sincere friendship will last forever.
At SCNU, they met, they collaborated, they cherished their friendship. Although they are to leave SCNU, maybe one day, they will be at a different, higher place, cooperating in some scientific research again.
---
Written by Chen Menghan, Lai Xinran
Proofread by Edwin Baak
Edited by Li Jianru
What to read next: