Standing on the stage, Anastasiia Soloveva, dressed in Russian costume, gave a passionate speech on her understanding of the Chinese character "乡" (meaning homeland) and showed her enthusiasm for Chinese characters, while another contestant Dongyeun Kim in Korean costume hanbok brought a speech about how she fell in love with Chinese characters and her Chinese learning experience over the past 15 years.
The two international students, both from the College of International Culture of SCNU, were participating in the finals of the 2021 "Chinese Characters and Me" Speech Contest for International Students held in Anyang, where oracle bone inscriptions were unearthed, in central China's Henan Province. Given their excellent performance, both have been awarded prizes at the competition, Anastasiia the third prize and Dongyeun the best language prize.
A group photo of Anastasiia Soloveva (second from the left), Dongyeun Kim (second from the right) and their mentors Jiang Dongsheng (first from the left), and Chen Zhuojing.
The speech contest, as part of the 2021 China (Anyang) International Conference of Chinese Characters organized by the Chinese People's Association for Friendship with Foreign Countries and the provincial government of Henan province, was held on October 20 in Anyang. 18 international candidates from some of the best universities in China had been shortlisted for the finals.
"It is not easy for them to get better than other participants some of whose level even comes close to that of anchors of China Central Television (CCTV)," said Chen Xiaoling, a teacher at the College of International Culture. He spoke highly of the performance of the two students winning their prizes competing with strong participants from other schools.
Telling stories about Chinese Characters
According to the rules of the contest, contestants were invited to conduct field trips at a local place to learn about Chinese culture and knowledge of Chinese characters before the competition and then make speeches based on their understanding of the Chinese character "乡".
"It wasn't until I went to Anyang and visited local museums that I realized the contest not only provided me with a chance to compete with others but also to deepen my knowledge about China," said Anastasiia, an undergraduate from Russia who has been studying at SCNU for three years. She said she found resonance with the Chinese character during her field trip and decided to introduce the evolutionary process of the character in a special way of carving the character on a prop called matryoshka (a kind of Russian doll from her hometown).
The evolutionary process of "乡" shows the historical fact that ancient Chinese had to leave their hometown to join the army to protect their country during wars, said Anastasiia in her speech. It reminded her that she hasn't returned to her hometown for three years since she came to study in China. She then used her own experience of being away from her hometown as an example. "Hometown is a connection rather than a location. Even if we leave for another destination, my hometown would always stay in my heart," she said.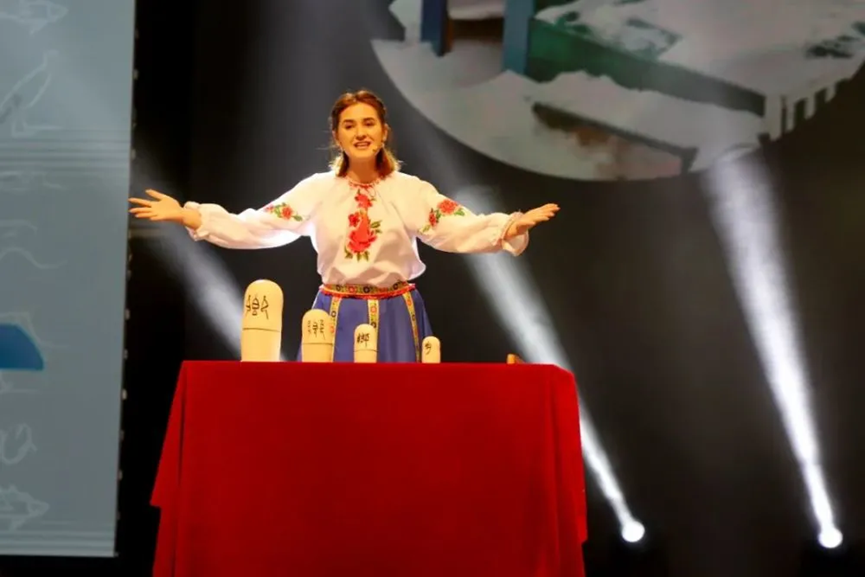 Anastasiia uses a matryoshka as a prop to present her speech.
Dongyeun Kim, a postgraduate student from South Korea, got inspiration for her speech from the oracle bone inscriptions during her visit to Anyang. In her speech, she started with her first encountering with Chinese characters in an ancient prose, the Thousand-Character Classic, in which the sort of vitality and elegance of Chinese characters themselves have intrigued her deeply. She then showed her understanding of Chinese characters with her own story.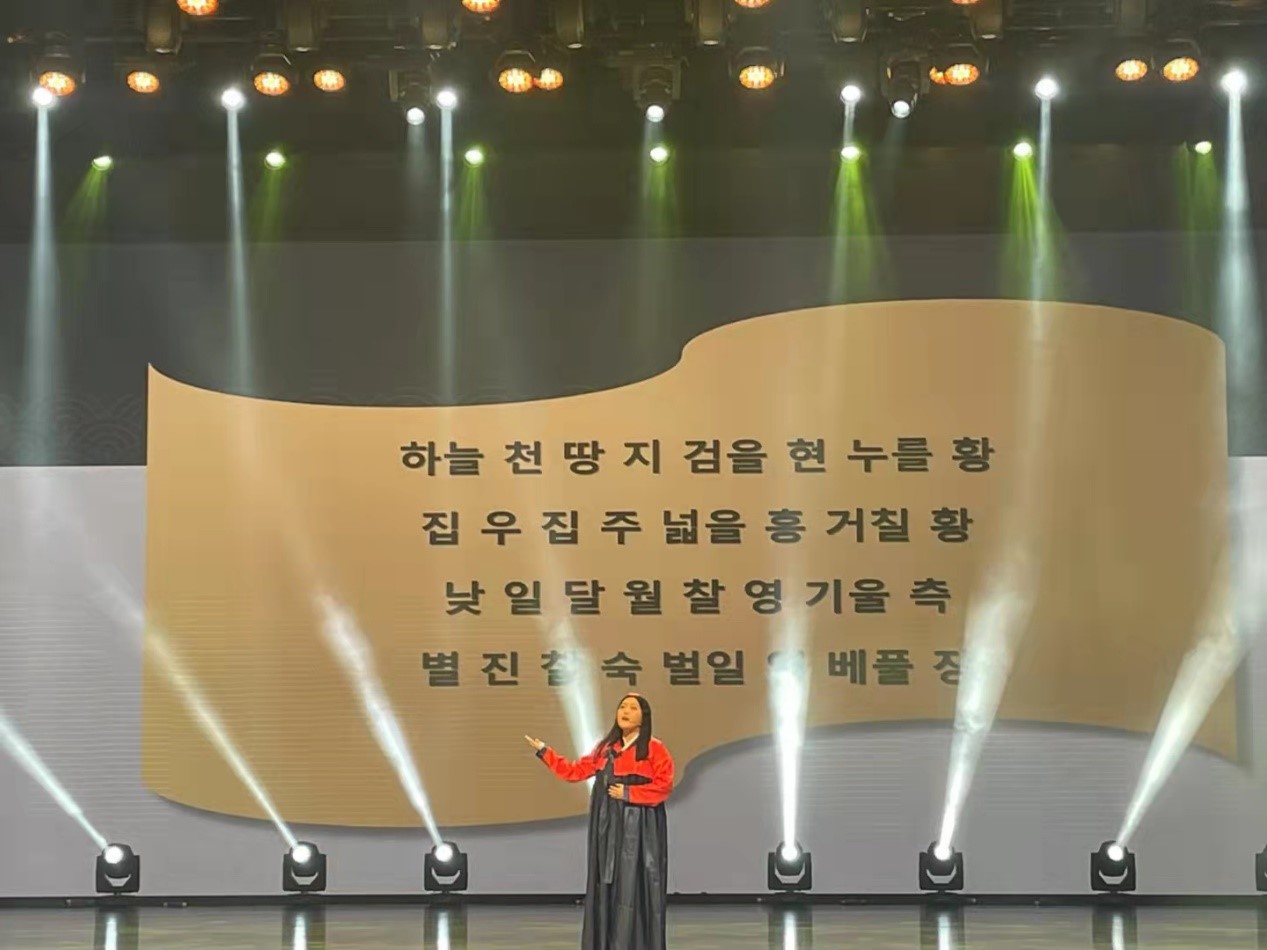 Dongyeun Kim tells stories about the Korean version of the Thousand-Character Classic.
She said she began to learn Chinese at elementary school in China 15 years ago when she was then called "三点水" or "氵" (meaning three drops of water in English), a Chinese character component concerned with water, because her classmates didn't know how to pronounce her given name "潼涓" in Chinese because of the rarely used two characters. Interestingly, what my classmates did unconsciously reflects the connotation of characters derived from oracle bone inscriptions, she said.
"China has become my second hometown."
Anastasiia's trip to China wasn't smooth. Growing up in Russia, Anastasiia knew little about China in the beginning and her parents didn't support her to study in China. "My parents disagreed on my study trip to China because it's such a distant and unknown country for them." However, a brave and courageous person as she always has been, she insisted on going to China and live a completely different life compared with her classmates at home.
She has made efforts to get used to Chinese life and language since she was enrolled at SCNU. She believes that the most important point about learning Chinese is to bravely communicate with Chinese people and get used to their way of speaking Chinese such as their tones and accents. "I don't care whether people understand me or not. To practise my spoken Chinese, I have to say more and communicate more."
Besides, the help from teacher of SCNU has strongly contributed to Anastasiia's Chinese learning. When Anastasiia came across difficulties in using Chinese, she would call her teacher who would always patiently reply. "Every time I called my teacher, she solved difficulties for me immediately, which has been very helpful."
Mo Kedi, one of their mentors, also a teacher at the School of International Culture, summed up the reasons for her successful Chinese learning: "Anastasiia is a young woman with strong enthusiasm and perseverance, once she starts doing things, she would focus on it to the end no matter what happens."
Her experience also contributed to changing her family's impressions of China. To celebrate her birthday, her father visited China in 2019. After experiencing Chinese lifestyle and meeting Anastasiia's Chinese friends, her father considered China a nice place and told her that it could be a wise choice to continue her life in China.
"It isn't until people come to China and experience the Chinese lifestyle that they can understand what China is really like. I have met many Chinese friends here, who accompanied me as their families would have done. I am now totally used to Chinese life and have fallen in love with this place." Anastasiia has decided to stay in China after her graduation. "My family is now a bigger one. Gradually, China has become my second hometown."
"I am willing to devote myself to bridging the gap."
Different from Anastasiia, Dongyeun has been an old friend of China as she came to China to learn Chinese as a pupil 15 years ago. Yet she still believes that "there is a long way to go to catch up with other finalists, which stimulated me to improve my oral Chinese and further my understanding of China," she said upon winning the award for best language.
She said, watching Chinese costume drama has been her favorite pastime since coming to China. While reading Chinese subtitles and enjoying television programs, she found that Chinese characters seem to carry a rich substance and subtle overtones. For instance, the Chinese character "安" (peace in English) is a combination of "宀" (roof in English) and "女"(woman in English), which shows a woman under a roof, living a peaceful life. Gradually, it is a fascinating experience for her to imbue the Chinese character with magic qualities, as the ancient Chinese undoubtedly did.
From her perspective, while Korean culture and Chinese culture have something in common, there is still some subtle discrepancy that cannot be ignored, which may be the trigger for culture shock, to anyone first coming to China. "Therefore, I am willing to devote myself to bridging the gap between two countries and I do hope they'll fall in love with Chinese culture ultimately", Dongyeun Kim said.
It has been fifteen years since she came to China and she has been studying at SCNU for five years. She is going to pursue her master's degree in International Chinese Language Education at SCNU. "China has already been my second home and people will never know I am a South Korean if I don't tell them," Dongyeun Kim said wittily.
---
Source from the School of International Culture of SCNU, SCNU News Center,
Written by Cen Jingxian, Chen Xudong, Zou Shan
Proofread by Edwin Baak
Edited by Li Jianru
What to read next: