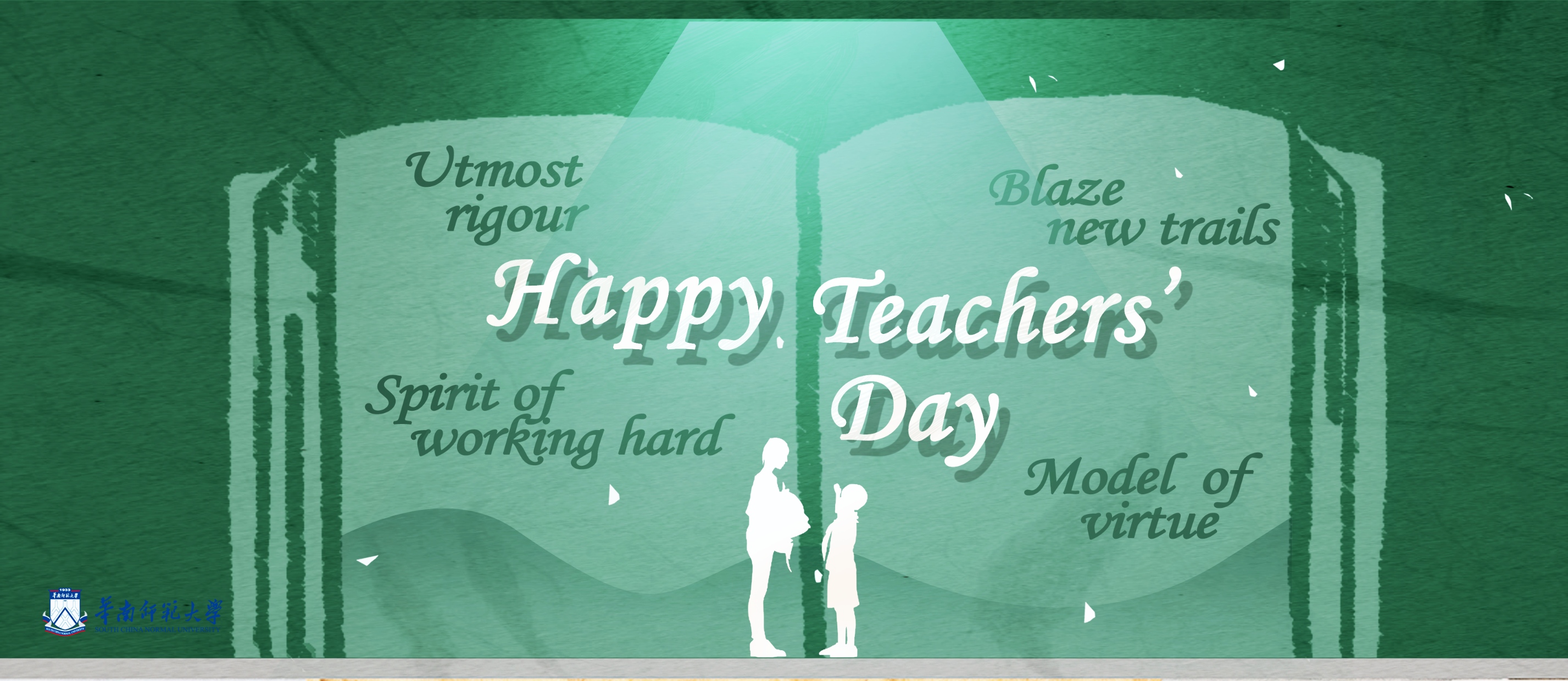 Today marks the 37th Teachers' Day, a good chance for us to express our gratitude towards our teachers. However, instead of mere thankfulness, we are going to talk more about the bonding between teachers and students. Teachers often make a deep impression on students and sometimes students can be a source of inspiration to a teacher. Here are some touching and heartwarming stories about the special pedagogical relation between teachers and students:
@Mrs. Wang Li from College of International Culture of SCNU
At SCNU, the teacher who has impressed me most was Mrs. Wang. Once she asked me to edit a video of our class meeting. When I had finished it, she even gave me a red envelope. I understood at that time that it was her way of thanking me, but I refused and said, "Actually, I took the task as a piece of winter vacation homework. With this task I had what others didn't have, so I felt very lucky." Since then, Mrs. Wang has been my favorite teacher.
By Vania Clarissa from College of International Culture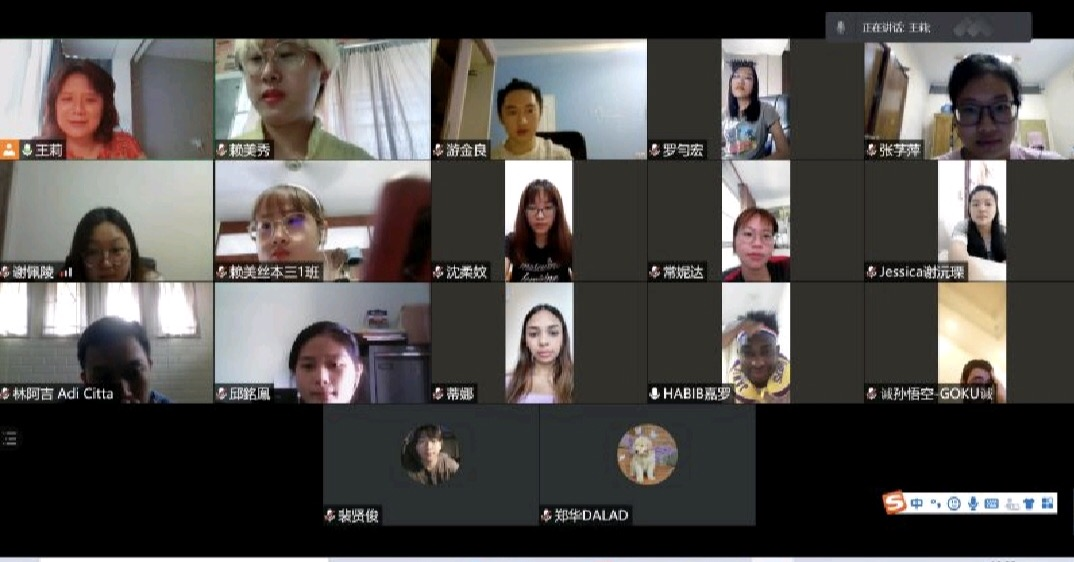 Mrs. Wang (first row from the top, first from the left) and her students
@Mr. Tang
I will never forget Mr. Tang, who was our head teacher during my years at junior high school. Thinking back to that time, the homesickness aroused by the boarding school, the communication barriers and totally unfamiliar environment, they all made me feel suffocating. What I remember clearly is that I was crying for half a year.
However, it was Mr. Tang who helped me a lot during that time. Whenever it wasn't convenient for him to help me with my problems, he would ask his female colleague for help. Whenever I said I didn't sleep well, he would advise me to try drinking some milk. Whenever he heard by chance (even though it turned out to be a trick afterwards) that it was my birthday, he hurried to buy me a cake, and let me secretly take it after class. I think Mr. Tang was the first beacon of light in my adolescence.
By Li Xi'en from the School of Foreign Studies
@Mr. Wang Jianwen from the Chaoyang Experimental School, Guangdong province
One day I was feeling lonely, because of conflicts with classmates. At that time, our head teacher noticed my bad mood and had a talk with me which then had a huge impact on my life. He used examples from his own life to tell me about friendship. "For boys, even if there is a conflict, they reconcile after that. However, girls are different," he said. "Girls are naturally sensitive, their emotions are prone to big fluctuations, and it is difficult to reconcile after conflicts arise. So you don't have to be too worried about this situation, just focus on your studies. In many cases, those contradictions will not become a real problem because of a shift of attention. I have always been very confident in you. Come on!" After that, I began to devote myself to learning and made progress. Until now, my teacher's help has been imprinted deeply in my heart.
By Lin Hong from the School of Foreign Studies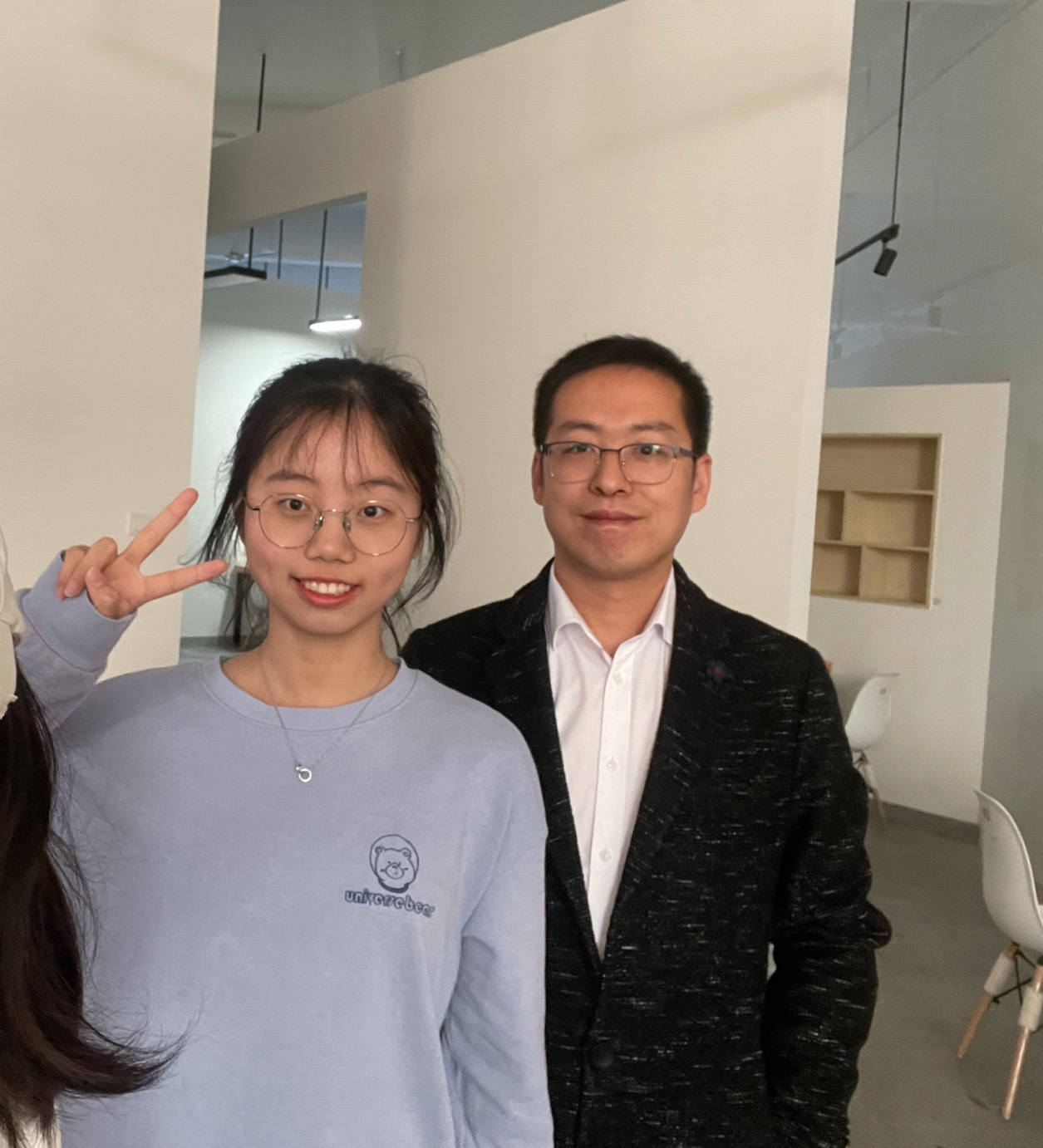 Lin Hong and Mr. Wang
@Mr. Fan Senlin from the Anren First High School in Hunan province
In 1992, when I was a middle school student, our head teacher, Mr. Fan, who taught chemistry, sacrificed his spare time to tutor me for our provincial Chemistry Olympiad almost every day of that period. One day, in order to work out some of my problems, he took me to his home, and helped me figure them out together until midnight. And because the dorm had already closed down, he even put up for me to stay overnight there. I tossed and turned that night and couldn't sleep. It was touching to see how Mr. Fan sacrificed his free time for the sake of his students' studies, regardless of personal gain or loss. Great gratitude and high respect swelled up in my heart.
By Professor Hou from the School of Chinese Language and Literature
While we are used to the solicitude from our teachers, the care from their own students can also be like a light in the dead of night.
@My dear fellow students
About three years ago, there was a period when I was very depressed. It seemed to me that everything was so pointless that I did not want to do anything, including my favorite pastime of traveling. I felt that no matter what I did, I was trapped in the same kind of life that I could not see much change or much hope. I would just always be a nobody.
At my rock bottom, I had an accidental lunch date with two of my former students, who were already graduate students at that time. I didn't mean to talk about myself, but when they gleaned my situation, they said this to me: Don't overthink! It's not necessary to always ask for a reason or the significance of doing something, because after all, everyone dies, and when you die, all will be reduced to nothingness. Obviously, living counts more than the result of living, which is death, right? So, just live your life and enjoy living, focus on the process. If you have anything to do, just do it! The process is more important than the outcome. Just pick up traveling again! When you go traveling, the places you've been to, the food you've eaten, and the scenery you've seen are all parts of your experience that will always stay with you. Even though you have to return to your routine after it, no one can take away what you have experienced.
To be frank, I still feel that work is endless and life is hard, and I am and will always be a small potato, but C'est la vie. In fact, I have always known that life is hard, but as a human being. I can fall into my own emotional traps, too. Then I need someone to help me out and light up my heart. I will never forget that it was those two students who pulled me back to the bright side when I couldn't help stopping myself falling. Life is hard, but just live it.
By Crystal, a teacher from the School of Foreign Studies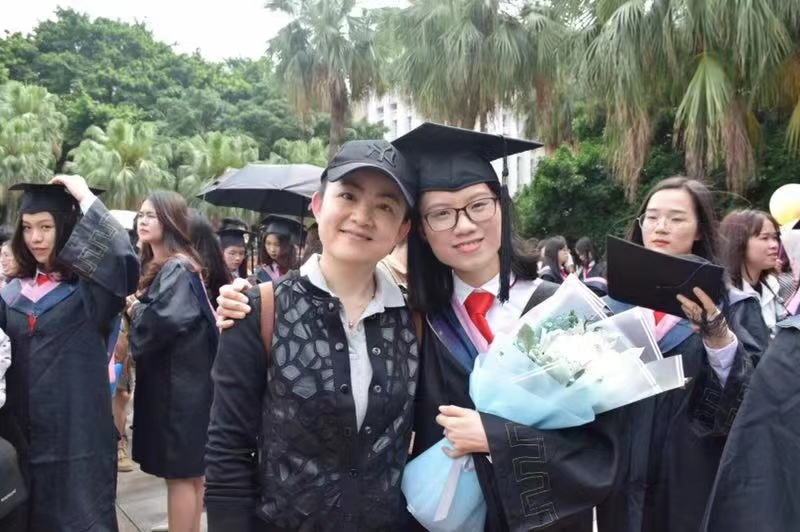 Crystal and her student
This year, Crystal won the reputation and honor of MY FAVORITE TEACHER at SCNU.
Do you have any special stories about such teacher-student relationships? On Teachers' Day, our English website hopes this passage can help you recover that similar emotion and warmth again.
---
Written by Liu Yalin, Wei Xiaonan, Xu Yirui
Proofread by Edwin Baak
Edited by Li Jianru

What to read next: