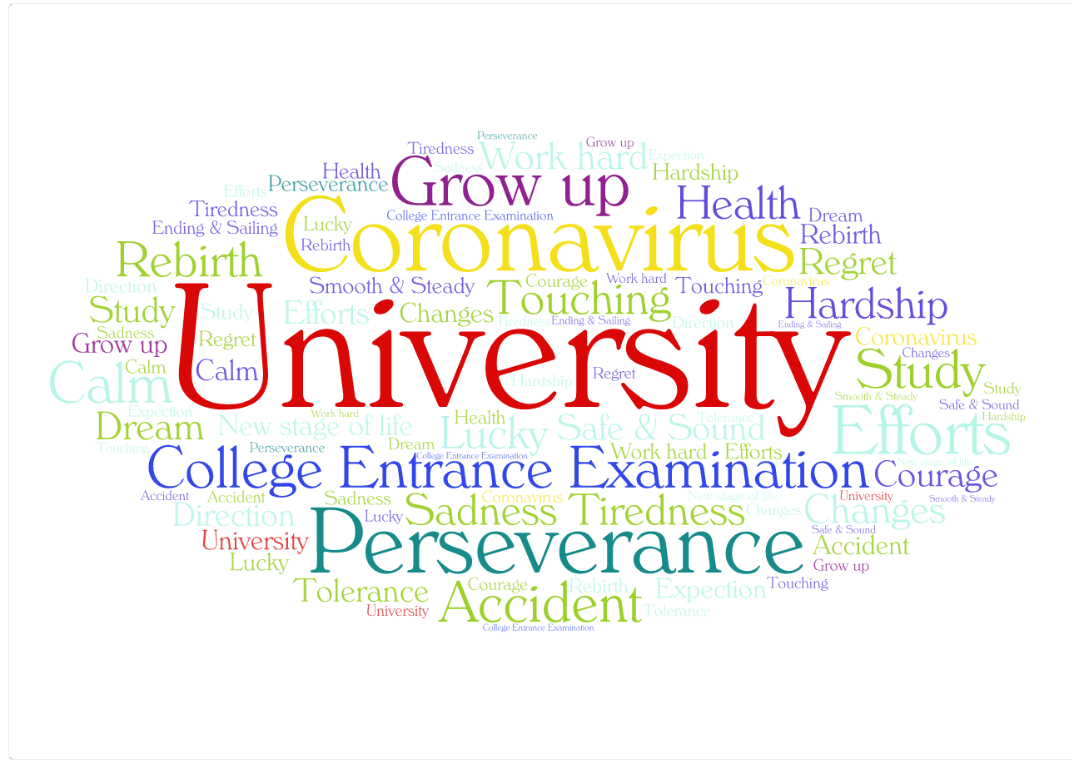 When there are multitudes of challenges, there are multitudes of people who never give up but work harder and grow. SCNUers are in that line.
We released a questionnaire and interviewed some students and according to the results of that survey, the key word which appeared most frequently in our interviewees' minds is the word UNIVERSITY, followed by CORONAVIRUS, PERSEVERANCE, and so on.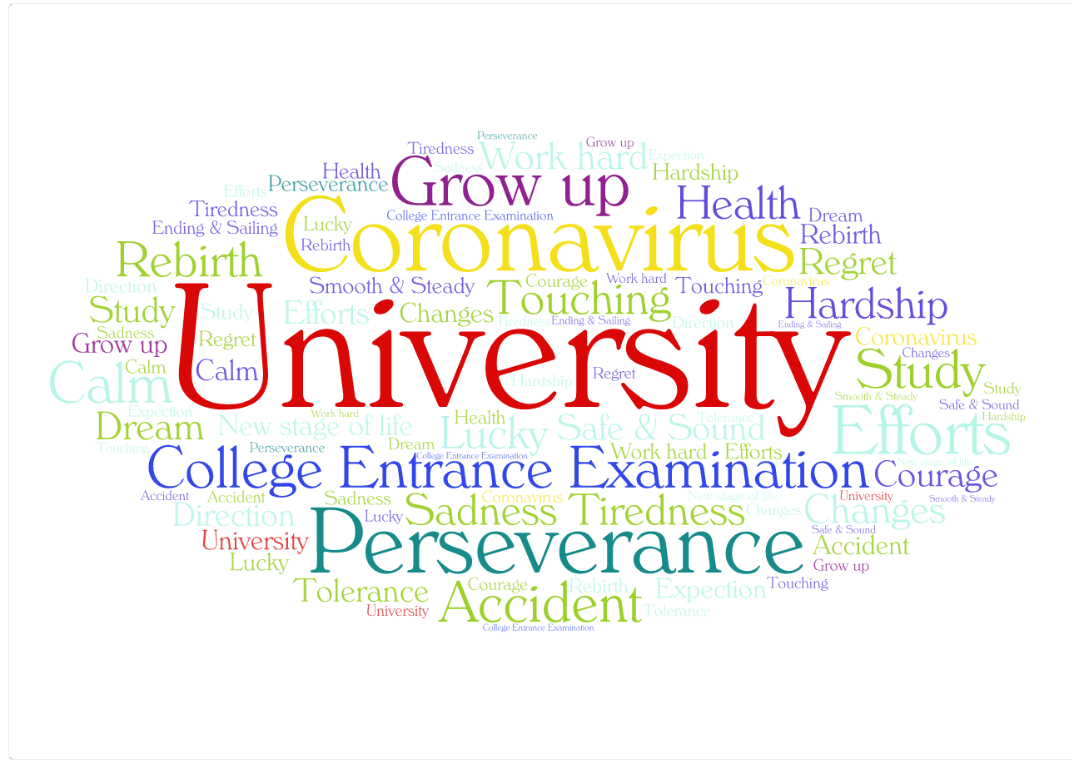 In 2020, we move forward with hope in spite of the challenges. Let's take a look at what SCNUers have experienced in 2020 and what they are looking forward to in 2021.
Faced with the coronavirus, SCNUers grew up with changing circumstances
Mr. Lin, a recent graduate from SCNU, had an internship at a company during the epidemic. What he got during the epidemic is the brand-new working mode, telecommuting, which has brought not only challenges in working efficiency and modes but also a new working experience. The epidemic has messed up his diploma project plan which was due to be conducted in March but his internship was extended to April and thus led to his going to work in June before his graduation, which also made it easy for him to adapt to and integrate into formal work.
When mentioning the efforts he made to find a job, Lin stressed the importance of good preparations. "You have to get a clear plan and goal, fully know your pros and cons and stick to them step by step." Mr. Lin encouraged us.
Chen Nuo, a sophomore from the School of Chemistry, cheered for Senior 3 students through a video recording and participated in promoting SCNU on line. As she said, even though all the activities could not be carried out as originally planned, everyone was still full of enthusiasm, hoping to bring help and warmth to the students preparing for the College Entrance Examination at a tough time.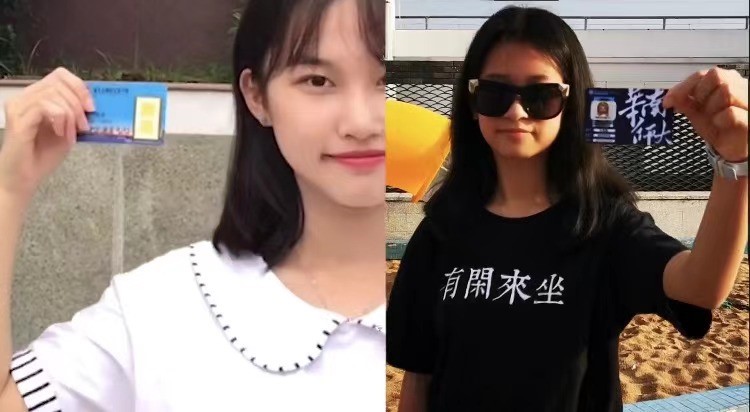 Chen Nuo ( the left) cheers for Senior 3 students in the video
For Chen Xiaomin, who is also a sophomore, taking part in on-line teaching activities made her grow.
Her assignment was to help two students with their academic, psychological and life problems. "Witnessing their progress, one girl successfully entering a university and the other girl slowly developing more confidece, I feel gratified. Although my help to them is so minimal, it is a rare experience to be able to grow together with them."
In another activity, organized by her college in November, she deepened her awareness of teaching and made her take the profession more seriously, whether she would become a teacher in the future or not.
Liao Cankai, a student from the School of Physics and Telecommunication Engineering, volunteered to take temperatures in the community. Later on, he also participated in an on-line support activity, teaching the children of front line health care staff. It is worth mentioning that through his other tutoring activities, he had achieved his goal of not asking his family for tuition fees and living expenses, which marked his own growth.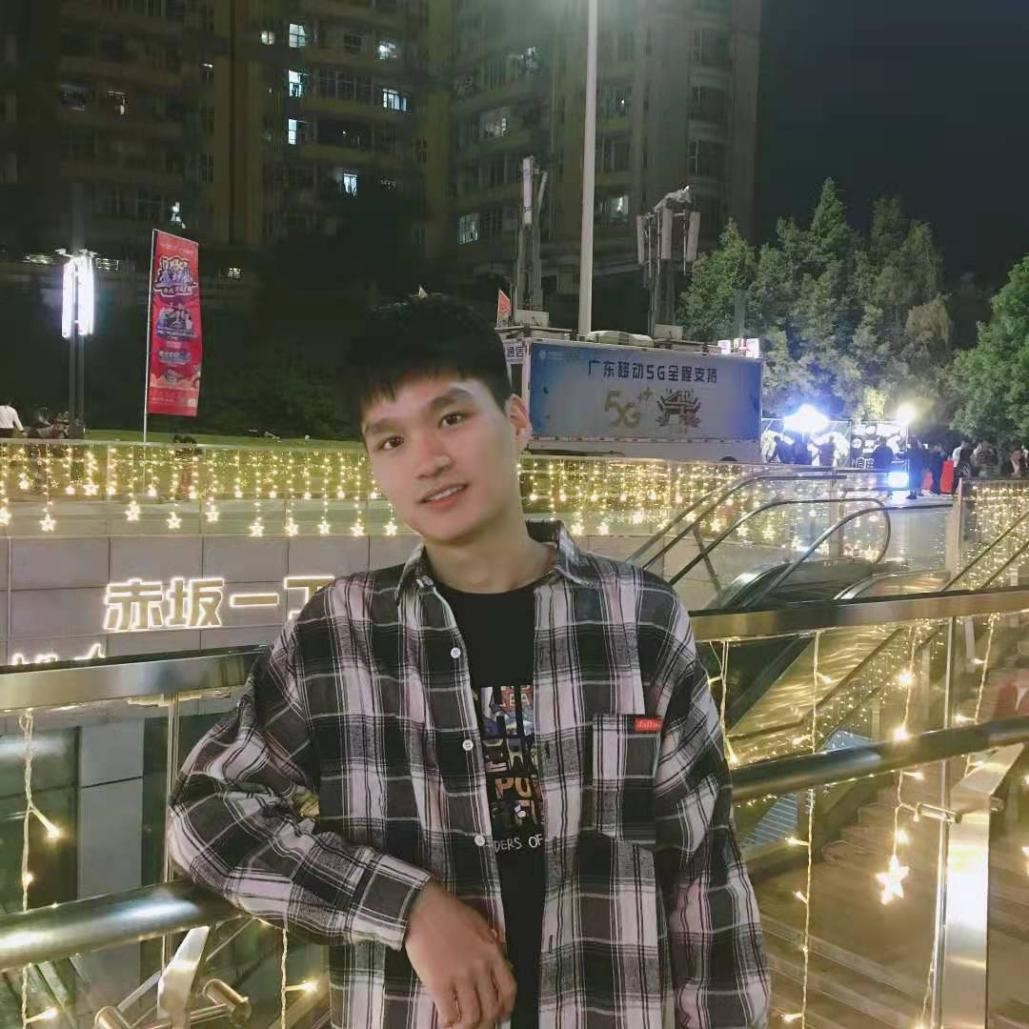 Liao Cankai
Faced with coronavirus, senior 3 high school students took the challenge and entered university.
2020 is a tough year for many people, especially for Senior 3 high school students. Due to the pandemic, they had to stay at home for more than 4 months. The college entrance examination was postponed and the battle line was stretched. However, they took the challenge and finally entered South China Normal University. Yao Anchun, a freshman from the School of Software, said that she succeeded by her self-discipline and hard work when preparing the examination at home.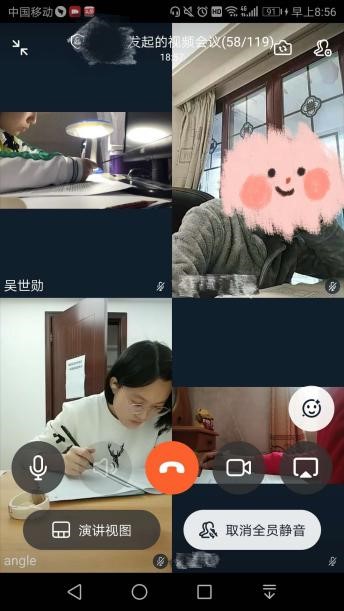 Yao Anchun is taking a test on line
Guo Xiaoman, a freshman from the School of Education, spent more time with her family during the pandemic, which made her feel warm.
Entering university is the beginning of a new journey in life. Guo just entered university in 2020 and was taken care of by her senior "sisters" in the club she joined. She believes that the secret to interpersonal communication is to maintain sincerity. According to Yao, she felt that the most touching thing about 2020 was the recognition from her assistant head teacher in SCNU. Her assistant head teacher thinks that she is a warm person, which makes her feel the warmth of the university.
Faced with coronavirus, SCNUers work hard with extraordinary perseverance
Wang Mumu, a postgraduate in her first year of the School of Foreign Studies, has also been affected by the epidemic when taking part in the postgraduate entrance exams. The previous examination consisted of a written examination and two interviews, but eventually there was only one interview. "The type and form of the exam has changed a lot and you have to prepare for a longer time, which challenged your mentality quite a lot." Wang said during our interview. Facing with great pressure, she worked harder instead of giving up.
What influenced Xie Xiaodi most during the pandemic was the on-line test to change her major. Xie, now a student in the School of Foreign Studies, said that the test was a completely new experience without precedent for her. Meanwhile, studying by herself at home added to the stress of preparing for the test. What's more, she mentioned that she had failed to change her major once, and only succeeded after another interview because there was still a vacancy in the translation major. Her perseverance and hard work ensured her success.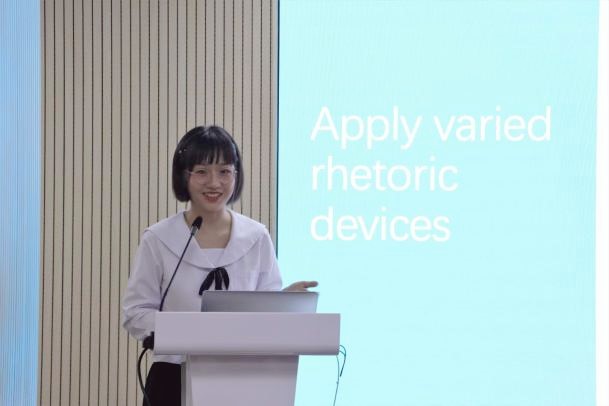 Xie Xiaodi
Li Zijie, a second-year graduate student of the School of Foreign Studies, shared her accidental experience of winning the scholarship with us. "As a postgraduate, I supposed it would be quite difficult to win a first-class scholarship for I wasn't that sure of myself. But finally I got it through my hard working, which was something I accidentally finished", Li told us in our interview, "although I didn't achieve some of my goals, I finished something."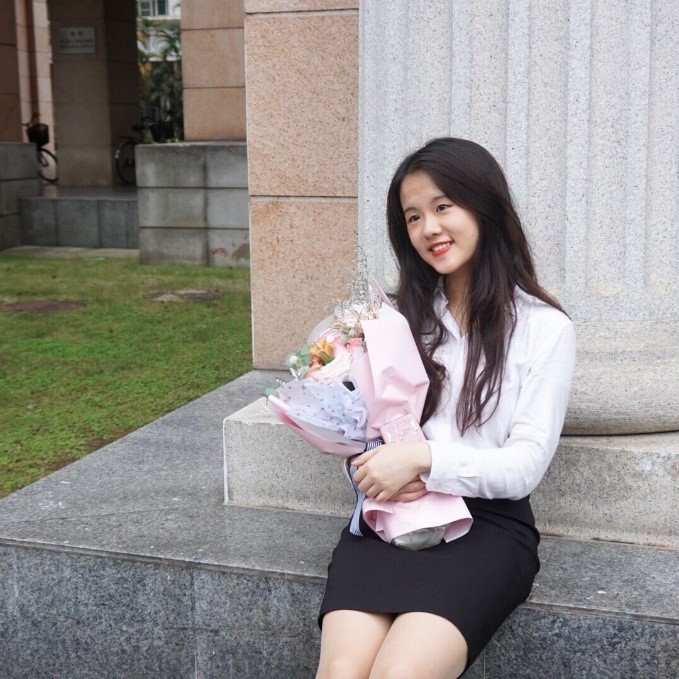 Li Zijie
In the end of our interview, when asked about "Do you want a restarted 2020", a hit in the first few months of 2020, most of our interviewees didn't want a restart except for one girl. Her opinion is "If we could have a new 2020 free of the COVID-19, I would be glad of that." Other interviewees all hold the opinion that thought it's quite a hard time in 2020 and many people lose their lives due to the COVID-19, the love, warmth and support during the epidemic have united us Chinese further. When the new year comes, we should together keep looking forward and just, welcome the new year, the new birth.
And 2021, the new year, is just around the corner.
We have experienced so much in 2020. We are all working very hard. We are all dream chasers. It's really time for us to look back and forward. United as one, we shall work harder. The greater the difficulty, the further we advance. That's what we learn from 2020.
Talking about the wishes for the coming 2021, our interviewees all hope to have a stable and happy new year. Everyone wants to be healthy and lucky, meanwhile, get a better grade.
2021 will see both opportunities and challenges that will require us to work together shoulder to shoulder. Let's seize the day and live it to the full, and greet the arrival of the year 2021 together!
---
Written by Wei Xiaonan, Guo Zekai and Xu Yirui
Proofread by Edwin Baak
Edited by Li Jianru
What to read next: