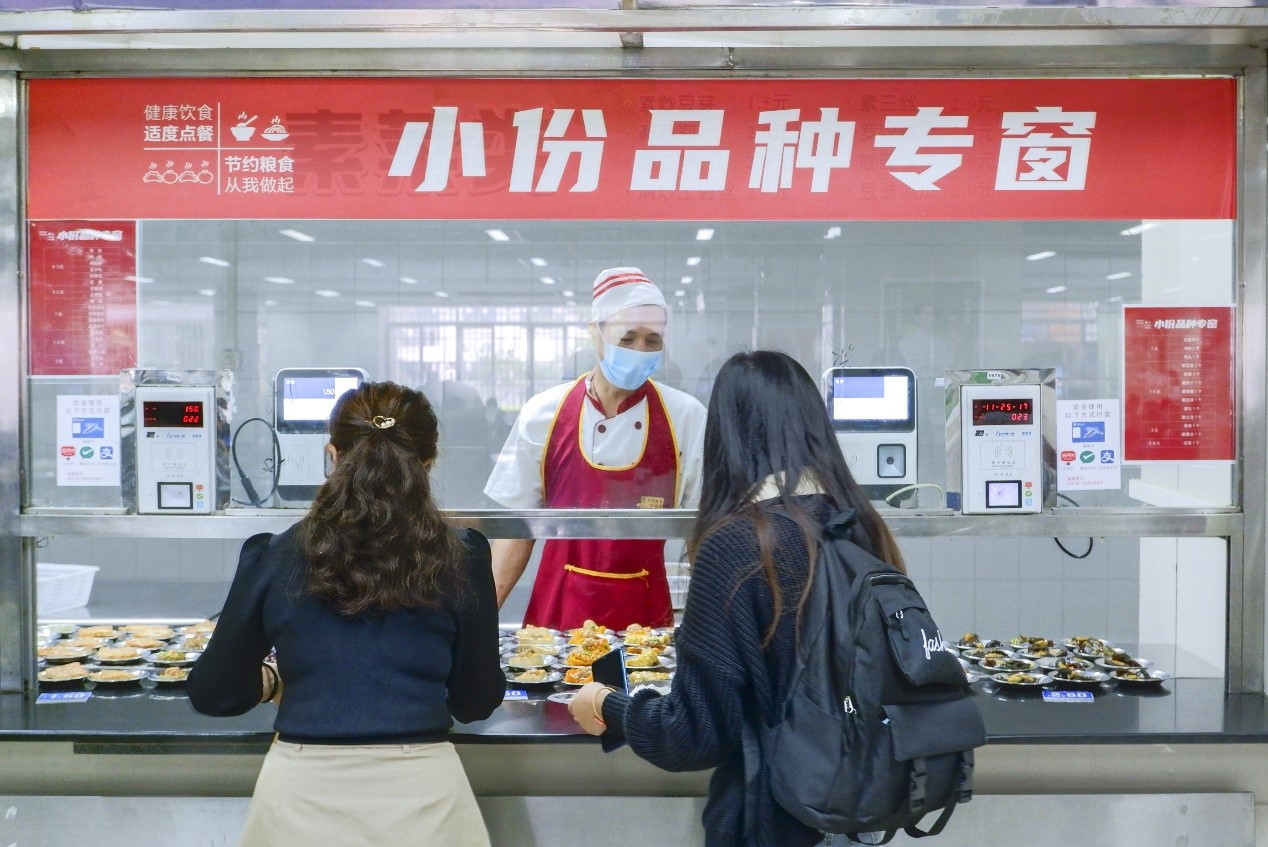 SCNU has recently launched a special small service window in canteens on its three campuses, aiming to promote frugality and reduce wastefulness of any kind by teachers and students.

Small meal portions are now on offer, generally priced at 1-4 yuan, which are economical, frugal and varied, with a choice of almost 20 such small dishes a day. They can be selected and combined in accordance with students' preferences. "We should not only respond to the call to save food by offering small dishes, but also set reasonable prices so that students can eat well without waste," says Mr. Zhao, manager at the Nanyuan canteen at the University Town campus.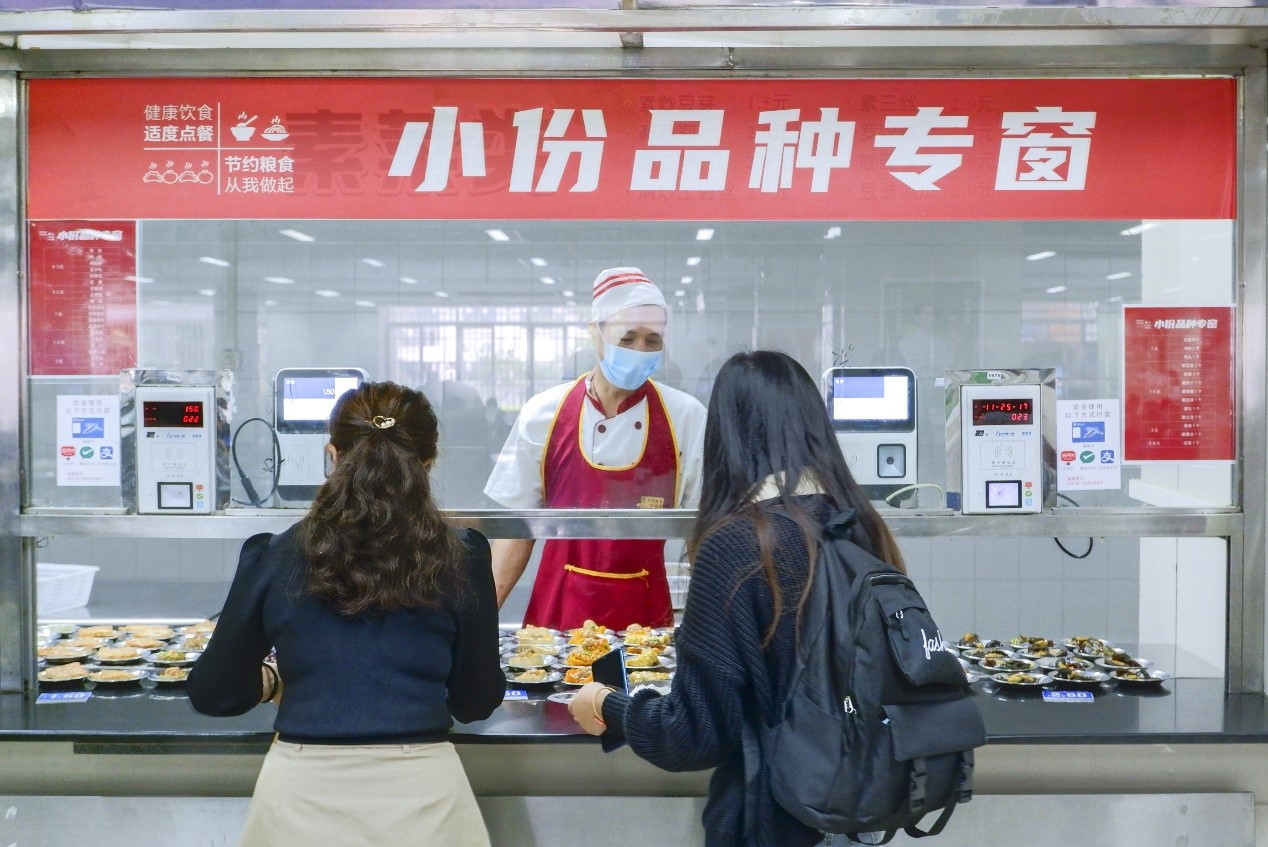 Special small window service
Special small window service
The supply of small-sized dishes meets the needs of those students who cannot finish all their food. "I often choose small dishes myself, because the amount of food is moderate." Ke Xiaoyu, a student from the School of Software says. She is also a volunteer at the canteen tableware recycling point, mainly responsible for supervising and reminding students to save food, as well as collecting and reporting students' opinions in time. She found that most students, in particular female students, can better finish their food since the introduction of small-sized meal portions. She believes it is a good way to save food and hopes to see more people try this out.
More actions taken
Chinese President Xi Jinping has called for a stop to wasting of food and for the promotion of thrift. In response to that, SCNU has held meetings several times so as to deliver the messages to all faculty members and students. Besides, a letter about the initiative was sent out to anyone at the school, calling on everyone to save food.
On top of that, SCNU has taken various measures and offers innovative services to save food. For example, the dining hall has adopted a new form of serving and selling vegetable portions in three batches. The size of the next batch of food is determined according to the speed and time with which the last batch of vegetables was sold out, that is, stir-fry and sell now. "Neither let the students go hungry, nor let the food supply be excessive," says Liu Xiantang, director of the catering service center of SCNU.
What's more, SCNU also has also organized fresh ingredient cooking competitions in each canteen to improve the chefs' skills and train them to reuse the remaining processed raw materials to make sauerkraut or pickles.
Meanwhile, the canteen will increase quality control, enrich variety, and optimize the taste of dishes, so that students from all over the country can eat meals to their own taste, thus hoping to prevent students from wasting food because of poor appetite. "Food saving starts with the students, starting from the school itself." says Liu Xiantang.
A variety of small dishes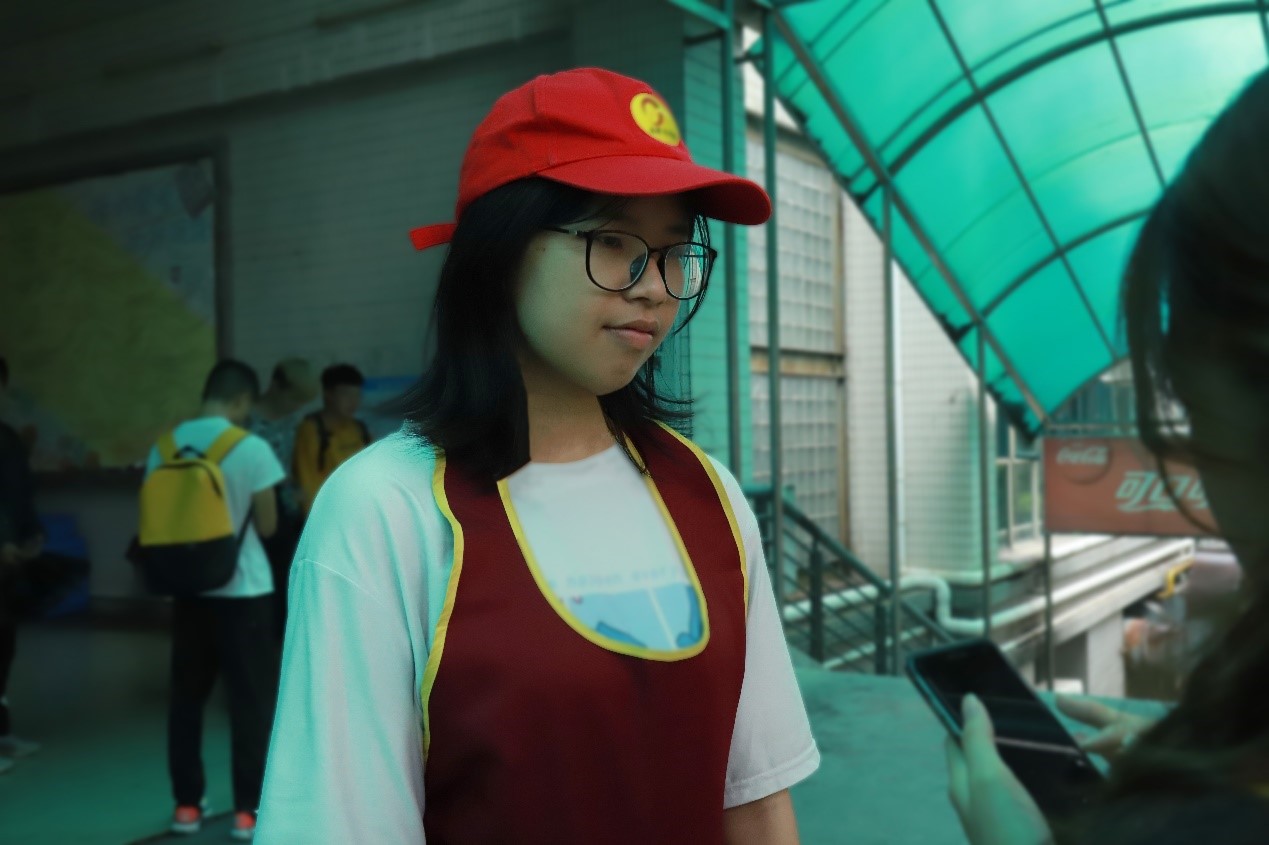 Ke Xiaoyu is being interviewed
---
Source from SCNU News Center and SCNU News Agency

Translated by Qiu Lezi, Li Xingfeng
Proofread by Edwin Baak
Edited by Li Jianru
What to read next: