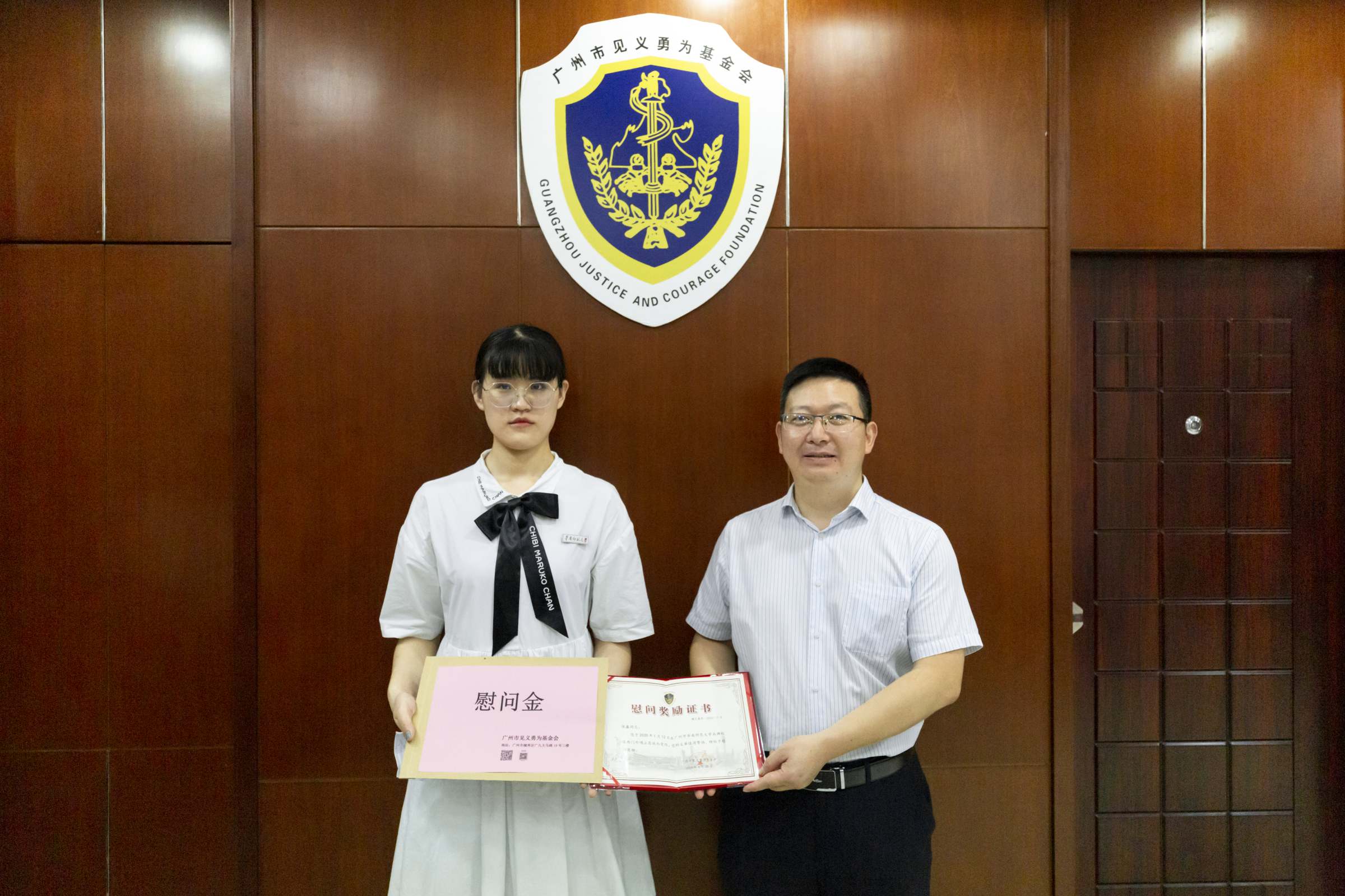 A girl named Zhang Xin made the headlines, as she was awarded with a certificate and 10,000 yuan for her act of justice by the Guangzhou Act of Justice Foundation.
The story of Zhang Xin, a then first-year postgraduate student at SCNU, dates back to early January this year, when she happened to see a man having an argument with the owner of a breakfast stall near the west gate of the school. Seeing the man kick over the breakfast cart and knock the woman to the ground, Zhang Xin interfered and tried to stop him. Unfortunately, she got punched in the face by the man, losing two teeth. Thanks to Zhang's brave act, the school guards arrived who arrived timely apprehended the man and handed him over to the police.
"I was surprised to get the prize," Zhang Xin said. "I didn't expect to get so much attention from people around me. I just did what I should do." When asked about how she felt at that time, "I was scared, but I couldn't let him [the man] get away with it. I am not a coward," Zhang recalled.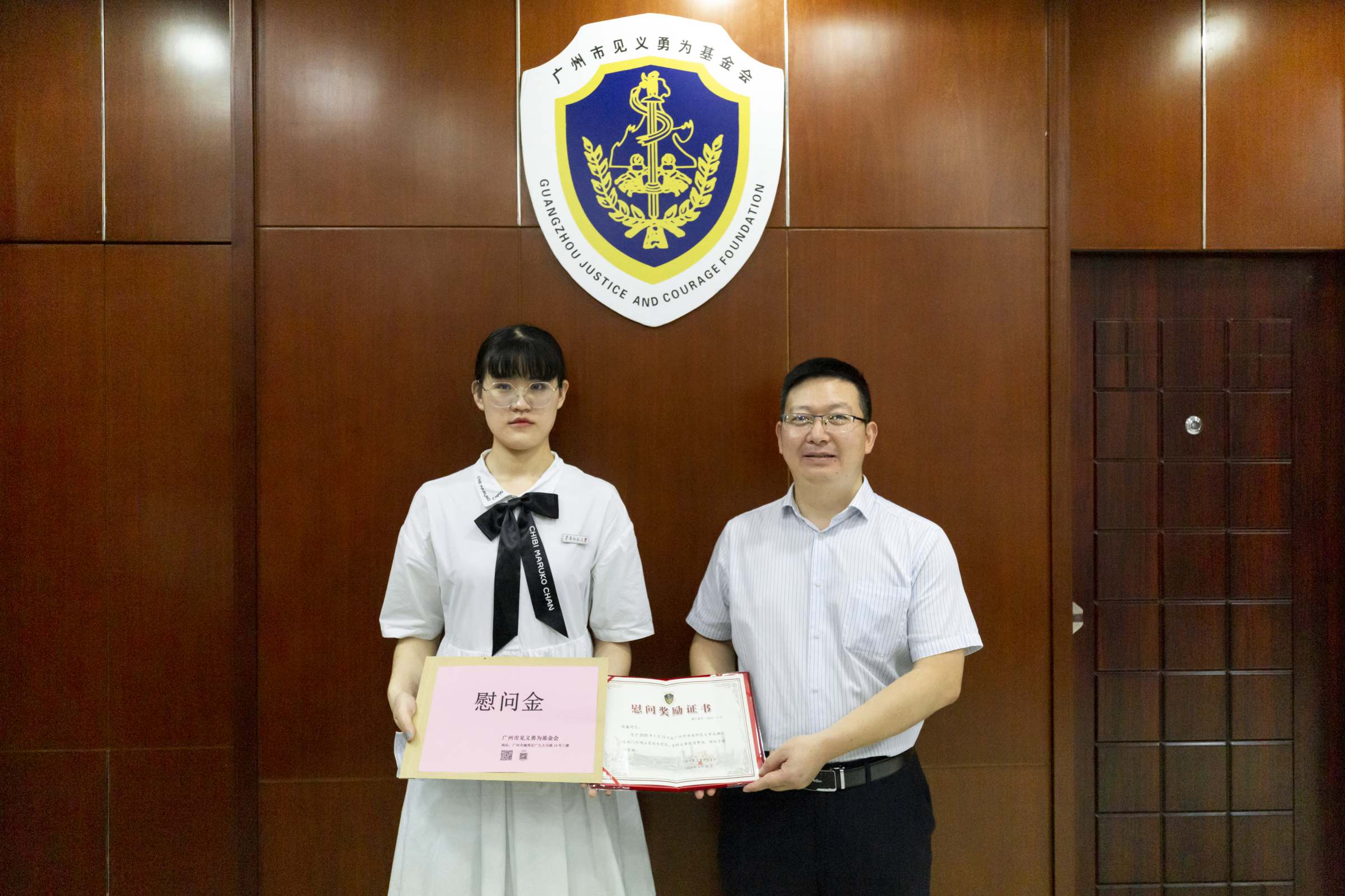 Zhang Xin (left) receives 10,000 yuan cash reward
"We have been in touch with her since the incident, and we have offered her help and support, including providing psychological comfort. So young and frail, the fact that Zhang Xin stood her ground and took it up for the woman, makes us very proud of her" said Zhang Jie, deputy director of the Graduate School of SCNU.
"It has always been a traditional virtue of the Chinese nation to help others, and SCNU has always attached great importance to the cultivation of students' morality. Zhang Xin's act of justice is also consistent with the spirit of the teacher virtues advocated by our school." Zhang Jie also hopes that students can think of some safe and effective ways to help others under the premise of ensuring their own safety if they encounter some similar emergencies.
Zhang Xin's family, though understanding and supporting her for her courageous act, were also worried about her. "My mother knew I had always loved to help others since I was a child, so she was worried about me all the time" Zhang Xin told the reporter, after returning to her hometown in Shanxi, her mother saw her injuries and felt very upset. When she left home for school, her family always told her to pay attention to personal safety and protect herself.
As a student majoring in social work, Zhang chose an internship as a special education teacher at a primary school in Foshan during the new semester to provide integrated education for children with special needs and to help some children with ADHD and autism, adaptation and integration of children with mild mental retardation into school life.
"My major is to help people to help themselves, such as the elderly, the disabled, and children with intellectual disabilities. I think children need more help, so I chose an internship at a primary school."
She said that she would continue do where she could to help in the future. In case of similar situation, "I would seek help from others in time, and fight in a safer and more effective way."
---
Source from News Agency
Translated by Li Xinyi
Proofread by Edwin Bakk
Edited by Li Jianru
What to read next: