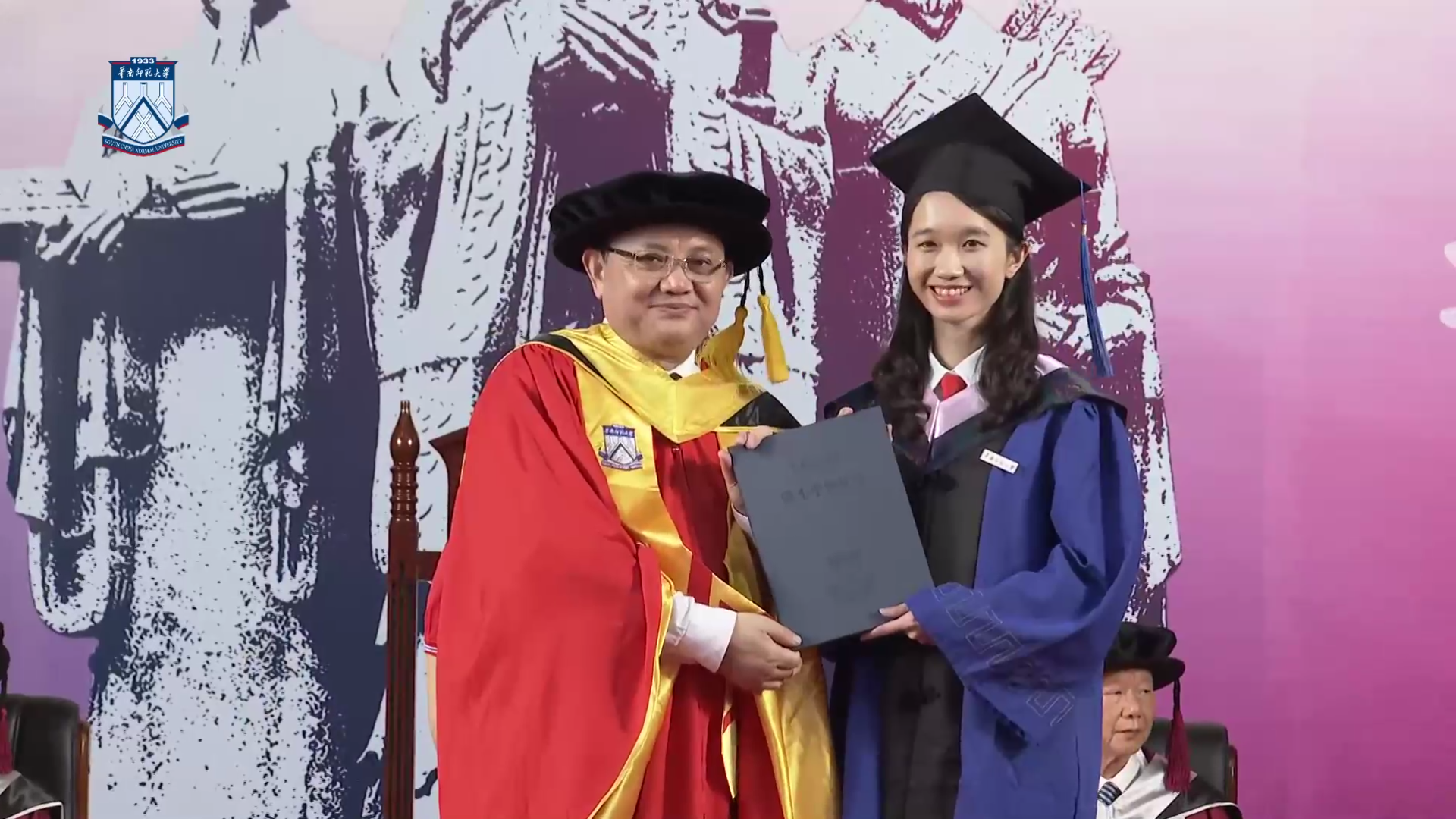 The hot summer breeze brings the brightness of August, and in a link of an eye, it's been almost a month since the graduation ceremony was held. For the graduates of class of 2020, this is surely an unforgettable graduation season as most of them have to stay at home and watch the ceremony online during the Covid-19 epidemic.
With the season of graduation coming to an end, many graduates still feel reluctant to say goodbye. Their memories unfold as they recall their time at the school with nostalgia.
28 seasons at SCNU
"Actually, I have lived on the Shipai campus of SCNU for 7 years," says Ke Liqian, a postgraduate student from the School of Foreign Studies, "For me, the most memorable thing about SCNU is the changing scenery in different seasons." "From the golden leaves that cover two sides of the roads in spring, to the splendid purple Ceiba speciosa flowers in winter, I think these wonderful colors will stay long in my memory," she adds.
Liqian describes her life at SCNU as very satisfactory. She recalls a wish realized during her postgraduate studies. "I felt pity for not having the opportunity to apply for the part-time counsellorship because of my exchange project when I was a bachelor. It was unexpected that I got the chance in my first year as a postgraduate student. I got to know many students in lower grades and was able to give guidance to them. I saw who I was from these young students. And I was able to understand the work of our school and university from a different perspective."
Another point of satisfaction for Liqian comes from the chance to attend the graduation ceremony. Due to the special situation, only a small number of students were invited to attend the graduation ceremony on the campus, while the others watched the ceremony through live-streaming. "It was lucky that the president turned the tassel for me in person! As a person who values a sense of ceremony, I really felt my university life was complete."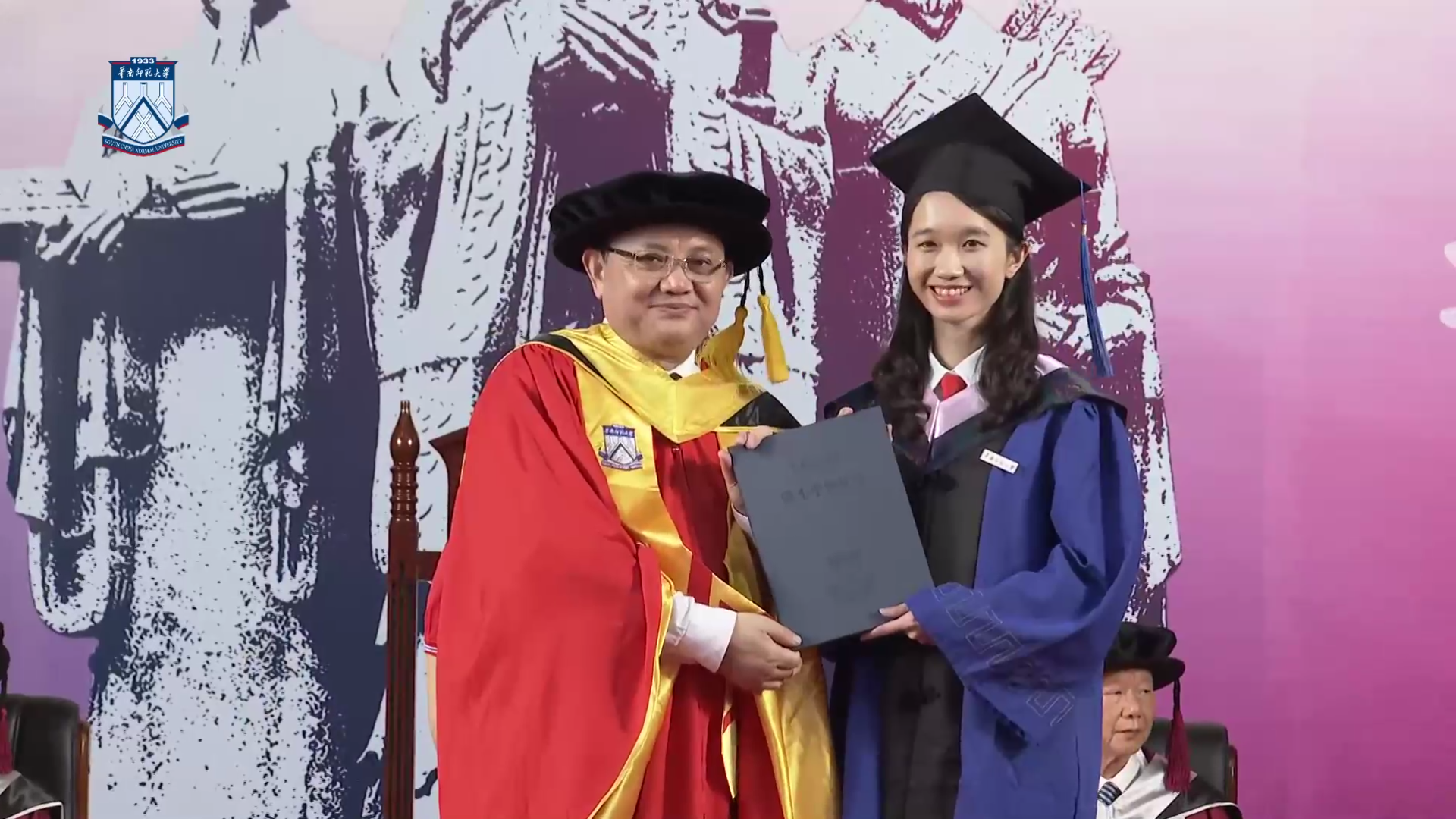 SCNU President presents Ke Liqian (right) her diploma at the degree-awarding ceremony
The taste of SCNU
"It seems that every SCNUer will have a special feeling towards our canteens," says Peng Leyi who graduated from the School of Chinese Language and Literature this July, "Even if you get tired of their dishes and begin to order take-away in your second year, you will begin to miss them when you are in year three and year four."
SCNU runs altogether seven canteens on three campuses. Every canteen has a special name and provides students and faculty with delicious dishes. As for Leyi, she often dines at the Nan Yuan and Han Yuan canteen on the University Town campus. "I think each canteen has its own features. I have my favorite dishes on each floor of each canteen. I even wrote a Wechat Moment to list my unforgettable dishes at SCNU," says Leyi.
Although it's a pity that she can't taste all of her favorite dishes again, Leyi thought it fortunate to have the chance to take photos with her friends and teachers. "I have shot many videos during my last four days at SCNU. I hope I can make a music video to keep my memory."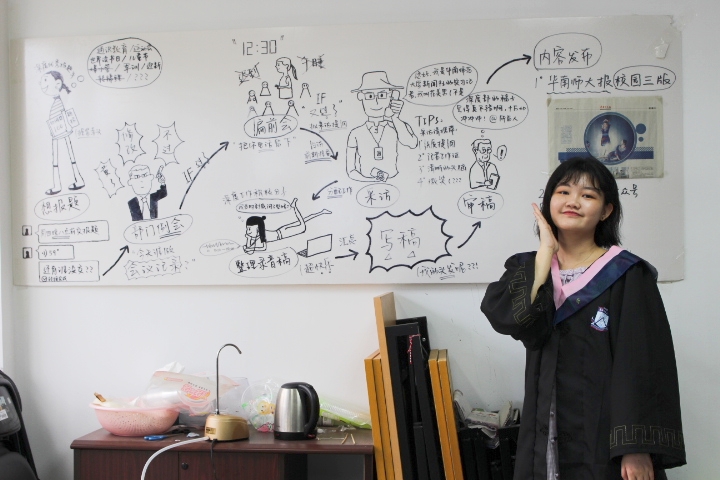 Peng Leyi takes a picture in front of the whiteboard where she gets trained on how to do reports
Work hard while studying
When talking about the most unforgettable memories at SCNU, how will we forget the days we work hard to pursue our dreams? Li Ziteng, a graduate of the School of Economics and Management has special memories of the library on the University Town campus.
In order to prepare for the national postgraduate entrance examination, Li Ziteng spent most of the time during his last two years in the library, turning the fourth to sixth floor of the library into his usual destination.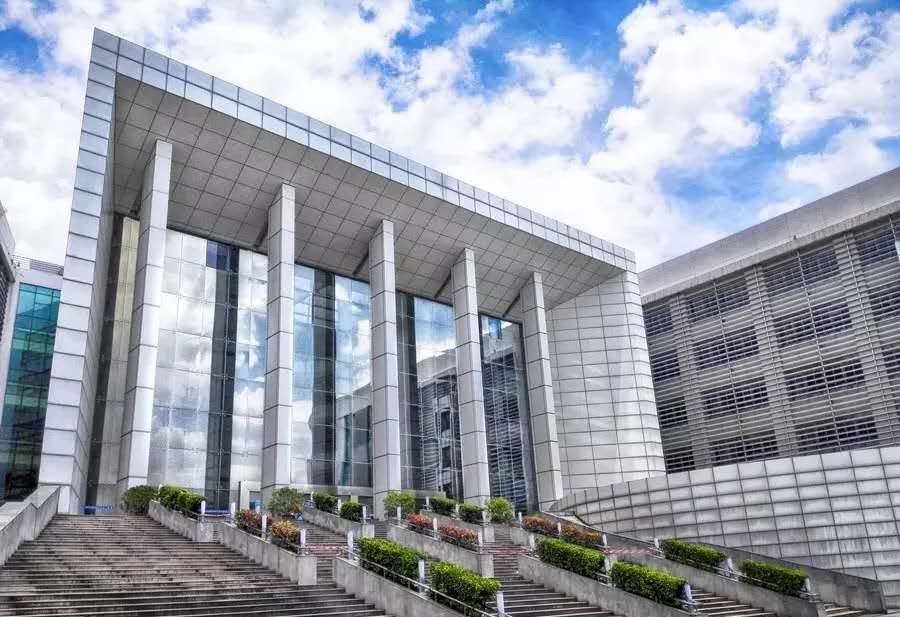 School library at the University Town campus of SCNU
"I was acquainted with many fellow students who were also preparing for the examination. Even if I didn't know some of their names, it was quite a relief to see them at the tables every day. It seemed to me the library was a second home to me," says Ziteng, "I will miss the days we spent fighting for our dreams together." Before he left, he visited the room he used to study in for the last time.
Li Jian, a graduate of the International Business College, also finds her growth at SCNU memorable. She majored in Finance. Courses were mostly taught in English. When she took her professional course for the first time, she was almost at a loss because she couldn't understand what the professor was talking about. She described her "desperation" in her first year. "Various unfamiliar professional words just crowded in my mind during the first class. I had to look up words in the dictionary four or five times in order to understand a whole sentence in the textbook."
But after adapting to the language environment with efforts, she gradually had less difficulty in taking classes in English. "Looking back on my studies, it's unforgettable how I grew from a freshman who had a hard time in the professional courses, to a graduate who is going to further her studies abroad."
Volunteer experience
Apart from studying, the time working for clubs and participating in volunteer activities has been memorable as well.
Xue Yujun, who majors in Applied Psychology at the School of Psychology, recalls her volunteer experience during the summer vacations. "Although I am not a student-teacher like many students in our university, I got the chance to teach and experience the fun in passing knowledge to the local children."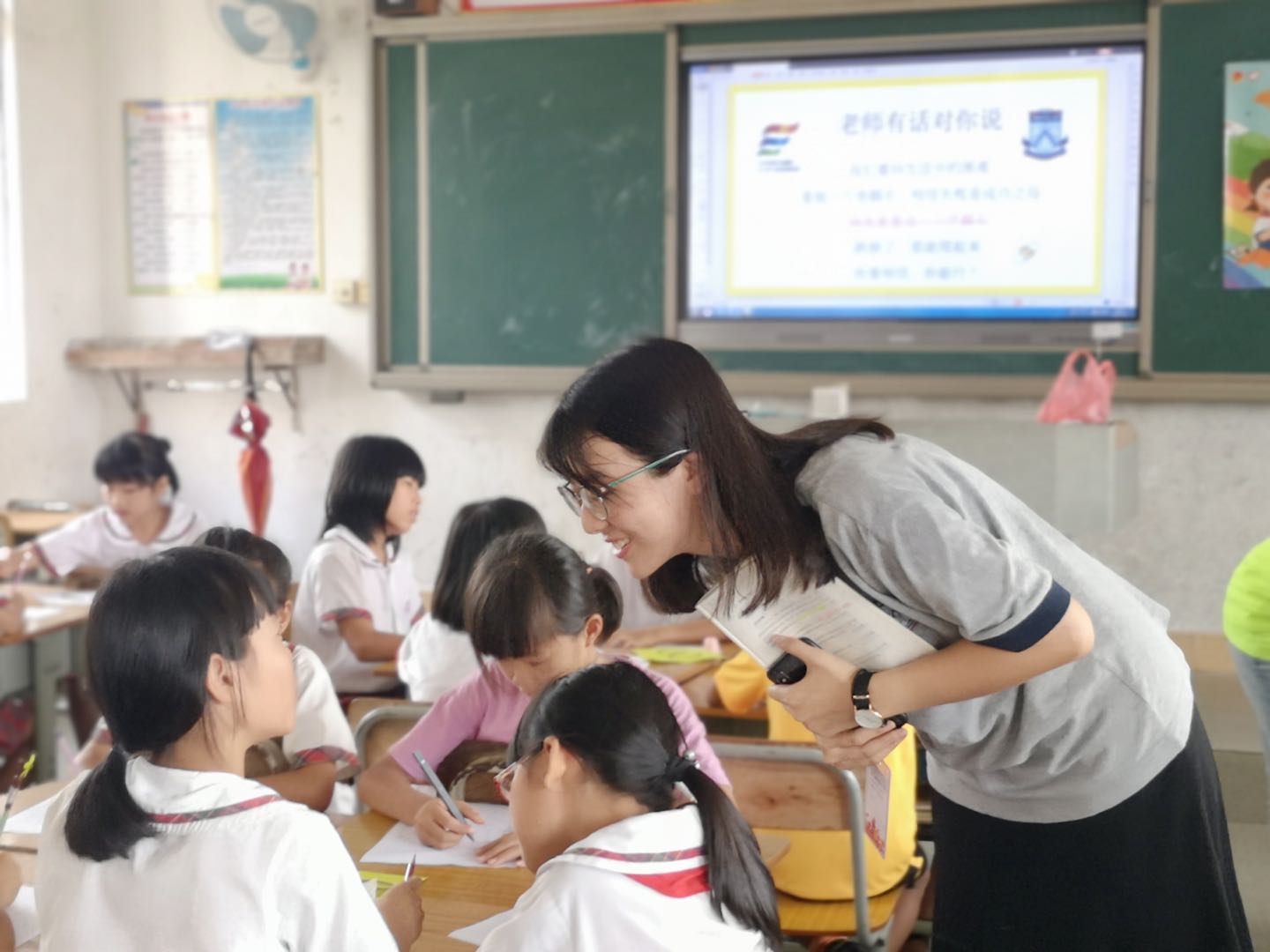 Xue Yujun checks her students' performance at class
Yujun has participated in summer volunteer activities many times. She remembers the days she stayed up late to write lesson plans and prepare classes, and the time she had group activities with her team mates. "I will always recall the days we worked hard to bring the best classes to the children together," says Yujun.
Parting is such a sweet sorrow, but we all need to move forward and start a new page in life. In this unique graduation season, wish all the graduates head for the next destination of life with their memories of SCNU!
---
Written by Long Yuchen
Proofread by Edwin Baak
Reviewed by Li Jianru
What to read next: