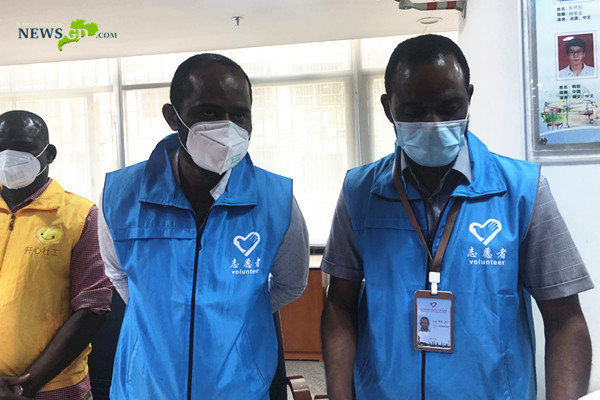 Wearing a beret, a camouflage shirt and tight trousers, Jeremie Mubua looks fashionable during his leisure time. However, he immediately becomes serious and full of energy as he begins his work in a blue volunteer waistcoat.
Mubua, from the Democratic Republic of the Congo, is a student at South China Normal University. He has been a member of the group of foreigner-volunteers joining hands with local volunteers in Guangzhou to fight COVID-19. Capable of speaking French, English, Chinese, and Swahili, Mubua's job is to help explain the city's prevention and control measures to foreign expats and help them to better communicate with medics and staff at the local center for disease control and prevention during the epidemic.
"I went door-to-door in the neighborhood and told foreigners about the testing and quarantine strategies," says Mubua, noting that he has been in Guangzhou for many years, and well understands the local epidemic prevention measures. "I told them that these measures are not only to protect themselves, but their family and the whole community. Most people immediately understood," he adds.
Apart from the community door-to-door service, Mubua also volunteers helping at a local hotel designated for centralized medical observation. "I need to measure body temperature, check foreign nationals' identification and do translation, etc.. The woking schedule is irregular, and sometimes I work late at night," says Mubua, who has also been working at the Dongyue hotel located in Yuexiu District during the five-day May holiday.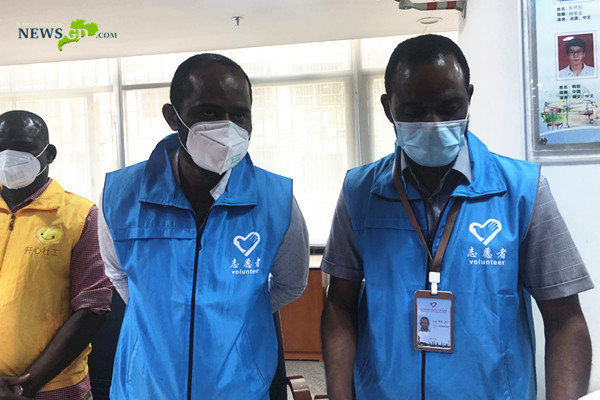 Jeremie Mubua(M) introduces his volunteer work in Dengfeng community.[Photo\Newsgd.com]
"Serving as a volunteer has become an important part of my life. I just want to help more people regardless of pay, and I have made many friends and learnt a lot in the process," he says.
Mubua started to work as volunteer in his community in 2014, one year after he came to Guangzhou. "I did what I could to help, such as taking my friends to deal with exit-entry visa matters and working on translation at the local police station" he says. Since then, he has been doing two hours of volunteer service in his community each day.
In addition to volunteering, Mubua has also made use of his stay in China to learn Chinese. "I have great interest in the Chinese language. That's why I came to study at SCNU. I wanted to improve my Chinese and win a scholarship" he says. Mubua now majors in Business Chinese, aiming to further study in medical science after graduation.
Mubua says he can balance study and work. "I don't need to work when I have classes. I take on-line courses at home and follow the school's instructions not to return to school. These are effective measures to protect us and prevent the spread of novel coronavirus" says Mubua.
Speaking of Mubua's study at school, "he is an active student and performs well in class." Liu Ling, secretary of the College of Internal Culture of SCNU, says and gives him a thumbs-up.
Like Mubua, Sharifova Shabnam, a 24-year-old graduate student from the Republic of Tajikistan at SCNU has also contributed to fighting the epidemic in her own way.
"I learnt from my teacher that some media from the Yuexiu district is planning to launch a promotional video in memory of those dedicated to the virus prevention and control work. They needed a foreigner who could speak good Chinese to make a short video and provide narration," said Shabnam, who speaks fluent Chinese after years of Chinese learning.
"I took the job unhesitatingly, and asked my husband to be my cameraman. We shot several times so as to achieve the desired effect," she said. "I feel happy that I can play a part in the publicity work. "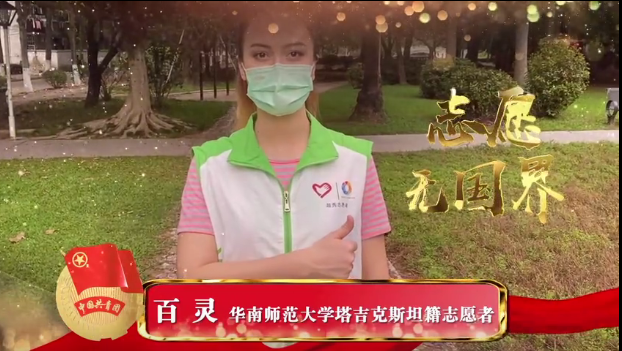 Shabnam, also named "百灵" in Chinese, volunteers in the publicity work
Shabnam said many overseas students have gone back to their own countries in fear of getting infected during the pandemic since the novel coronavirus broke out in late-January. "I chose to stay at school in Guangzhou, for I have full confidence in China's capability in defeating the virus. Besides, the school has done a lot to keep us safe. The teachers hand out free masks from time to time, and give us a lot to eat, like milk, lemon and nuts, etc.. "
In 2018, Shabnam came to further her studies in Chinese at SCNU. However, she was fascinated by Chinese language and culture long before that. She started her Chinese learning at the Confucius Institute in Tajikistan in 2014. She had the opportunity to meet President Xi Jinping and his wife Peng Liyuan at a banquet held during the 14th summit of the Shanghai Cooperation Organization (SCO) and their state visit to Tajikistan.
"I sung the Chinese song 'In the field of Hope' (在希望的田野) on that occasion. Peng Liyuan praised me for my good Chinese and nice performance," Shabnam says excitedly as she recalls that memory. Since then, she has got a Chinese name "Bailing (百灵)", known as a lark in English, a bird good at singing.
"I love China, and the Chinese people I met are all nice and friendly. They have given me lots of support. I will help in return, any time if needed," says Shabnam, who has kept sending messages to her friends during the epidemic, reassuring them that China is safe despite the outbreak, and that China will beat the virus.
---
Written by Li Jianru

What to read next: