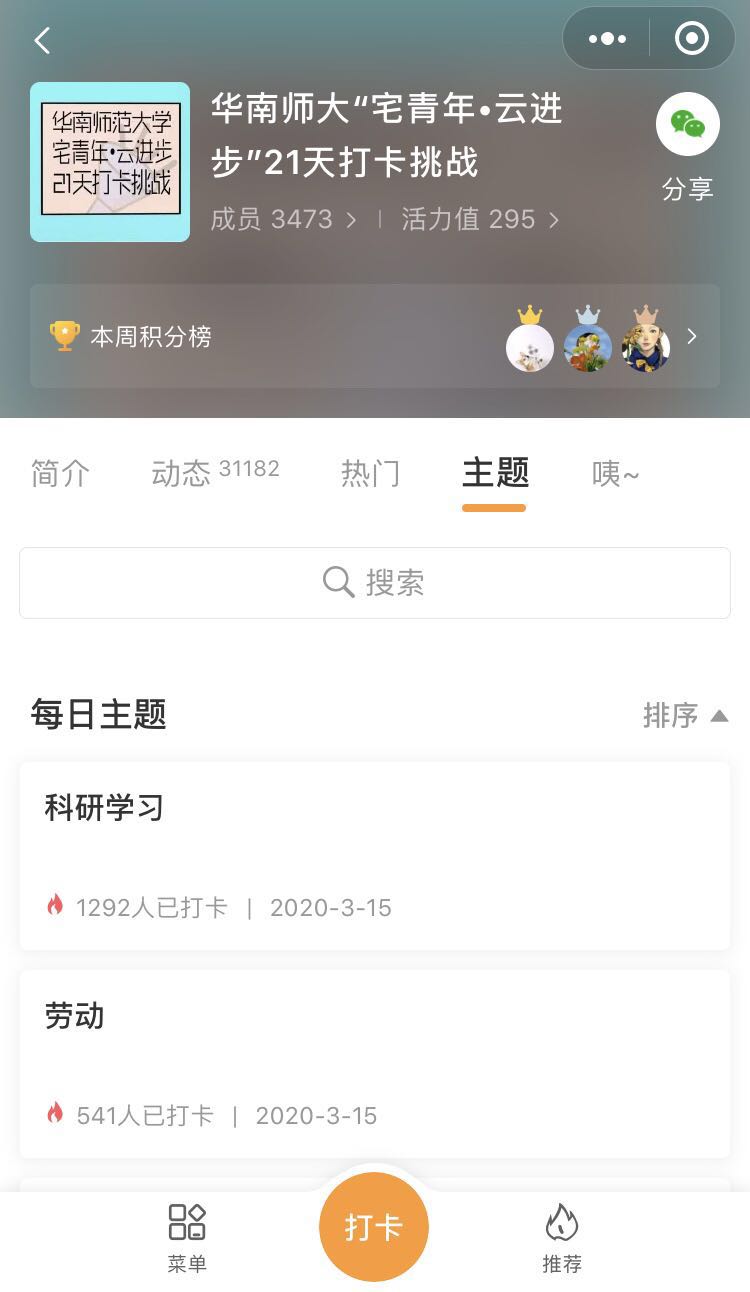 Studying at home requires self-discipline, organization and effective time management. This is particularly true for students taking courses on line at home amid the Covid-19 pandemic, during which they may find it hard to focus on study, stay on track or allocate their time to relax and exercise effectively.
Such being the case, an on-line campaign was launched among SCNU students earlier this semester, aiming to develop their self-discipline and time management capability. It kicked off a 21-day challenge in which participants were required to register their daily attendance, and their routine in general, recording their study, exercise and entertainment activities in particular by uploading relevant pictures, audio or video files on the platform. Besides, goal setting for the next day was also required according to the rules.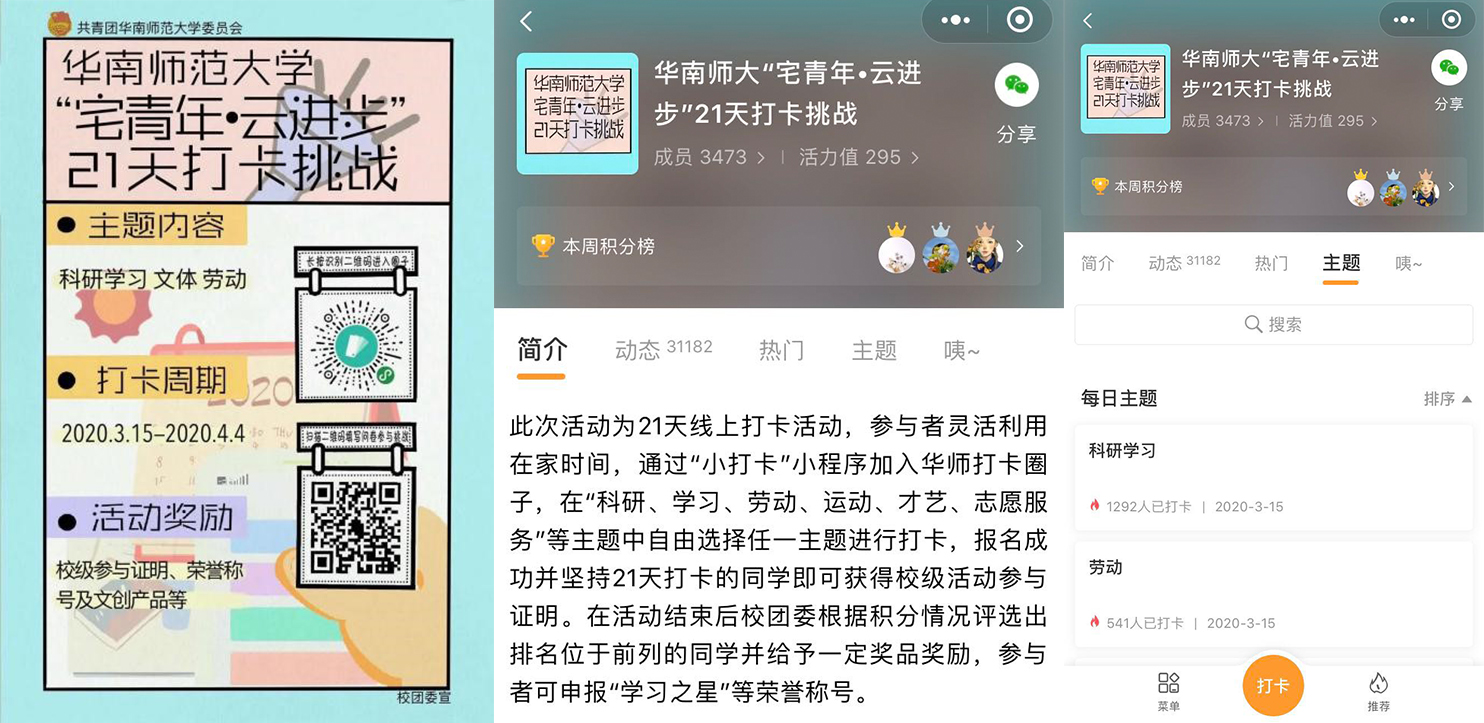 Poster and introduction to the activity
The clock-in activity has gone viral since its debut. A total of 23,289 updates from over 1,800 students in 29 schools across the campus has been generated during the 21-day period; 565 of them stood up to the challenge and completed the mission, statistics from the clock-in WeChat miniprogram "Xiao Daka" showed. How did they feel about the activity, and what difference did it make? Here's what we found out.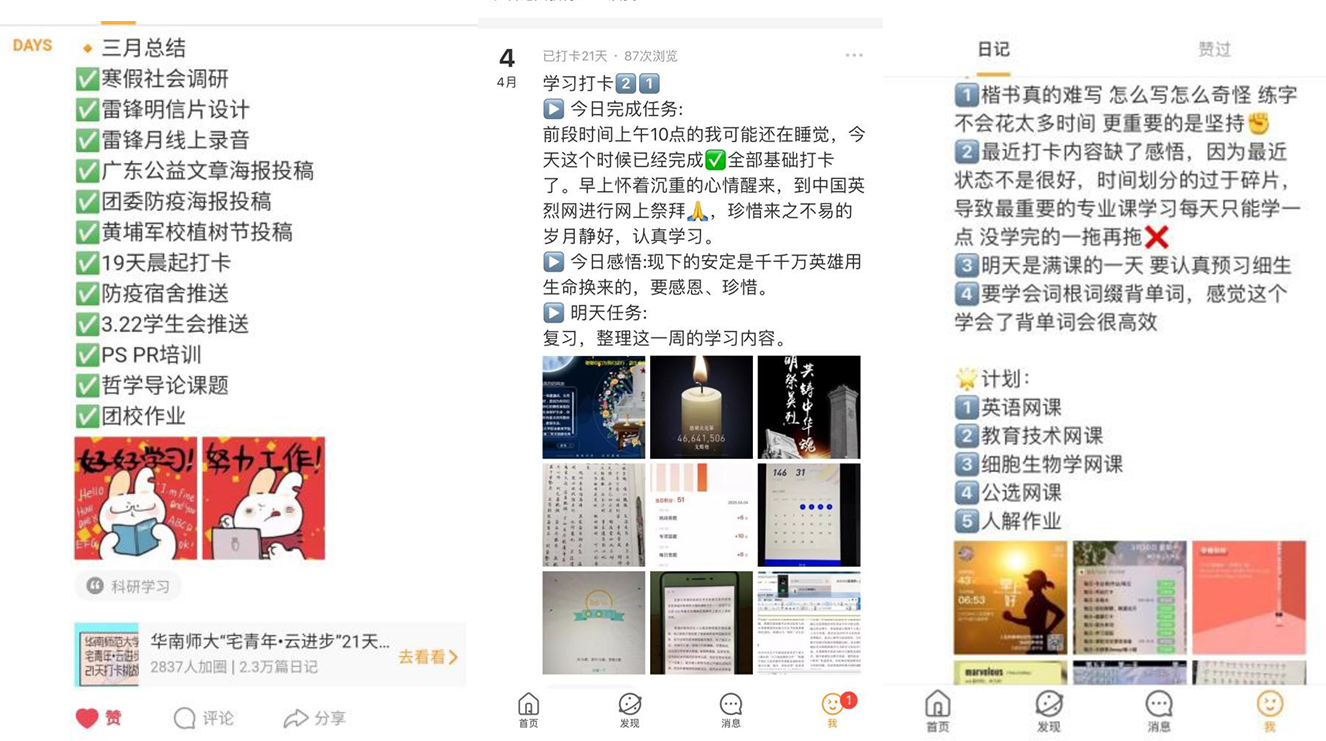 Screenshots of students' clock-in records
"In 21 days, I found my motivation boosted."
"This event became a strong booster for my passion for life, whether it is for study or other interests, like photography, handicrafting, or making desserts," says Li Xinling of the School of Chinese Language and Literature, who has always been an active participant in social practice activities, contests and club membership activities.
Due to her busy schedule, she often feels struck by exhaustion and fatigue."Thanks to the clock-in activity, I get motivated to keep going on. The likes and comments I got on the platform give me strength, empowering me with full energy and giving me a sense of achievement," she says, feeling proud to have accomplished a slew of tasks in March.
"In 21 days, I traded inertia for a good habit and new talents."
It only takes 21 days to form a new habit, however, only few can persist till the end. Xue Lingxiu of the School of Vocational and Technical Education cannot agree with this more. Before this event, her routine was to stay in bed until 10:00 o'clock in the morning, with procrastination as her biggest enemy. But now, it is her habit to finish her tasks as scheduled.
"I did encounter some persistence issues during the challenge, for instance, improper time arrangement, not completing a study task on time, or being too tired and forgetting to clock on the platform," she says. "In an effort to tackle these issues, I made myself a rule to get the day's tasks done before 11 PM, finishing up the all left-over business and then punch in. That's how I managed to hold out."
"The last day we clocked in was on Tomb-sweeping Day, which was also the National Memorial Day, April 4th. My heart sank as I checked out the clock-in platform, making up my mind to continue my daily study, work, and sports training for the following days." She insists this activity helped her overcome her inertia, and develop a good habit of both living and learning.
"In 21 days, I explored different knowledge and many things new to me"
The inclusiveness and diversity of the on-line learning community gives it a major edge over traditional off-line education. Li Xiaorong of the School of Life Sciences is the living proof.
"We were able to see various types of content on the page: knowledge of different professional areas, books, films and software," she says. "Faced with peers' competition, the strongest feeling that occurred to me was that I couldn't fall behind. I want to be 'the dark horse' when returning to school."
"Over the 21-day duration, I tried all the things I wanted to do before, such as making a cake, taking up sports, and practising calligraphy. I truly appreciate the quality time spent with my family, which formed a great relief to my academic stress, injecting more expectation and confidence into my life to face various challenges more upbeat in the days to come."
"We aim to create an on-line learning platform and community for students through this activity, and the results are satisfactory," says a student organizer of the Youth League Committee, noting that an average of 800 participants would clock in every day. "We also worked hard to maintain order in the group, checking three to four hundred updates each day to ensure the project's smooth operation without delays," she adds.
Given the surprisingly warm response to the event, another round of clocking-in lasting from May 1st to May 31st has been ongoing, according to the organizing committee.
---
Written by Xu Wenting
Proofread by Edwin Baak
Edited and reviewed by Li Jianru
What to read next: