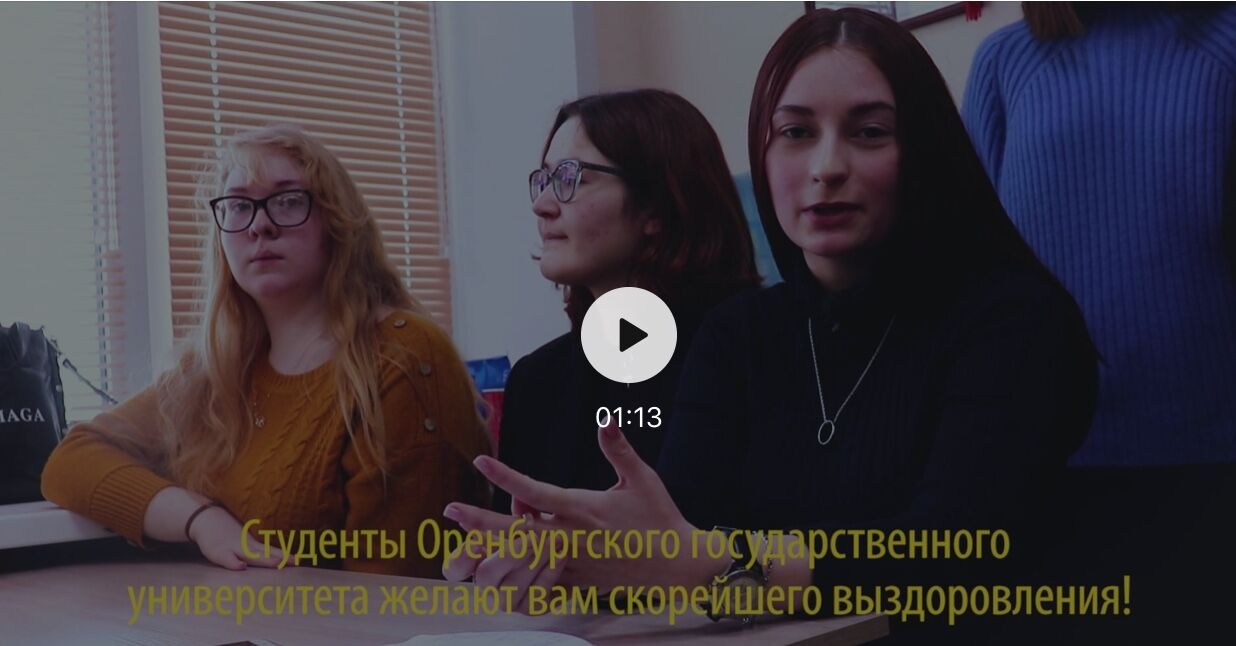 The beginning of 2020 has proven to be a thorny one, rarely seen before, as the sudden outbreak of a novel coronavirus unfolded around the world. Though it is a bleak moment for the world, we have witnessed many heartwarming scenes, as overseas teachers and students of South China Normal University (SCNU) offered their school help and support.
SCNU's foreign teacher Khristina Nikiforova from Russia went home during winter vacation. Together with her students at Orenburg State University (Оренбургский государственныйу ниверситет), she made a short video to support China's fight against the epidemic, and wished all Chinese people an early escape from the outbreak while cheering for Wuhan and for China. (Click the below picture and listen ▽)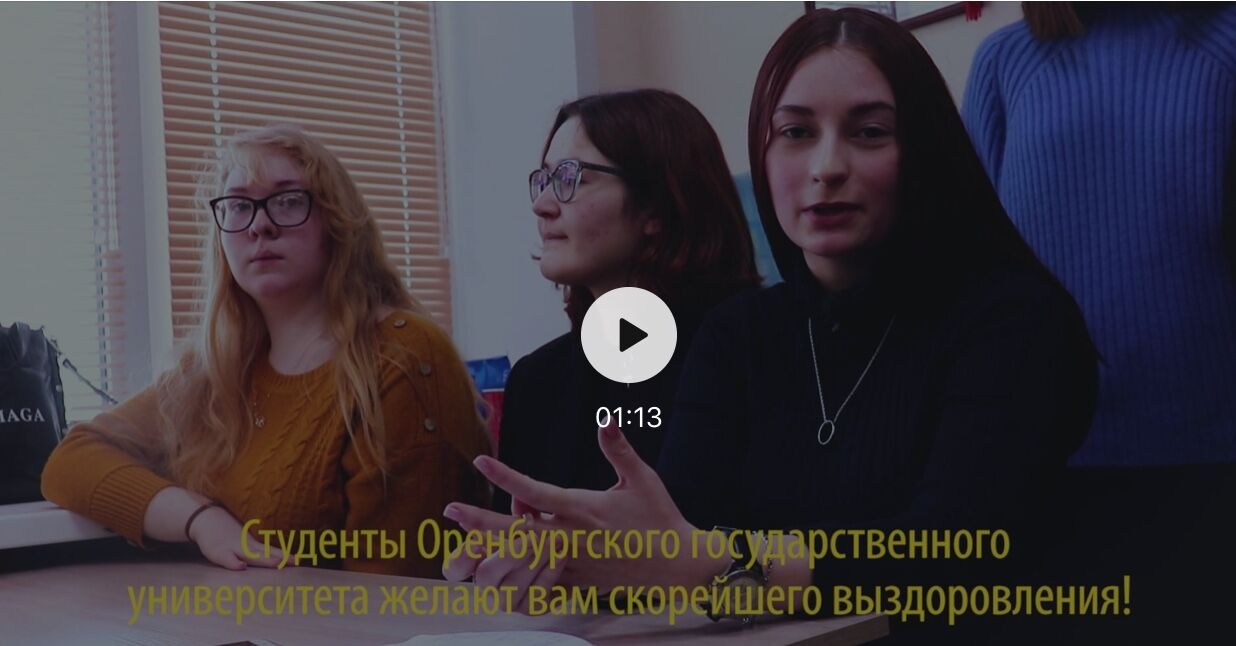 Nakao Haruki, an exchange student from Japan, together with his friend Maaya, rushed to drugstores and tried their best to purchase extra surgical masks once they heard about the urgent need for medical supplies in China. By contacting the embassy, they donated those masks to schools and hospitals and presented help in time of need to their teachers and friends in China.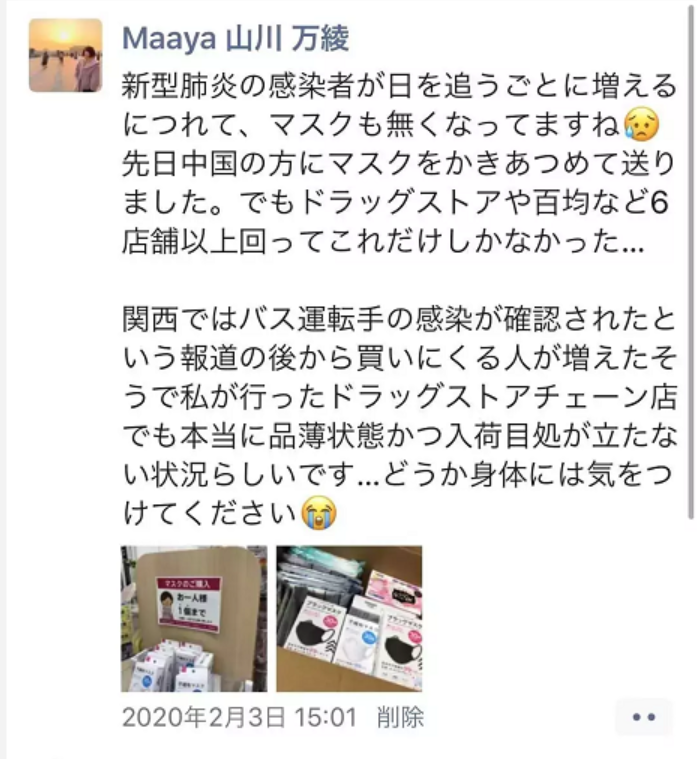 "Both my country and I myself have received a lot of support from people in China when major earthquakes struck Tohoku and Osaka. My Chinese friends sent messages and showed deep concerns about my safety," recalled Nakao when asked about his compassion for China. "I was very touched and realized that cultural disparity cannot really separate us from helping each other when one is facing difficulties. I love my Chinese friends and I am ready to help."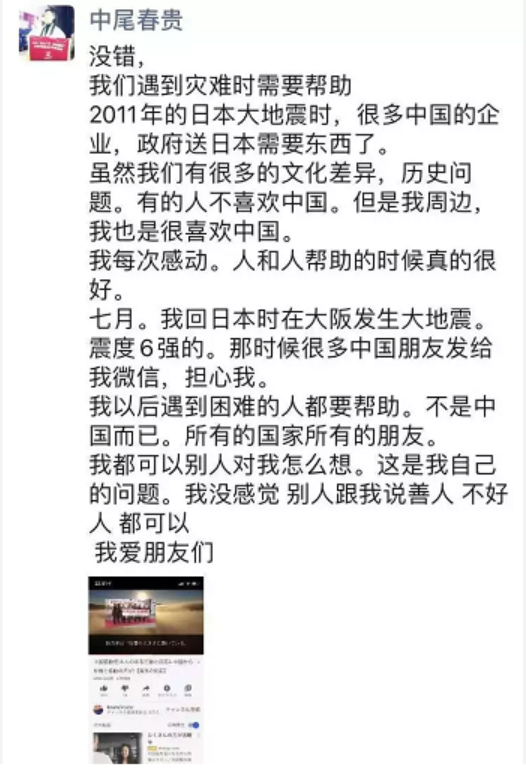 Students from Thailand are also paying close attention to the epidemic situation in China. Apart from posting wishes on social media such as Weibo and Wechat, they conveyed a touching message of encouragement by singing cheerful songs in support of China's fight against the disease.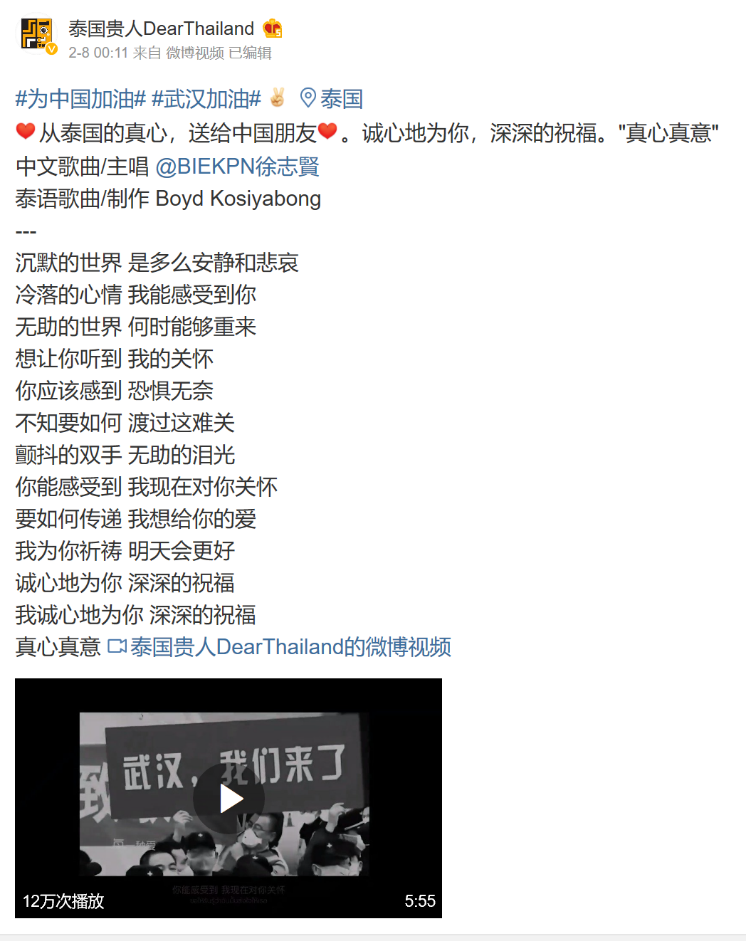 What's more, students from Pakistan, Guinea and Yemen sent their wishes and cheered for Chinese people on Wechat moments.
"We have full confidence in the efforts China is making to contain the virus and we appreciate every act China has done on behalf of itself and the rest of the world," said one student from Yemen, who has a firm belief that China will win this battle no matter how hard it is .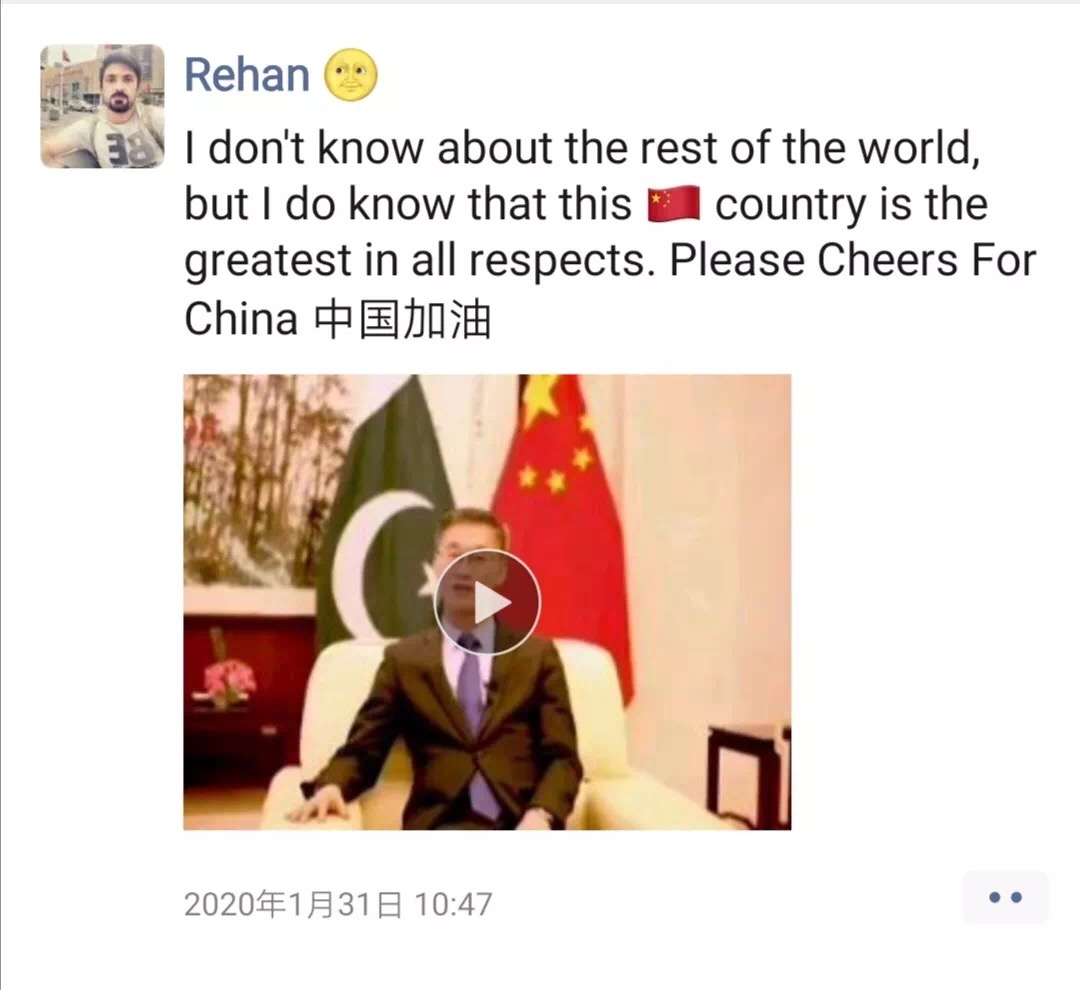 Rizwan from Pakistan: "stay strong China. God bless this nation!" ▽

Guinea (嘉罗): "Jia you China. Jia you Wuhan, let's fight together! How I wish this coronavirus would stop spreading. Hope everyone can stay safe and sound, reduce outdoor activities and wear masks in public space. We shall overcome it." ▽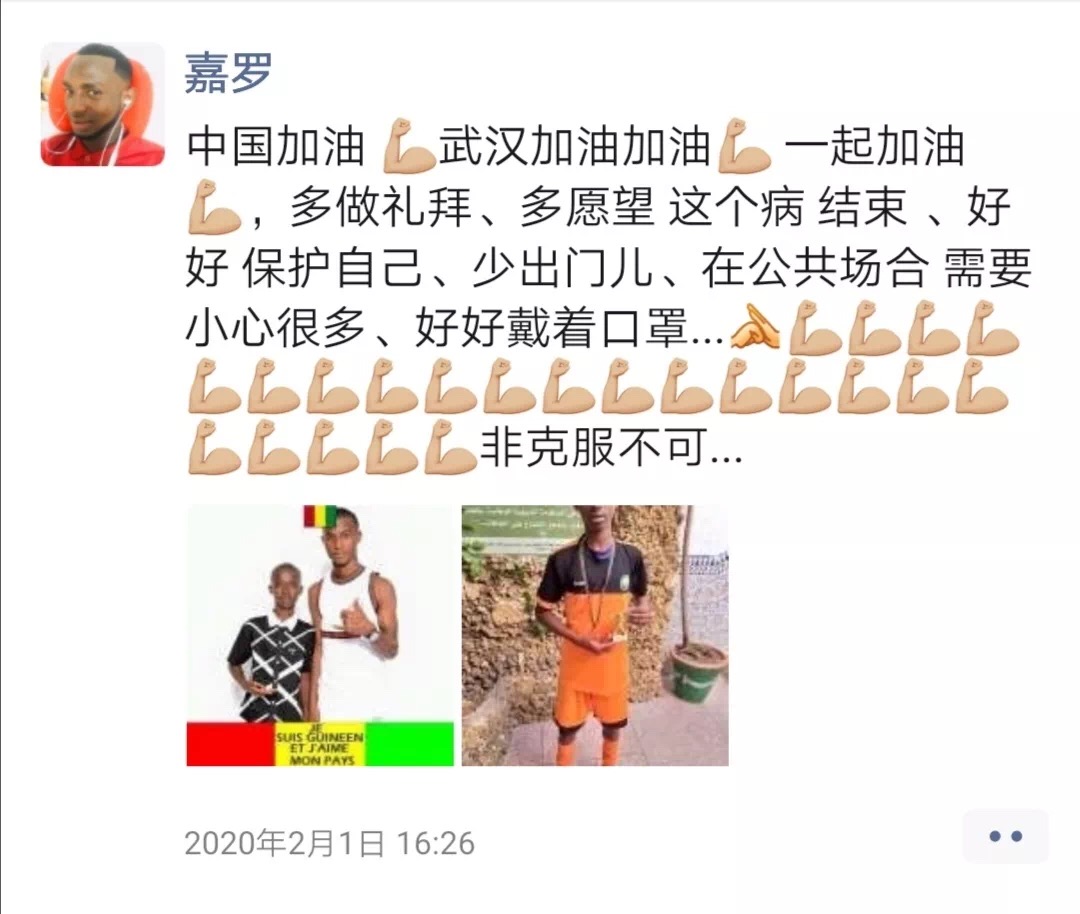 Ahmed (林浩安): "We will always stand by your side and together get through hard times. Cheer for Wuhan, cheer for China."▽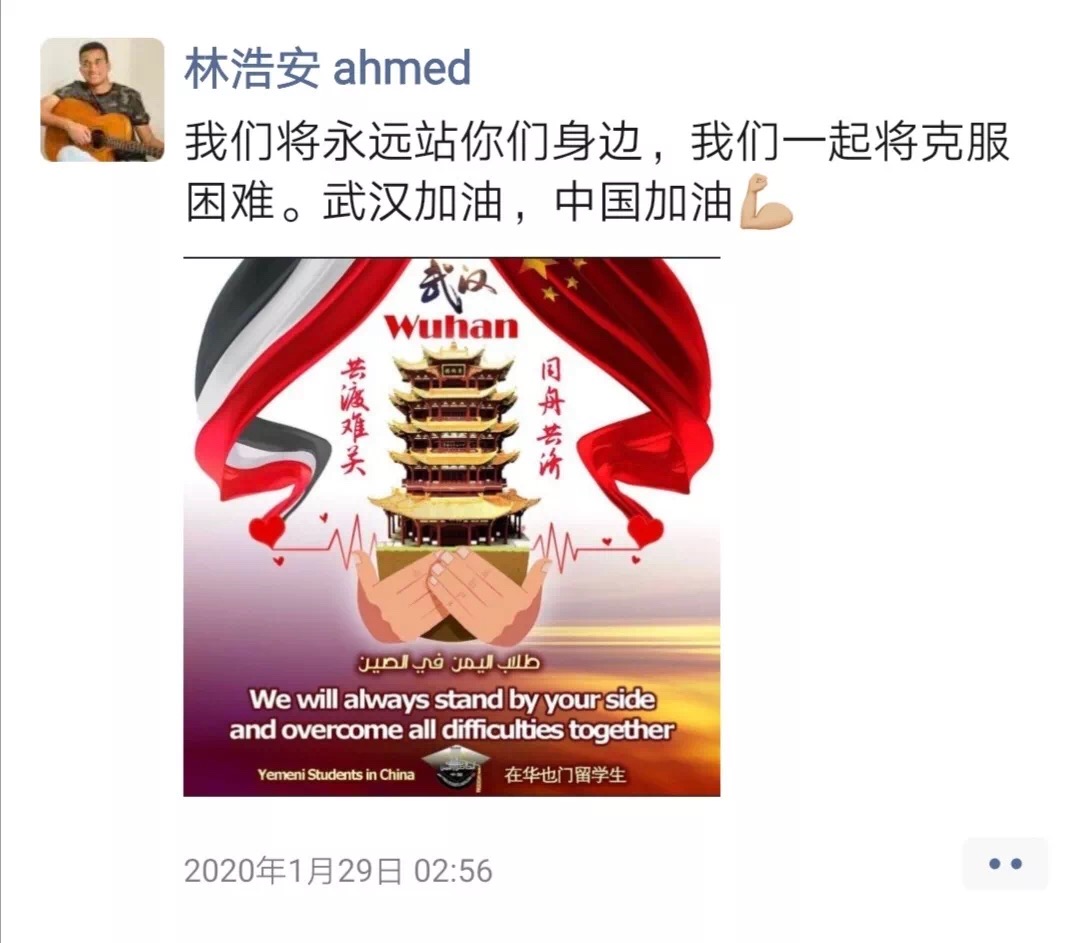 Since the outbreak of the coronavirus, faculty members are doing their best to ensure smooth control and prevention work. They work extra hours, collect students' information, provide important guidance, send overseas volunteers and notify all foreign students to change air ticket if necessary.
Virus respects no borders, but the worst of times reveals the best in people. China is not fighting alone. Prays and support from overseas teachers and students are strengthening the friendship between the Chinese people and people across the world. We believe whatever hardship the winter may bring, the promise of spring time is always around the corner. Cheer for Wuhan, cheer for China!
---
Translated by Ma Kaiyu
Proofread by Edwin Baak
Edited and reviewed by Li Jianru
What to read next: