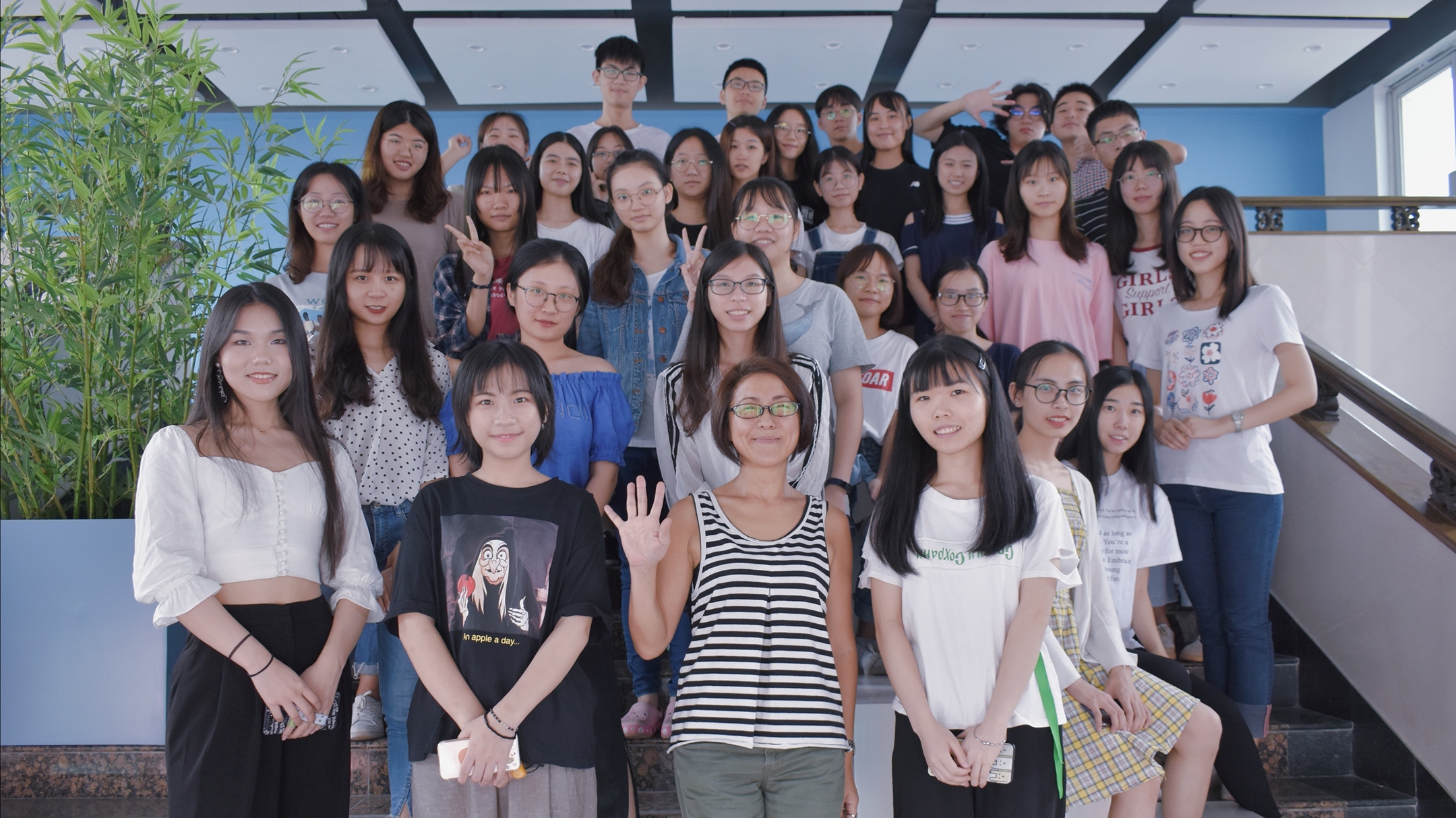 These years, SCNU has recruited a number of foreign teachers to diversify the students' learning experience and improve teaching quality. You may wonder, how are the students at SCNU different from those in foreign countries? Is life at SCNU so much fun? In order to better show you our foreign teachers' work and life at SCNU, we (below refer to as "C"), as correspondents from News Agency, have done a short interview with two of our foreign teachers, Jun Hayward (below refer to as "H") and Jerry (below refer to as "J").

Teaching at SCNU
C: Which course do you most enjoy teaching, and why? What other classes would you like to teach?
H: At present, I teach the sophomores oral Japanese and basic writing. And I teach the juniors advanced writing. As for the class I would like to teach, it's Japanese culture.
For instance, it's Christmas Eve today. It has become a day for family reunion in Japan, similar to the Spring Festival in China. See, Christmas previously was a foreign festival. But after years of assimilation, it produces a new meaning in Japan. I also want to introduce other Japanese traditions to my students, such as, how to wear a Yukata (a kind of traditional Japanese clothing), how to make Sushi and so on. I really like this type of teaching and hope to try it.
J: I'm a language art teacher. I teach English speaking, and writing as well. I would say both because in English speaking class, it's really fun to interact with your students and in writing class, I enjoy reading their works.
C: Did you work as a teacher in your country?
H: I worked as an office worker in Japan. Though I was not a teacher, I did teach novices some things. I didn't teach at schools until I came to China.
C: We learn that you are not new at our school. How long have you been working here? How you feel about your life at SCNU?
J: I've been working at SCNU for almost two years now. Life at SCNU is interesting.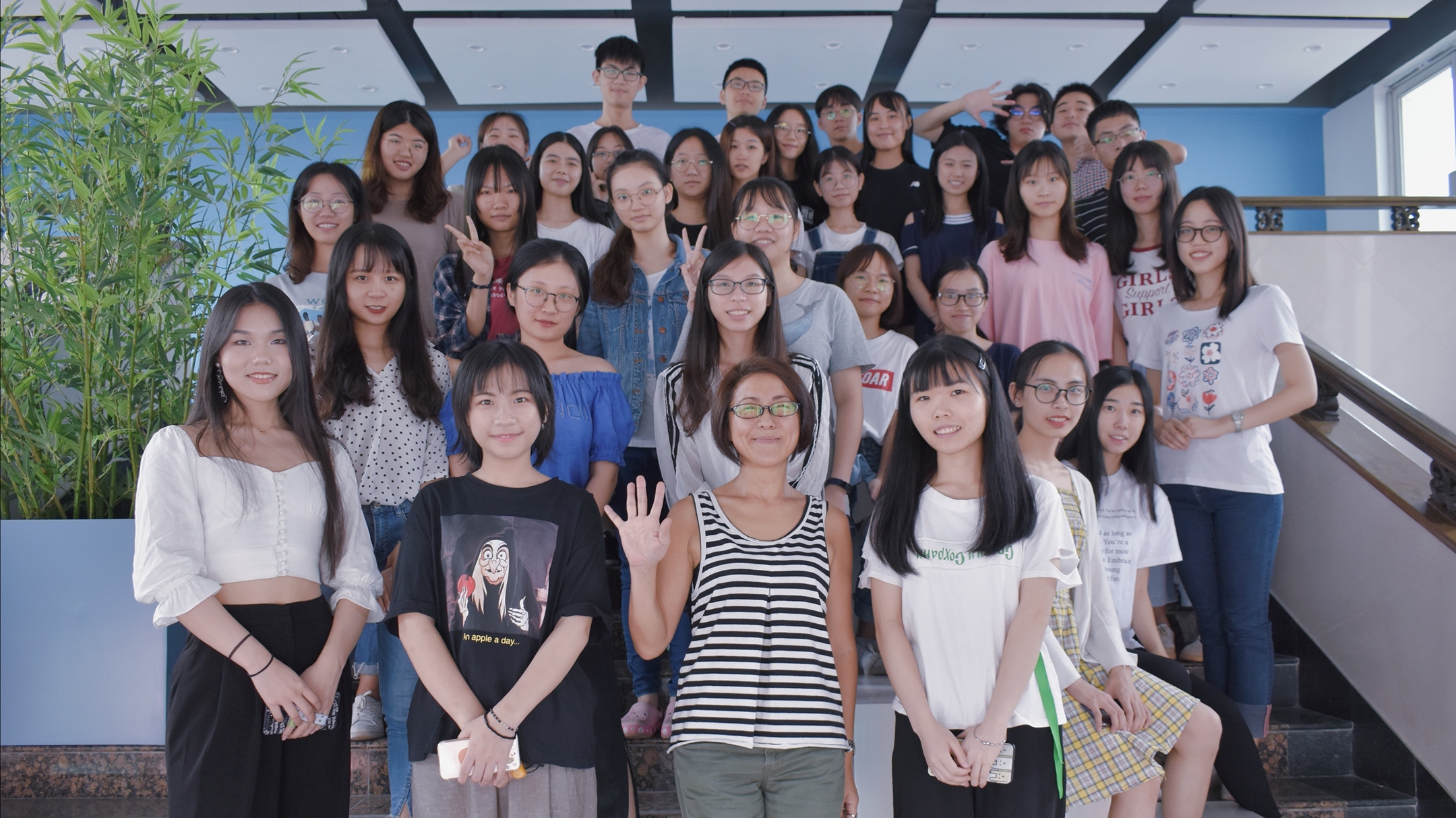 Jun Hayward and her students
Students in their eyes
C: How do you evaluate your students' performance in class?
H: Most of the Japanese major students in our school are hard-working and earnest. Students at SCNU are always trying to do their best.
J: All my students are very diligent and some are slow-learners, but eventually they will be able to catch up with the class.
C: Cool. Do you see any differences between the teaching model of SCNU and that of foreign universities? What is the difference between teaching here and teaching in other places?
H: Probably it's that the students at SCNU know clearly what they should do and what they should not do. Frankly, I think this is a quality that students in other school lack. They don't have certain goals. They just come to the classroom, though listen to the teachers, already being absent-minded. This is the biggest difference.
Jerry: Since in China, we consider English a foreign language, so the approach of teaching English to my students is very different. The teaching style at SCNU is much pretty the same as at universities. The only difference I know is that the the approach of teaching English is based on the inductive method instead of deductive method. Inductive method means in teaching, you have work from simple parts of the lesson, going to the complex part of the lesson.
C: Would you take the features of Chinese students into consideration when you are preparing for classes? And how?
H: Well, as far as I know – though it's a very small point, Chinese students tend to reply "Hai" (yes) several times, since their talking habit in Chinese. But actually, it could be regarded as a impolite behavior in Japan. Therefore, I often tell them to pay attention to it. Not only language, culture is also very important. When you learn a foreign language, you should learn about its culture, too.
J: Well absolutely. My lessons are based on the comprehension level of the students. If my students have a higher comprehension level, then therefore I will upgrade the lesson; if the students have a lesser comprehension level, then I have to simplify the lesson.
The photo of Jerry
Living at SCNU
C: Have you participated in any interesting activities at our university? What's the one that most impressed you?
H: Of course. I often come to the Japanese club to join in their activities on the campus. But I have never taken part in the events like the sports meeting. I prefer taking part in the activities relating to Japanese. As for outside the campus, I would act as an instructor of the students who are going to compete in a Japanese speech contest. And I really enjoy it.
J: I'm really impressid with the students at SCNU. They are very active in organizing some activities that will enhance their English proficiency. For example, one time I attended a debating competition and the students performance was very impressive.
C: Have you ever experienced culture shock in China? Share with us one of your most unforgettable experiences.
H: When lining up in front of the door of the subway in Guangzhou, it's always in disorder. When it comes to Japan, it would be much more comfortable. However, in Guangzhou, there are young people who are willing to give their seats to the people in need. But in Japan, people would not do this. In this aspect, I prefer the Chinese behavior.And this is also a cultural difference.
J: There are lots of people at the subway during the rush hour. And some people would bump you and they never say sorry.
C: That's the end of our interview. Thank you so much!
---
Written by Guo Xinyi, Li Xinyi
Proofread by Edwin Baak
Edited and reviewed by Li Jianru
What to read next: