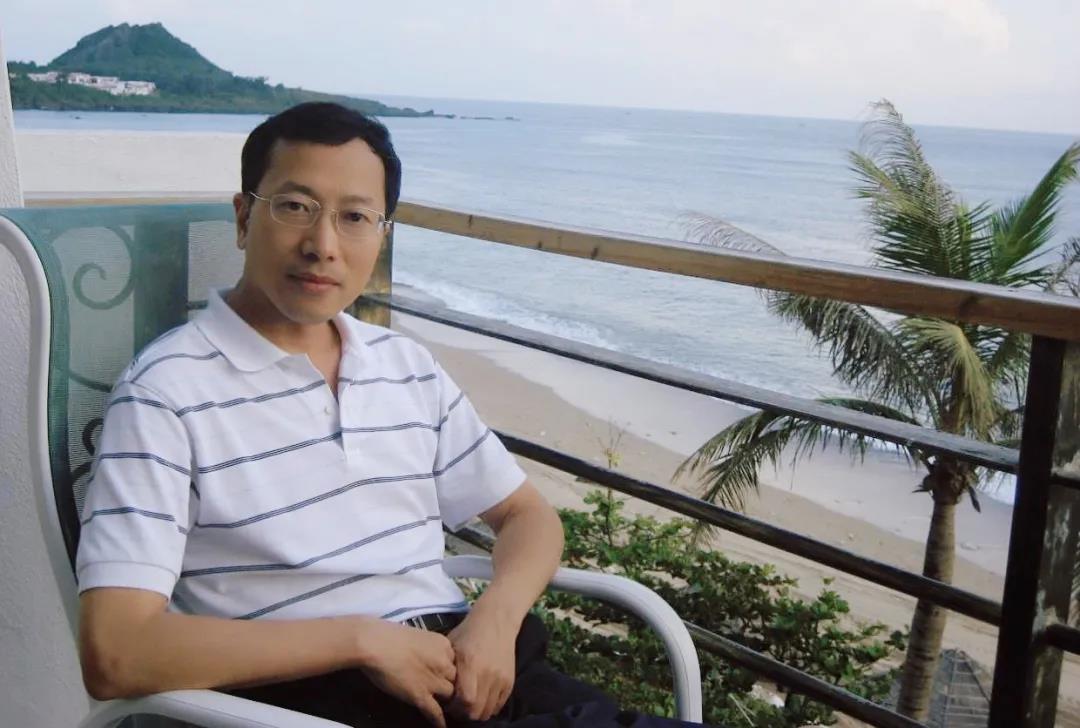 There is a teacher whose academic achievements are far-reaching. Building on his interdisciplinary academic background, he has got the highest number of paper citations on the biggest Chinese on-line academic database, CNKI. On top of academic success, he is also a students' "Favorite Teacher" thanks to his excellent teaching skills. His name is Wen Zhonglin, a teacher of the School of Psychology at SCNU.
Far-reaching Academic Research

Wen Zhonglin's article Testing and Application of the Mediating Effects published in 2004 ranks No. 1 in terms of the number of citations on CNKI (China National Knowledge Infrastructure), with 14,270 citations. Another article of his, Analyses of Mediating Effects: The Development of Methods and Models, published in 2014, has been cited over 10,000 times, and ranks second on the biggest Chinese on-line academic database.
Professor Wen has made tremendous academic achievements over the past ten years. Of the nearly 60 million papers on CNKI, Wen has got three articles ranking in the top-10 of number of citations. He led and promoted the research on mediating and moderating effects in the field of psychology. Wen Zhonglin's research clarifies the queries on the causal steps and proposes a new procedure to analyze mediating effects.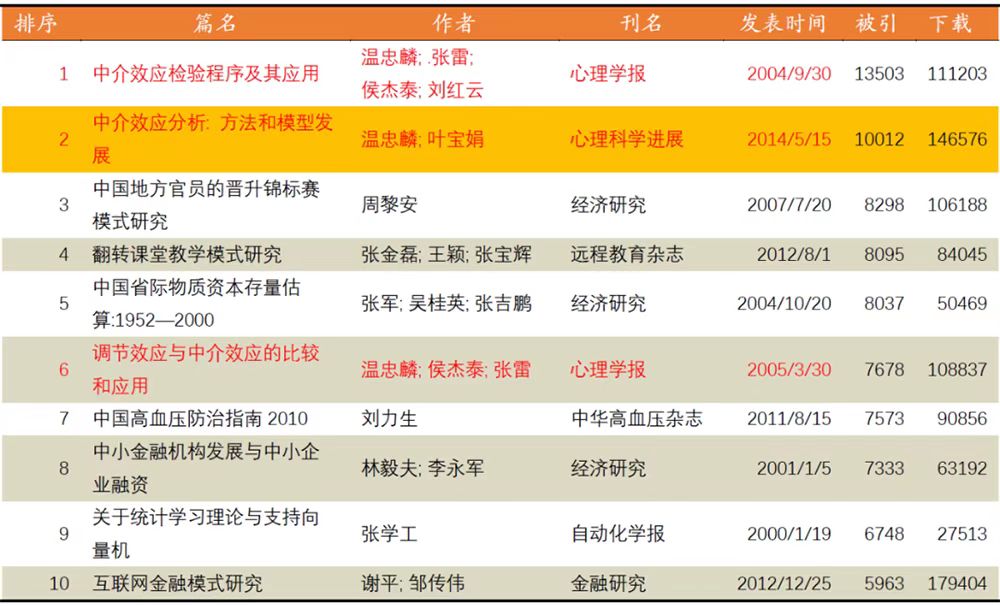 Three papers authored by Professor Wen rank first, second and sixth respectively.
Wen Zhonglin's achievements are not only influential in China, but also overseas. His papers have been cited more than 21,700 times according to Google Scholar. Wen's method has been written into many English quantitative research manuals and textbooks, and some of his formulas have been adopted by the most popular structural equation modeling software Mplus.

Citations of Professor Wen's papers according to Google Scholar.
Mediation indicates that the effect of an independent variable on a dependent variable is transmitted through a third variable, which is called a mediator. Over the past ten years, mediation effect analysis has been one of the most popular psychological research methods at home and abroad, because mediation models are frequently used in the research of psychology and other social science disciplines. As a result, Professor Wen's research has met the needs of scholars in related fields.
Long Journey of Interdisciplinary Research
In his scientific research career, Professor Wen moved from mathematics to pedagogy and then to psychology. This experience enabled him to understand what tools researchers need and how to create them.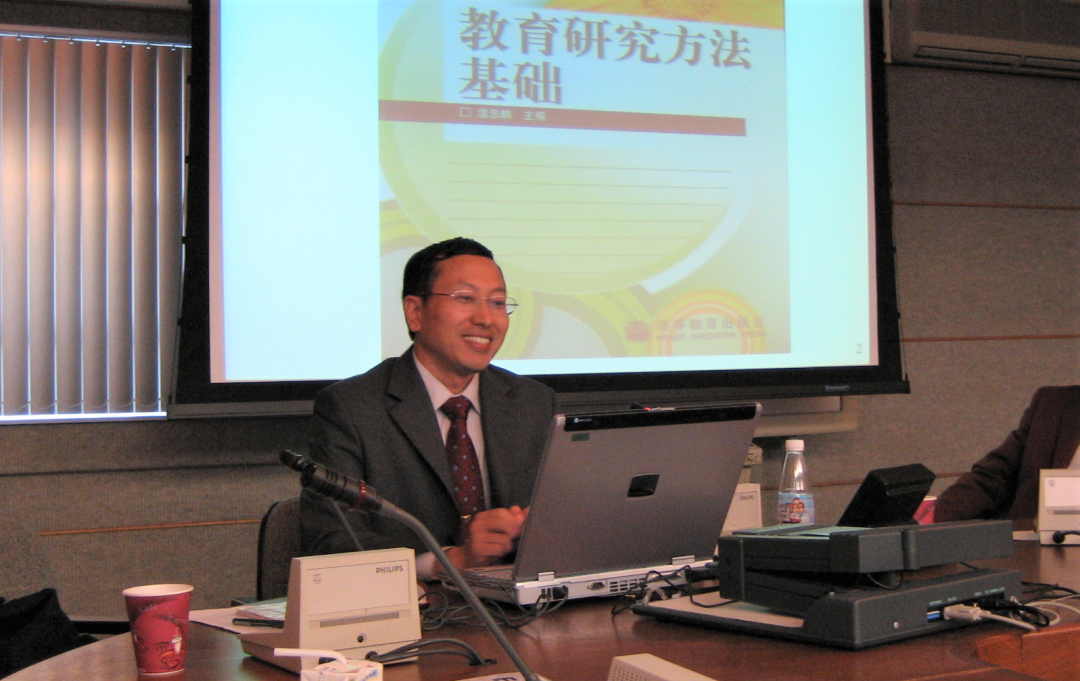 Professor Wen Zhonglin is the author of the book The Basics of Educational Research
Wen believes that most people in society may not be able to choose the career they like. One may not be able to choose the environment, but one can adapt to it.
"Nowadays, job boundaries are becoming blurred, many occupations are being eliminated by artificial intelligence. Many young employees change jobs frequently, so it's important to adapt to different environments in modern society."
In his journey in research, Wen Zhonglin has always maintained a calm state of mind, tireless and down-to-earth. According to Xie Jinyan, a doctoral student, many junctions in his mentor professor Wen's career may seem easy and smooth to others, but actually they are full of hardship and twists. It is Professor Wen's persistence that made him become the man everyone admires today.
"My Favorite Teacher"
Wen Zhonglin is not only an assiduous researcher, but also was chosen by students as "My Favorite Teacher".
In the class of Statistics for Psychology, Wen often uses storytelling and analogy to create a relaxing and lively atmosphere, which makes the professional, boring and complex statistical principles more understandable and helps students absorb them.
Professor Wen has friendly and close relations with his students. Wang Ruiming, the associate dean of the School of Psychology, was one of the first batch of postgraduates taught by Wen. He recalled that "although Mr. Wen studied science, he often wrote couplets and essays, and his lectures were always interspersed with witty remarks."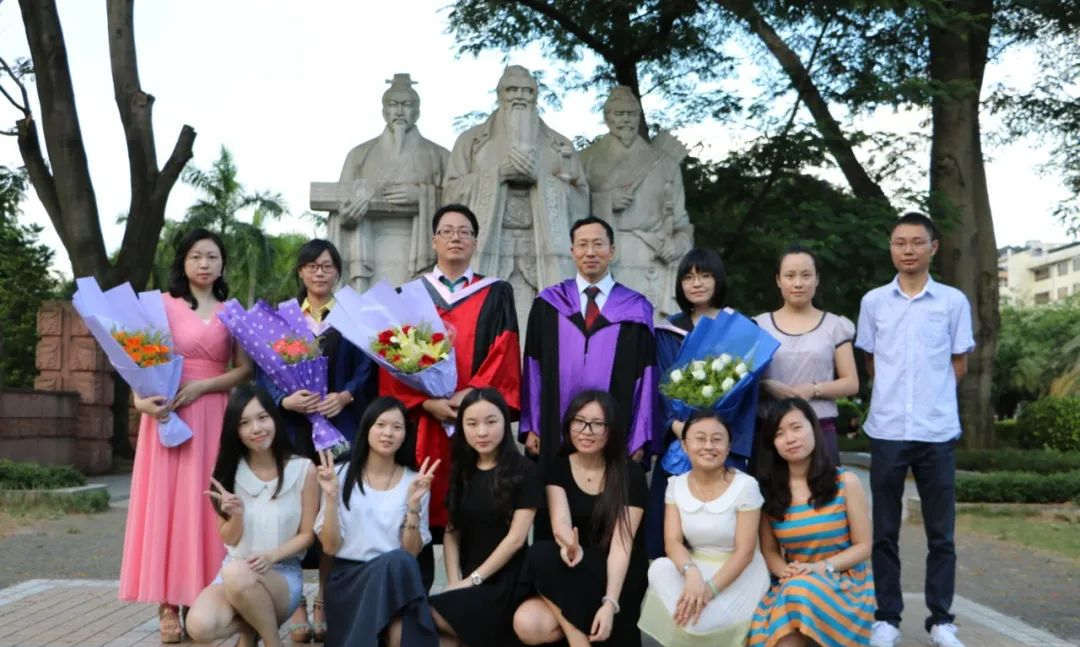 Professor Wen Zhonglin (fourth from the left row two) takes graduation photo with his students.
"I feel young at heart with the young and we need to keep pace with the times so as to catch up with the development of the tide." Wen said with smiles.
Professor Wen once said he cannot make such an achievement without the support of SCNU. "I hope that my research achievements will help improve the development of the discipline of psychology at SCNU, and promote better psychological services for society."
---
Source from SCNU News Center
Translated by Wei Xiaonan, Zou Shan
Proofread by Edwin Baak
Edited by Li Jianru
What to read next: