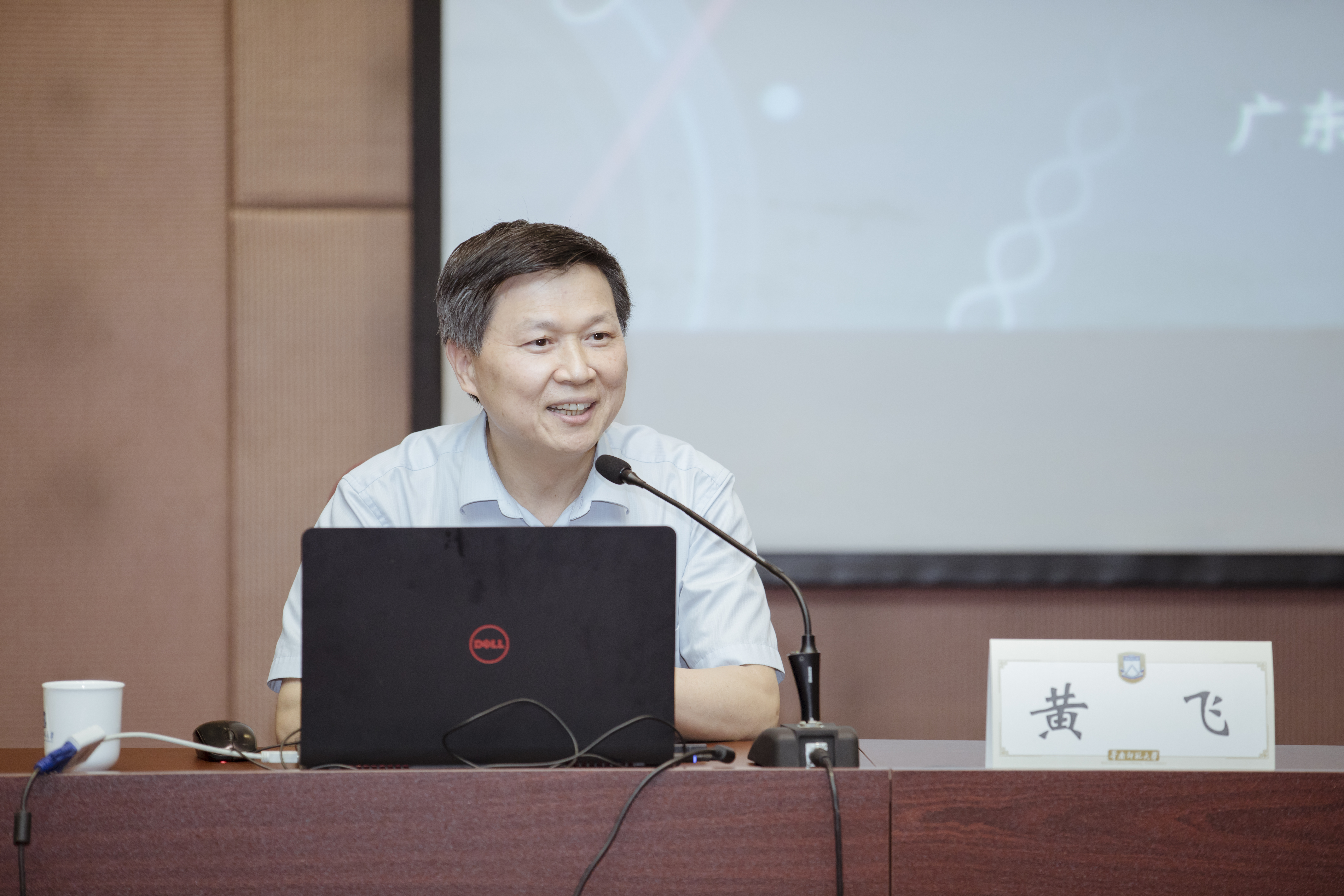 Huang Fei, an alumnus of the School of Chinese Language & Literature of SCNU, now the deputy secretary and deputy director of the Health Committee of Guangdong province, was recently invited back to school to give a report on the fight against COVID-19 from the front line. Over 120 people including school leaders, teachers and student representatives attended his report and listened to the heartwarming stories of his team. Here we take you to learn more.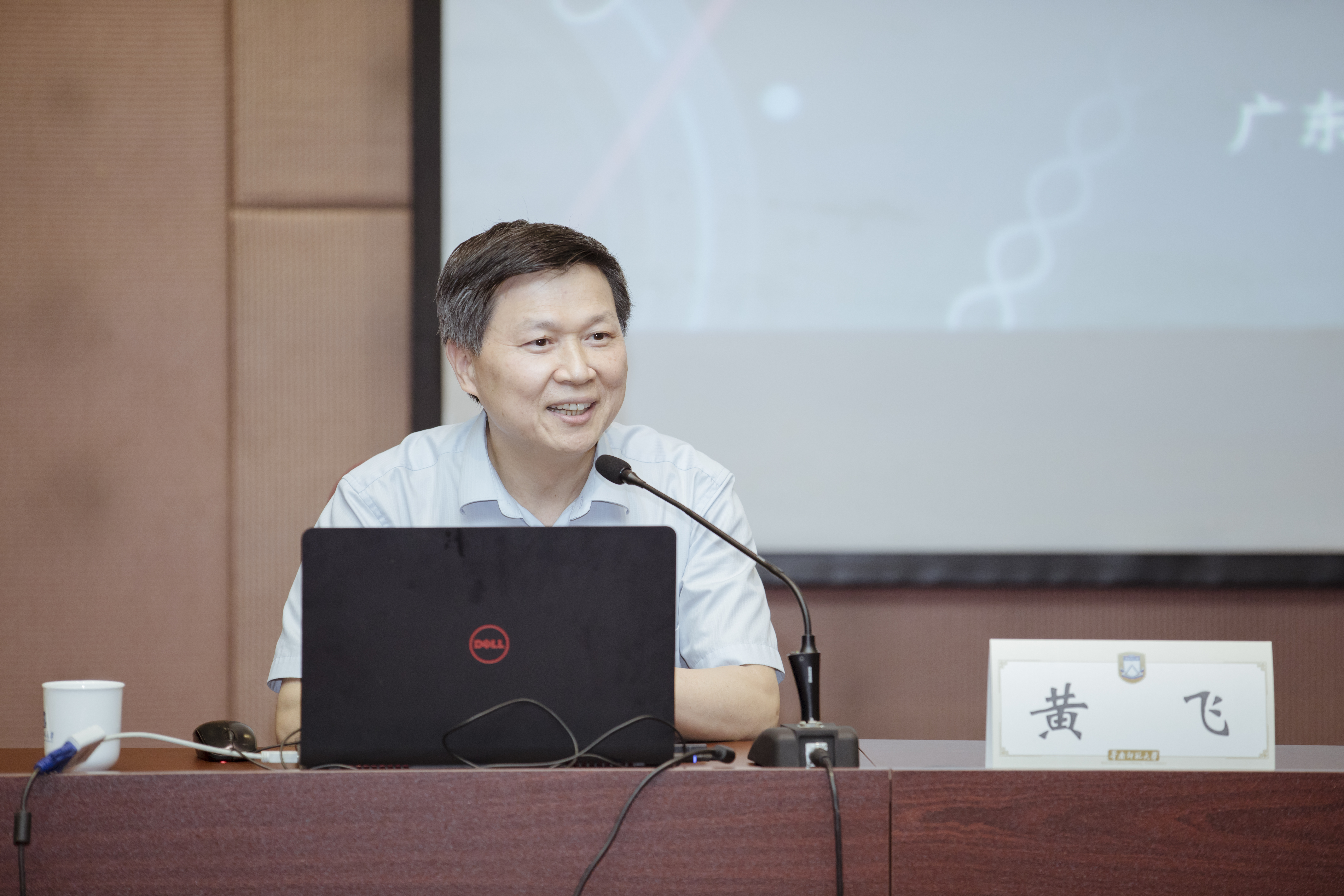 Huang Fei addressed audiences at SCNU
Take initiative to lead Guangdong's support for the Hubei medical team

As Hubei province came under attacked by a new menace in the form of an outbreak rapidly developing into a pandemic, Jingzhou, a city with a long history, was confronted with an unprecedented crisis, being the fourth most severely affected city by the epidemic outbreak in Hubei province.
When asked who would like to be the chief commander of the medical team headed for Jingzhou, Huang Fei took the initiative to undertake the task without hesitation, boldly declaring "I have experience in the fight against SARS. So I can!"
Huang Fei owes his confidence to his success experience in fighting the SARS epidemic. When the SARS broke out in 2002/2003, Huang proposed that it was necessary to set up a coordinating organization to optimize the efficiency of epidemic prevention and control. Such an organization, located in Room 510 of the office building of the Department of Public Health, was then known as the Anti-SARS Headquarter of General Staff, which dealt with affairs such as epidemic reports nationwide and anti-virus information of all kinds, reporting to the higher authorities concerning newly affected cases and issuing instructions to lower branches of government, etc.. Huang took responsibility of all daily coordination work at that time.
"We worked like we were combating in a war, and we didn't have a regular life at all," one of Huang Fei's colleagues recalls. The valuable experience fighting SARS has armed Huangwith quick decision-making skills, excellent organizational capabilities, and firm determination in overcoming hardship.
At the early outbreak of the COVID-19 epidemic, the Guangdong Provincial Health Commission thought of the possibility of deploying a medical team to support epidemic-affected areas. Thus groups of medical teams have been massed and got themselves prepared with supplies and staff.
"We cannot afford to wait, so we have to do our job in advance," said Huang Fei. Owing to good preparation, Huang said his team could leave for Jingzhou "any time" upon notice. The team led by Huang Fei was informed to leave for Jingzhou on the eve of the Spring Festival.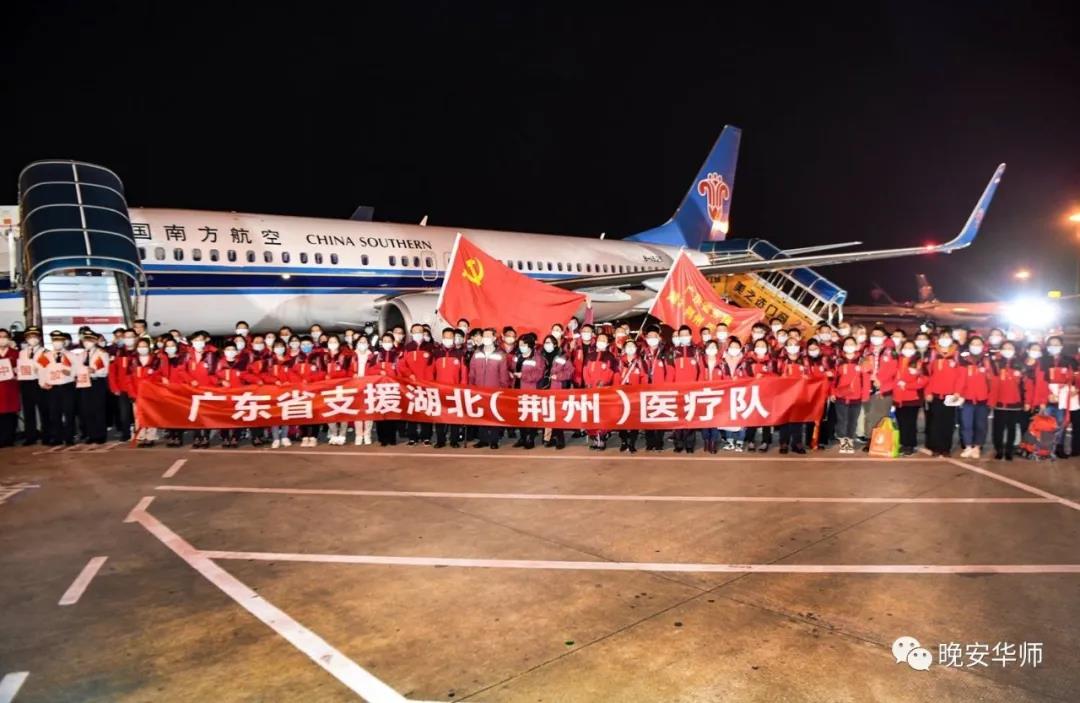 Group photo of Guangdong's support for the Hubei medical team before departure
On that night, the first batch of hundreds of medical staff put down their bowls and chopsticks on the table of their family reunion dinners, and immediately headed to affected areas with no misgivings. At the airport, Huang Fei encouraged his teammates to work tirelessly and boldly, live up to the great trust placed on them, and fulfil their mission with determination, which kindled the light of hope and confidence in their hearts.
Setting up a treatment center for severe cases to save patients
Arriving at Jingzhou, Huang Fei combined the local reality with past experience, thus leading the headquarters they began their journey. While trying to save patients, the headquarters was caught in the dilemma whether to set up a treatment center for severe cases. The morbidity and mortality of the coronavirus carried by the severe cases is higher than that of the virus carried by mild cases. What's worse, the healthcare staff had limited knowledge and experience with the virus. Everyone was worried that the severe cases could not be saved and even the healthcare staff would get infected, of which no one is able to bear the responsibility of the consequences.
However, Huang Fei and the headquarters had no time to take everything into consideration. "Our task is to save as many people as possible. Only by setting up a treatment center for severe cases, centralizing the resources such as ICU and artificial lungs, can severe patients be saved from death."
Thanks to Huang Fei's quick decision-making and firm determination, two days after the treatment center was set up and started to gather severe cases in Hubei, with 150 experienced healthcare staff dispatched to the center, it was the first time that there were no deaths in Jingzhou in more than 10 days, which was great news in Jingzhou that day.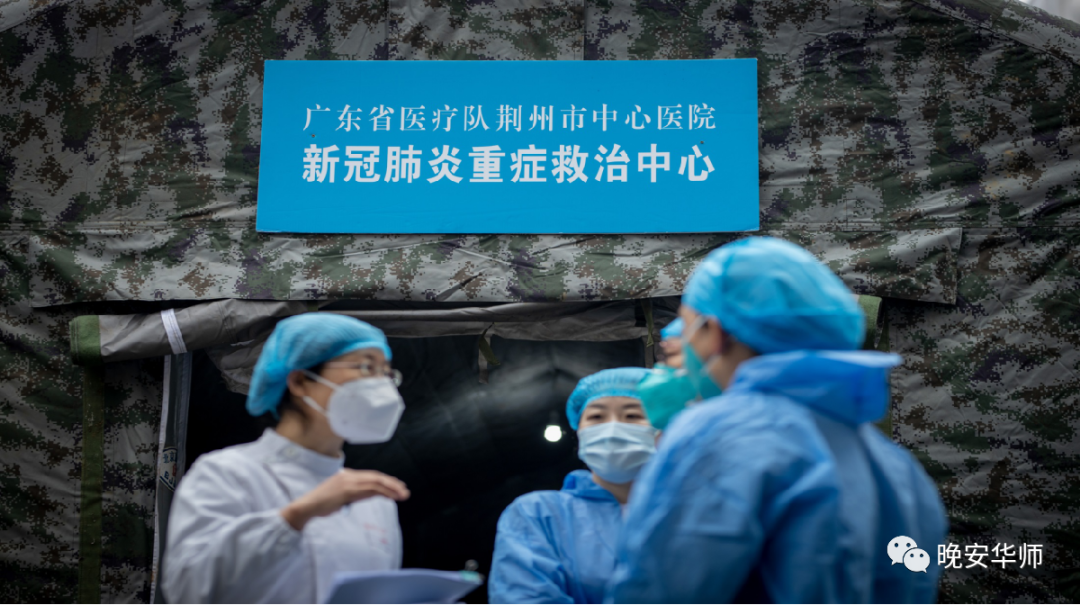 Treatment center for severe cases set up in Jingzhou, Hubei
Huang and the headquarters took strict measures to protect healthcare staff from infection. There are more than 40 steps for healthcare staff to wear and take off protective suits, costing them over two hours to put on and take off the suits. Once the steps are mistaken, the staff will be easily infected.
Thus, on arriving at Jingzhou, Huang and the headquarters immediately organized sensory control training and exercise, checked one by one whether medical team members took the correct steps to put on and take off the protective suits, and set up a sensory control supervisor system that when the staff is putting on and taking off the suit, a supervisor will check overall. Due to the comprehensive system, none of the healthcare staff has been infected until the task was finished.
Through Huang's communication and connection with the Guangdong government, Jingzhou was equipped with a strong third-party detection agency. Since February 13, all the suspected cases and close contacts in Jingzhou have had a comprehensive nucleic aid testing. After that, the number of confirmed cases in Jingzhou has been declining. On March 1, Jingzhou became the first city where the number of cases fell to zero in Hubei province. It was the joint efforts of Huang Fei and the medical team that contributed a lot to this great achievement.
Shouldering double responsibilities of medical treatment and pandemic prevention and control, as well as assisting the local resumption of work and production, Huang Fei always kept occupied day in and day out, losing 5 kilograms within only 2 weeks in Jingzhou.
"I mastered the knowhow and practised my skills at SCNU"
Once being the student president of the Broadcast Station, member of News Association and Reporter Association, Huang Fei had been equipped with distinguished promoting and planning skills. What he learned during his time at university turned out to be very useful in his career life, such as drafting documents and doing publicity.
Huang Fei has been credited with efficient organization skills and excellent publicity abilities, which in his words, "I mastered the knowhow and practised my skills at SCNU, to which I will be grateful all my life."
The unexpected outbreak of COVID-19 has brought the people in Guangdong and Jingzhou closer, with hands and hearts connected together. To introduce the plan of Guangdong and the story of fighting against the epidemic in China, and highlight the concept of "community with shared future for mankind" advocated by general secretary Xi Jinping, Huang Fei and other staff members produced a short video Heart to Hand according to two moving stories happening between people in Guangdong and Jingzhou, which has been translated into various languages and has moved a lot of people.
MV "Together for you" released online
The first story is about a nurse, Guo Xiaoxue, from Guangdong, unfortunately infected while taking care of patients. The medical team immediately got in touch with Academician Zhong Nanshan, who helped cured her in spite of the long distance. After that, Guo wrote an appreciative letter to Zhong to express her gratitude and declared that she would like to continue to fight alongside her colleagues.
The second story is about a doctor, Zhou Hongmei, from Guangdong, giving hope to Aunty Hu's family who were infected. She promised to beat the virus and take them home, and she finally made it. When Hu left hospital, she sang the song My Motherland and Me with Zhou, which showed that people in the two provinces have been tightly connected from hand to heart after fighting against the epidemic together.
Besides, Huang Fei also got inspiration from a gift to his fellow female teammates on International Women's Day this year. He wrote a poem, Let me pick a bunch of canola flowers from Jingzhou, for the dedicated female teammates at the headquarters as a gift. Part of the poem reads:
If no time for affection
No time for romance
Then let your boundless love
Be a solid wall
Let your tenderness
Be the mighty power of Guangdong
Stand with people in Jingzhou
To build a great wall against the epidemic
The poem perfectly expresses how Huang felt while fighting at the front line against the pandemic. He uses vivid expression, portraits touching stories of the fighters, parting from family and heading for the fight against the virus. The poem became popular on the internet, moving many netizens to tears. Later it was adapted to a song, with lyrics written by Huang Fei.
"I hope the song can encourage more medical personnel to race to the front line when everyone is stepping backward," said Huang Fei at the release of the musical video.
From the fight against SARS to the war against COVID-19, Huang Fei has always been concerned with the health of people and doing his utmost to contribute to the society. His deeds give vivid expression to the spirit of working hard, part of the motto of SCNU. His stories can definitely encourage youngsters especially those at SCNU to work hard and actively engage in the development of the society and the construction of our motherland.
---
Trans-edited by Chen Yiying
Proofread by Edwin Baak
Edited and reviewed by Li Jianru
What to read next: