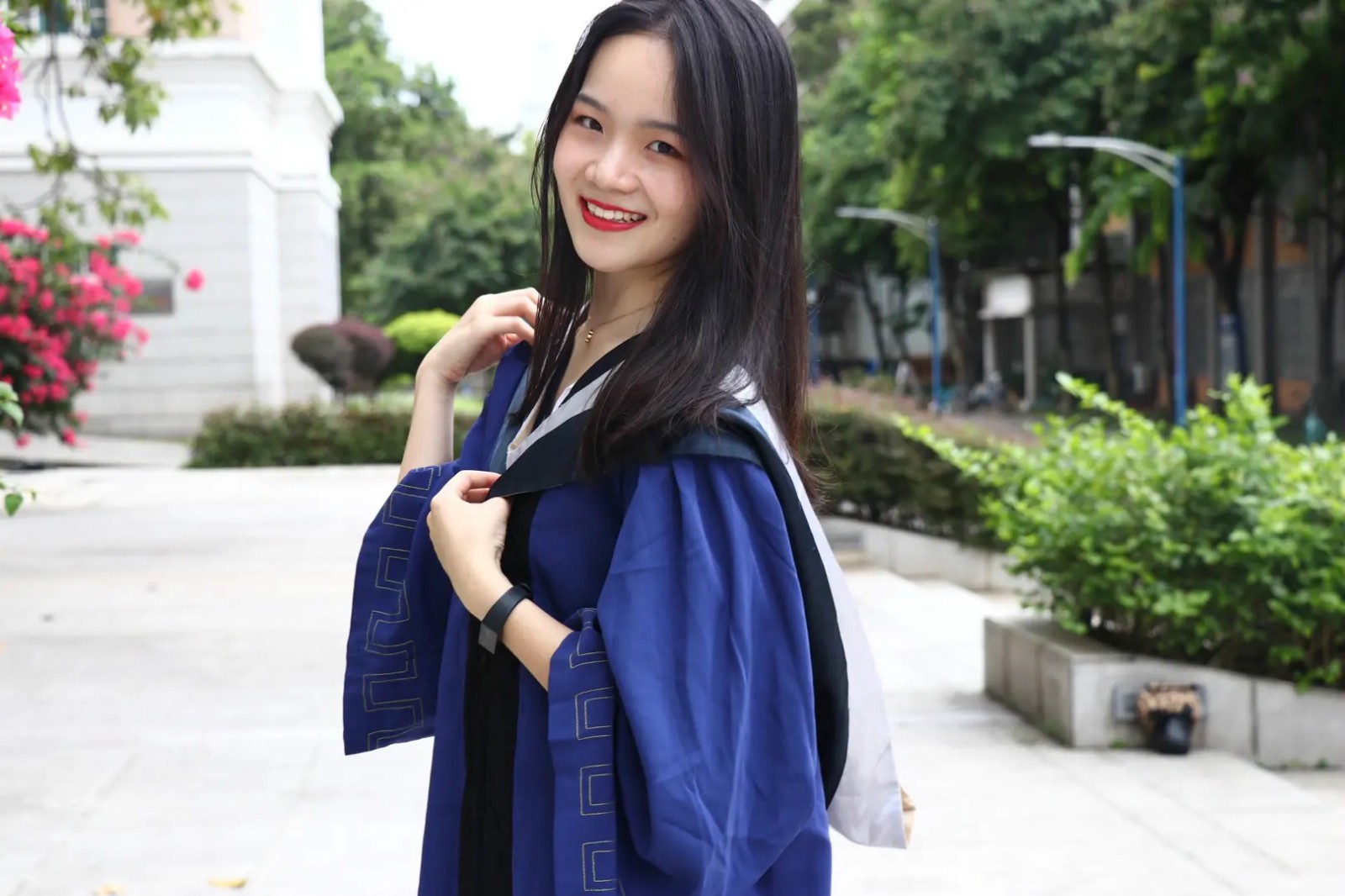 The first time Yi Jing connected herself with the United Nations was in 2019, when she visited its headquarter in New York. She said that experience was amazing and never thought that she would work at the United Nations one day. Now her dream has come true as she is going to start her internship at the United Nations Development Program (UNDP) Representative office in Namibia in the near future.

Yi Jing, a master's degree graduate of the class of 2020 from the School of Life Sciences of SCNU, described herself as a person never letting go of any opportunity, and that's how she managed to seize this opportunity.
Yi Jing
She recalled that she accidently noticed the intern recruitment of the UN as she browsed the website of University Students' Volunteers to the West. Instead of ignoring such a clue, she took several hours to search for relevant information and policies about the internship. Learning China Scholarship Council (CSC) will fund university graduates to intern at international organizations and SCNU is one of the receiving units, she signed up to practice in UNDP Namibia resolutely.
"I don't take what I get for granted and care too much about the results," said Yi. "It's the process that matters, and I enjoy it a lot."
However, the process was not that smooth. Faced with requirements for interns at the UN, it took her more than three months to prepare for required materials, including letters of recommendation from her tutor (note: the UN does not typically hire without a list of significant recommendations), and pass the written examination and interviews.
During the online interview with UNDP Representative office in Namibia, Yi Jing also had difficulties in understanding the African interviewer with an accent, which she thought would result in her failure. Fortunately, after the half-month wait, she received the letter of congratulation from CSC saying she would be awarded the Chinese Government Scholarship to sponsor her upcoming study in UNDP in Namibia as an intern, which made her surprised and moved.
Yi Jing chose to intern at the United Nations Development Program as she thought she could make a contribution to environment protection there. She has kept such an idea since she was a child. In primary school, Yi Jing first learned the concept of "environmental protection" during a class introducing some statistics about disposable chopsticks. She thought that "it is easy for us to stop using those chopsticks. We should make short term sacrifice for long term success", so she set off her journey to practice the idea in her life.
Entering high school, Yi Jing often helped her classmates bring snacks to school as a daygirl, but she preferred to take lunch boxes instead of disposable tableware. Having spread environmental awareness, she believed the advantages outweighed the disadvantages which were being more troublesome.
Holding the dream of environmental protection, Yi Jing chose Bioengineering without hesitation when she filled in the college entrance examination volunteer. As an old saying goes, "take things as they come", she was convinced that she could do something valuable.
As to why she took Namibia as her practice location, she said she had made an appointment to Africa with her one of her friends. Before applying, Yi Jing learned in related papers that despite the beauty of Namibia, the resource depletion was worth more concern. Longing for Namibia, Yi Jing, who wanted to play a part in environmental protection, was eager to make a contribution for Namibia.
Yi Jing's successful application was not by accident. She had gained experiences in many international activities, which was credited with her tutor Professor Li Shaoshan.
Yi Jing (left) and Professor Li Shaoshan (right)
In July 2017, Yi Jing followed Professor Li to take part in the 19th International Botanical Congress (International scientific conference on plant science at the highest level). In the bus to the congress, she saw some foreigners. Never giving up any chance to practice her oral English, she chatted with Dr. Valerie, a postdoc at the University of Washington. Then she was surprised to find Dr. Valerie's research interesting and she is congenial to Dr. Valerie. After that trip, they exchanged contact information and keep in touch in later days.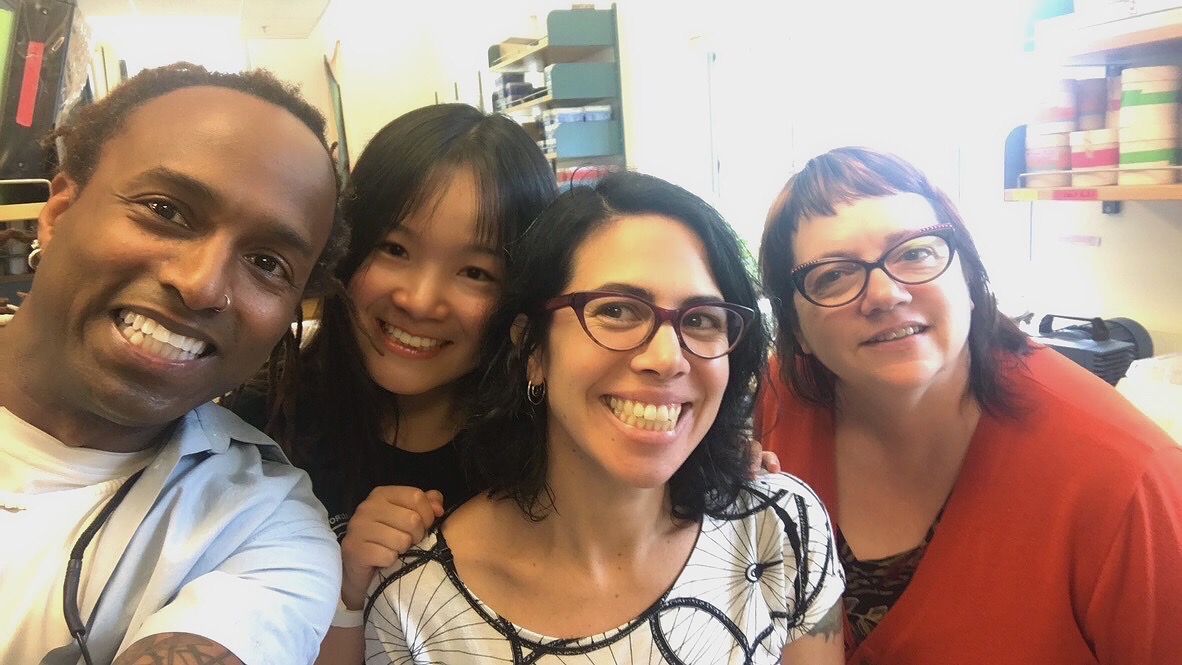 Yi Jing (the second from the left) and Dr. Valerie (the third from the left)
In 2018, Yi Jing submitted application for taking part in the project of Hall Lab at the University of Washington where Dr. Valerie worked in. She began a six-month study tour to the US after her submission was passed.
During studying in the University of Washington, Yi Jing was not afraid of communicating with locals as a new comer. "Stutter with confidence", as she told, she always kept brave to express.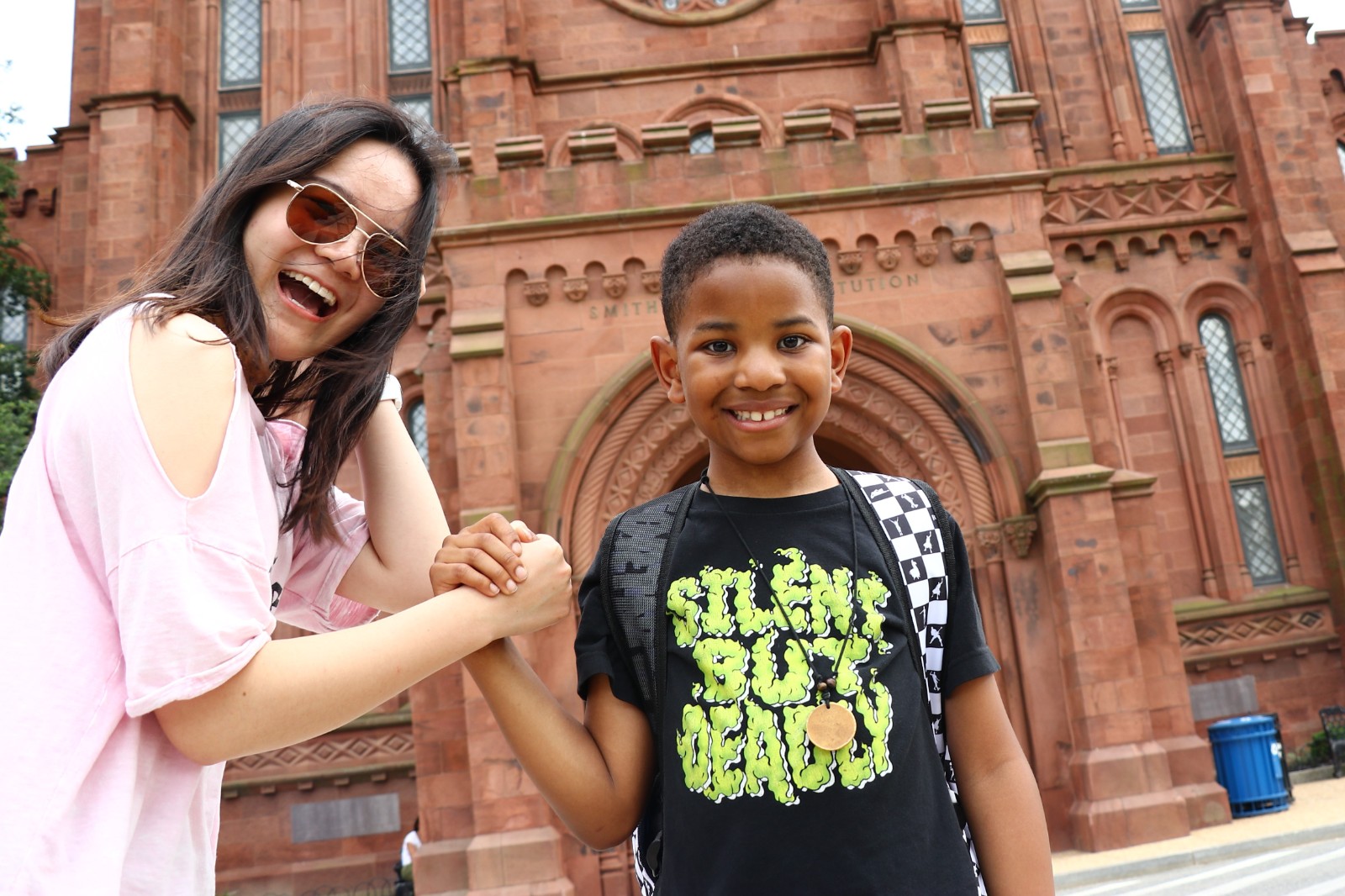 Yi Jing in America
In professor Li's eye, Yi Jing was not the most gifted and excellent one, but "the hardest working and the most persuasible one". Thanks to her hard work, Yi is to realize her dream by practicing internship in UNDP Namibia. What's more, she has also gained a full scholarship to the University of Massachusetts (UMass), which would support her to go to the UMass for a PhD in Plant Biology.
"What I will pursue in my lifetime is to realize my self-worth and social value." She so concluded. Never in any era, have the stakes involving protecting the earth been higher than now. She calls on more people to attach more importance to protecting the environment and realizing the practical significance of the Sustainable Development Goals (SDGs), so as to benefit everyone in return.
"I hope that more young people will go out and broaden their international horizons through international organizations or affairs, which will help China make its voice heard on the international stage and demonstrate the Chinese people's sense of responsibility to the world."
She also encourages College students to be enthusiastic about public welfare and play an essential role in environmental protection. She said, new generation should have the courage to shoulder social responsibility to embrace a unified environmental and social framework for the SDGs, to make the world a better place with our efforts.
---
Translated by Zou Shan, Xu Yirui
Proofread by Edwin Baak
Edited by Li Jianru
What to read next: