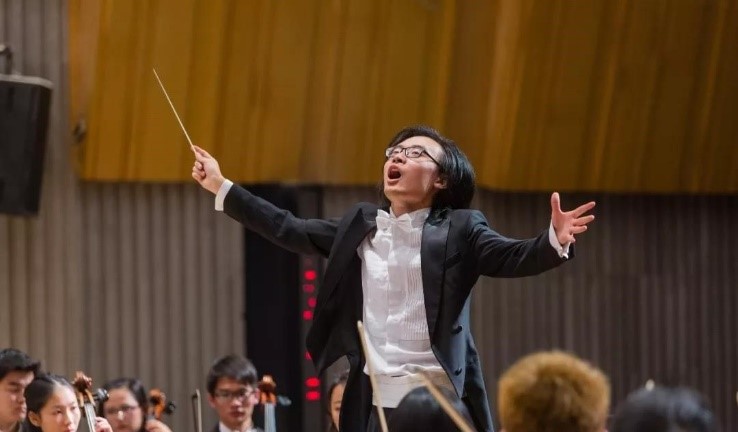 Zhang Zhen, a young Chinese conductor, Deputy Head of the Symphony Orchestra of South China Normal University, now works as a lecturer in conducting as a major at South China Normal University.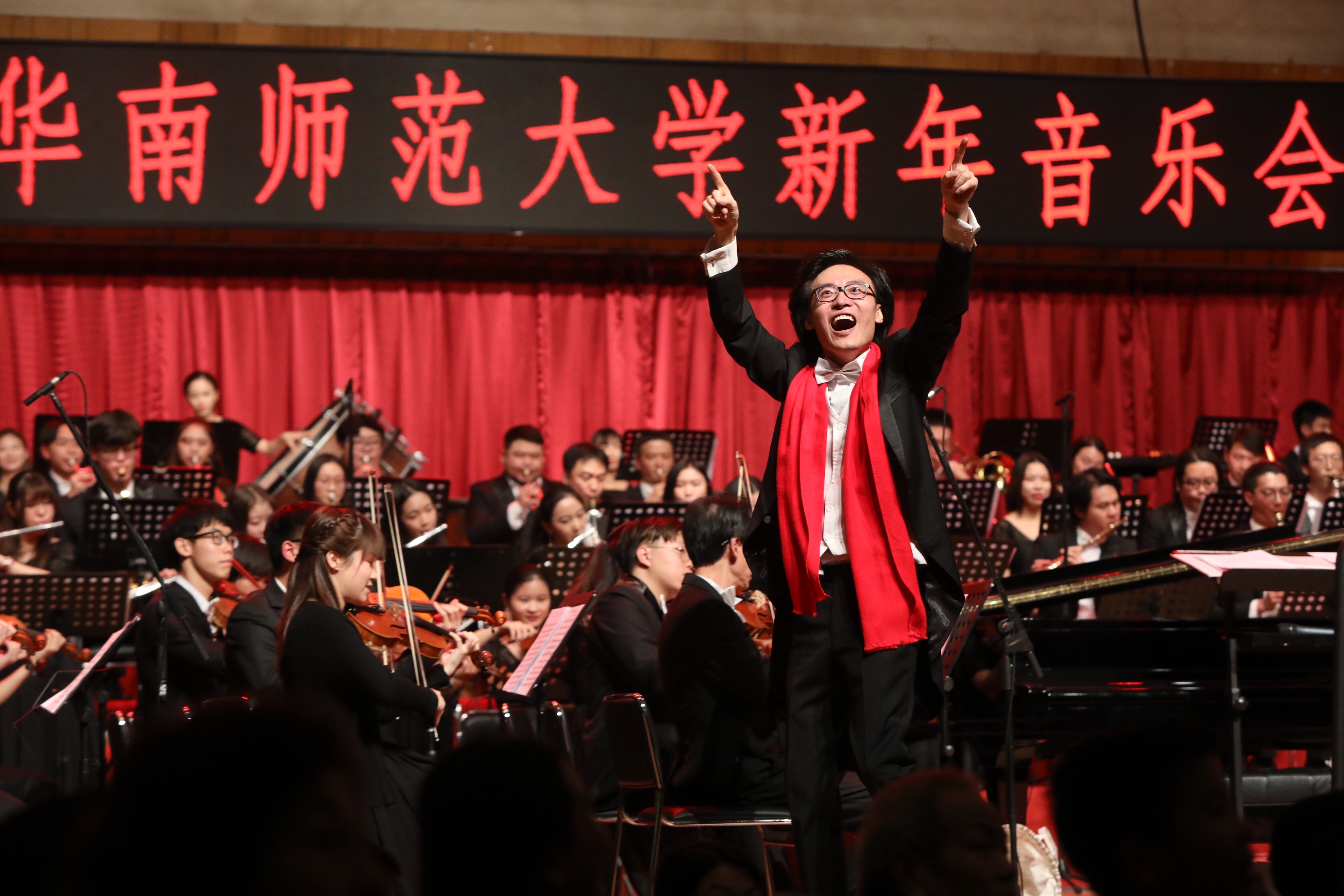 Zhang Zhen performs at the SCNU New Year's concert
In July 2003, Zhang Zhen, then 15, was admitted to the major of conducting at the middle school affiliated to the Central Conservatory of Music, becoming the first student of the conducting department. After three years of high school study, he was successfully enrolled at the Central Conservatory of Music, where he got comprehensive training from the famous Chinese conductor Xia Xiaotang.
"Zhang Zhen was the only one to be recruited that year," the president of the Central Music College, Yu Feng recalled. "Our conducting department recruits two or three students a year. Our graduates will be the best and brightest in any province."
Under the guidance of Mr. Xia Xiaotang, Zhang put his heart and soul in learning how to conduct an orchestra. At the conducting department of the Central Conservatory of Music, there's a principle that "class is most important thing": students are not allowed to be late. Once, Zhang was in a rush to class. However, he got stuck in traffic halfway.. In order not to be late for class, he asked the driver to let him get off and ran all the way from the viaduct to the classroom. Xia said: "This is the experience we all have."
In 2013, 22-year-old Zhang Zhen, was hired by SCNU as a conductor. Although he only attained a bachelor's degree, he was no less qualified than the applicants with master or doctor degrees. According to Zhang's introduction page on the SCNU's official site, Zhang has rich experience in conducting. He at one time worked with the Sichuan Philharmonic Orchestra, Gansu Opera Symphony Orchestra and even participated in the establishment of the Guangzhou Symphony Orchestra as an assistant conductor. That's why the interviewers unanimously decided to employ the young man.
Zhang has witnessed and furthered the growth of South China Normal University's Symphony Orchestra. Before he was hired, Zhang promised to organize a symphony concert on New Year's Day, 2014 once he was employed. When the Orchestra was founded, there were only about 30 members, lacking money and equipment. Even the sheet partition needed to be cut and pasted by hand.
It was under such difficult conditions that Zhang fulfilled his promise. On New Year's Day of 2014, less than three months after its founding, the SCNU Symphony Orchestra completed its first performance -- the 2014 New Year's concert of South China Normal University. Nowadays, the orchestra has more than 70 members and has performed hundreds of times at home and abroad.
Zhang attaches great importance to self-improvement and keeping pace with times. He often communicates with musicians around the world and shares the latest ideas with his students. He said: "The performance and teaching of music are constantly developing. Teachers themselves still need to learn more about the new knowledge and skills of music, so as to pass on the latest knowledge and ideas to students. Otherwise, the students will be outdated and backward."
When the students talk about Zhang, they say, "Music always excites him", "He's crazy about music" "He's too strict " "Sometimes very fierce" "Very rigorous to work""Afraid of him"…… Zhang Zhen repeatedly stressed that to come to the orchestra is to enter the society, everything is professional. He said to the students, "I hope you can change your habits here, instead of going out into the world and being scolded by others. I will teach you what Mr. Xia taught me. I want you to know the cruelty of the society in advance."
---
Source:Wechat official account Goodnight SCNU
Translated by Li Xinyi

Reviewed by Li Jianru
Proofread by Edwin Baak
What to read next: