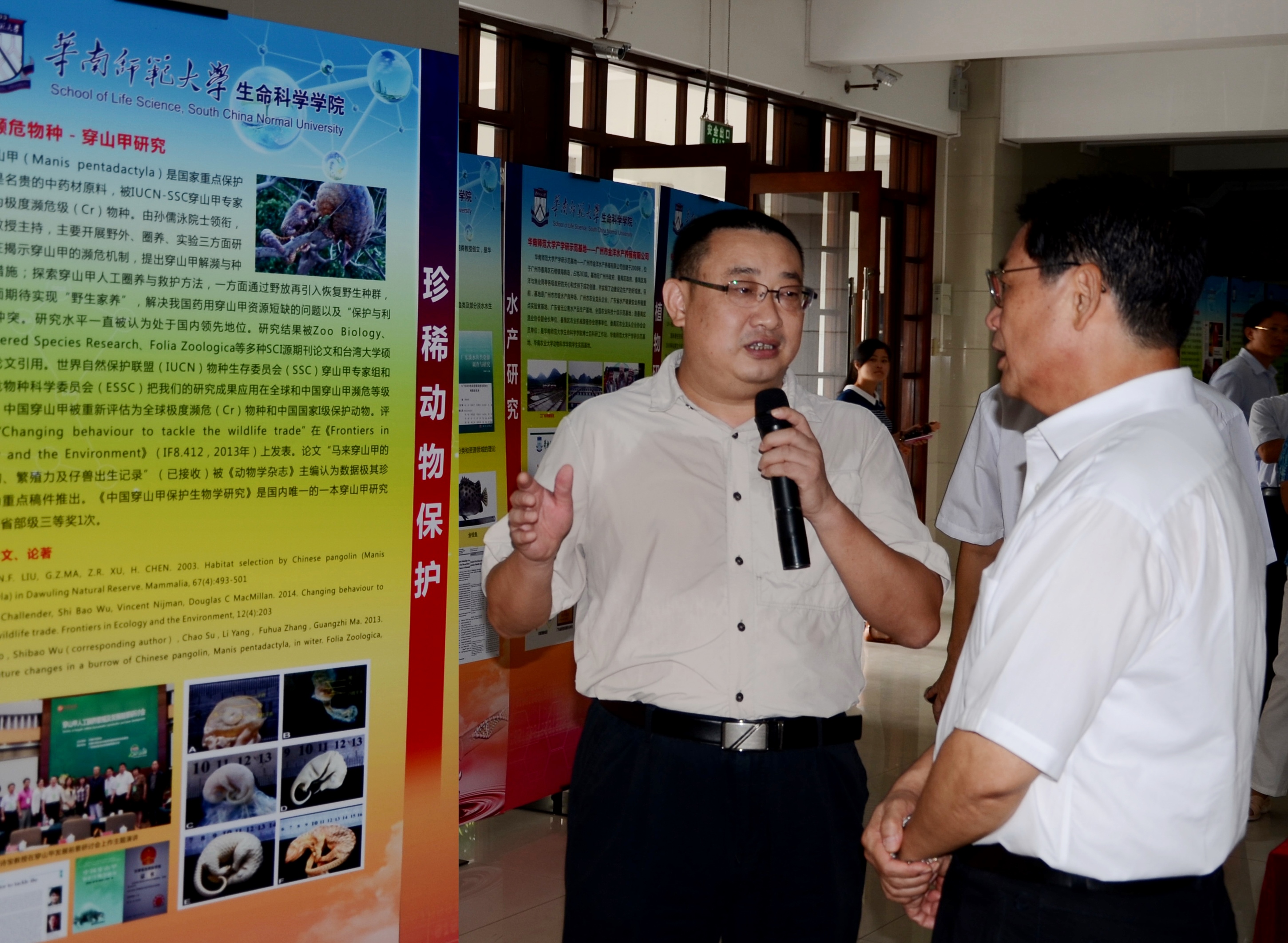 Early June, wildlife protection specialists were upbeat about the news as the National Forestry and Grassland Administration announced China upgraded the protection of pangolins to the highest level. Wu Shibao, a wildlife conservation specialist and professor at South China Normal University, welcomed the move, saying that it will raise public attention on protection of the Chinese pangolin and benefit the species long-term.
Known as a zoology and ecology professor, Wu Shibao has devoted himself to pangolin protection for over 25 years. He is also the only member of the International Union for Conservation of Nature (IUCN) Species Survival Commission (SSC) Pangolin Specialist Group from Chinese mainland.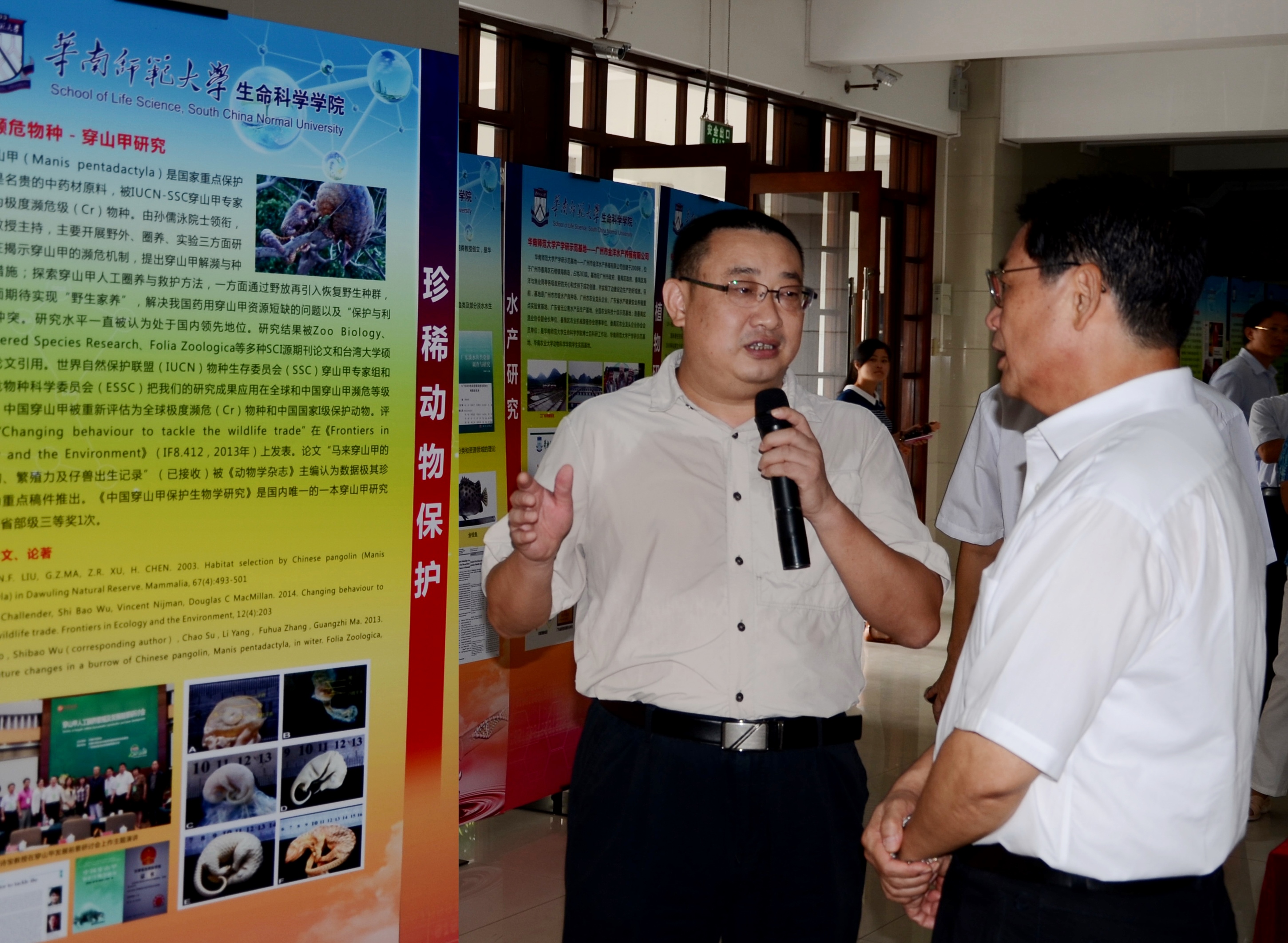 Why protect pangolins
Pangolins, scaly, cat-sized creatures, have been heavily hunted and trafficked for their meat and scales, which are believed to have medicinal qualities. They are also believed to be the world's most-trafficked animals, with about 1 million being sold over the past decade. The Chinese pangolin, for example, one of the eight species of pangolin, has been listed as "critically endangered" in 2014 on the basis of predicted continuing decline of up to 90 percent over the next couple of decades, according to the International Union for Conservation of Nature.
"The birthrate of the pangolin is usually very low, 1-2 young per brood. Given this circumstance, the lawless' unlimited hunting and smuggling of pangolins exacerbates the pangolin species' self-restoring capacity," says Wu Shibao. "The number of Chinese pangolins has slumped 88% - 94% and it's hard to find Chinese pangolins in the wild. At such a speed of being hunted, they will be extinct in the near future," says Wu Shibao, who is deeply concerned about the situation.
Wu Shibao has been greatly astounded by the great number of pangolins smuggled in trucks and illegal entities. He has also assisted local police in dealing with confiscation cases of pangolins. "We are in urgent need to step up protection and ecological research of pangolins and take effective measures to stop the decline of these wildlife animals. Otherwise, our future generations will have no way but to learn about pangolins through specimens."
In view of the critical condition of pangolins, Wu Shibao resolved to try to save the species from extinction by carrying out targeted scientific research. To better investigate and study the wildlife animals, he conducted a field survey in the Chebaling Nature Reserve located in Guangdong province, which is known as "the Pearl of Nanling and Species Treasury" of the world. From then on, Wu Shibao embarked on the journey of pangolin research and made good use of his expertise in the field of ecology and biology to save pangolins.
Dedicated research into pangolins
There was almost no information or materials about pangolin in 1990s. Thus, Wu Shibao and his team had to do scientific investigation in the field to obtain first-hand information by themselves. "If we cannot master the knowledge about pangolins, how can we protect them efficiently in a scientific way?" says Wu. From then on, they started the study of pangolin field ecology."
Since pangolins are small nocturnal animals that solitarily live in forest and bushes, most of the time staying in underground burrows, they are very difficult to be found. This is also the great barrier for research.
Wu and his postgraduate assistants sometimes had to stay in the mountains for a dozen days, staying in the caves in the mountains. They often needed to shift through the bushes to find the traces of pangolins' activities, so, their skin was exposed to the air frequently and stabbed by plants with thorns.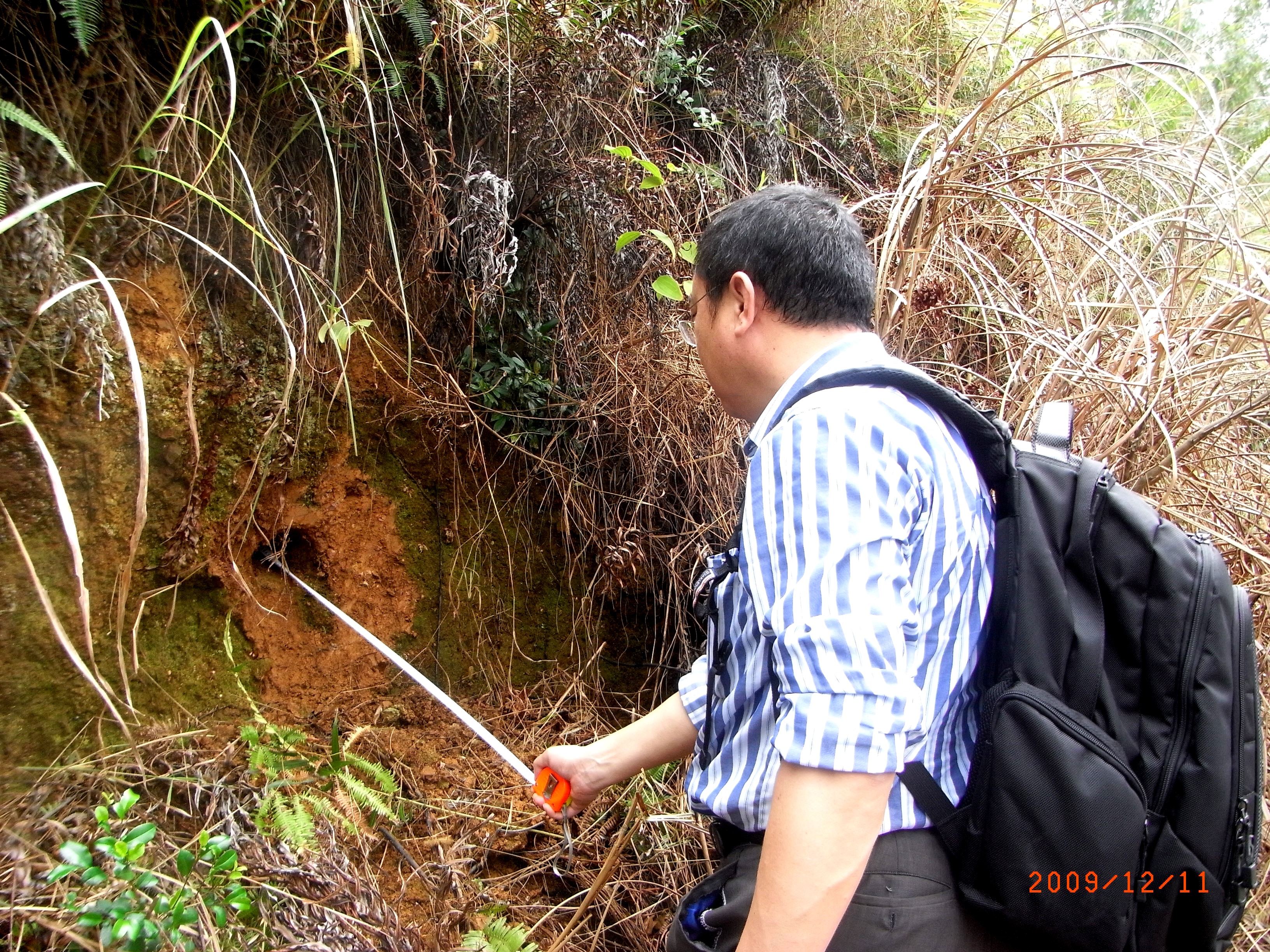 Additionally, according to the Wu's student, Zhang Fuhua, it was normal to slip or fall because of the steep uphill path. The worst days were the rainy days. The rain water washed earth and rotten leaves into the stream, leading to the result that there was no clean water to drink. During these years, Wu and his students travelled almost all the hills and mountainous areas in the South of China, searching for traces of pangolins and learning more about their living habits and conditions.
In March 1998, Wu's team was surprised to find a newly-dug pangolin burrow in the Dawuling nature reserve in Maoming, Guangdong. The five of the team struggled in the cold rain and hard wind, constantly digging at the hole for nearly six hours on the steep slope, "more than 3 meters deep, there was a pangolin weighing over 5 kg. At the bottom of the hole was a termite nest," said Zhang.
After recording the data carefully, they set the pangolin free. Since then, Wu has been able to find new burrows in Dawuling every year, with a total of 61 burrows discovered. Unfortunately, after 2002, he couldn't find a new burrow for three years in a row. Suspecting that pangolins might have been captured, they finally gave up.
For more than 20 years, Wu led his team through the mountains and hills of southern China, where pangolins once lived. However, they have not seen live pangolins in the wild since 1998. They interviewed more than 1,000 veteran hunters, villagers and forest keepers and only two had seen pangolins once in Lincang and Huizhou respectively.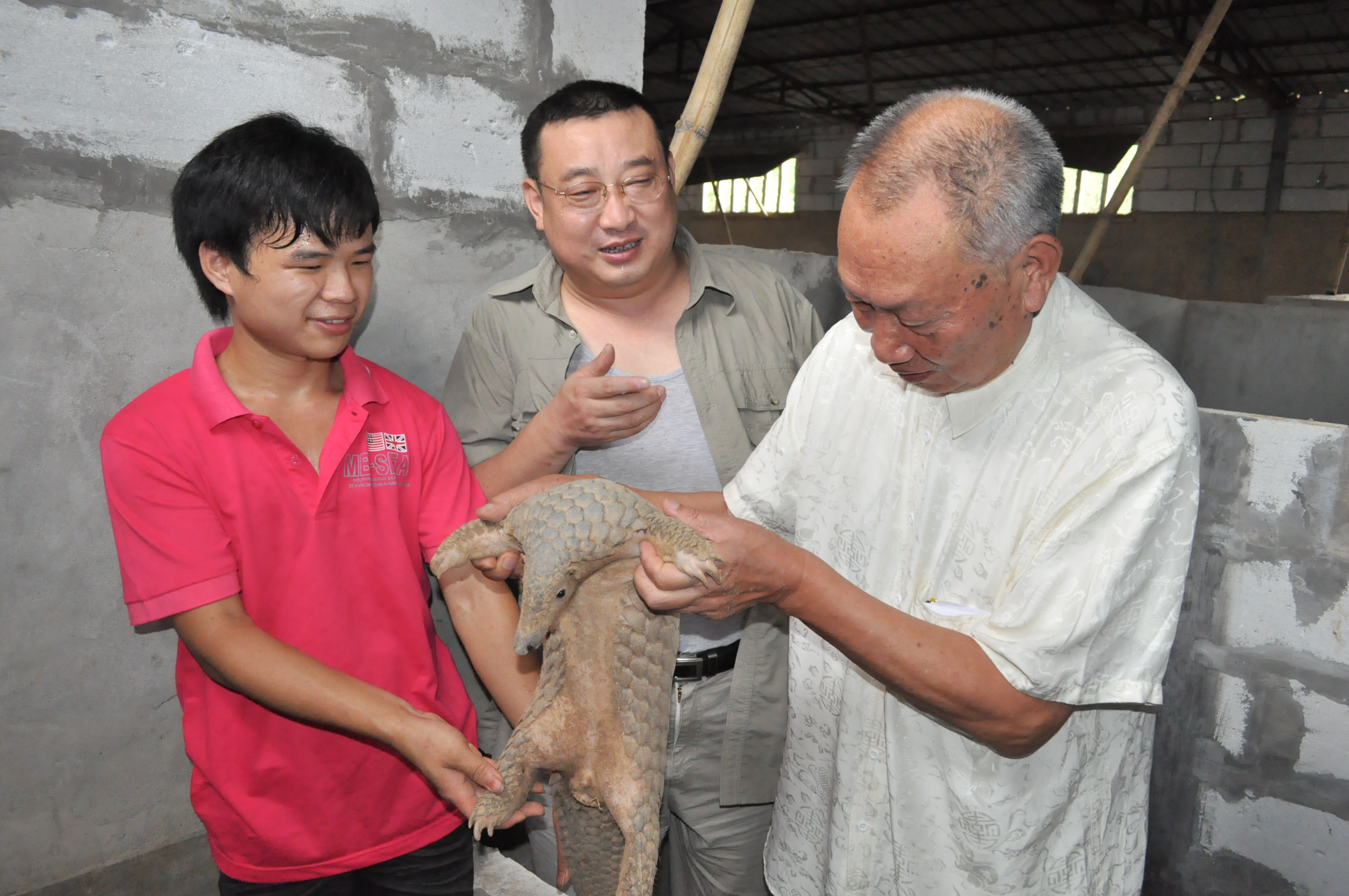 Wu gave out his mobile phone number everywhere, encouraging villagers to contact him if they found a new pangolin burrow. Discovering a new burrow could earn 1,000 yuan, for old burrows, 50 to 100 yuan, depending on the distance. But it was only in Huizhou and Chaozhou that Wu was helped by villagers who provided him with clues about old burrows. "This valuable data can help us better analyze the distribution of pangolin populations," he says.
From pangolin's species description, classification and identification, historical and geographical distribution, to food habits, activity habits, breeding habits, habitat selection, as well as number changes and endangered causes, Wu Shibao explored through practice, slowly these pangolin ecological biology data came out and gradually formed a system of theory, so that an almost blank field could be filled out with the basic theoretical guidance.
Captive breeding of pangolins
However, theories only cannot not actually protect and save the pangolins.
In 2010, Wu Shibao and his students set out to research the breeding of pangolins in captivity. They hoped to protect pangolins breeding in captivity to meet the demand of the TCM (traditional Chinese medicine) market, alleviating the shortage of medicinal pangolins, meanwhile, relieving the pressure of widespread hunt for pangolins in the wild.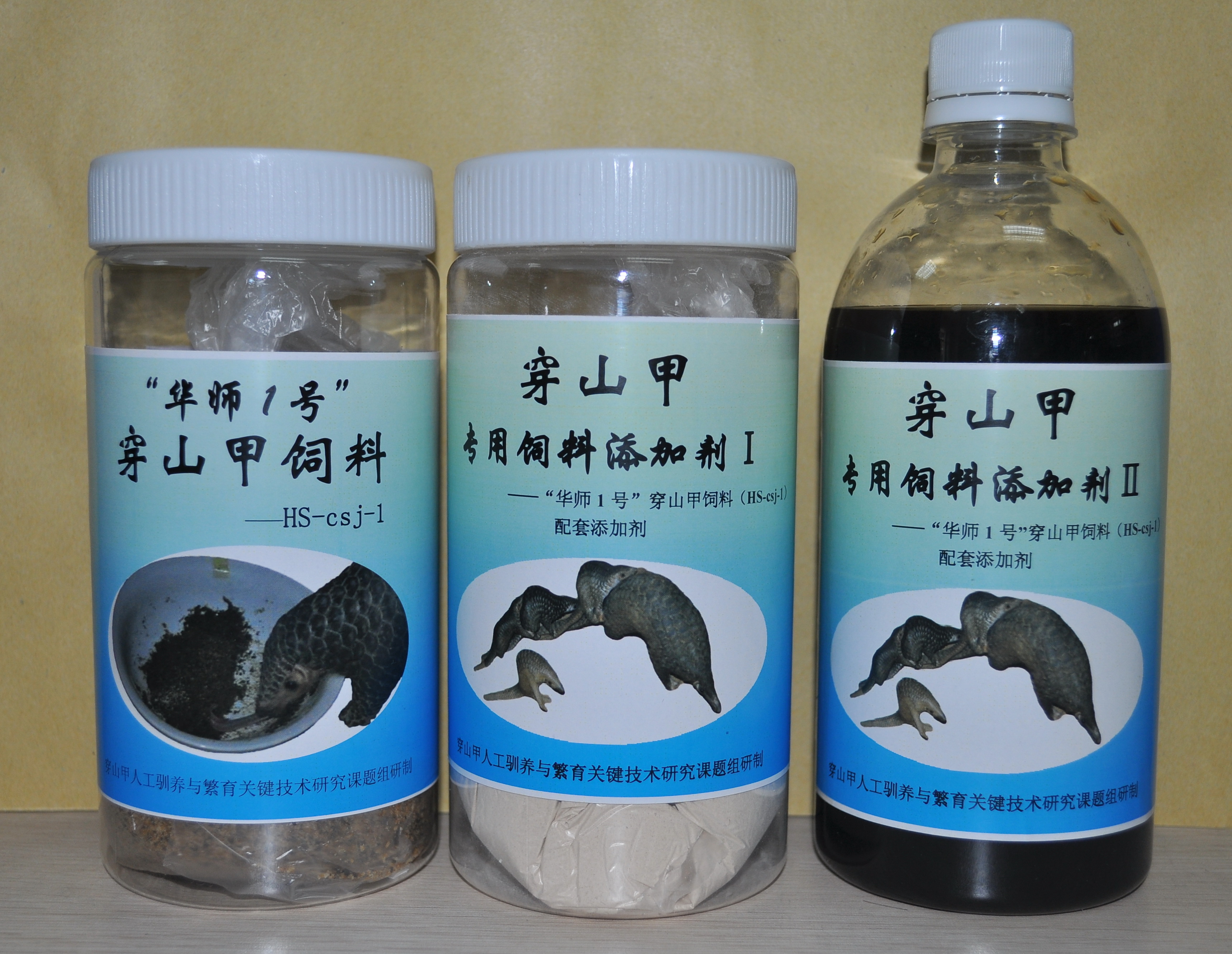 "The critical problem of breeding pangolins in captivity is how to provide them with an appropriate artificial environment and food that could make them survive and breed their offspring," says Wu.
Wu and his students went to countryside of Dongguan, Guangdong. There, they transformed an old pig farm into a pangolin feeding house, which became the first research center of pangolins of SCNU.
The area of the pangolin observation room was merely 10 square meters. Without the basic living facilities like kitchen, and bathroom, etc., they had to set up a bottled liquefied petroleum gas in the room to cook. "The room was made of iron sheets and hadn't been maintained for several years," says Zhang.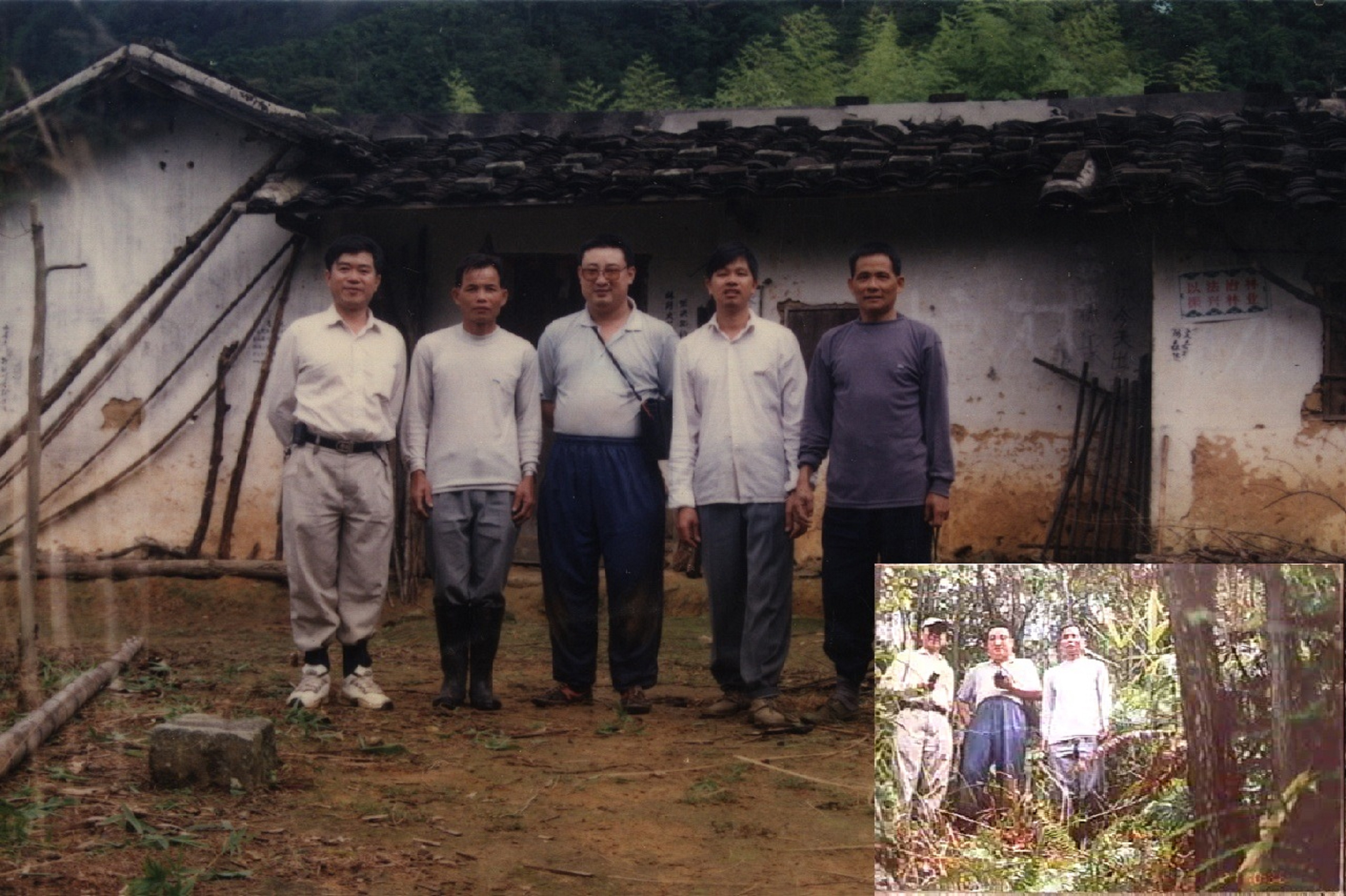 Pangolins are nocturnal creatures, therefore, Wu and his students had to stay up to observe the pangolins' activities, patrolling every pangolin pen, and collecting the research data. Only when the sun rose, the pangolins went to sleep and the data was classified, could Wu and his students go to bed.
"When I see the pangolins living happily, especially when I see them giving birth to babies, I suddenly feel that all my tiredness is gone. This may be the biggest fun and happiness of researchers,"says Wu excitedly.
It was in this harsh environment that Wu and his students struggled for three years. They attained lots of first-hand information about the breeding of pangolins in captivity. It is widely believed that pangolins feed on ants and termites, but Wu's team found that pangolins are selective for ants and termites, eating mostly the more nutritious eggs and young ants. These findings provide an important basis for the solution of pangolin artificial food.
After several years of exploration, pangolin breeding in captivity has also been successful. Pangolins can adapt well to the artificial environment and become used to artificial fodder. The longest survival time of the pangolins is more than 3 years and 26 pangolins have been successfully bred.
More actions needed
Over the past two decades of pangolin research, Wu Shibao and his team have published over 30 papers in this field. Most of them have been cited in papers published in journals such as Zoo Biology and Conservation Biology, and used by the IUCN / SSC pangolin specialist group as a basis for assessing the endangered status of pangolins.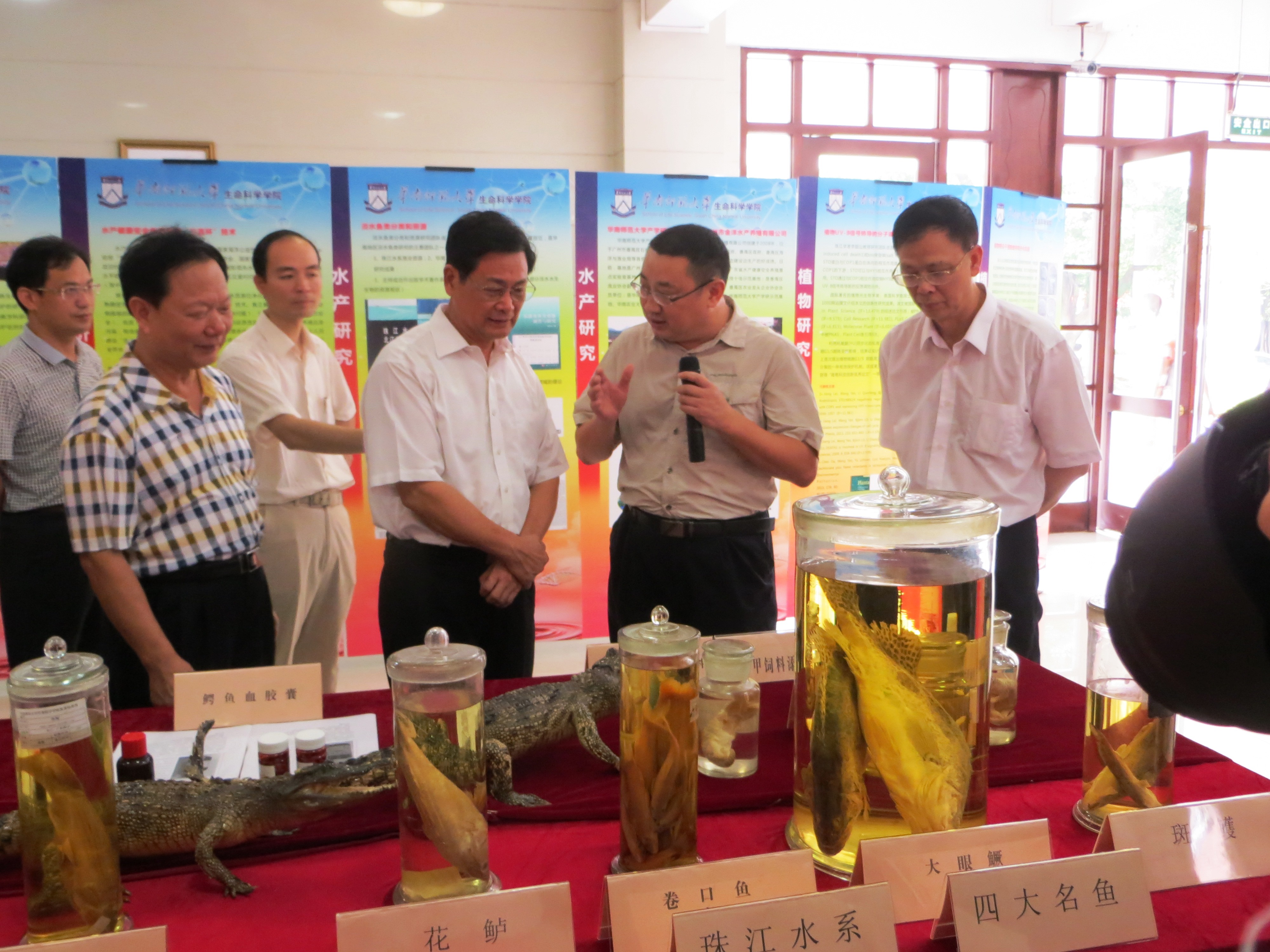 Besides, Wu Shibao has been invited by the IUCN / SSC pangolin specialist group, the World Federation of Traditional Chinese Medicine and the China Association of Traditional Chinese Medicine four times and received full financial support to attend the conferences on pangolin conservation and artificial breeding at home and abroad, and delivered keynote speeches, which has greatly enhanced the domestic and international social influence of SCNU in this field.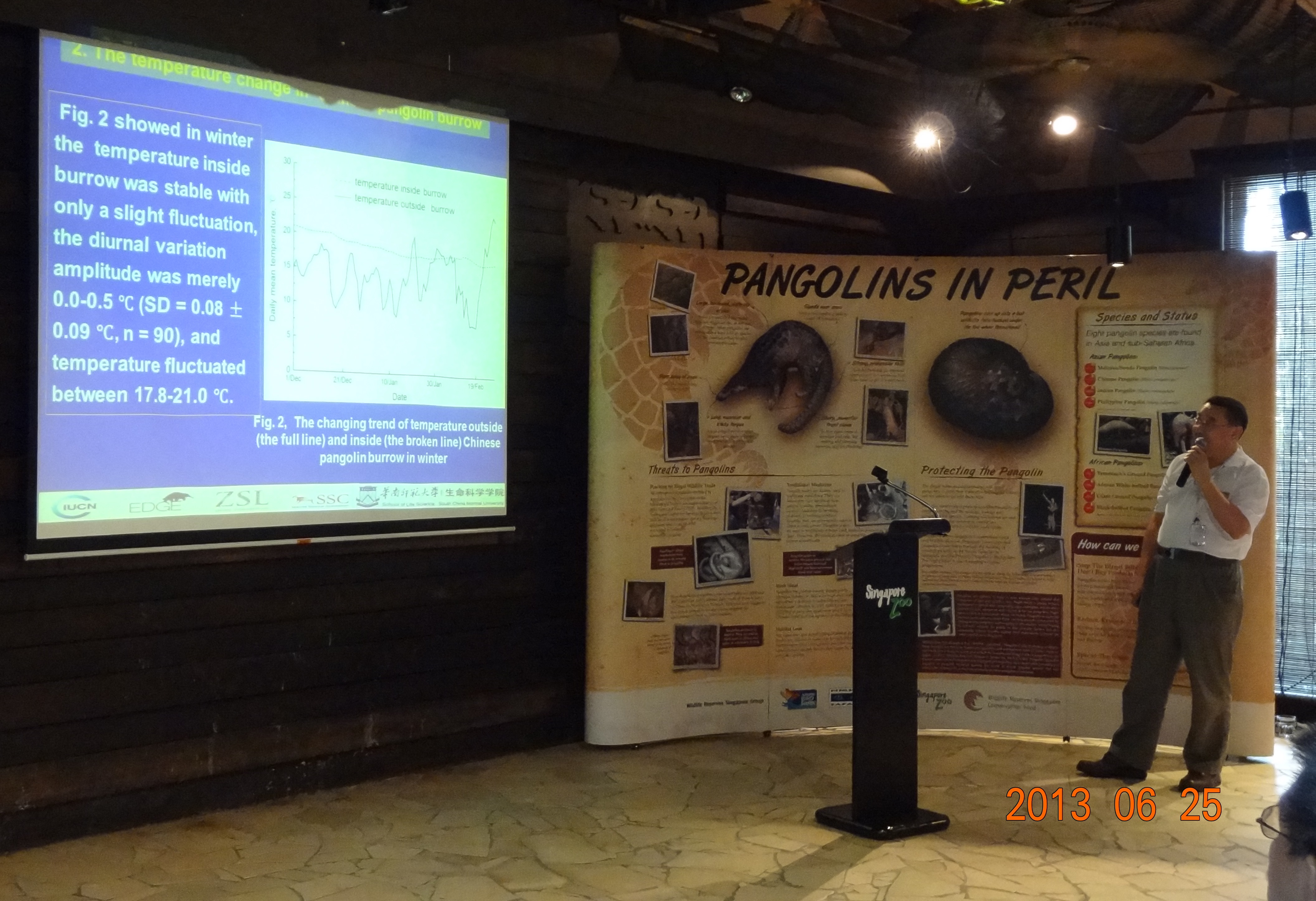 How do the theories guide practice in the protection of pangolins? Wu Shibao proposed a method to survey and monitor the wildlife, which has been put into practice. His team has distributed infrared cameras in the open field which can automatically captured footage of wild pangolins in a nature reserve.
"The pangolins' chances of survival are still grim, they are still facing great threats. Joint efforts from government and all sectors of the society are indispensable." Wu Shibao calls on more people to join in the protection of pangolins. "If we take proactive action, the pangolin species is sure to gradually recover."
---
Source from SCNU news center, China Daily, The Paper
Trans-edited by Li Xinyi
Proofread by Edwin Baak
Edited and reviewed by Li Jianru
What to read next: