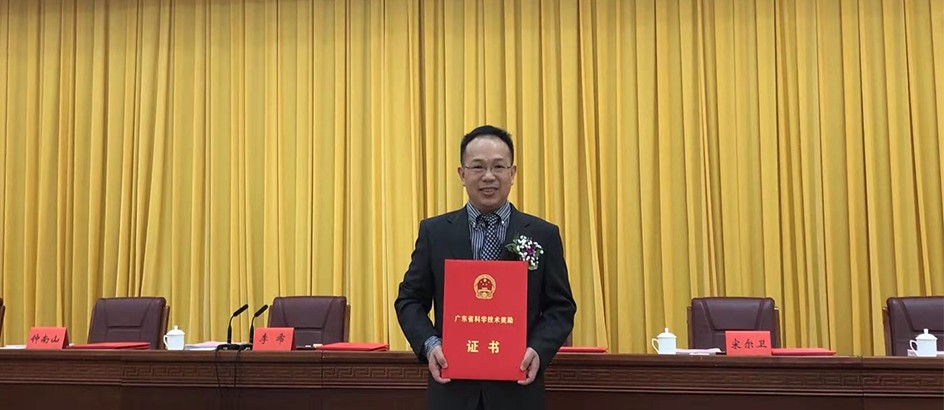 Led by Li Sheng, an entomology professor at SCNU, the project of hormonal and nutritional regulation of insect metamorphosis, was awarded the first prize of the Guangdong Natural Science Award 2020. The prize was recently given at the Award Conference in Guangdong province.
In the project, Li Sheng's team solved two scientific problems: one deals with the 80-year long-standing mystery of juvenile hormone receptor, while the other relates to the mechanism of final body size in animals, that is, "insects can't grow when molting and can't molt when growing". To answer these problems, a theoretical model of hormonal and nutritional regulation in insect metamorphosis was set up.
The findings prove to be original, pioneering and systematic, providing an important theoretical basis and technological support for the control of pests and the utilization of beneficial insects, according to related media coverage. Representative papers were published in such international journals as PNAS, Autophagy and Cell Research.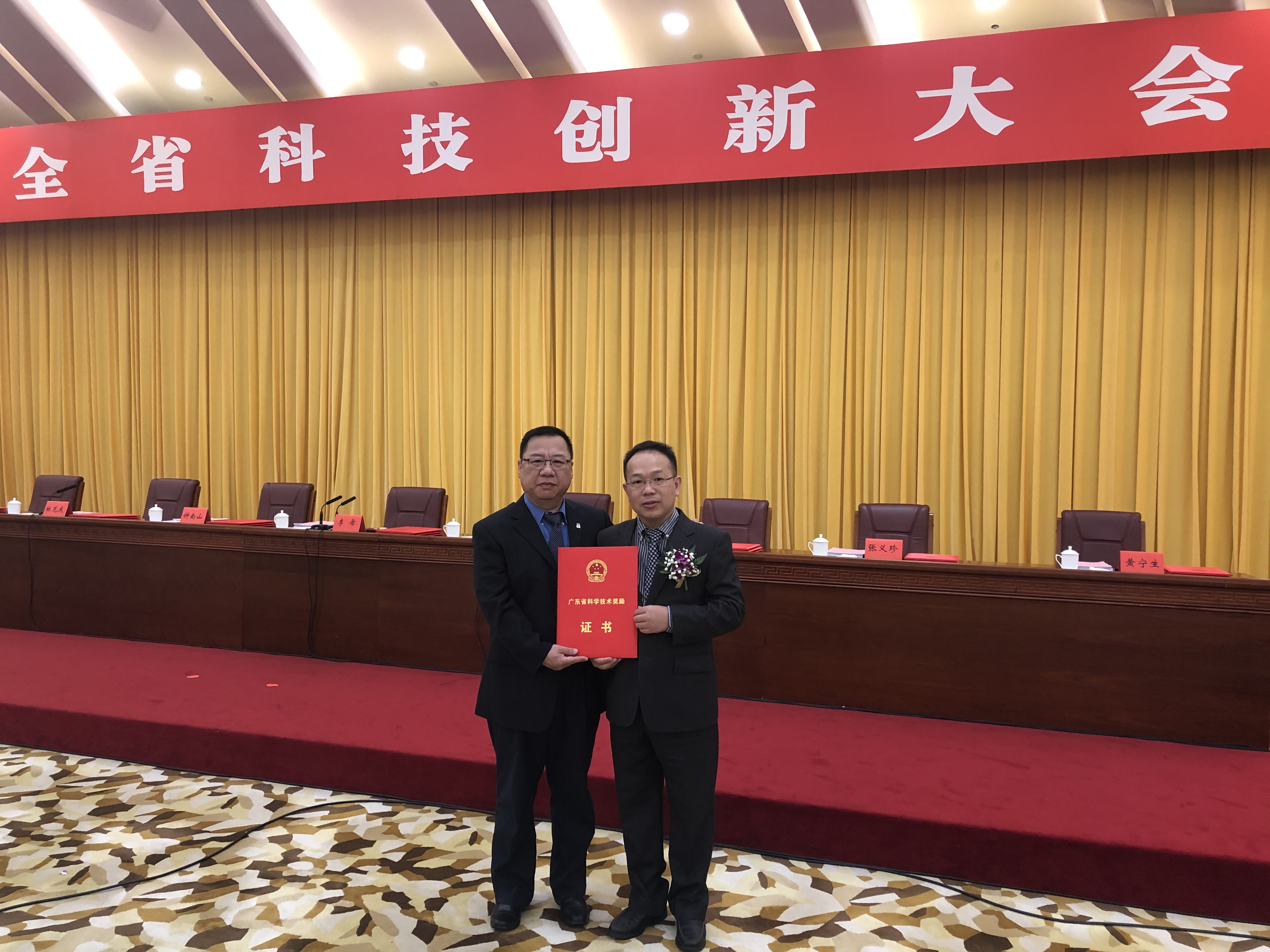 A photo of Secretary of the Party Committee of SCNU Zhu Kongjun(left) and Li Sheng(right) at the award conference of the Guangdong Natural Science Award.
Unravelling the mystery of maintaining larval status
Physiological functions of juvenile hormone have been identified for decades, but how the mutual antagonism between major insect hormones regulates metamorphosis remains still unknown. To this end, Li Sheng and his team members have devoted several decades to doing research on insect metamorphosis.
At the beginning of his return to China after postgraduate studies at Johns Hopkins University in the United States, Li had very few resources, and he had to start from scratch to set up his own lab. Besides, he was also faced with manpower shortage, with only three members in his team, one assistant, one student and himself. Despite all these difficulties, they maintained focus on their research on juvenile hormone. We basically worked around the clock and only rested for 3-5 hours every day, Li recalled. "I go back home every other day, and most of the time, I just slept at the sofa of my office." He thus earned the nickname "eager beaver" in his colleagues' eyes.
It was after decades of hard work that Li's team succeeded in analyzing the mechanism of fat body reconstruction triggered by molting signal in the period of insect metamorphosis. They further clarified the molecular mechanism of juvenile hormone antagonizing the molting hormone signal and maintaining the larval traits. These findings have provided solution to the mystery of juvenile hormone receptor, which has also been highly recognized by international peers, and become an important milestone in their research career. "To put it simply, that means we know how come insects maintain juvenile status forever," Li explained.
Through both cooperation and competition, Li Sheng's team, together with other scientists including American scientists Lynn Riddiford and Alexander Raikhel, Czech scientist Marek Jindra, and Japanese scientist Testu Shinoda, have contributed to solving the mystery of juvenile hormone receptor, with multiple papers in Annual Review of Entomology, an authoritative review journal of Insect Science. The findings expounded the transmission channel of the juvenile hormone signal, solved the molecular mechanism of the juvenile hormone and 20E (20-hydroxyecdysone), leading the development of the research related to insect metamorphosis.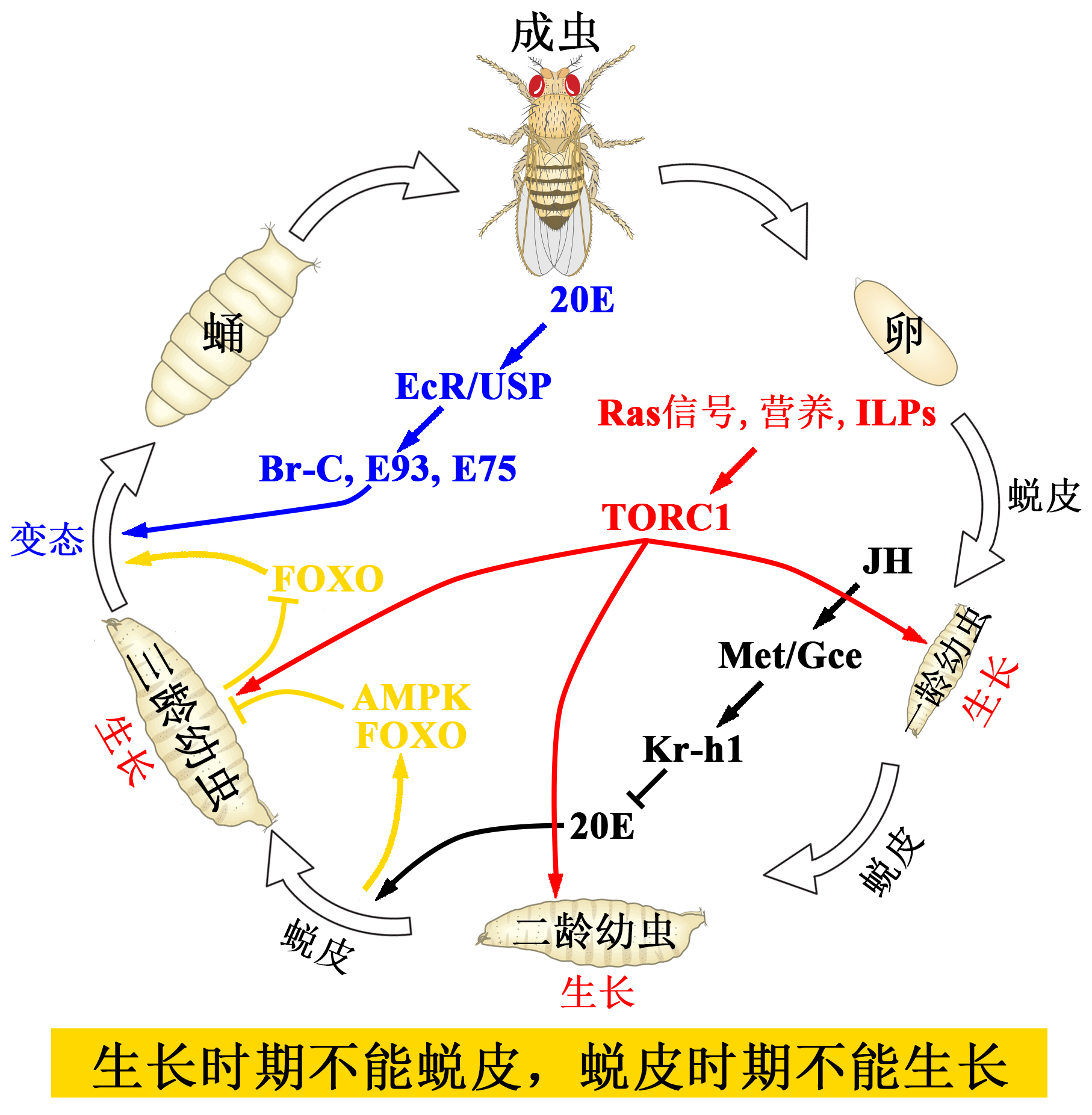 The flow chart shows the mechanism that "insects can't grow when molting and can't molt when growing"
In a cockroach genome, 'little mighty' secrets
American cockroaches, or what is called "Xiaoqiang" in Chinese, meaning "little mighty" are the insects that may frighten people, who may also find them unpleasant and even disgusting. However, such a species has become precious study target for Li's team.
After nearly four and a half years of research, Li and his colleagues sequenced the complete set of genetic instructions of American cockroach's genome. They found that groups of genes associated with sensory perception, detoxification, the immune system, growth and reproduction were all enlarged in the American cockroach, likely underpinning its scrappiness and ability to adapt to human environments.
This research provides important evidence for the evolution process of cockroach-termite, achieving breakthrough in the research about the origin and evolution of social insects such as termites. More importantly, they discovered that the "life code" of cockroaches contains huge energy. As an important traditional Chinese medicine with a history of thousands of years, cockroaches have wonderful therapeutic effects on the damaged skin, as well as oral ulcers and stomach ulcers. Besides this, some components of cockroaches also have many other functions, such as the inhibition of tumor, antibiosis, anti-oxidation. Briefly, cockroaches offer great prospects for drug development.
Using this discovery, the cooperation among SCNU, local governments and enterprises has entered the stage of substantive development. On the one hand, the team is committed to go on large-scale prevention and control for the "Xiaoqiang" in various places; on the other hand, based on the effective components of cockroaches, the team will continue to develop relevant household products, transform scientific research technology into productivity, "turn waste into treasure", to create a better life for people.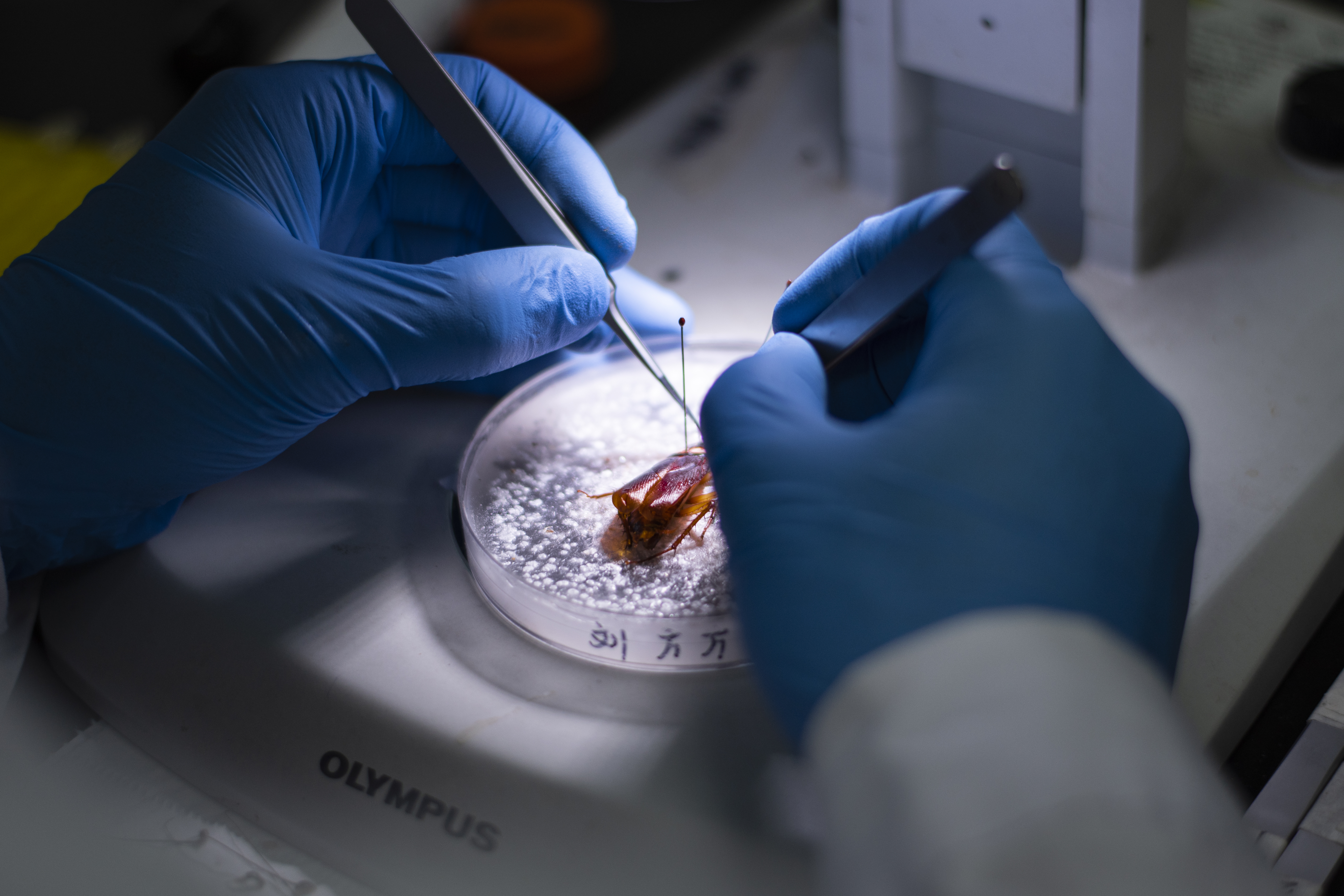 Dissectation of American cockroaches.
Building a stronger team devoted to insect study
Li Sheng was introduced to SCNU as a distinguished talent in June 2016. Having joined forces with the team of Prof. Feng Qili and Prof. Zheng Sichun, who are both renowned experts in the field of insect study, he set up the Institute of Insect Science and Technology at SCNU. In less than five years, the institute has developed into a famous insect research brand in South China and one of the few centers for insect research in China.
As one of the key parts of the Institute, Li's team specialize in insect development and genetic regulation, studying the genetic regulation and evolution mechanism of insect metamorphosis. Thanks to better science and technology platforms, our team is growing stronger and stronger, with the number of members increasing from merely several to over 50 nowadays, recalled teacher Ren Chonghua, who has been working with Li for over five years. "No matter where we come from, we feel like a family in our team. We are helping each other to make greater progress," he adds.
As the team leader, Li is well aware of the importance of team building, and he advocates to stimulate the enthusiasm, initiative and creativity of all members as well as to create a free, relaxing and delighting atmosphere in the team. "Most of the young of the team are in their precious twenties or thirties. We need to let everyone in the team give full play to their specialities as much as possible, show their talents, and make them understand that their efforts in this team are worth it and the future is bright."
For example, the team has been practicing the pass-on-experience mode, in which all members are respectively led by four young teachers, and divided into four groups. In each group, undergraduates seek guidance from postgraduates and postgraduates seek guidance from PhDs. Such a mode strongly creates a scientific atmosphere for the laboratory. Whoever encounters difficulties in research, others will exchange views or share their experience to him so as help to solve problems. "We call for collaboration, otherwise there's no point of being a team," says teacher Liu Suning.
A group photo of Li Sheng and his teammates.
Speaking of his journey of scientific research, Li attributed the current achievements to persistence and passion. "I was very glad that I could always be engaged in biological research, my favorite work, and I was also glad that I have insisted on it up till now, just like driving on a highway," he said. "Just keep learning, keep enthusiasm, keep hard-working, keep the original intention." These are true reflection of Li's experiences, and also his words for young people in pursuit of their dream.
---
Source from the SCNU News Center
Translated by Zeng Yuetong, Li Jiani
Proofread by Edwin Baak
Edited by Li Jianru
What to read next: