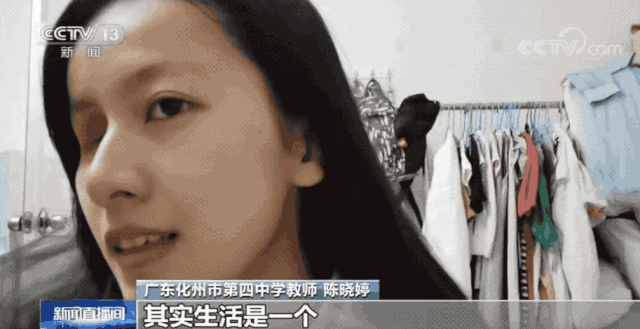 On the evening of December 3, the CCTV (China Central Television) news channel 24 Hours program spent 10 minutes telling the story of a young woman who graduated from SCNU. Later, this story #post-90s single-eye female teacher# rose ranking second on Sina Weibo's Hot Search. The People's Daily, the CCTV News and other media then also reported her story.
The woman's name is Chen Xiaoting, a teacher blind in one eye, but still very confident and optimistic.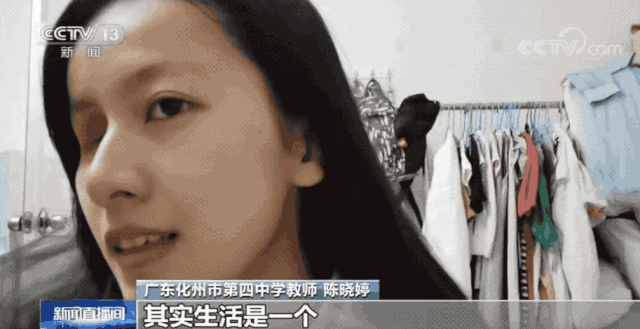 Chen Xiaoting appears confidently in front of the CCTV cameras.
"I'm no different from anyone else"
At the age of nine, Chen Xiaoting developed a retinoblastoma and had to have her right eye ball removed, leaving her with only one functioning eye.
Such an experience brought her more twists and turns than ordinary people. But adversities did not wear away Chen's love of life.
In 2012, Chen was admitted to South China Normal University and started her new life at the School of History and Culture. "I have never been afraid to show up to other people because I'm not different from anyone else," says Chen.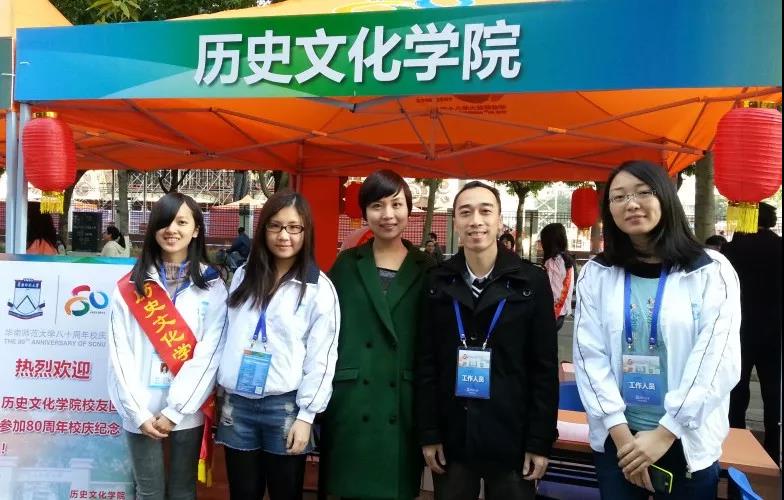 Chen Xiaoting (first from left) served as a volunteer for the 80th anniversary of SCNU.
During her four-year life on the campus, Chen played an active role in many activities: she signed up to attend the class to become a military training correspondent, served as the college chorus competition conductor, participated in student association work, etc. Her college life was as eventful as other students, to some extent even more fulfilling.
On a warm yellow background (pic. as shown below), a figure in the shape of the Chinese character "史" (History, pronounced in Chinese Shi) is strutting forward. The emblem, which conveys a positive energy, full of sunshine and vitality, was cherished by Chen's counselor Chen Qiping. She told us of her appreciation of Chen's sunny soul. "Whether in study or life, Chen has a halo, which can impress and infect many people," said the counselor.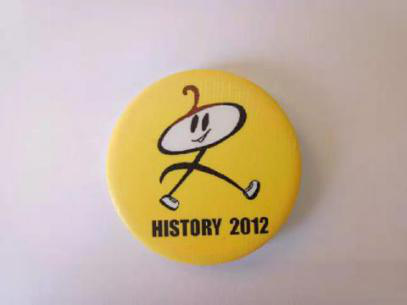 The 2012 grade emblem of the School of History and Culture was designed by Chen Xiaoting.
Chen was also the leader of her dormitory. One of her roommates Hu Minqi recalls that they once registered the dormitory Music Video competition. With only three days before the submission, most of them were ready to give up. "But Chen Xiaoting is disagreed. She never gives up". Finally, they finished the video shooting with Chen's suggestions and encouragement.
Life at SCNU has supported Chen to enrich and improve herself.
"Teachers' demeanor is so beautiful"
Chen dreamed to be a teacher for a long time.
When she was young, she was called "little teacher" because she often helped her classmates with their lessons. Several years later, Chen got into SCNU as she wished. During her four years' study at SCNU, Chen has developed a deeper understanding of the quality of a teacher.
Chen remembers once she was randomly asked by the professor to answer a question. She was too nervous to answer. At that time the professor guided her to solve the problem and extolled her cleverness to the other students. "Teacher's demeanor is so beautiful that let me look forward to it and yearn for it," says Chen.
In her senior year, Chen didn't even know whether she could become a professional teacher because she feared she might fail the medical examination."This was the only time I ever felt anxious about my appearance," Chen says. Fortunately, she finally got her teaching certificate.
Before graduation from SCNU, Chen took the initiative to sign up for the governmental project of teaching voluntarily in a rural primary school. Two years of volunteer teaching life led Chen to believe that the essence of education is to protect the beauty of children. Therefore, she chose to teach them by words and deeds and silently guard their valuable qualities through her actions. After volunteering, she stayed in Huazhou and has become a history teacher at a local high school, there.
"What affects me most is love"
Chen grew up in a small village. Just like her fellows, she used to graze cattle in the mountains and fish in rivers. However, things changed when she reached the age of nine. Her grandma found that Chen's eyes did not seem to reflect in the same way, and then her family discoved that Chen's right eye had no vision. "At that time I was too young to notice any difference."
After the operation, Chen has had to have bangs to cover her right eye in order not to frighten others. Her family and friends just treated her as usual. Her childhood companions continued to accompany her no matter what had happened.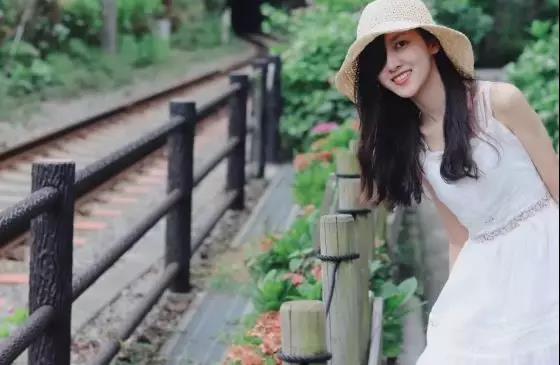 Chen Xiaoting had bangs to cover her right eye in order not to frighten others.
Chen recalled the sports meeting in her junior year three. At that time each girl in her class had to participate in three or four sports events. So she signed up for the relay race. In order to prevent the bangs from blowing up by the wind, her classmates came up with the plan to let her wear sunglasses during the competition. "We were in the lead but finally lost the game because I had been out of exercise for too long," Chen laughs, "but instead of blaming me, everyone encouraged me."
In college, her roommates always helped her adjust her bangs whenever she went out. In stormy weather, her classmates would shield her from the wind. When going out to play, her friends would also pay special attention to her. Little by little, these warm details have supported her to feel more confident and optimistic.
"I wouldn't be who I am without them." Chen is moved to say. "I have always been in a good state of mind because the people around me continue to give me love."
In China, visual disability is determined by the eye with better eyesight. Chen 's case does not fall into the category of disability. Therefore, she used "marginal people" to define a group of people similar to herself, who are not disabled but have suffered from being looked at differently due to their defects.
"We can find a lot 'marginal people' around us, but "marginal people" does not mean they will be "at the margin," Chen wants to tell herself and also those who still struggle against discrimination and inferiority, "the defect was never your weakness, it can even become a strength for you. The way you choose counts your progress."

---
Source from the Wechat Official of SCNU, the first photo is from CCTV NEWS
Translated by Jiang Xiaohua
Proofread by Edwin Baak
Reviewed by Li Jianru
What to read next: