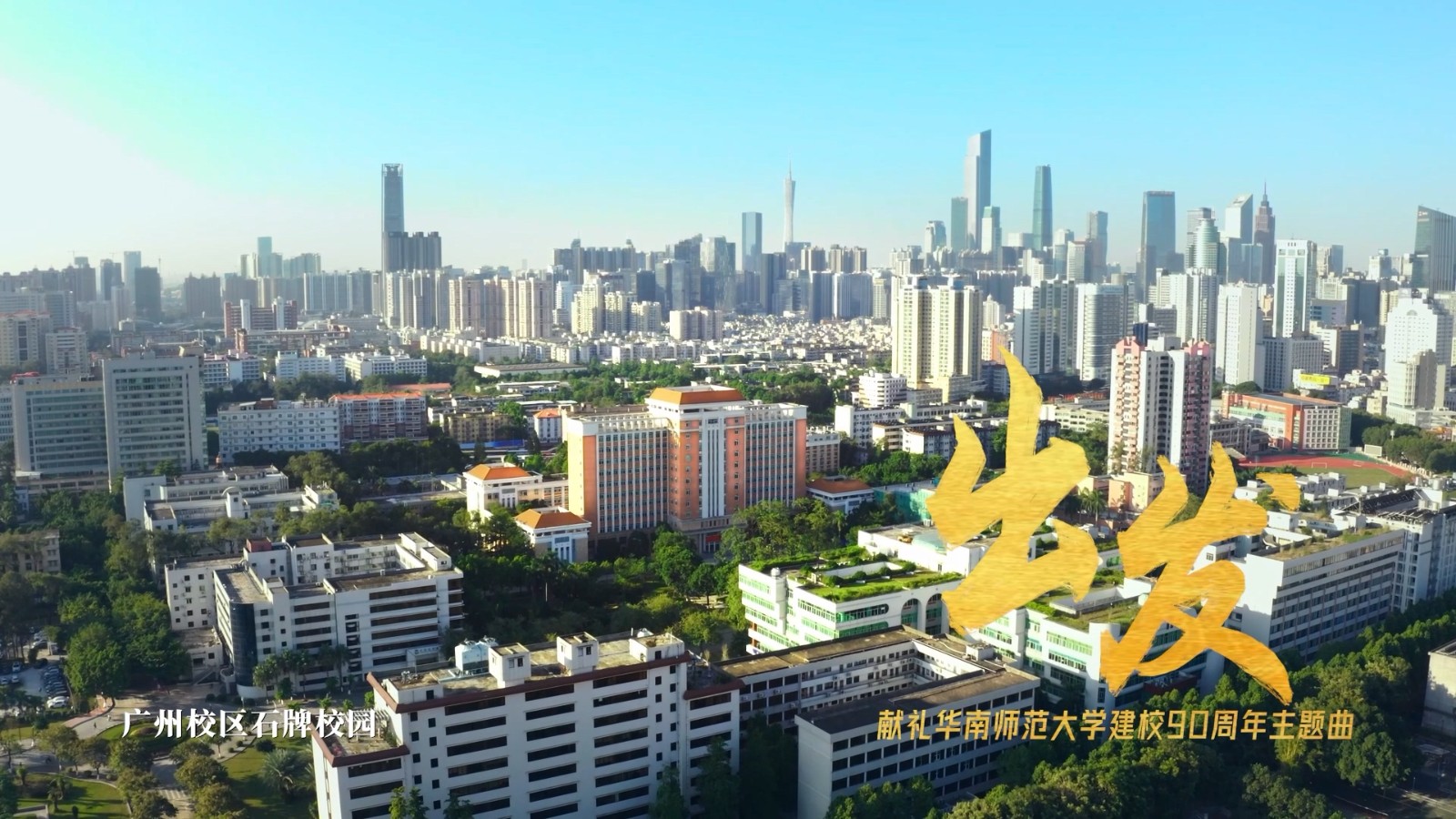 The music video for the 90th anniversary of South China Normal University was officially released on November 2. The video brings together a thousand SCNU staff, students, and alumni jointly expressing their best wishes for the great reunion.
Click the video and enjoy the excellent MV of the theme song!▲
Consisting of two verses and a chorus, the song relates the crystallization of history along with wisdom, embodying SCNUers' determination to review the past 90 years from a new starting point and their readiness to embark on a new journey once again. The first verse tells the story of the past, looking back at what has made SCNU what it is today. The following verse depicts the scene of the present, while looking forward to the future. Space and time are then fused in the the chorus, manifesting SCNUers' lofty sentiments and high aspirations.
The song is the fruit of a half year's efforts from SCNUers. It was composed by Cai Qiaozhong, an alumnus of the School of Music who studied there from 1989 to 1993. The lyrics were written by Xu Nengyuan, a graduate of the Department of Chinese in 2001, and Lu Qu, a graduate of the School of Chinese Language & Literature in 2022.
The two main vocals for the song are Pan Xu and Hong Wanting. Pan graduated in 2008 and Hong is currently a postgraduate in the School of Music. The chorus part was performed by the SCNU choir.
For the MV recording project, the four campuses of SCNU serve as the filming bases, with approximately 2,000 people engaging in the filming. Participants waved flags under the clear sky, while standing in formation well-orderly. Helping in the making of this music video they reaped deep and unforgettable feelings.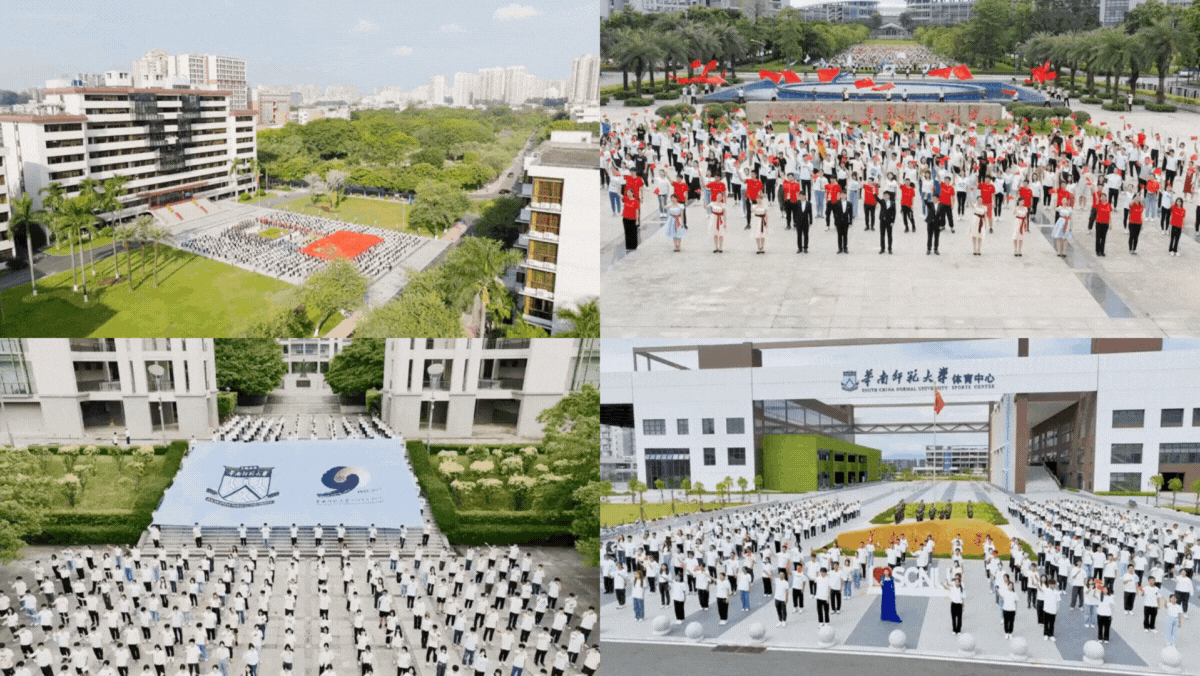 Overview of the recording process on four campuses of SCNU.
Lin Huiting is an instructor of the Xingzhi College, the first residential College of SCNU named after the famous Chinese educationalist Tao Xingzhi, on the Shanwei campus of SCNU. She said that during the recording, the most touching moment was when she saw the folded school flag being unfurled by students gradually. It struck her that the development of SCNU was similar, like a graceful process of construction and development by SCNUers, who supported and helped each other one generation after another.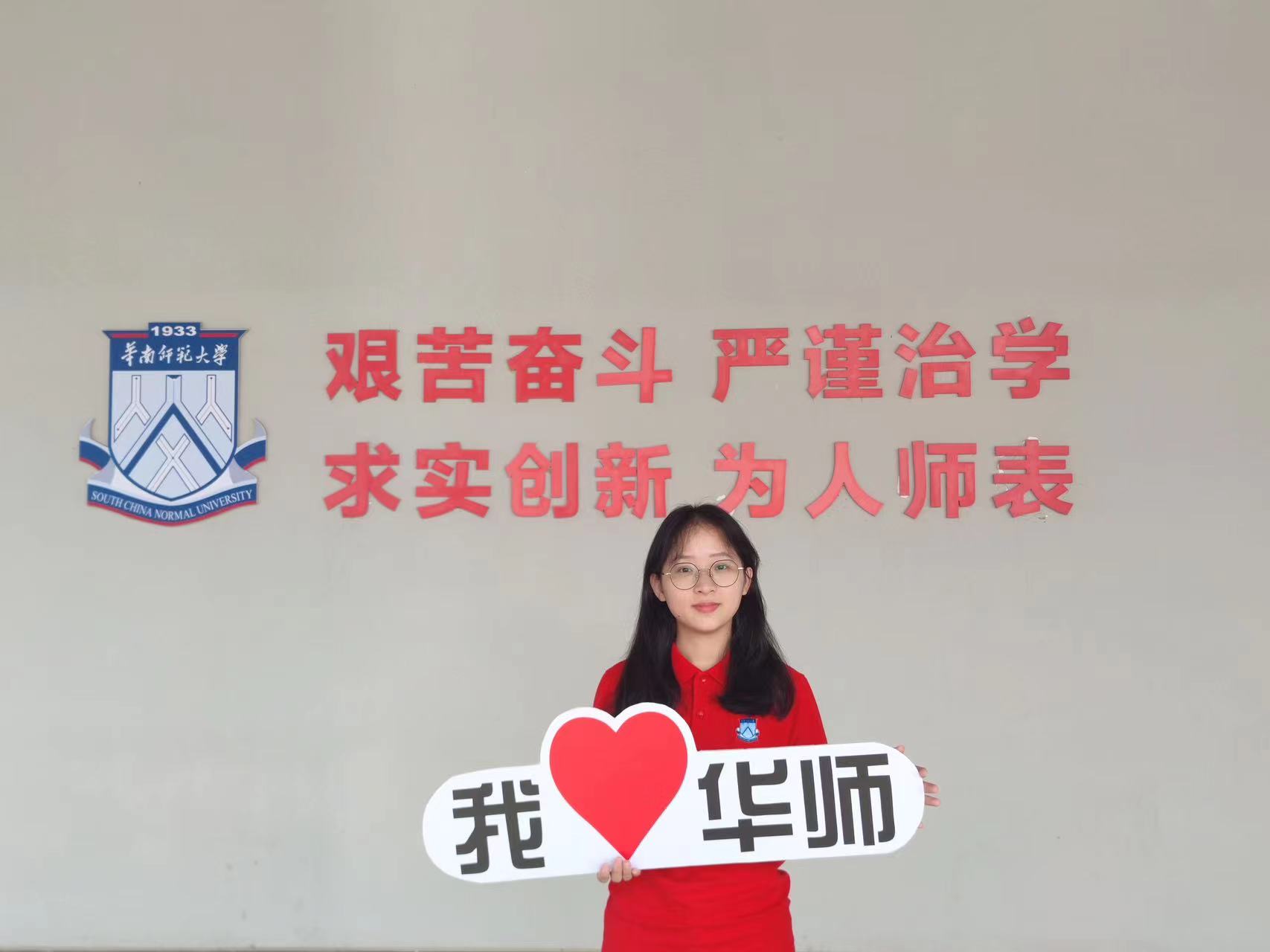 Lin Huiting holds a sign that reads "I love SCNU"; behind her is the motto of SCNU.
Excitement is the most distinct feeling from Pan Lu about the recording. She is now an undergraduate student majoring in finance at the International Business College (IBC) on the Nanhai campus of SCNU. "Though exhausted, the thrill I have gained and the easy atmosphere I experienced have made all effort worthwhile." She suggested that the video will showcase SCNU campus sights and students' spirits. The music video is a birthday gift for SCNU, "arousing everyone's anticipation and astonishment".
Pan Lu, one of the volunteers in the MV recording.
---
Source from SCNU News Center
Translated by Peng Weilin, Feng Zhijun, Liang Dingyu
Proofread by Edwin Baak
Edited by Li Jianru
What to read next: