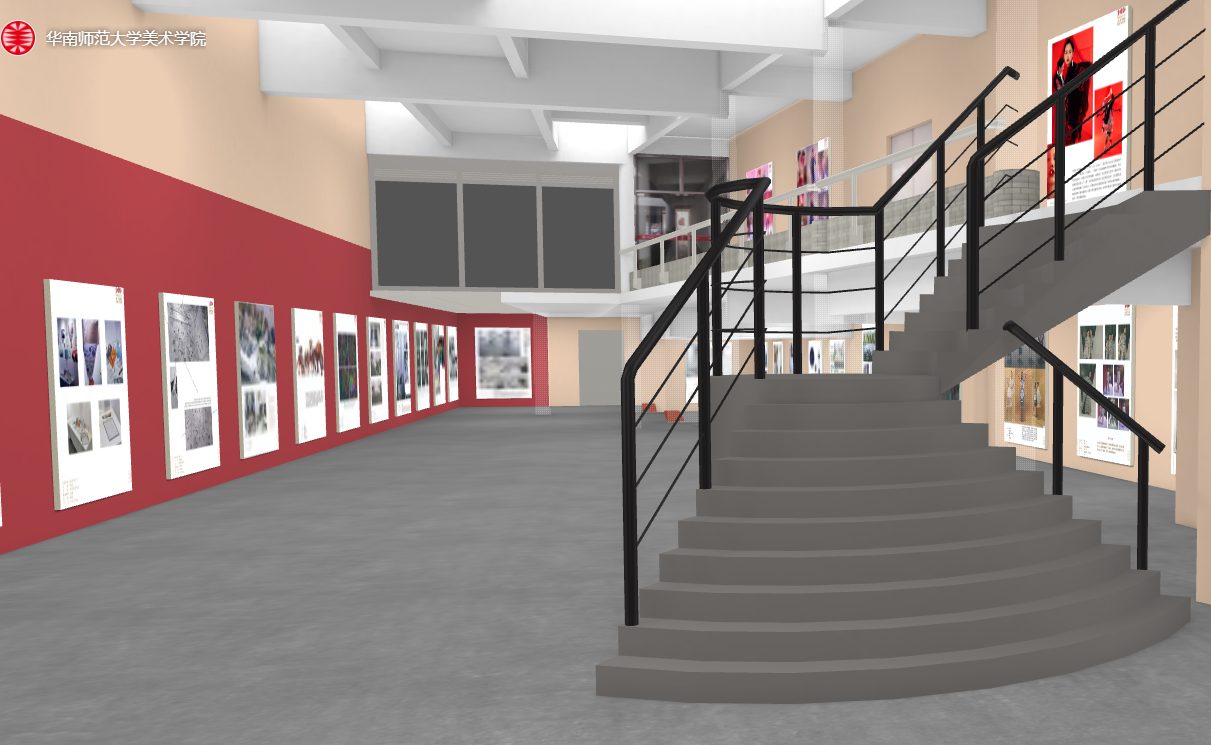 The Graduation Exhibition of the School of Fine Arts of SCNU was opened on the Shipai campus of SCNU on May 23. The exhibition included more than 320 artworks by class of 2022 graduates and was on display from May 23 to June 1.
Works by 229 undergraduates and 92 postgraduates were displayed in the exhibition, involving diversified styles of works such as Chinese painting, oil painting, woodblock printing, sculpture, lacquer painting, photography, new media art, experimental art, visual communication design, product design, environmental art design, fashion design, jewelry design, etc.
The exhibition showcases graduates' works in the Art Gallerie of the School of Fine Arts.
Chen Guanbao, a teacher of the School of Fine Arts and also the curator of the exhibition, introduced the highlights of the exhibition. "Firstly, the graduates majoring in traditional Chinese painting, especially those who specialize in Chinese elaborate-style painting, finished their paintings basically according to the standard of national-level or provincial-level exhibitions. Another highlight is that the students majoring in Visual Communication Design and Fashion Design completed lots of three-dimensional works using comprehensive materials," he said.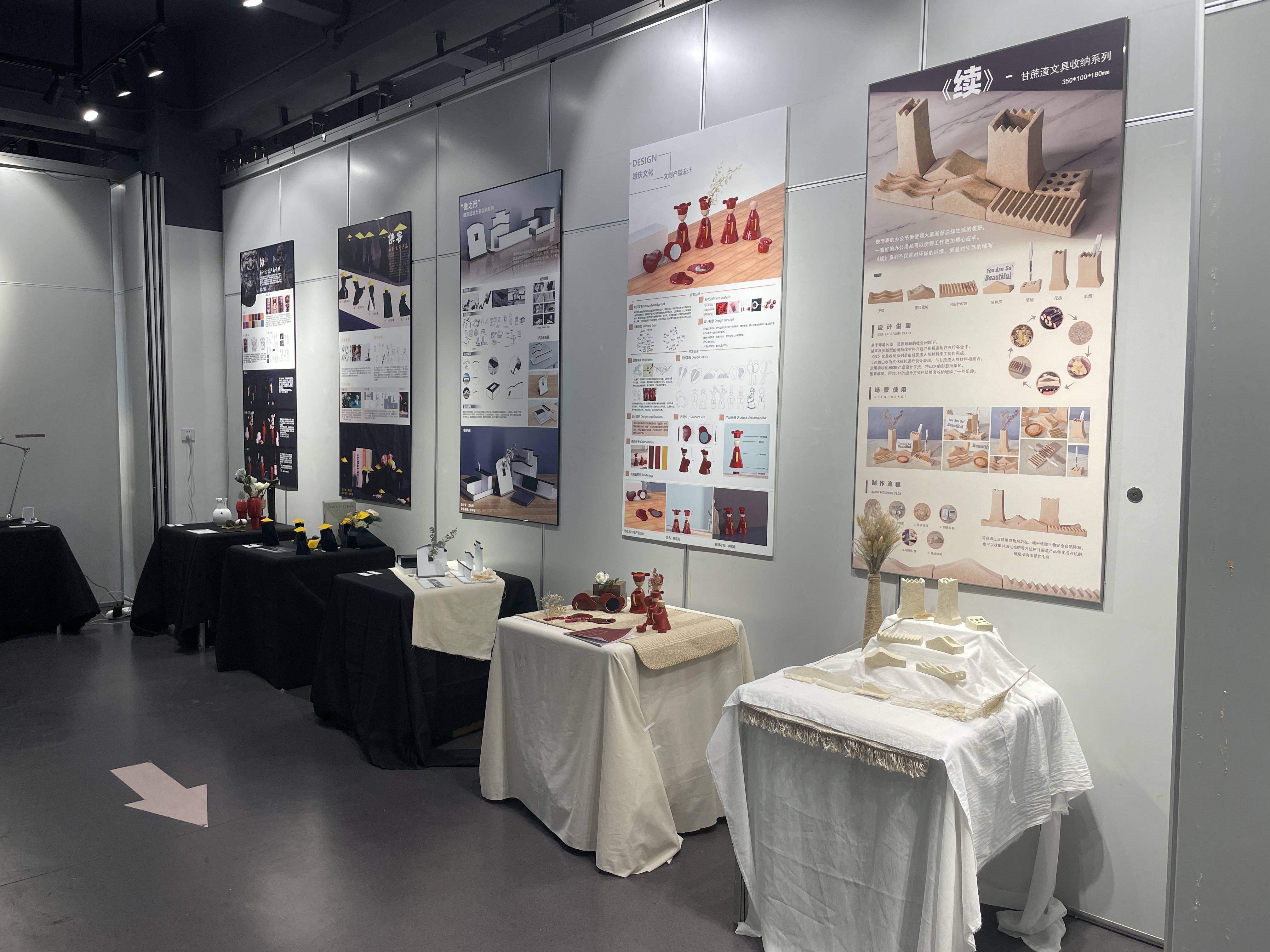 Some practical culture and creative works in the exhibition.
Qian Jingru, a student majoring in Chinese painting, introduced her calligraphy SCNU Ode written in small seal script (小篆, i.e. xiaozhuan). The work on display was her twelfth draft. She used the style of the seal characters on the Yishan Tablet, which was handwritten by Li Si, the Prime Minister of the Qin Dynasty, an ode the achievements of the First Emperor. "I want to convey my love and awe of past histories of SCNU through this work," she said.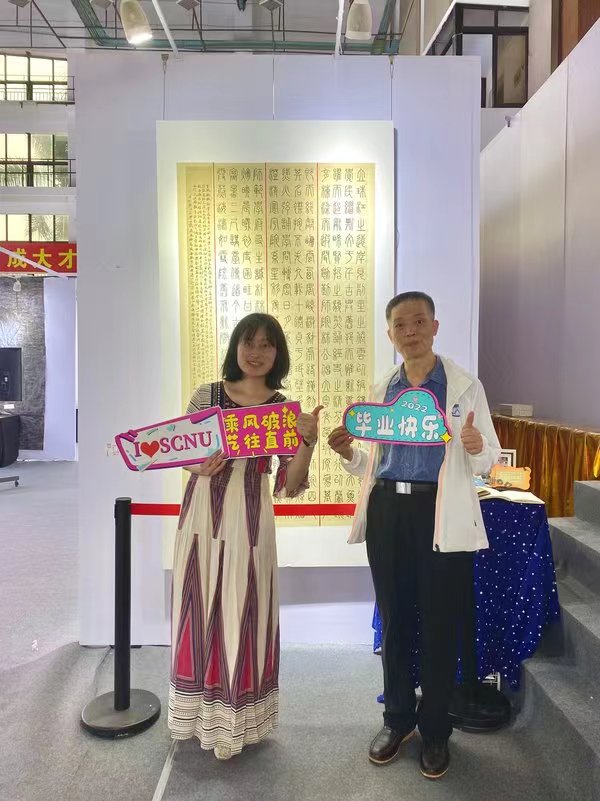 Qian Jingru (left) and her teacher pose in front of her calligraphy work SCNU Ode.
"This exhibition is an important opportunity for graduates to show their capabilities and styles before they get into the society," said Chen Guanbao. "I hope they could bring the state of preparing this graduation exhibition to life, which is to overcome difficulties with persistence and to express what they have observed in the best way."
"During the epidemic, it was difficult for people to go out to see exhibitions. Thus, the graduation exhibition provided students and faculty of SCNU with a precious opportunity to enjoy the art," he added.
By virtue of different media, techniques of expression and materials, SCNU graduate students integrated their individual thinking, the relationship between things and the concern for society into the works which showcased distinct personality characteristics, indicating the vitality and creativity of the new generation of the School of Fine Arts.
The exhibition was held both on line and in the school's art gallery. The gallery was only open to teachers and students on the campus. It was held in the gymnasium, the school library and the Art Gallery of the School of Fine Arts, while the virtual guided tours of the exhibition which are available to the public can still be viewed on line.
---
Source from SCNU News Center

Translated by Wang Ting, Yuan Yongshi, Zou Shan
Proofread by Edwin Baak
Edited by Li Jianru
What to read next: