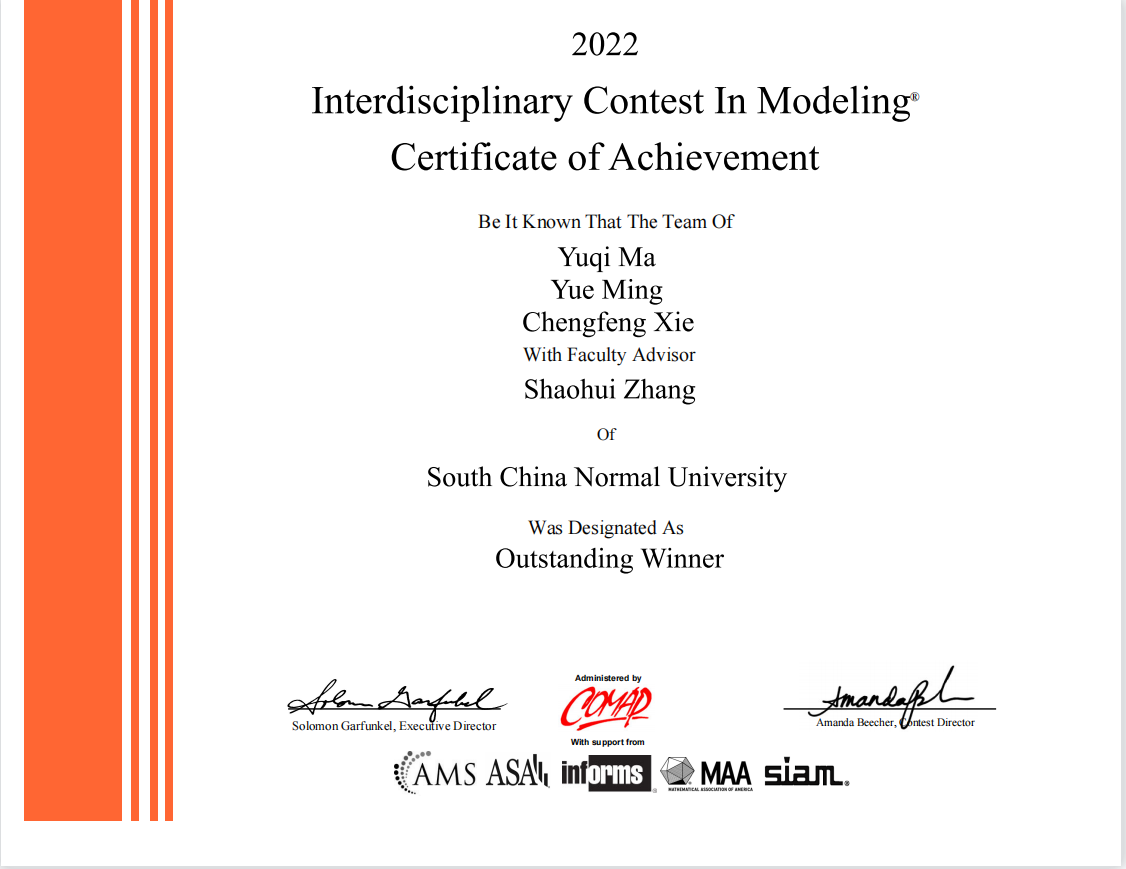 Two student teams of SCNU were designated as Outstanding Winners at the 2022 Mathematical Contest in Modeling/Interdisciplinary Contest in Modeling (MCM/ICM), according to the results released recently.
The Outstanding Winner is the top prize of the contest, only about 0.16% winning such an award from across the world. It's the first time that SCNU has won such a top prize since another two teams were designated as Finalists (top prize nomination) in the 2020 MCM. The supervisors of the teams are Zhang Shaohui and Deng Jian repectively, both from the School of Mathematical Sciences.
Besides, other teams of SCNU won six Finalist Winners Awards, 12 Meritorious Winners Awards (first prize) and 49 Honorable Mention Awards (second prize).
The School of Mathematical Sciences said it had attached long-term attention to mathematical modeling activities and delegated a coaching group of mathematical modeling. The coaching group has also organized and trained students for the China Undergraduate Mathematical Contest in Modeling, and some other school-level mathematical contests in modeling, as well as guaranteed mathematical modeling activities in student clubs.
The 2022 MCM/ICM attracted a total of 27,205 teams from all over the world and only 44 teams were selected as Outstanding Winner. Sponsored by COMAP (Consortium for Mathematics and Its Applications of the USA), MCM/ICM is the most influential mathematical modeling contest in the world. Each participating team is composed of three members, and then chooses a subject to complete the whole process of mathematical modeling of a real-world problem within four days.
The problems of the contest involve multitudinous fields, such as economy, management, environment, resources, medicine, etc. It focuses on problem research, originality of solution, teamwork, communication and rationality of results. It sets five awards in total, namely the Outstanding Winner, Finalist, the Meritorious Winner, the Honorable Mention and the Successful Participants.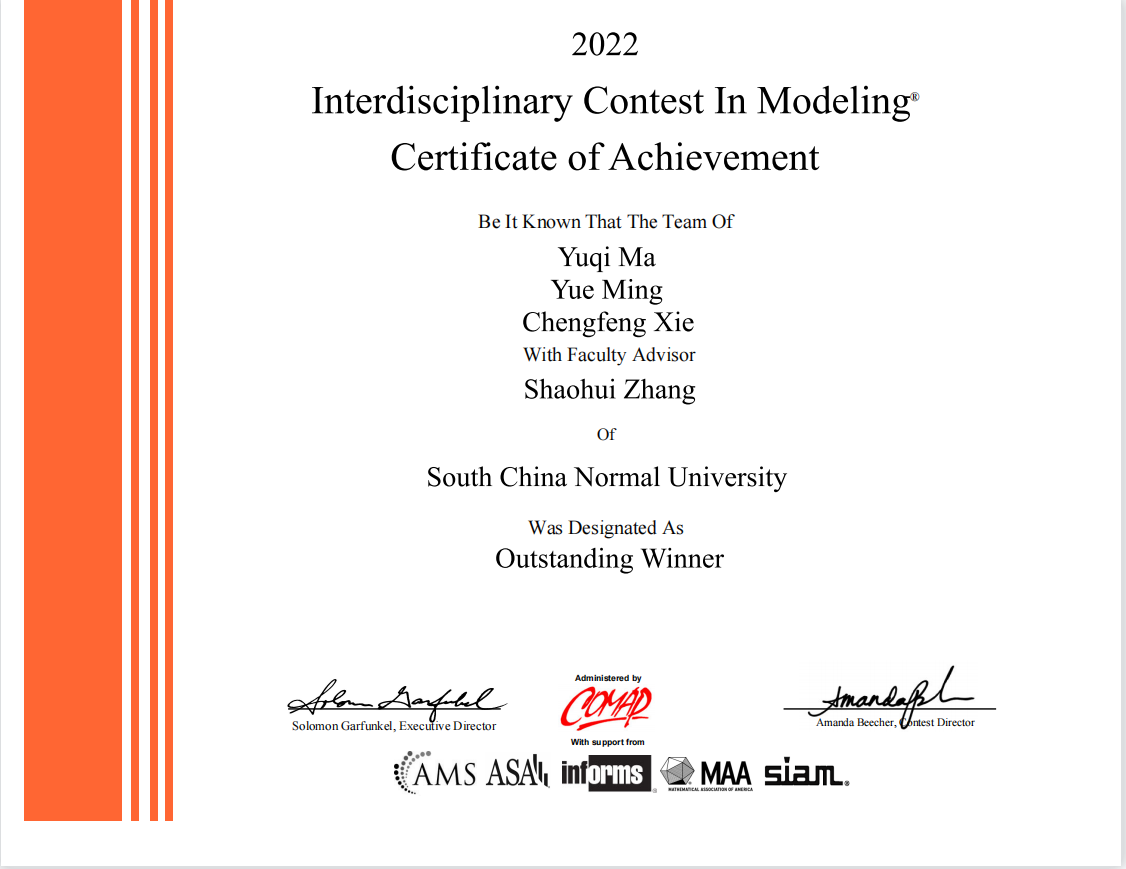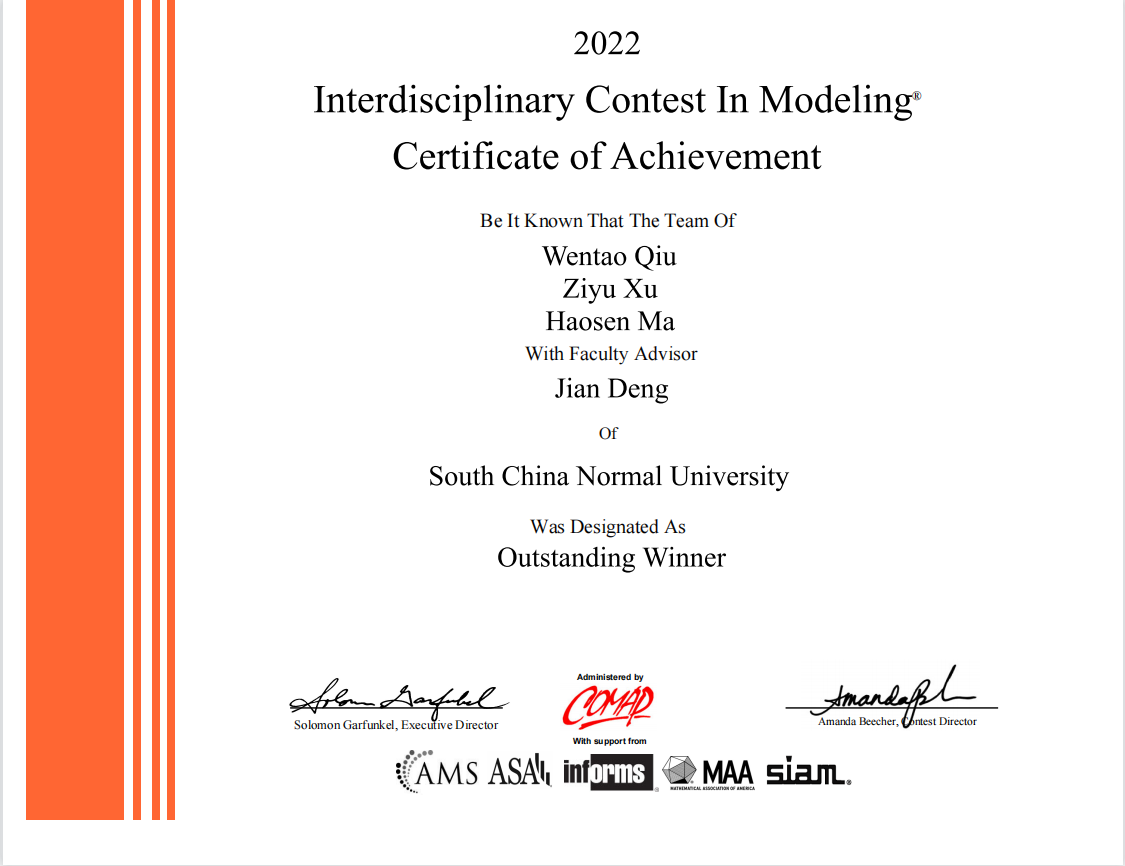 Certificates of achievement for two teams of SCNU that won the Outstanding Winners.
---
Source: SCNU News Center

Translated by Yuan Yongshi, Zou Shan
Proofread by Edwin Baak
Edited by Li Jianru
What to read next: