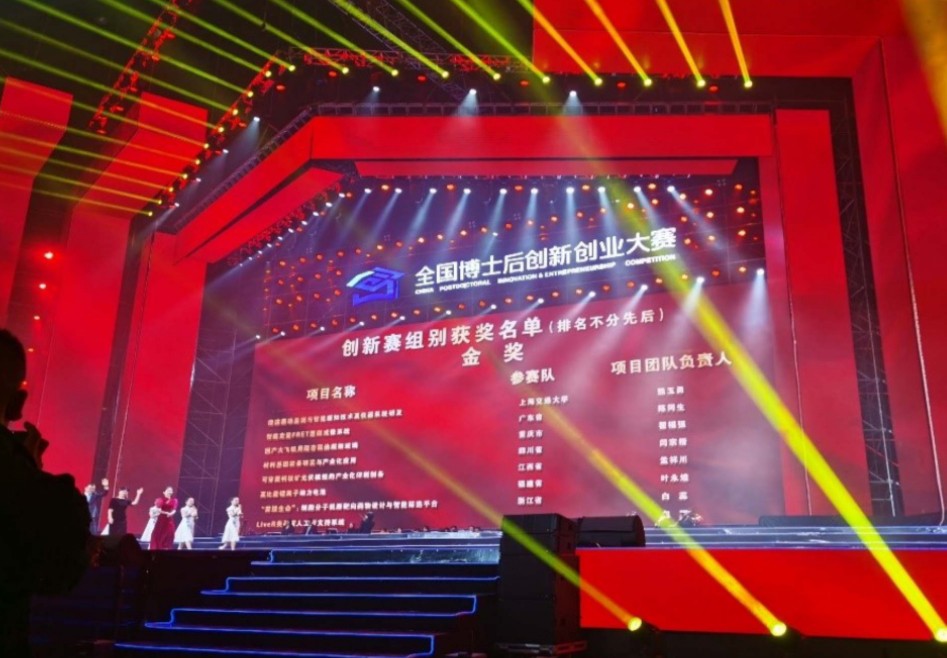 The First China Postdoctoral Innovation & Entrepreneurship Competition concluded on December 20 in Foshan, Guangdong province in South China. A team from SCNU won the gold medal in the group of High-end Equipment Manufacturing in Innovation Competition, being one of the only two gold winners in the group.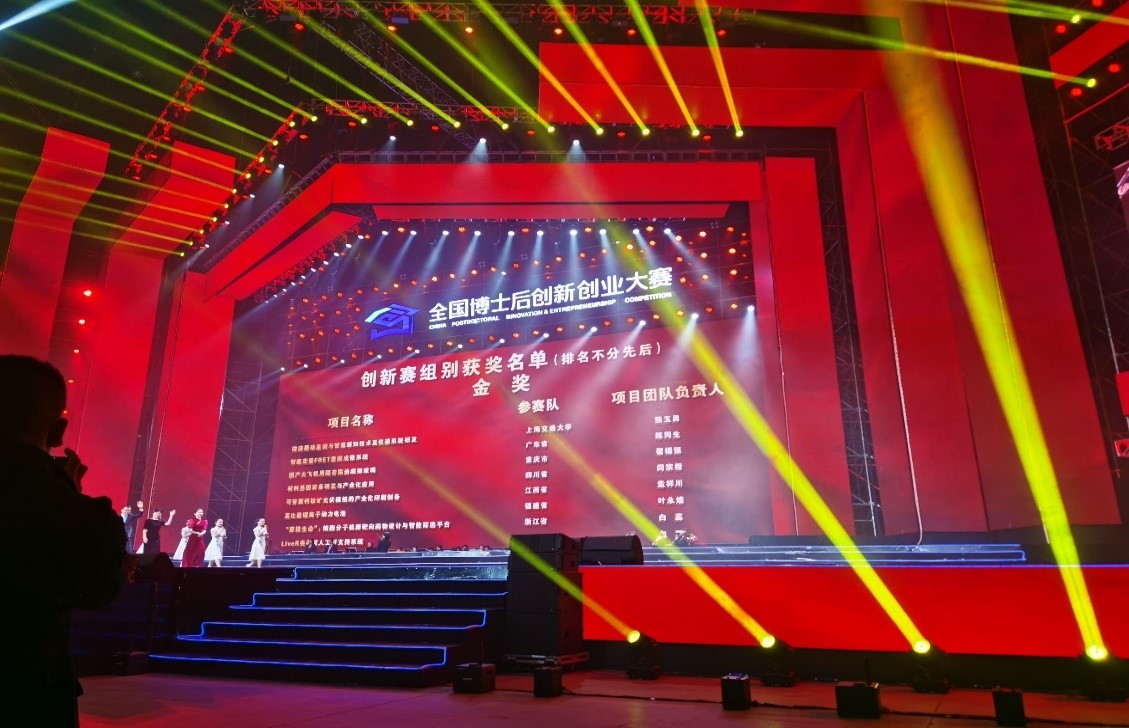 The China Postdoctoral Innovation & Entrepreneurship Competition award ceremony.
The team, led by Professor Chen Tongsheng, dean of College of Biophotonics of SCNU, works on a project called "Intelligent Quantitative FRET Microscopic Imaging Systems". According to a media report, the project helps researchers complete the whole FRET (Fluorescence Resonance Energy Transfer) experiment of automatic measurement, real-time processing and quantitative analysis by way of "one key operation", so that experimental efficiency is improved significantly. FRET has been the only imaging technology that can visualize molecular structure in situ and visualize the associated function inside living cells so far.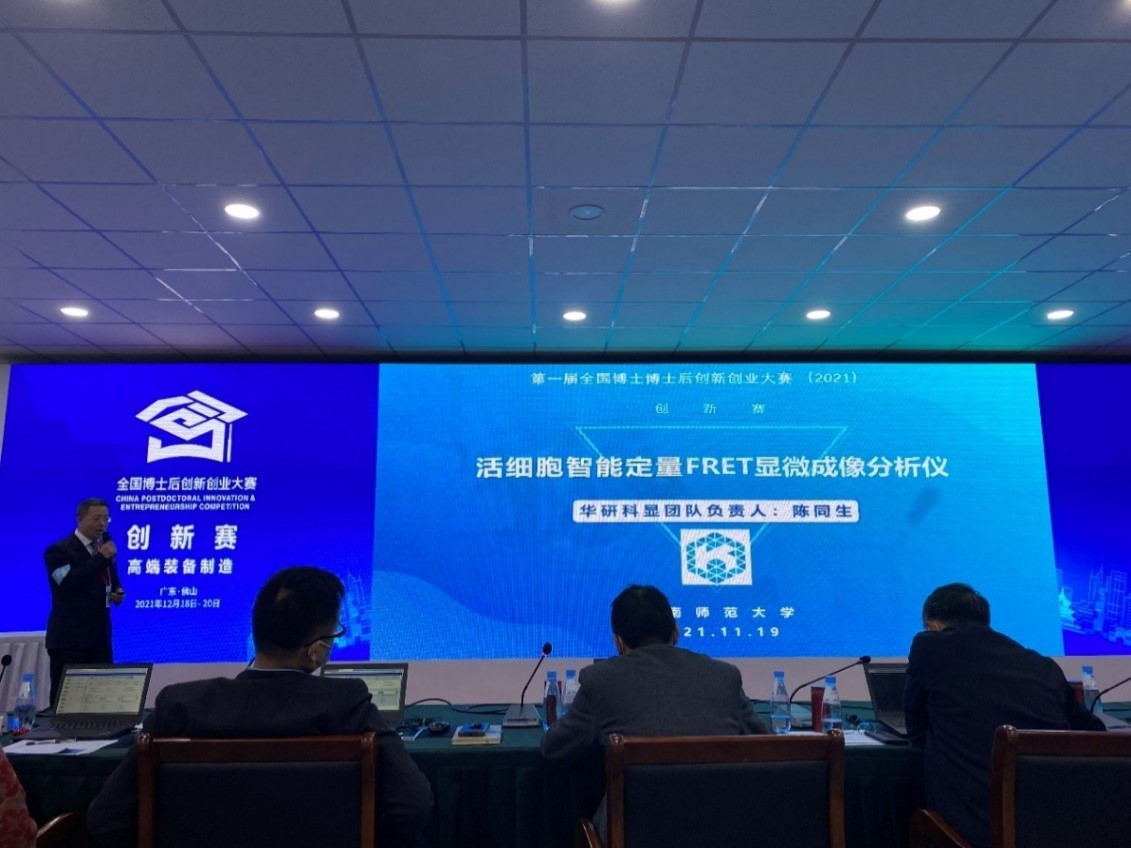 Professor Chen Tongsheng presents at the competition scene.
Professor Chen Tongsheng said during an interview with CCTV news Channel Live News that the main purpose of his team's participation in the First China Postdoctoral Innovation & Entrepreneurship Competition was not to win the prize, but to set an example for postdoctoral researchers. He hopes that young teachers and students of College of Biophotonics of SCNU will have a strong spirit of exploration, the determination to work hard, and the quality of never fearing difficulties.
Meanwhile, Professor Chen hopes that the gold medal his team has won will inspire teachers and students of the SCNU College of Biophotonics to connect their life goals with the actual needs of the country and society, and thus to promote the transformation of scientific research achievements.
The team has once won the sixth China International College Students Internet+ Innovation and Entrepreneurship gold award in 2020 and the fourth Community Entrepreneurs Cup Guangdong Entrepreneurship & Innovation Competition gold award in 2021.
The competition, with the theme of "Collecting the Essence of Science and Technology, Leading the Future with Innovation", was held from December 18-20. It consisted of four sections: Innovation Competition, Entrepreneurship Competition, Overseas Competition, and Top-Opening Competition. It is a national innovation and entrepreneurship competition for postdoctoral researchers on the largest scale, the highest level and with the widest coverage since the creation of China's postdoctoral system.
More than 5,000 teams and 24,000 people signed up for the competition. A total of 47 teams with more than 1,400 high-level projects stood out to enter the finals. After three days of fierce competition, 57 gold medals, 91 silver medals, and 125 bronze medals were yielded in the four sections.
---
Source from SCNU News Center
Translated by Liu Yalin, Shen Jiatong, Zou Shan
Proofread by Edwin Baak
Edited by Li Jianru
What to read next: