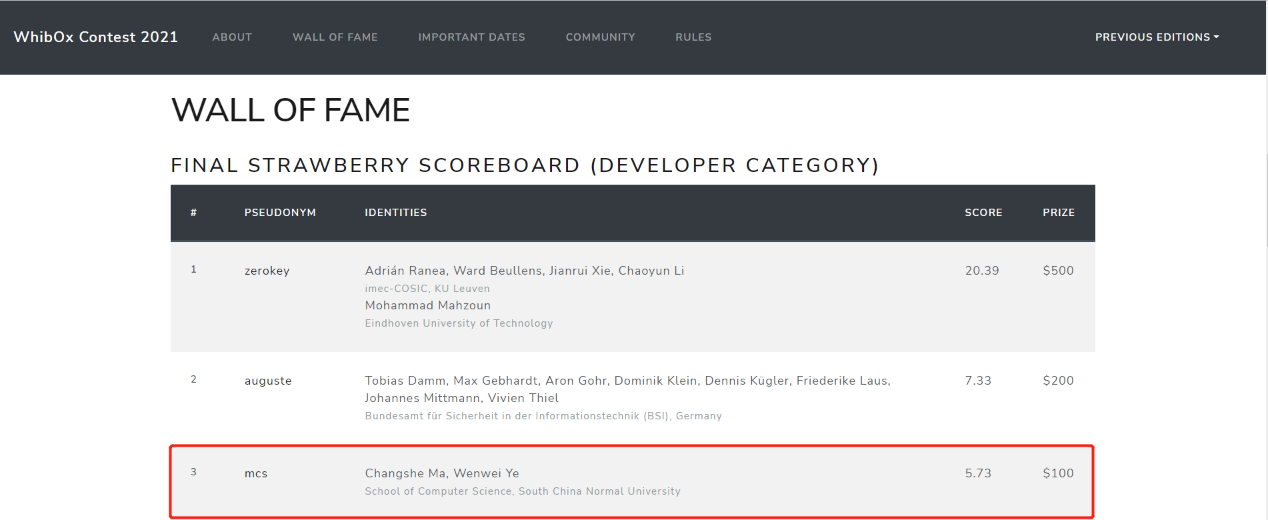 An algorithm designed by Professor Ma Changshe and his graduate student Ye Wenwei from the School of Computer Science was awarded the third place in the 2021 WhibOx contest. The first and second runners-up were from Eindhoven University of Technology and a German institution respectively.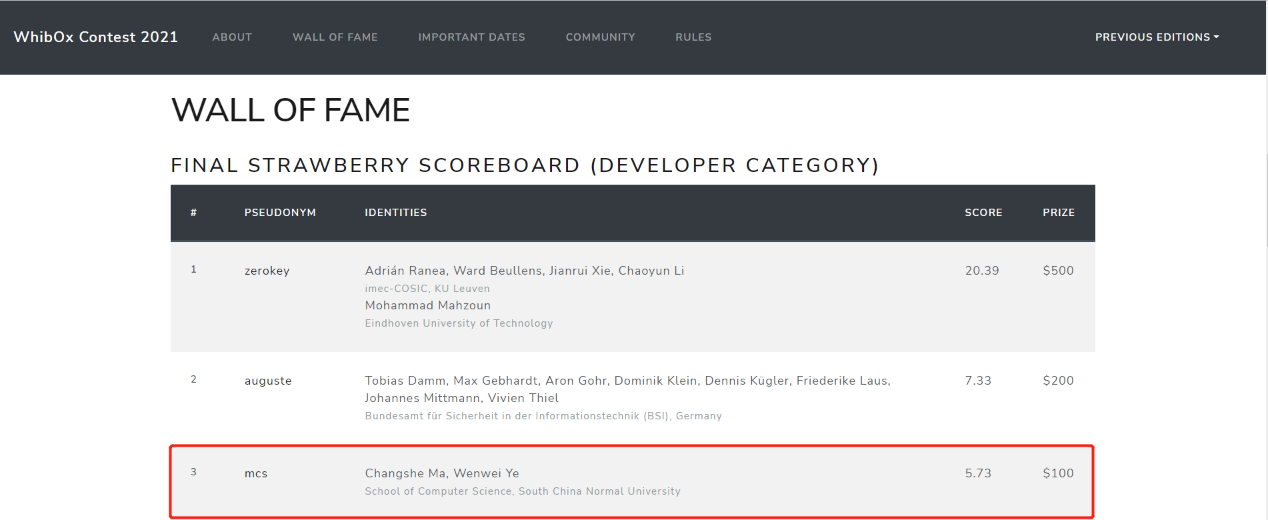 Ma and Ye win the third place with the score of 5.73
The 2021 WhibOx contest is a white-box cryptography competition organized as one of the Cryptographic Hardware and Embedded Systems (CHES) challenges. The annual Conference on CHES is the venue for research on design and analysis of cryptography hardware and software implementations. As the area conference sponsored by the International Association for Cryptographic Research IACR, CHES bridges the cryptography research and engineering communities, attracting many participants from academia, industry, government and beyond.
According to the official website of WhibOx, the 2021 contest sets challenges in two categories of competitors: coders and attackers, focusing on public-key white-box cryptography. (The white-box test is a kind of important method to verity correctness of program.) During the contest, coders are invited to post candidate white-box implementations computing an ECDSA signature from input message digest under a freely chosen secret key, while attackers are invited to break the submitted implementations i.e. extract their hard-coded signing key.
Since network security has been a matter of great public concern, the competition is of great significance for students to improve their understanding of national network security, strengthen professional skills and broaden their horizon in the field of computing. A great number of representatives of universities and institutions from China, the Netherlands, Germany and various other countries participated in the competition this year.
---
Source: SCNU News Center, the School of Computer Science
Translated by Cao Jing, Chen Xudong, Yang Yi
Proofread by Edwin Baak
Edited by Li Jianru
What to read next: