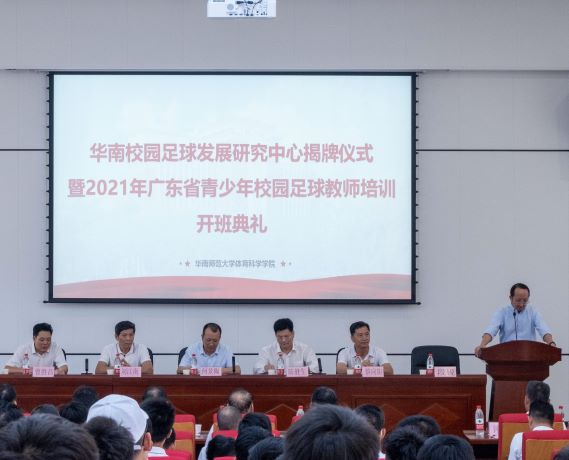 SCNU held the inauguration ceremony of the SCNU School Football Research and Development Center, the first football research center on a university campus in China, on October 20.
As the first professional school football research and development center in China, the Center will provide scientific references for the promotion of soccer by making development plans, doing scientific research and cultivating talents, thus arousing young people's interest, as well as accelerating the development of footbal on the campus of South China Normal University.
Huang Zhaotuan, director of the center said in the inauguration ceremony that SCNU will vigorously support the development of the Center and contribute to the development and promotion of soccer in China. SCNU will give full play to its discipline and talent resource advantages, actively participate in the development planning, scientific research, talent training and event guidance of campus football in southern China.
Duan Rui, dean of the School of Physical Education & Sports Science said that with the establishment of the Center, researchers will combine research into soccer with sports medicine and materials science to provide scientific underpinnings for the development and promotion of soccer. He also mentioned that, through scientific research and practical work, the ultimate goal of the Center is to make more youngsters enjoy football so that pupils' physical and mental health can develop during their school career. For now, the focus of the Center is to set up a short-term football training camp for P.E.-trachers in elementary schools by instructing coaches how to select players, using scientific methods to cultivate school football talents.
Following the inauguration ceremony, the 2021 special training for football teachers in Guangdong province kicked off. More than 600 P.E.-teachers from about 600 middle and primary schools in Guangdong province gathered to take a 7-day training. This training has been designed to systematically improve the ability of P.E.-teachers in primary and secondary schools and comprehensively carry out school football activities.
This special training for teachers is sponsored by the Department of Education of Guangdong province and co-organized by the School of Physical Education & Sports Science of SCNU and the SCNU School Football Research and Development Center.
---
Source: SCNU News Center, the School of Physical Education & Sports Science
Translated by Chen Sitong, Chen Xudong, Yang Yi
Proofread by Edwin Baak
Edited by Li Jianru
What to read next: