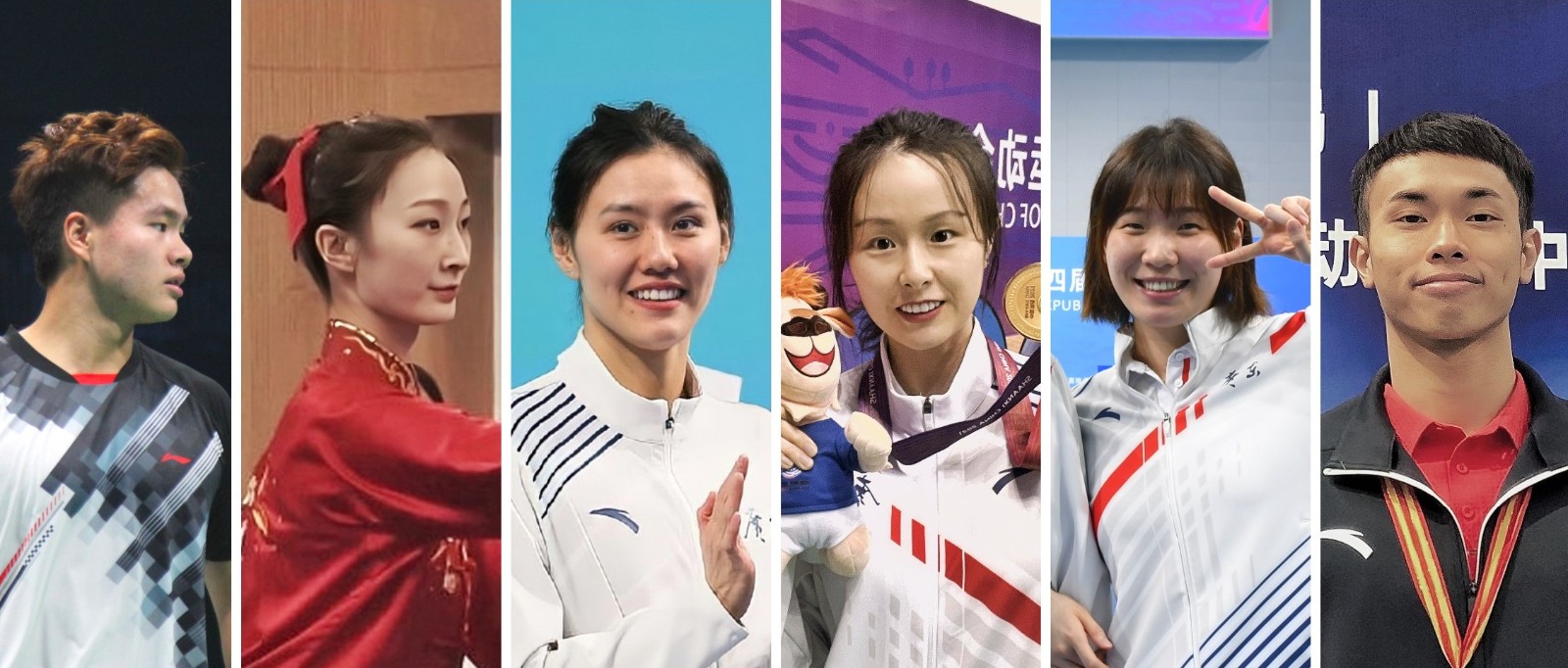 The 14th Games of the People's Republic of China closed in Shaanxi province on September 27, with athletes from SCNU winning 4 gold medals, 3 silver medals and 6 bronze medals.
Under the theme of "Games for all, together in mind and action", the Games featured a total of 54 sports with altogether 595 events, and lasted for 13 days. At the Games, 33 SCNUers competed in eight sports participating in 19 events, and one student joined one of the mass sports programs. Thanks to their hard efforts, some of them have shown their best sides on the field with excellent results.
Liu Xiang: Asian swimming record breaker and defending champion
In the 50m Freestyle Women Final at the Games, Liu Xiang, a Grade 2019 postgraduate majoring in Physical Education and Training at the School of Physical Education & Sports Science, won the race at 23.97 seconds, breaking her own Asian record of 24.03 seconds and defeating double Olympic gold medalist Zhang Yufei from Jiangsu provonce.
Liu Xiang won the first place in the 50m Freestyle final.
The breakthrough took Liu Xiang by surprise. "To be honest, I hadn't expected to swim within 24 seconds this time. I always told myself 'I can do it!'."
During this year's Tokyo Olympic trials, Liu Xiang's performance reached the Olympic A-level standard, but due to her poor condition at that time, she lagged behind Zhang Yufei as well as Wu Qingfeng and missed the chance to go to the Olympic Games in Tokyo. Though experiencing such a big frustration, Liu was not depressed, believing that athletes have peak and trough periods, just as ups and downs are normal in life. During the three months from the Olympic trials to the National Games, Liu Xiang summarized her mentality "I have weapons in my heart. I want to prove to myself that I can do it well."
"Su Bingtian (Men's 100m Asian record holder) is a famous athlete in Guangdong Track-and-Field and Liu Xiang is a famous swimmer" is the kind praise from netizens for them, because they all use their excellent performance to interpret the sports spirit of "higher, faster and stronger". Liu Xiang said, "Su Bingtian has given me great encouragement, because we both represent Guangdong province."
Referring to her plans for after the National Games, Liu Xiang says with a smile, "Enjoy my holiday first! I'm going to travel with my mother." She is always optimistic about her plans and the future, no matter whether for next year's Asian Games or the 2024 Paris Olympic Games. "Talk about the future when the future is coming!" she says.
Ni Xulin: One gold and one silver medal in rowing
The Grade 2019 undergraduate Ni Xulin, majoring in Physical Education at the School of Physical Education & Sports Science, won the gold medal in Rowing Four Without Coxswain Men and the silver medal in Eight With Coxswain Men in the National Games. He admitted that this achievement exceeded his expectation.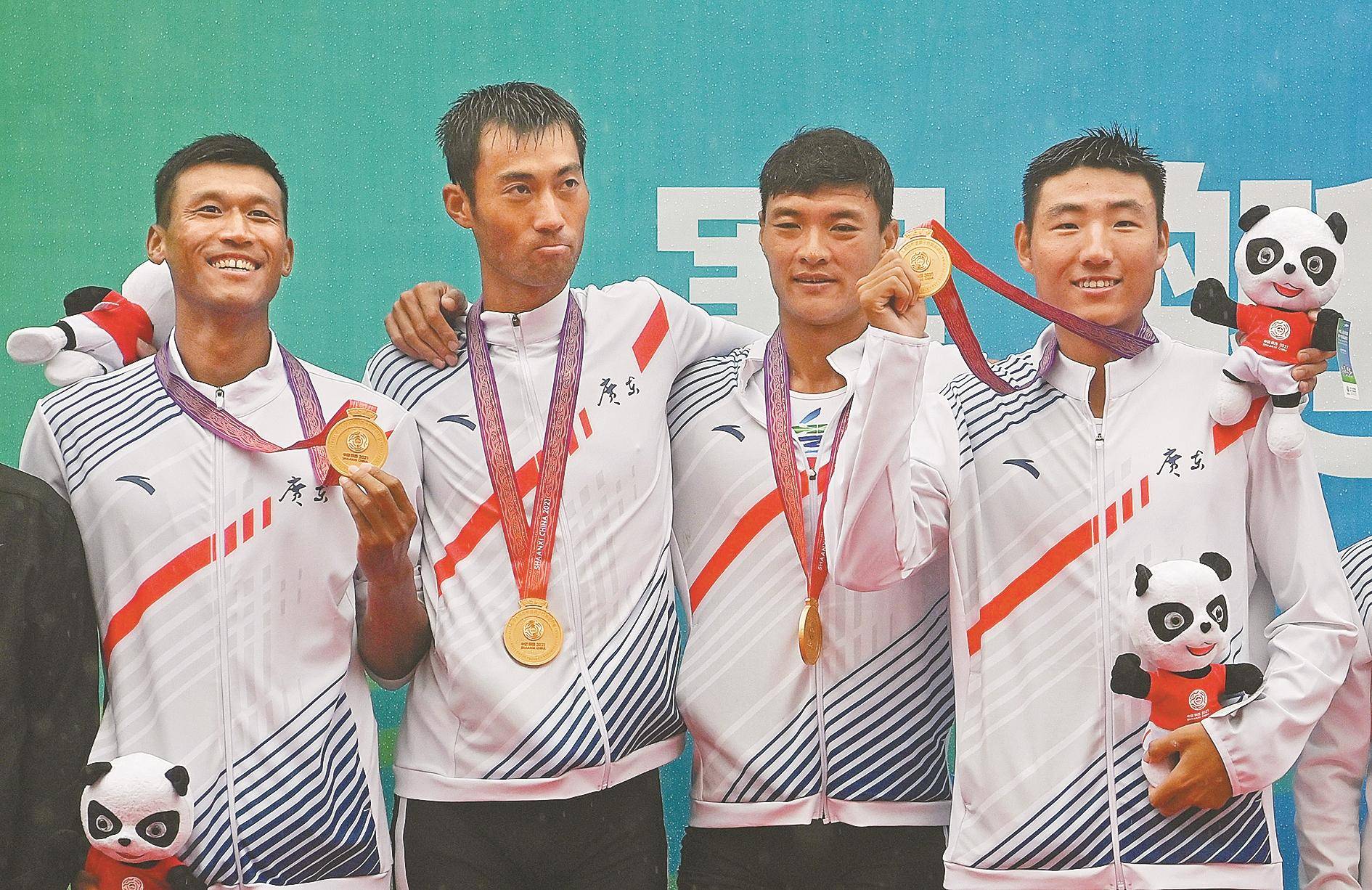 Ni Xulin (left third) and his teammates won gold in Rowing Four Without Coxswain.
In order to prepare for the National Games, the Guangdong rowing team increased their training load in a planned way, so assembled training was tougher than daily training. Shouldering two competitions, Ni Xulin's pressure of preparing for the competitions was doubled. He said that the two competitions were big challenges for him, because they have their own characteristics and different requirements for speed as well as power chain, needing different competition tactics.
As a team event, Eight With Coxswain Men extremely tests players' team cooperation ability and tacit understanding. In order to make them cooperate better on the field, the players often got together to increase their tacit understanding. Whether pointing out technical actions in usual training or getting along in private life, all of which made them more familiar with each other.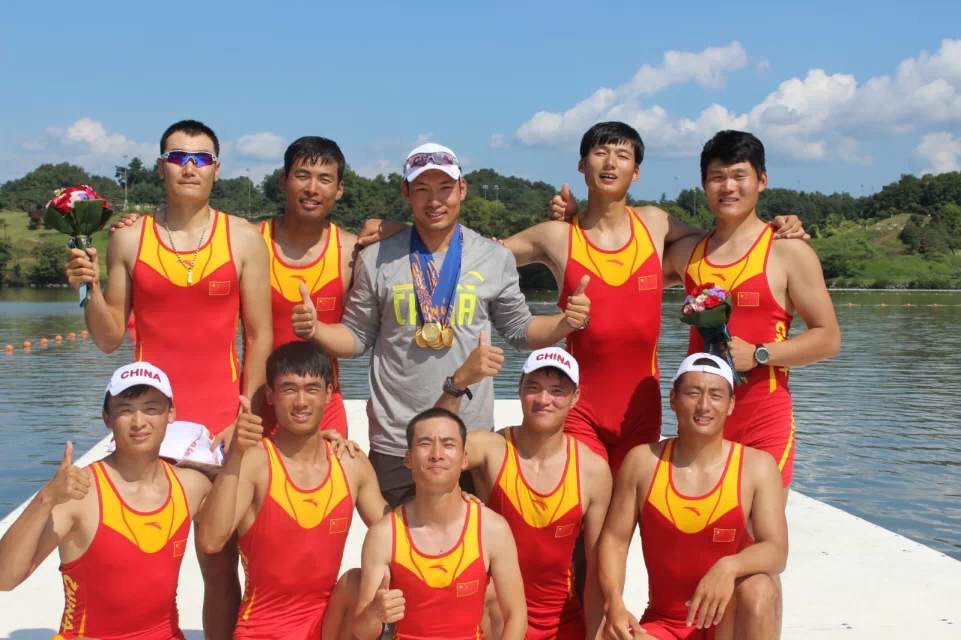 A group photo of Ni Xulin's (front row left fourth) team in Rowing Eight With Coxswain.
Faced with competition pressure, they often encouraged each other, recovering their conditions by strength and tacit understanding. When asked about the bottleneck and pressure, they said simply, "There was not too much difference in mentality. If you focus on yourself, you will not be affected by difficulties."
Zhuang Qianqian: Win the championship with passion for shuttlecocks
Zhuang Qianqian, a Grade 2021 PhD Student majoring in Ethnic Traditional Sports at the School of Physical Education & Sports Science, won the championship of the Women's Trio (Youth Group) Shuttlecock match, one sports program for mass participants.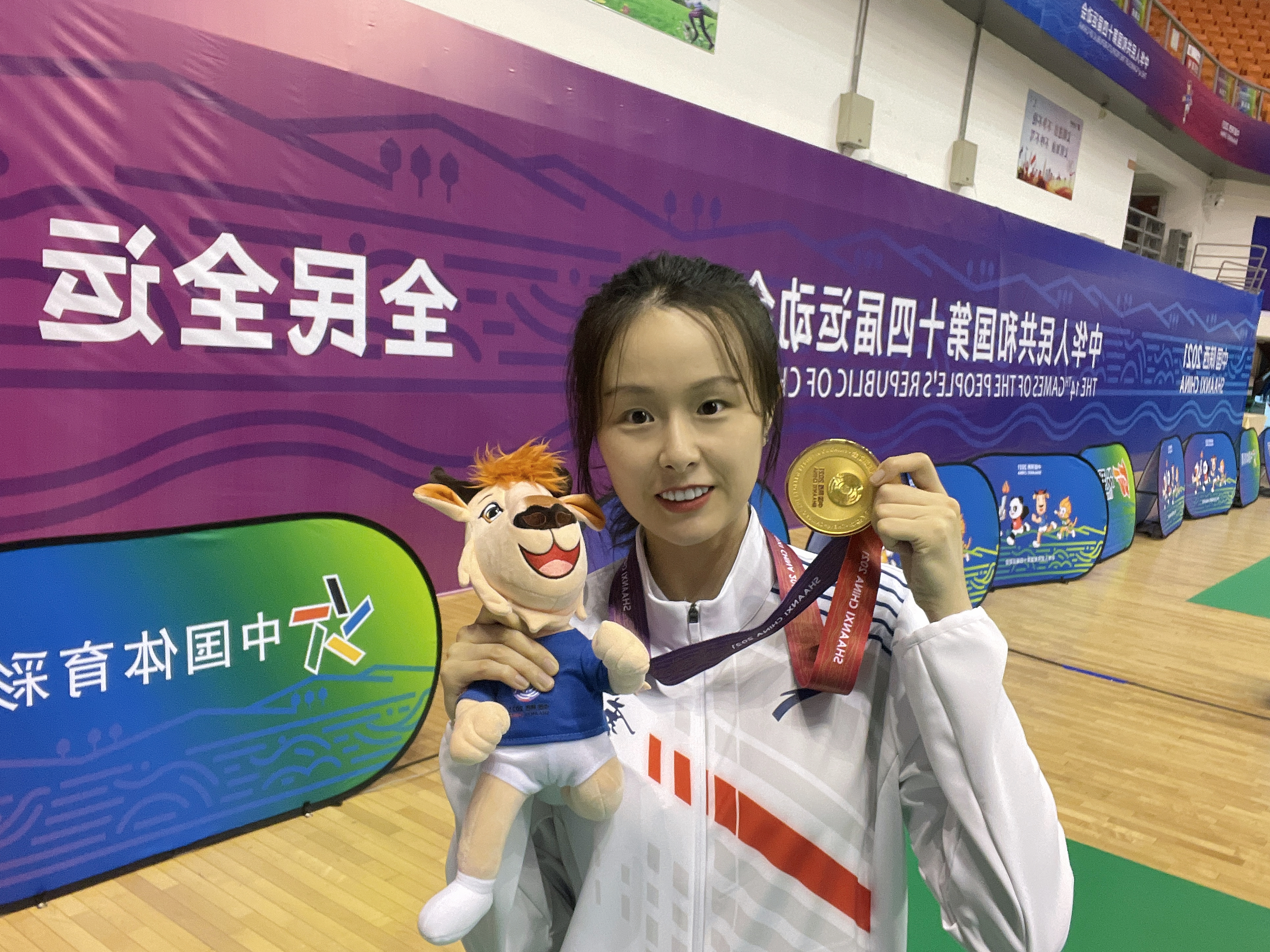 Zhuang Qianqian poses with a mascot and a gold medal after the match.
Unforgettable and difficult are two words which can exactly describe Zhuang Qianqian's preparation process for the National Games. Due to the COVID-19 epidemic, the shuttlecock match was postponed and the preparation time was prolonged. When she recalled the three months of training, she was not only moved by the help of teachers and classmates, but also moved by the purity and deep love of her predecessors. She hopes that playing shuttlecock can become a way for the amateurs to make friends at SCNU, so that they can form a group and have their own group spirit.
She has been playing shuttlecock for 12 years since she first practised it at the age of 13. When she knew that a shuttlecock competition entered the National Games, she was very excited. "In fact, compared with other sports, the number of people playing shuttlecock is always small. If the shuttlecock project develops better, it is a good thing for shuttlecock athletes and relevant practitioners, showing that they will have more opportunities in the future," she added.
Billed as China's "mini Olympics", the quadrennial National Games, inaugurated in 1959, have featured an Olympic-style program plus wushu for elite athletes and opened its door to sports enthusiasts for the first time during the 2017 Tianjin edition. The 15th Games of the People's Republic of China are expected to be held in the Guangdong-Hong Kong-Macao Great Bay Area in 2025.
Congratulations to all the winners!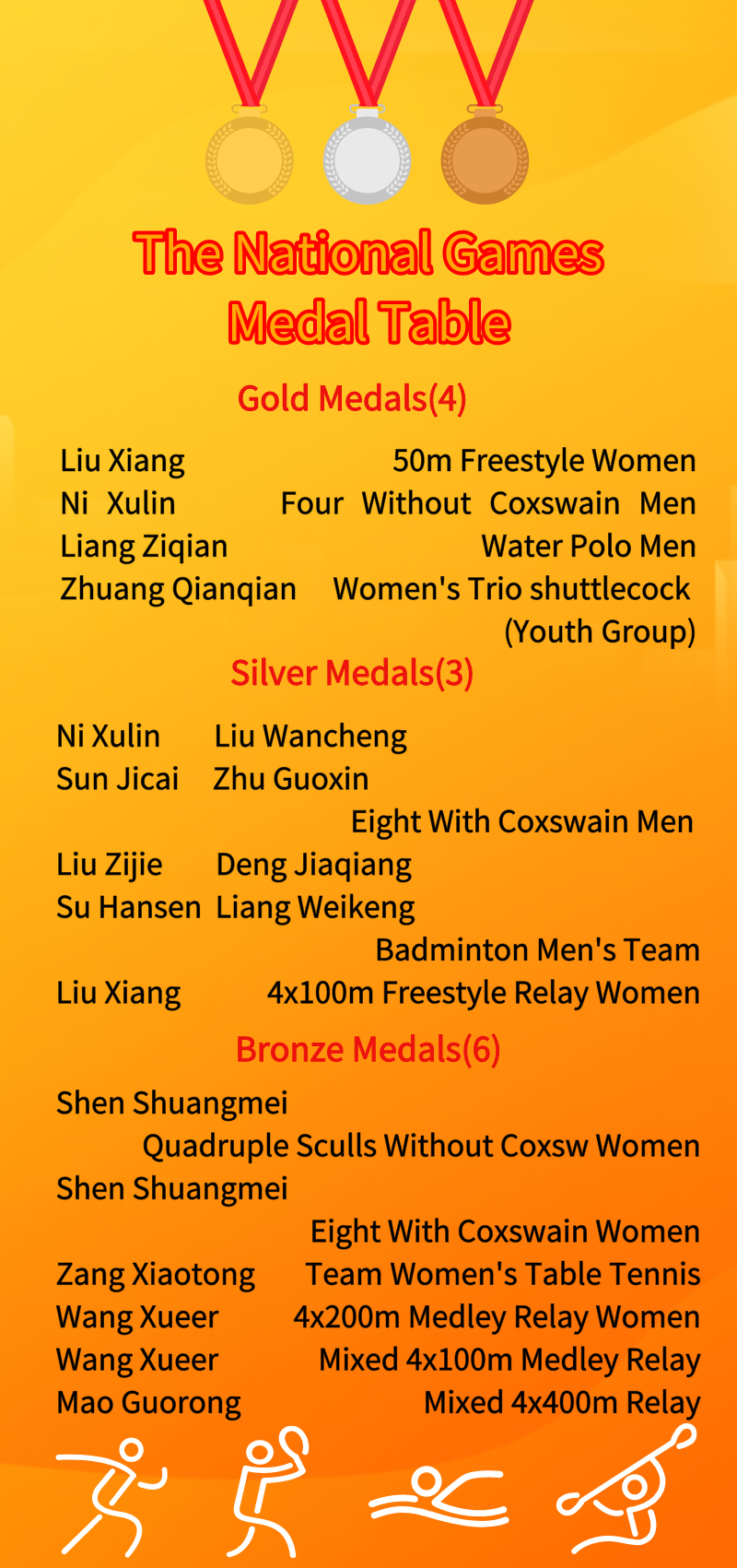 The Medal Table of SCNUers at the National Games.
---
Translated by Li Jiani
Proofread by Edwin Baak
Edited by Li Jianru
What to read next: