South China Normal University and Tencent Education signed a strategic cooperation agreement on May 26, aiming to jointly develop curriculum and teaching materials targeted at basic education based on big data and artificial intelligence.
According to the strategic cooperation agreement, the two sides will make good use of their own advantages and carry out in-depth cooperation in the development of "Technology Plus Education", the smart campus and service capacity building for basic education. Besides, they will also work to establish an "Internet plus" education alliance to advance information-based basic education in the Guangdong-Hong Kong-Macau Greater Bay Area. On top of that, they also aim to explore new talent training modes.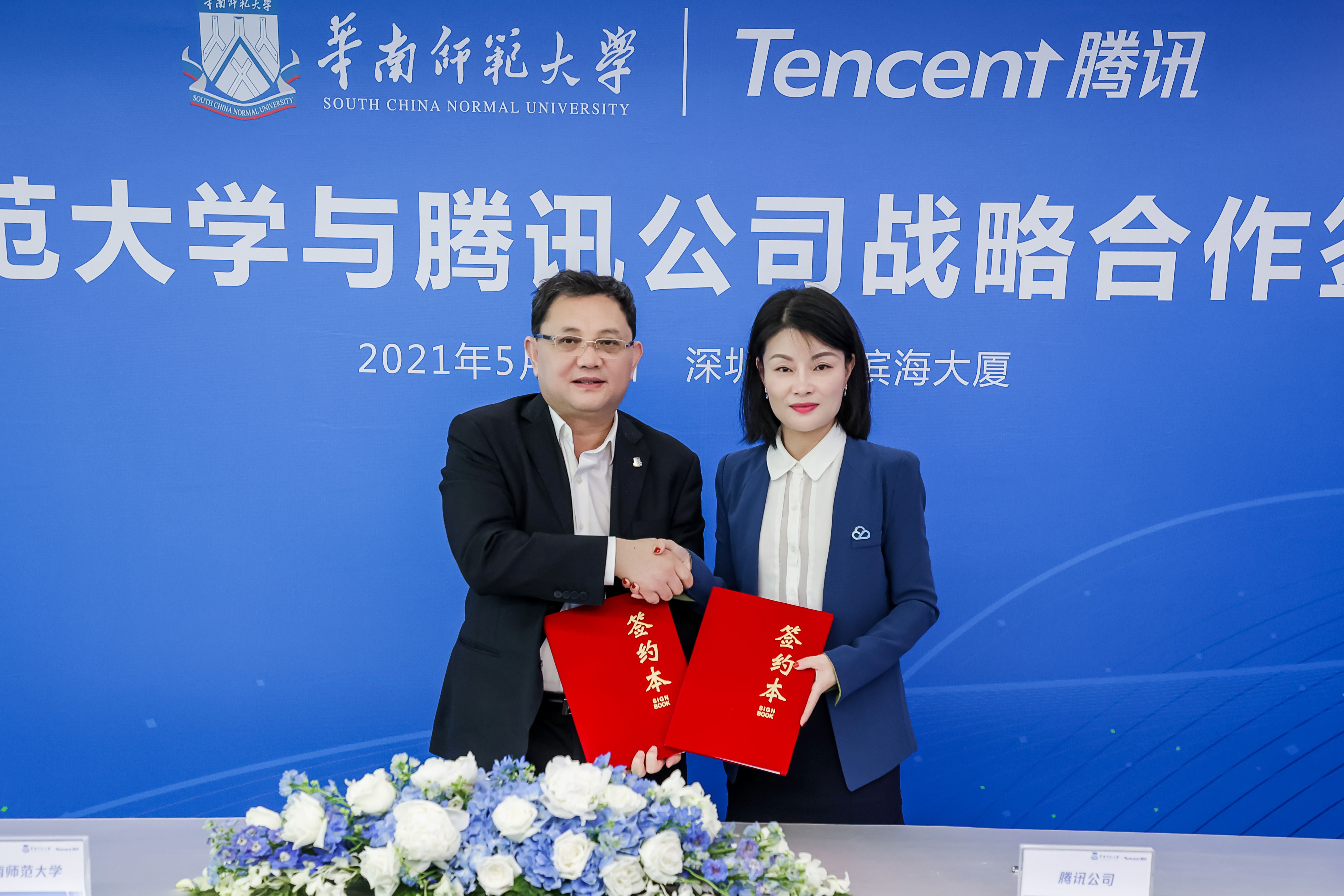 President Wang Enke (left) and Tencent Education vice president Fu Manqing (right) signed the cooperation agreement.
SCNU President Wang Enke pointed out that our school attaches great importance to the future cooperation, as SCNU has been maintaining a good interactive and cooperative relationship with Tencent. Given the strongly complementarity of two sides, there is great potential for their cooperation in such areas as the smart campus and education informatization. He cited the Liru On-line Courses platform as an example, a one-stop service platform for learning and teaching management, which will help to improve teachers' and students' informatization ability.
"By giving full play to our school's advantages in talent cultivation and teacher training characteristics, we will work closely to ensure our cooperation projects are fully implemented and produce concrete results. With these efforts, we will contribute significantly to the economic and social development of the Greater Bay Area, especially the reform and innovation of teacher education," Wang said.
Fu Manqing, vice president of Tencent Education, said that, as a leading Internet company, Tencent will assist SCNU with in-depth integration of information technology and education. She expects that this time will become a benchmark for school-enterprise cooperation.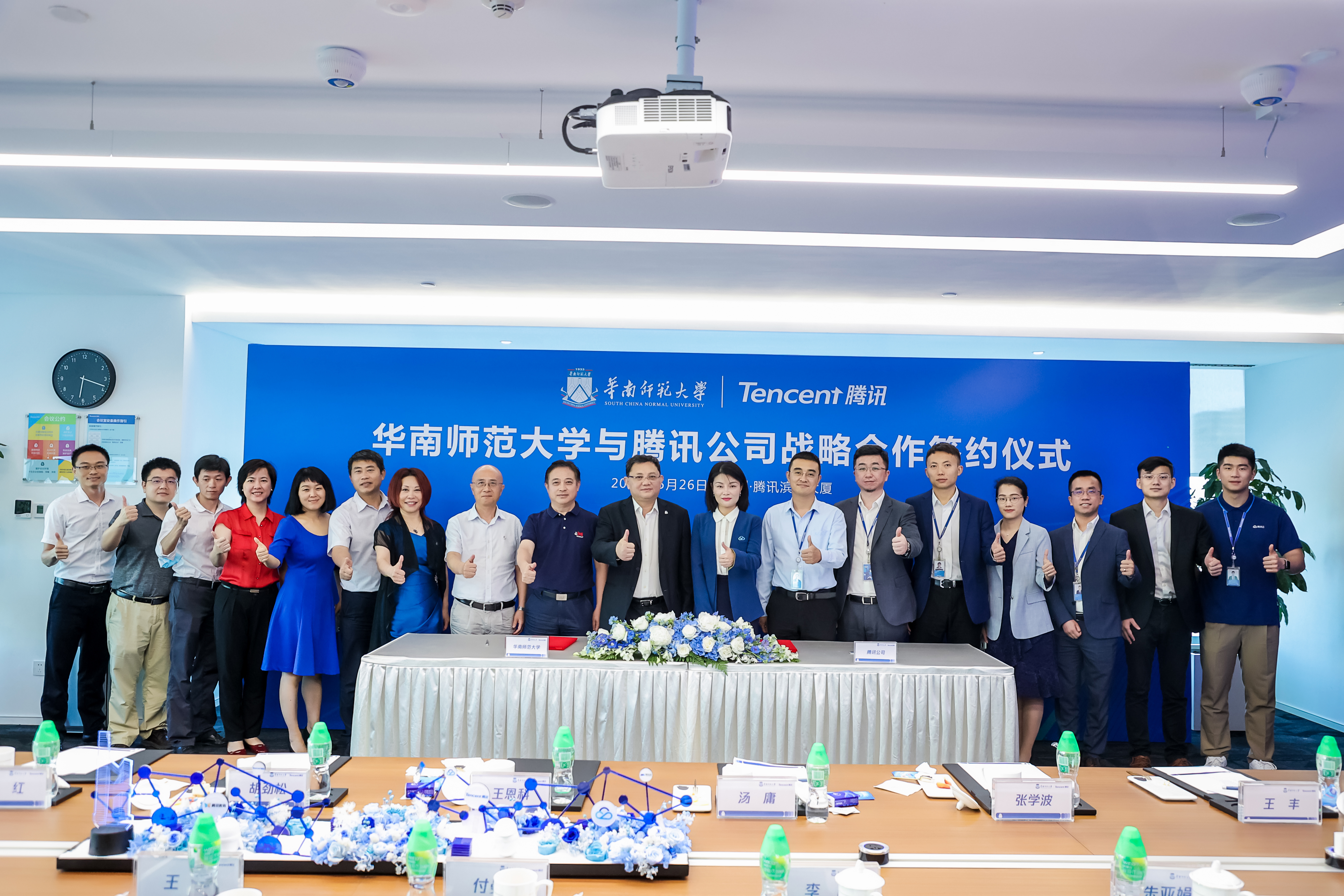 Group photo of representatives attending the signing ceremony.
Based on leading technology products of Tencent and the academic strengths of SCNU, both sides will deepen cooperation in an all-round way as follows:
In terms of cooperation in Technology Plus Education, SCNU has the advantages and wide-ranging influence of educational disciplines, while Tencent shares rich technical resources in cloud computing and big data, practical experience in development, and promotion and management of educational products and services. Thus, they will jointly carry out research on platform and application resource development in the field of education and AI research.
As for smart campus development, the two parties will work together to create a localized solution, focusing on improving the level of education and teaching, campus governance and public services. At the same time, they will regularly hold interchange activities in the field of smart education, so as to enhance the influence of education informatization and promote communication and development of school-enterprise informatization.
In terms of basic education capacity building, SCNU and Tencent Education will actively participate in the standardization of basic education informatization in Guangdong Province, and jointly develop high-quality curriculum resources on big data and artificial intelligence. Additionally, the two parties hoped to establish an alliance of Internet+ Basic Education. By resource sharing and construction guidance for schools in Guangdong, it could better serve and promote the informatization of basic education in the Greater Bay Area.
---
Source from SCNU News Center

Translated by Ling Jingjun
Proofread by Edwin Baak
Edited by Li Jianru
What to read next: