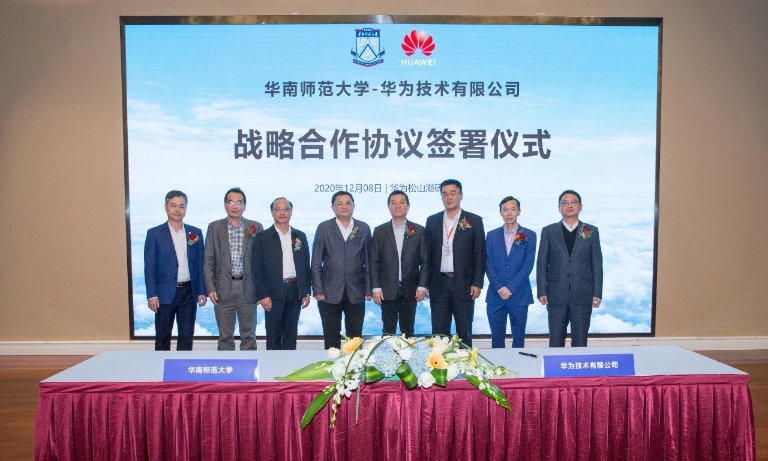 SCNU and Huawei Technologies Co., Ltd. signed a strategic cooperation agreement at the Huawei Songshanhu Lake Base on December 8, creating a partnership to promote digital transformation in the field of education.
According to the strategic cooperation agreement, the two sides will follow an innovation-driven development strategy, and further explore deep collaboration in areas such as "Education + AI" research, smart campus construction and university-enterprise cooperative talent training.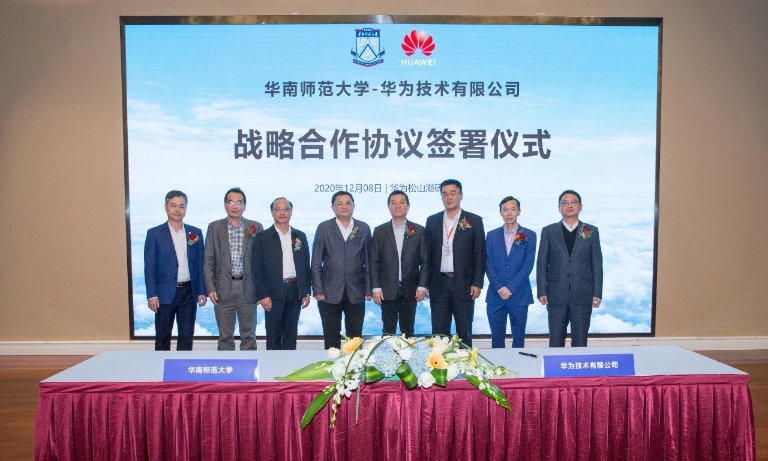 A group photo at the signing ceremony.
President Wang Enke introduced the current situation and development history of SCNU, as well as the progress of discipline development, scientific input, talent training and so on. He said that SCNU pays much attention to "Education + AI", which is planned as the key point of discipline development, and has basically realized the transition from the digital campus to the smart campus in recent years.
Wang also emphasized that Huawei has giant strength and outstanding advantages, possessing all the elements to form a strong complement in cooperation with SCNU. Huawei is an essential strategic partner of SCNU with broad cooperative space and potential in the areas of carrying on National Education Development Strategy, speeding up smart campus construction, "Educational+AI" intelligent scenes, and sustained development of Huawei industries. In the future, SCNU will actively push related projects and realize them by making full use of its characteristic stengths and superior communication.
Huawei senior vice-president Zhang Shunmao said that SCNU is one of the benchmark clients for Huawei most suitable to promote digital transformation in the field of education, is the tacit companion on the development road. Huawei hopes to increase its comprehensive cooperation with SCNU in the fields of scientific research, talent training, information development, and so on.
Zhang also acceeded the commitment that Huawei is going to fully support information development, scientific research innovation and talent training of SCNU by continuous accumulation of core technologies, with its innovative products and solutions.
Given the special economic situation, a win-win cooperation between SCNU and Huawei will not only foster a strong edge in competition and development energy, but also make contributions to regional economic and social development, especially in education reform and innovation.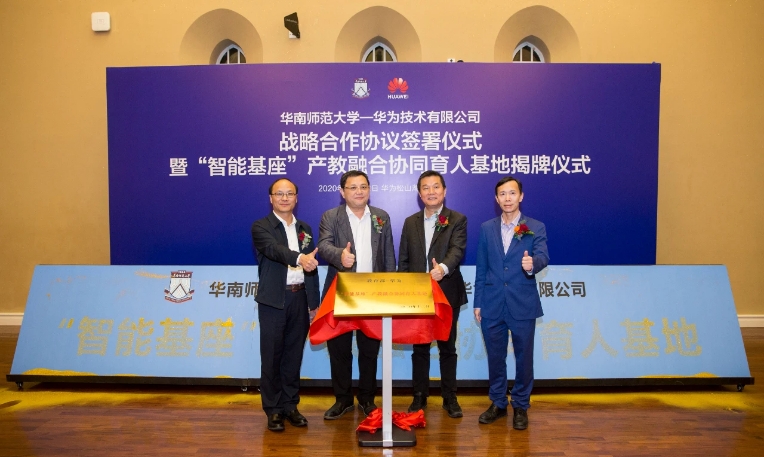 The main representatives together unveil the nameplate of the "Intelligent base".
Also at the signing ceremony, Wang Enke, Zhang Shunmao, together with Huawei associate president Jiang Dayong, and director of the Songshanhu Institute Yang Ping unveiled the nameplate of the "Intelligent base," the collaborative education base for integration of production and education.
---
Source from the SCNU News Agency
Translated by Yang Yi, Li Jiani
Proofread by Edwin Baak
Edited by Li Jianru
What to read next: