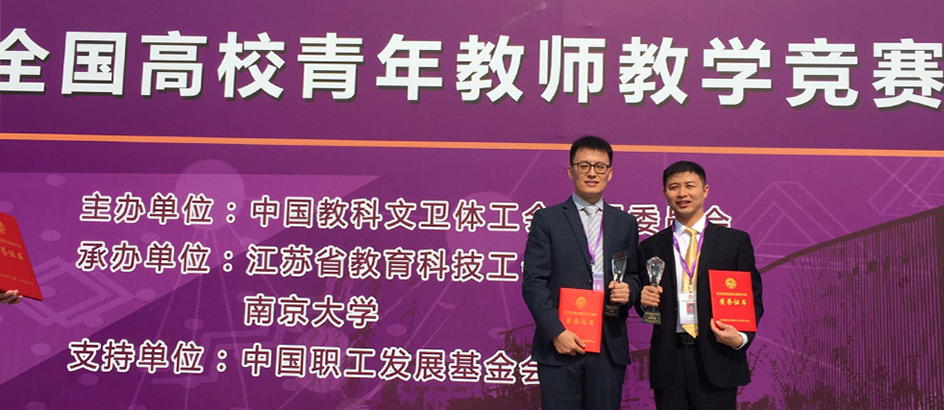 Two teachers from SCNU won first and second prizes during the finals of the 5th National University Teaching Competition for Young Teachers, held at Nanjing University from October 26 to 30.
Zhang Yonggang, a teacher from the School of Marxism, won the first prize in the Ideological and Political Group. He is the only contestant from Guangdong province to win a first prize in the competition. The other teacher, Xu Guiqing, from the School of Physics and Telecommunication Engineering, won the second prize in the Science Group.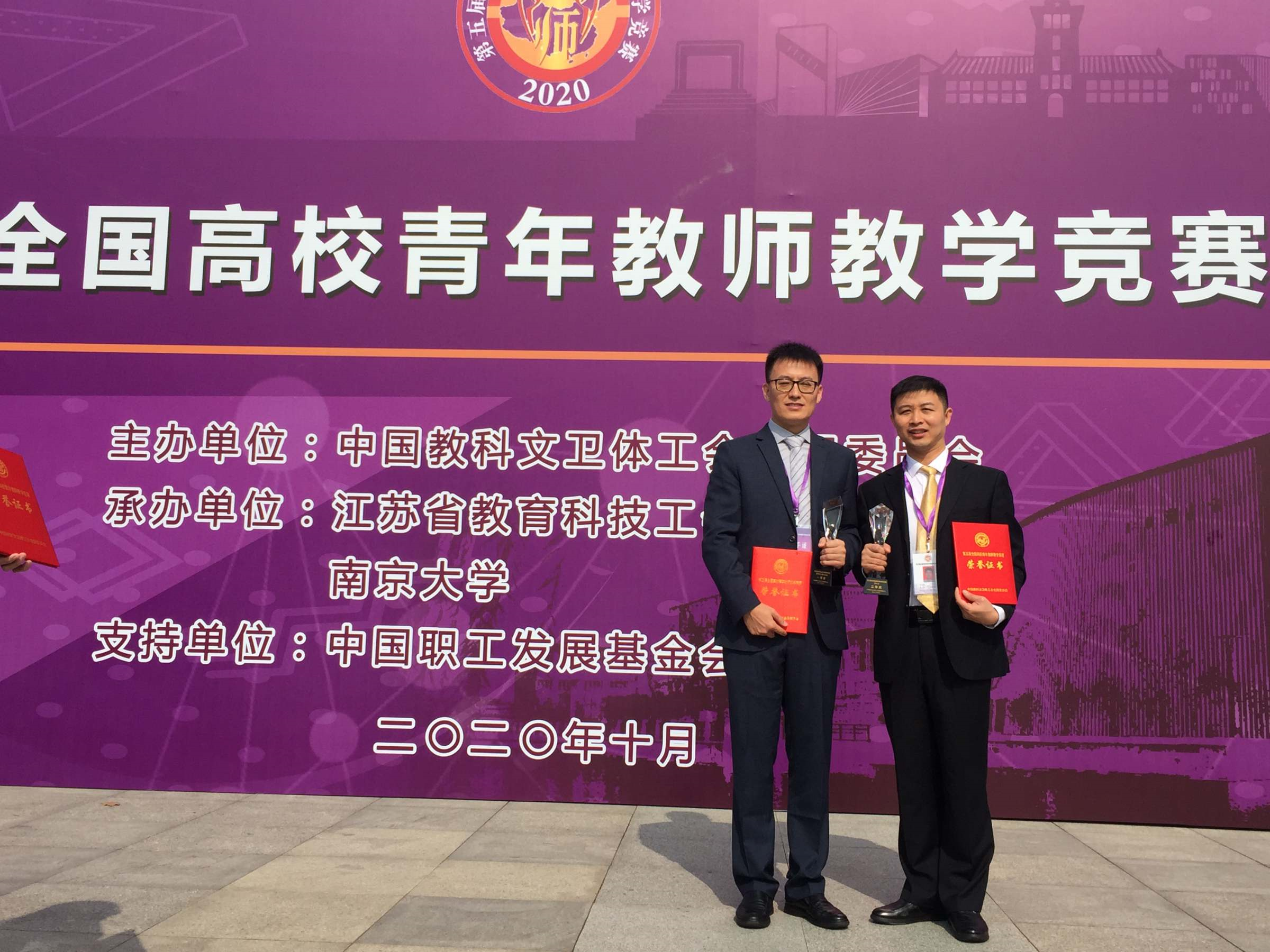 Zhang Yonggang (left) and Xu Guiqing (right)
"For the last two months, I almost every night slept after 2 AM, as I prepared for the competition," said Zhang, who made enormous efforts to gear up for the event. To impart expertise in a more attractive way, Zhang had to innovate his way of teaching and absorbed the teaching advantages of multiple disciplines so as to make knowledge about Marxism more accessible to students, he said.
Zhang Yonggang at the final of the competition
As for Xu, he also made full preparation for this competition. To present the most representative content of his course, he rehearsed 10 lectures 20 times, revised his courseware 7 times and redrafted a speech 15 times. "Tired as I am, I feel delighted and had a great sense of accomplishment with every revision,"said Xu.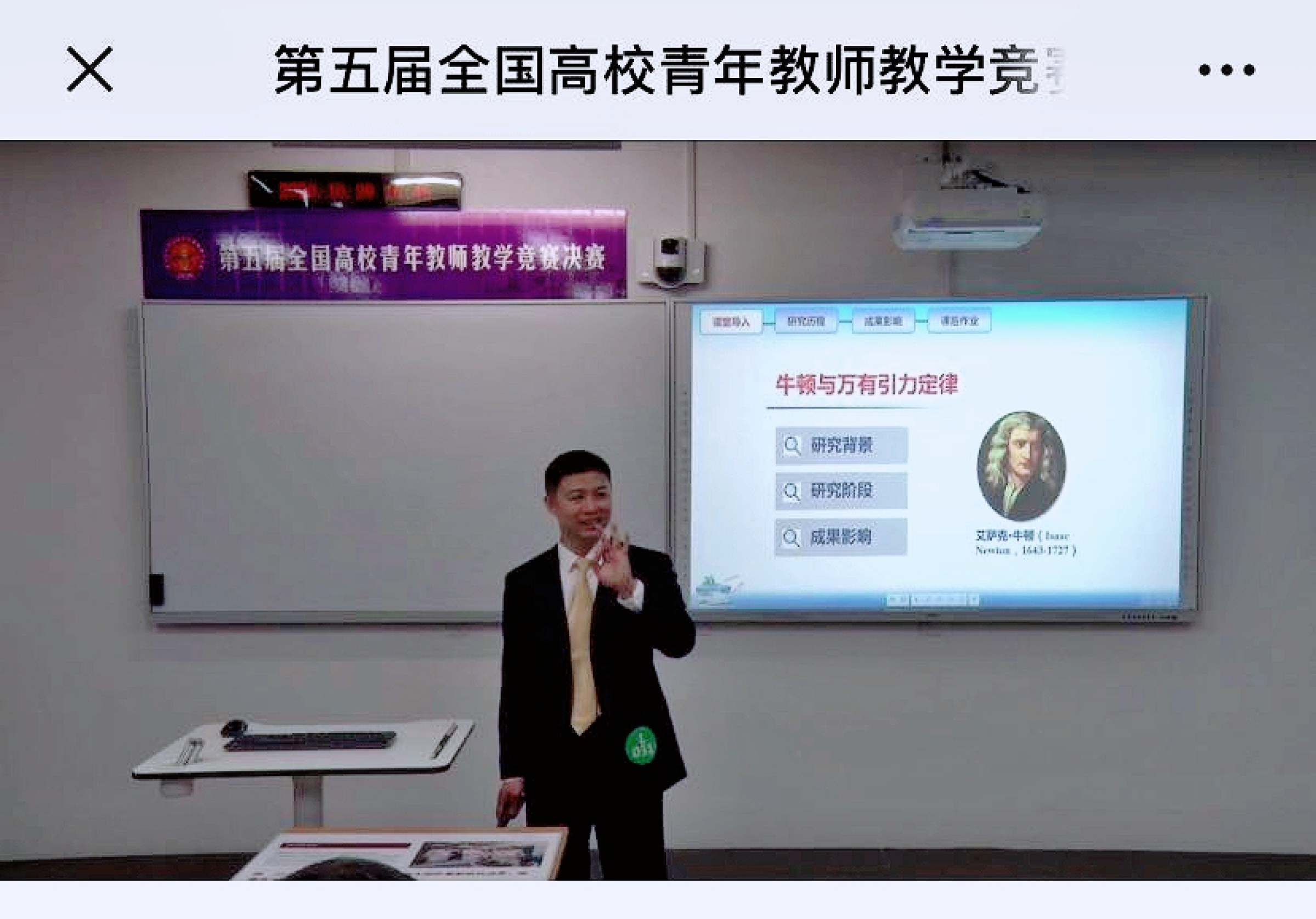 Xu Guiqing at the final of the competition
The competition involves the preparation of 20 complete teaching designs and teaching segments, which is a tremendous challenge for young teachers. Under the guidance of expert teams in the disciplines, the two teachers combined theories and frontier development of disciplines, integrated advanced teaching concepts, models, educational technology and teaching methods and created high-quality curricula for the competition.
On top of their own efforts, the two teachers also benefited from strong support from the local education departments, the school and their faculty teams. Before they were shortlisted for the finals, the two teachers had won the championship of Ideological and Political Group and Science Group respectively at the provincial level.
A total of 162 outstanding teachers from 31 provinces across the country competed in the finals this year, with five contestants from Guangdong province, winning a total of one first prize and four second prizes. The best results were achieved by the two teachers from SCNU, winning one first and one second prize.
The National University Teaching Competition for Young Teachers provides a stimulus for universities to train young teachers for a national high-level teaching competition with the widest participation and the largest organization scale. So far, more than a million teachers have participated in the competitions and a large number of them have grown into famous teachers, scientific research experts or management cadres through the experience.
---
Source from the SCNU News Center
Translated by Zou Shan, Ma Shuying
Proofread by Edwin Baak
Edited by Li Jianru
What to read next: